Did you know that every 1 in 4 people uses a real estate mobile app to find, buy, and sell properties online? Real estate has long been a lucrative business, and now with the evolution of smartphones, it has become even more prominent.
The trend of online property searching is at an all-time high, and this trend has fueled fierce competition in the real estate market.
According to market reports, a whopping 95% of the real estate agencies have their websites with property listings.
However, building a website is just a tiny little step when we are talking about such a vast competition. In addition to a website, you need a custom mobile app for your real estate business if you want to stay ahead of the game.
And, your real estate mobile app must stand out from the overly-crowded app stores so that people can download and use it.
So what makes an "outstanding" real estate app? What features make your app stand apart? Before we find answers to these questions, let's see why developing a mobile app is crucial for your real estate business.
Why Should You Have A Mobile App for Your Real Estate Business?
The real estate market is highly digitized. Homebuyers no longer go from one agent to another to find a suitable property. People can now quickly check out several homes and properties right on their smartphones.
According to the National Association of Realtors report:
In 2018, more than 44% of people looked for properties online first, and this number will inevitably increase in 2023.
Roughly 81% of older millennials, 80% of the younger millennials, and 78% of generation X homebuyers found their properties on mobile in 2018 (Source)
More than 90% of baby boomers (aged 53-71) believe virtual house tours are the most crucial feature of a real estate app.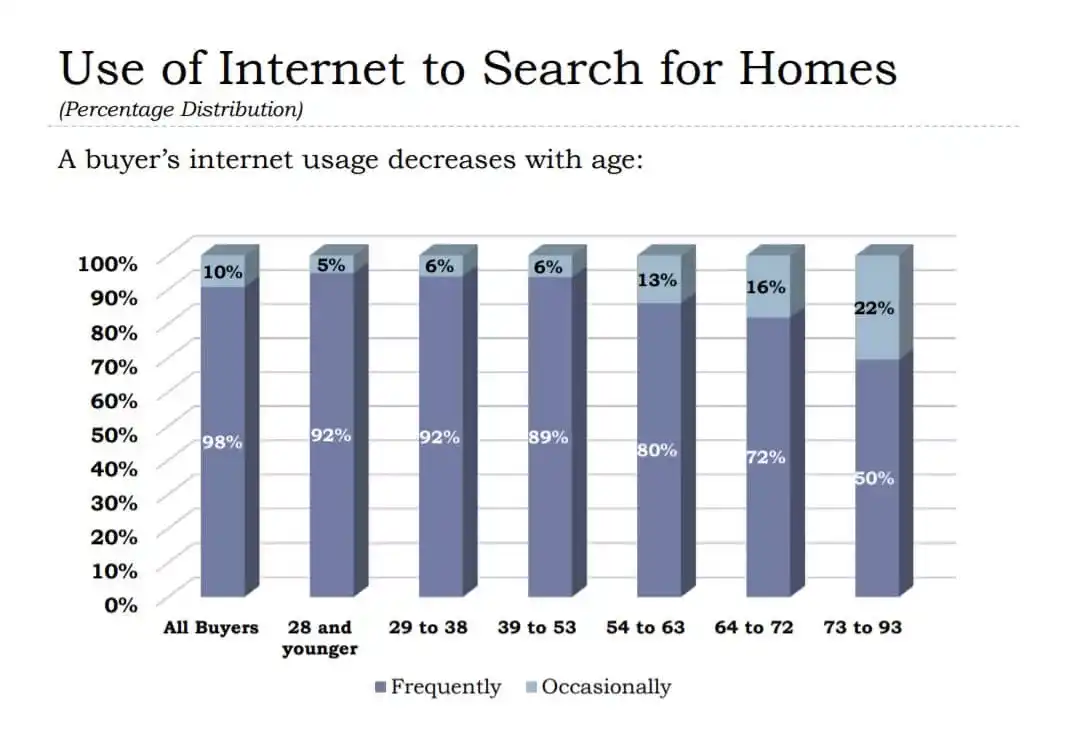 Homebuyers, sellers, and Realtors, all of them, are using mobile apps to surf through the real estate market.
However, considering the vast competition, you need to make sure that your real estate app has some unique features that help you stand out from the rest. Let's look at some vital features you must include in your real estate app.
Must-Have Features of A Real Estate Mobile App
The primary goal of developing a real estate app is to draw the attention of users and make the buying or selling process smoother.
Of course, you don't want just another real estate app in the app stores that no one downloads. Therefore, it's essential to keep a tab on the latest trends and features and incorporate them into your app.
Below, we explain some basic as well as trendy features that should be part of your real estate app.
1. User Onboarding (Signup/Login)
User onboarding is the most basic feature of a real estate app, and it has to be as simple as possible. There are three ways to do this –
Social media authorization
Authorization via email
Phone verification
You can choose any of the above methods to allow users to signup for your app. But, combining all the above options can be a great idea too. It will provide convenience and flexibility to the users, and make the sign-up process even simpler.
2. User Profiles (User, Sellers & Agents)
Users should be able to create their profiles in the app so that they can perform different activities in the app. There should be different profiles for different sets of users.
For example, the options displayed for the buyer's profile will be vastly different from the agent's profile. A buyer will be able to access the home listings, save the favorites, see individual listings in detail, make an inquiry, etc. (We'll be talking about these features later.)
Whereas, an agent would be able to see his own listings, schedules, list of interested buyers, number of views to individual listings, advertisement options, etc.
There can be some common factors too. The features, such as maps and messaging, can be accessible to all users.
3. Listings and Database
Property listing is another basic feature of the real estate app. You have to show the list of available properties with all the necessary details in the listings.
Users who want to rent or sell their property should be able to add their listing without any difficulty.
You will need a big database since the property listing will keep growing. There will be more users, and hence, more listings in the future, so make sure that the database or servers are flexible enough to support the scale-up operations. A robust database is highly crucial for any real estate app.
4. Filters and Categories
Do you know the most cumbersome part of searching for properties online? You guessed it – finding the RIGHT property.
To simplify the property searching process, you will need to provide advanced search options to users. Add categories and filters so that users can easily locate properties that suit their needs.
5. Property Profiles
These profiles include extensive information about the property, such as descriptions, photos, videos, rich media, price details, value propositions, neighborhood information, owner details, and so on.
More than 80% of the users decide whether to buy a home or not based on the photos and videos added.
In addition, you might also need to include the contact details of the property owner or the agent in property profiles.
6. Favorites (Shortlisting)
Your app should allow users to shortlist and save their favorite properties. It helps them make their decision-making process much easier.
Users can access their favorite properties along with all the details in their personal profiles.
7. Maps
You can't just imagine a real estate app without this feature. Integrating maps in the app can help you provide loads of valuable information to end-users.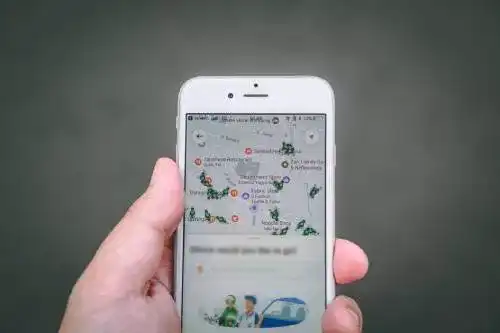 Not only can you show property locations, but you can display the data and statistics related to the select properties too. On government websites, you can find location-wise information such as crime rate, infrastructure, nearby schools, average income, and the risk of natural disasters.
An experienced real estate app developer, such as Imaginovation, will help you fetch this information from government records and display it on the map in your app.
8. Push Notifications
Push notifications are a powerful marketing technique. You MUST have this feature in your real estate app to succeed in the long run.
Push notifications allow you to retain and stay on top of the customer's mind. It is also helpful for effectively promoting your services.
You can use push notifications to reach out to your prospects or send industry news every now and then. You can even notify the users when the prices are changed or a new property is added in a specific location.
However, the messages need to be personalized to reap the full benefits of push notifications. You should only send relevant messages that provide value to the end-users.
9. Property Cost Calculators
The price calculators can be a useful addition to your real estate mobile app. You can ask developers to add a custom cost estimation feature that will give users an idea of the total property cost.
Make sure that the calculator is detailed enough. It should allow users to estimate the final amount based on different factors such as initial payment range, taxes, loan interest amount, and loan repayment schedule.
10. Calendar
The calendar might sound like a nice-to-have feature, but it's helpful for buyers and agents.
If buyers want to schedule an appointment with the agent or seller, they can directly check the available dates and schedule the appointment right in the app. The calendar will send reminders to both parties at the scheduled time.
11. Call or Direct Messaging
Providing users with in-depth property information is just one part. You got to take the users to the next stage of the sales funnel by adding the call or direct messaging feature.
There are different ways you can connect buyers with agents:
Direct call
Callback option
Online chat
Book a consultation
If a buyer is interested in a specific property, he or she should be able to contact the dealer or owner to get more details.
12. Analytics
Analytics is one of the most significant features of any mobile application.
Whether you want to create a real estate marketplace where users can buy, sell or rent their properties or just an exclusive app for your business, you should know how the end-users are interacting with your app.
Analytics gives you valuable insights as to how your app is performing and what needs to be done to improve its performance. You can get helpful information about the users and their in-app behavior, such as the amount of time spent on a specific screen. This data would help you make better app decisions.
To get the most out of data, you can segmentize your users based on their behavior and add them to different marketing campaigns accordingly.
13. Virtual Tour
Last but not least. A virtual tour or 3D walkthrough is an incredible way to give buyers a real-time feel of the home they want to purchase. According to the report, 70% of first-time homebuyers believe that a 3D virtual tour of the for-sale homes is as important as an open house.
"Rich media, like these new 3D Homes, will help buyers and renters more easily visualize themselves living in the home, no matter how far away they happened to be," says Jeremy Wacksman, CMO at Zillow Group.
Of course, photos and videos are still a crucial part of the listing, but virtual tours offer an interactive platform where users can see the property from every angle, without an in-person visit.
How Much Does it Cost to Develop A Real Estate App?
Ok, so you know why your real estate business should invest in app development, you might be wondering about the cost.
How much does it really cost to develop a real estate mobile app? Well, to be honest, there are many factors that affect app development costs.
In general, the real estate app development cost depends on the following factors:
Features set
Design
Device (iOS and/or Android) and Technology
Hourly rate of the development company
The hourly rates largely depend on the location of the mobile app development company. For example, companies in North America usually charge between $50 to $250 per hour, while you might find many affordable options in Eastern Europe.
If you want to check out the ballpark price of developing a real estate mobile app, you can check out our awesome project cost calculator tool below.
Most Successful Real Estate Apps in the US
Buying a home is one of the most expensive purchases of our lives. If people are going to spend six figures money on something, they want a reliable, feature-rich platform where they can check all the information about the property.
By incorporating the features mentioned above in your real estate app, you can provide detailed property insights to the users and improve the trust factor.
Below is a list of the most successful real estate apps in the US that disrupted the real estate market by providing unique services to homebuyers, sellers, and agents alike.
1. Zillow
Founded in 2006, Zillow is one of the most popular real estate apps in the US today. There are millions of for-sale and rental listings, plus the app has a unique home value calculator that estimates the home's current value and past sale prices.
"We think the real consumer magic for the seller and for the buyer is when all the disparate, complex, expensive elements are brought together into an integrated, seamless package," says Rich Barton, CEO of Zillow.
2. Redfin
Based out of Seattle, Redfin is both an app and a real estate brokerage firm. Apart from giving the most accurate home value estimations, the app offers users many search filters. Redfin's business model focuses on the customer-first approach.
In an interview published on the Geekwire website, Redfin CEO Glenn Kelman says, "We want to have a service that feels totally different to consumers, where the quality of the service is better, you can get into houses faster, and you can sell your home on the spot if you want to."
3. LoopNet
Owned by CoStar Group, this real estate app is ideal for property investors. LoopNet is a Zillow of commercial properties.
LoopNet can be your best bet If you're looking for office space, industrial land, or a large property for investment It has unique features that are designed to promote commercial property listings.
"With CoStar, people think about information, leasing, big U.S. cities. When people think about LoopNet, they think Mainstreet commercial real estate and suburban market sales," said CoStar CEO Andy Florance.
It's Time to Turn Your Ideas into A Digital Reality
Are you ready to create the next "Zillow" app? Do you want to transform your real estate business digitally? Get in touch with us.
We are an award-winning web and mobile app development company with vast experience in building innovative applications for real estate businesses. You need a stunning mobile app to take your real estate business to the next level. And, we exactly know what makes a stunning real estate app.
Our team of skilled mobile app developers can help you turn your ideas into a digital reality.
Let's talk about your project.