Harnessing the potency of User Experience (UX) can carve an unparalleled journey, amplifying your unique business objectives. In today's digital age, UX is not just a design discipline, it's the magic ingredient that concocts captivating experiences.
The power of UX designs is unfathomable, and its ROI is incredible too. For savvy business leaders, overlooking the ROI of UX is no longer feasible.
Why?
Quantifying this value - in monetary terms or otherwise - uncovers the true impact of UX on ROI. Stay tuned as we unveil the intriguing aspects of the UX-ROI connection. Prepare to dive into a world where design meets business impact.
Why is UX Important in Application Development?
Disliking an awful app is an intense emotion—hold on to that thought. If you're asked to describe your least favorite app, what facets make you hate it? Let's see:
It's not straightforward, intuitive, or easy to use.
It feels overloaded with features.
It's slow or outdated.
As you start jotting down points, you realize that those are the same things you don't wish for in an app you develop. Appreneurs want products to be designed seamlessly.
An app that was entrenched in the users' lives, they constantly want to use it. The takeaway is crystal clear—ignoring UX isn't an option!
Here's a peek at why UX is important in application development.
1. Attracts Users
It's the days when UX designers love to explore new and dramatic ways of enhancing user experience. Luckily, the UX toolbox helps to create mind-boggling experiences.
Picture changing the text on a button. And instead, try mapping it to something minimalistic and fun.
It is better to drop the text and have something more fun rather. The attraction phase is where users discover your product and is the stage where you can think of increasing customer loyalty in the future.
Users can't typically articulate what they want. However, when one identifies problems they face and addresses them through product features that address the pain points**—**the technique helps increase the likelihood of users using your product.
2. Enhances Customer Satisfaction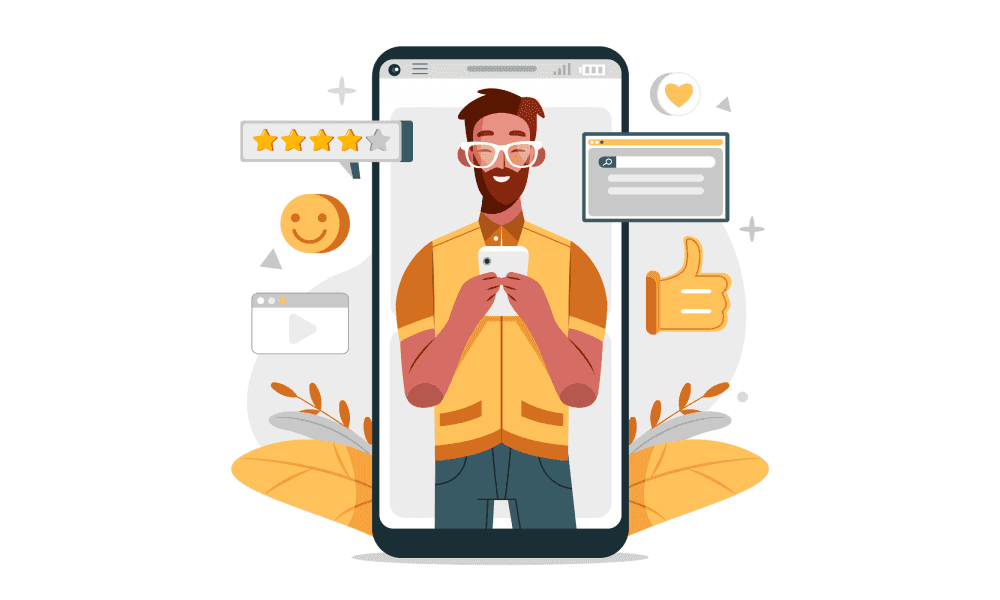 UI/UX is a surefire way of boosting customer satisfaction. As the developers develop the apps grounded on core research and full-scale analytics, keeping in mind users' needs and expectations, one gets a closer product to users.
For example, users have different expectations for a food delivery app or a mobile game app. Thus, UI/UX includes inspirational designs and graphic elements to suit the specific app development. The flawless UX focuses on helping users satisfy their needs, which leads to enhanced customer satisfaction.
3. Improves ROI
When UX improves the customer experience, it positively impacts the company's ROI (return on investment).
Suitable UX investments boost customer satisfaction. If UX/UI is tailored well, users will be happy to use the app and recommend it to others. Plus, it will boost customer loyalty, customer retention, and brand loyalty. Ultimately, appreneurs get a great product that also makes a profit.
4. Get Featured in App Stores
Ratings and reviews are critical to knowing whether users like your app or not. Satisfied users will bring your mobile application to the top list. And it is a foolproof way to get your app featured in the Play Store or App Store.
You need to ensure that your user base benefits from an excellent UI/UX. When the app is featured in the top list, it garners much attention and brings more traction to the application.
5. Builds Brand
Putting the customer at the heart of working around the UI/UX design helps with happy customers. Fostering brands is like enabling this untapped user base full of tremendous potential.
When you work around building a credible mobile app, it helps create an excellent reputation, good ratings, and reviews, and the aftereffect will most definitely boost your brand.
The Impact of UX on ROI
Let's take a moment to think! UX is all about intangibles such as user satisfaction and delight, isn't it? On the contrary, user experience is quite measurable and tangible in forms like dollars.
The impact of investment in user experience projects is measurable and can be directly linked to revenues when measured correctly; hence it is pertinent to understand its effects.
When UX is done right, the investment return rate can touch as high as 301%. Plus, there are other perks like reducing the development time of a project from 33% to 50% and UX increasing key performance indicators by 83%.
As the first steps, they know how to measure and present the return on investment (ROI) of UX activities that help introduce UX into enterprises. And when the figures add up, the investment in UX is easy.
UX Impact on Boosting Topline Revenue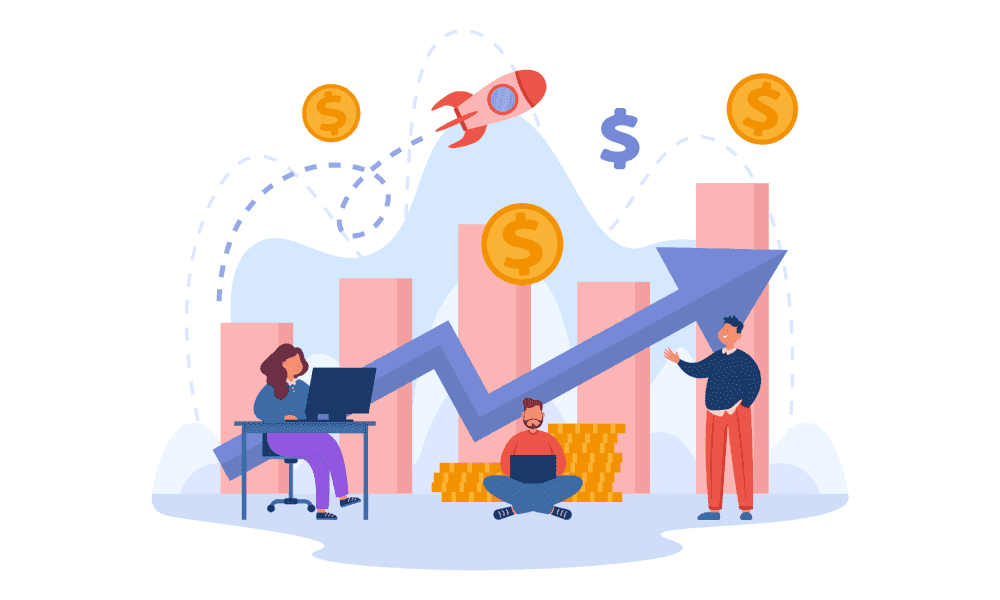 Working on boosting sales and revenue is one of the topmost priorities for most companies. It is critical for most businesses to think of acquiring customers. UX can play a significant role during acquisition and directly impact topline revenue during the initial sales process.
Think about it—what does it mean in the digital marketing space? It means increasing user adoption or software sales and everything that has to do with conversion.
Conversion means an attractive prospect taking an intended action, such as signing up for a newsletter, participating in a survey, filling out a form, or even completing a sale.
The first user encounter with your website or app can be a make-or-break moment, and it is here that one needs to think of the design elements, interactivity options, and other UX facets. The UX subtleties can walk users through a better experience, boosting Conversion Rate Optimization (CRO).
What's next? While it is good to study the business models of successful ventures, it is always great to have one of your own.
An argus-eyed focus on UX can help successfully implement and gain that competitive edge. Ultimately, if you can deliver a more delightful experience than your competitors, you know the numbers will be churning for you.
UX Driving Financial Impact
Why invest in UX design? While you can think of myriad responses. Reflect on simple usability enhancements that can help the user, keep them more engaged, want them to come back for more, and ingrain a sense of simplified learning.
As you put it together, UX design can save millions of dollars each year by reducing user errors and blending them with fun-and-engaging facets. The UX toolkit isn't a magic potion! And one can benefit a lot from calculating the financial benefits of an improved User Experience.
Let's look at the calculation with these go-to formulas.
Calculating the Cost of a Mediocre (Poor) User Experience
(Average No. of Errors PW) x (No. of Employees) x (Time to Fix in Hrs.) x (Employee Rate of Pay/Hr.)
Calculating the Cost Savings of an Enhanced User Experience
(No. of Employees) x (Time Saved in Hrs.) x (Employee Rate of Pay/Hr.)
The end objective is to gain support from all stakeholders. How can you gain support for UX Design initiatives in an enterprise environment? It's pretty simple, start talking numbers.
Here's a good thing to do; you can try calculating for your next project, estimating the financial impact, and seeing how the conversation develops into deeper dialogs on how the UX designs should be implemented.
UX Impact on Team Performance Improvement
Design decisions can save time. It boosts team morale as they aren't fixing random mistakes or plugging in usability errors or glitches.
Think about it; developers spend more hours when they are fixing mistakes randomly. Quite a few of these fixes need hours and have already caused reputational damage with disappointed users. Plus, the team morale is low.
You have a more rational approach to a system that understands how design impacts users' behavior. Plus, you save time for your team and benefit from their performance.
UX Impact on Raising LTV
Here's the thing, attracting new clients can cost dearly. Yes, you're right! New customers are critical for business development. However, there are myriad ways of bringing in your customers with minimal costs.
A great way is to work around a user-centered design, which can assist with increasing the lifetime value (LTV) of your customers. It's pretty simple! When clients are satisfied with the experience of making the first purchase, they are more likely to come for the second one.
Ultimately, if the retention level is high, the LTV will be increased, and the ROI of UX will get bigger.
Key Steps to Ensure Great UX
Plan User Research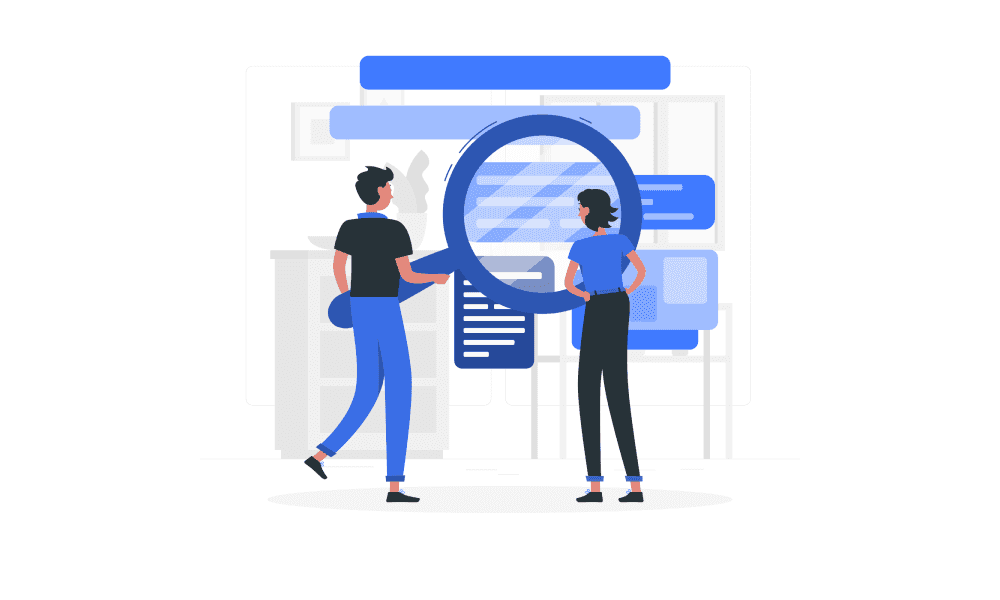 A UX research plan is the starting point of any user-centered project. The program helps set expectations and document the essentials you need to communicate to stakeholders and clients. It's also a continuous process that allows designers to think and improvise and enhance the usability of an existing product.
When creating a user-centered experience, what should be the focus of designers? First, they need to understand the target audience—its users' goals, fears, and challenges.
How can this be achieved? It should include both secondary and primary methods. For example, generative methods, such as user interviews and open-ended questions, can help discover motivations or more general insights. Plus, UX testing can help evaluate your product's usability and experience.
With these insights, UX specialists can work on building out user personas and user journey mapping. Plus, creating wireframes and prototypes. A solid research-plan template that allows for modification and flexibility is typically an invaluable tool that saves time and provides more efficient results in future projects.
Fluid Information Architecture
Information architecture (IA) is a critical blueprint that augments the user experience. The visual representation organizes the product's infrastructure, information, features, labeling websites, and software.
The blueprint has a level of detail that ensures usability and findability to help users effectively navigate, locate information, and complete the CTAs. IA helps to work on a structure that can be a good bridge between the content and the web platform's or mobile app's functionality.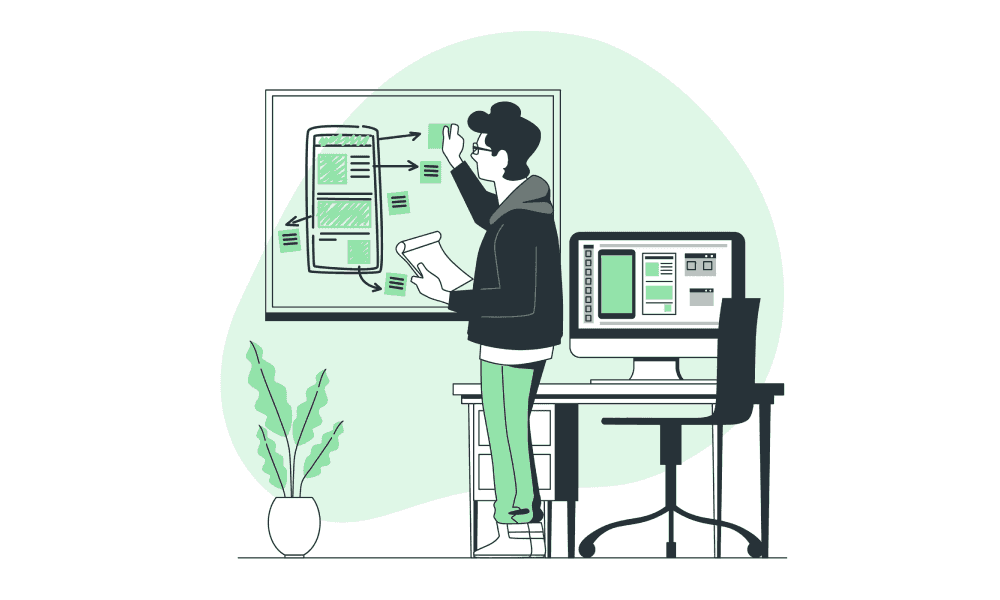 Let's look at some core components pre-requisite for a good information architecture UX design.
Well-defined Structure. The component focuses on collating, categorizing, organizing, and structuring information.
Enhanced Search Systems. Giving accurate and adequate options, defining the way users seek information.
Easy Navigation. Offering a more intuitive way for users to browse and find a way to the intended information.
Website Labelling. Presenting information more straightforwardly.
When designing, one must also keep in mind some core elements of IA, which helps to have a robust design experience. Here's a peek.
Target audience. Focus on who will be the potential users for your mobile app or platform. The defined pocket can help you design a more relevant user experience for the MVP.
Content and Context. Yes, 'Content' is still the King. So, ensure that all content elements, including text, images, icons, and videos, are aligned to engage your users.
The element helps to laser focus on the information, making it more relevant to the target audience.
Ultimately, information architecture UX will evolve based on user needs, including new feature requests to product overhauls. So, remember that the IA will be a fluid document.
Visually Appealing Design
Users vie for a visually appealing product or app. The facet includes the app's or site's layout, graphics, videos, images, colors, or even symbols that help users interact with the interface more intuitively.
These UX design elements contribute to augmenting the aesthetic appeal and making the digital space more interactive. While you may look at best practices and trends, it always helps to blend interaction design principles in the UX flow, making it straightforward and transparent for the users.
It helps make your product design look visually attractive in simple and innovative ways. When looked at from the UX and UI perspectives, there are many facets like:
Composition. Mastering composition helps to convey the right perspectives.
Colors. Choosing colors that impact the users' decisions.
Gradients. Use gradients to transform the look and feel of your product.
Icons. Try icons and emojis that help users understand your ideas better.
Photos. Be careful while choosing photos that can keep users engaged.
Illustrations. Remember to consider illustrations that are consistent in style and colors.
Background patterns. Consider floral, geometric, and typographical; think out of the box for a delightful experience.
Animation Add motion to make projects fluent and movable.
Always put your thinking hats on, and don't forget about UX and logic in making projects attractive and appealing.
Usability Aligned Design
When considering the usability facets, always ask "Why." Why are you designing the product or mobile app? Why will the target audience use it?
When you document the Whys, it can drive everything and provide you with a powerful story or theme. Plus, you will be able to give more robust usability design facets.
Ultimately, the term 'usability' plots down the degree to which a specific product is of utility to its target audience in achieving its goals. Some constituents to usability include a product:
learnability
efficiency
memorability
its errors
the levels of user satisfaction
For example, Apple products are famous for their sleek and unique appearance. However, it is not the aesthetic of Apple products that brought them their global reach or international acclaim. Apple products are known for their effortless functionality, differentiating them from their competitors, making it the iconic brand it still is today.
Designing a satisfying and delightful user experience needs meticulous planning of a customer journey for the users that aid them in finding what they are looking for through an intuitive process. The design of your product revolves around functionality and usability.
Accessibility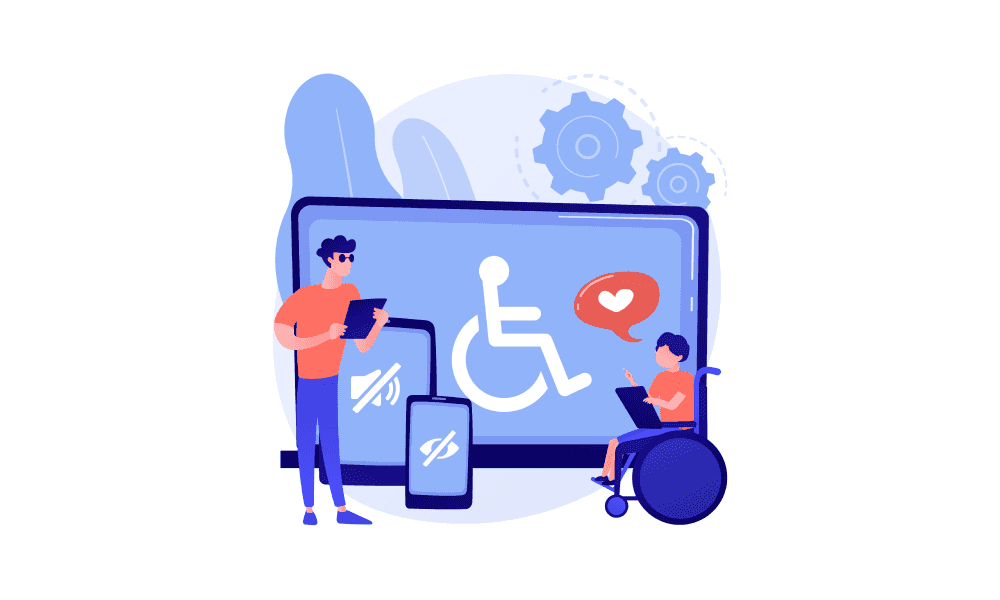 The accessibility facet works on how everyone can use a product or service - however, they encounter it. Accessibility laws are in place to aid people with disabilities, but designers should try to accommodate all potential users in many contexts of use.
The approach might mean, for instance, designing a voice interface for the visually impaired or having consistent navigation that is helpful for users with cognitive limitations, low vision, and intellectual disabilities.
Ultimately, accessibility is a team responsibility, and UX designers can contribute hugely to ensure that accessible design is celebrated and not enforced. It is a vast feeling when methods can help make the user's lives easier.
Wrapping Up
Blending UX facets in your product for great user experiences is no more an option! Creating delightful user experiences will only improve your chances of creating products that meet your potential users' goals and boost the ROI of UX design for your product.
Its long-term benefits are indisputable, and it spells fewer costs and rapid growth in profits. So, if you are thinking of investing in UX to develop a product, you can put your doubts behind you because you are on the right track.
Design Intuitive UI and UX with Imaginovation
Good intuitive UI and UX can help create a meaningful product that helps millions of users. The calculations around the ROI of UX can ensure to track your investments wisely.
Talk to us if you need help designing intuitive and innovative UI and UX solutions.
We can help you work out the ROI of UX with awe-inspiring designs.
Let's talk.