The automotive industry is constantly looking out to create holistic ecosystems. A great way is to harness the power of IoT to meet customer expectations and stay ahead of competitors.
The IoT in automotive is creating exponential value in the industry. The changes are influencing the development trajectory for the sector.
According to Statista, the research team has predicted that the global automotive IoT market will reach around $219.61 billion by 2026. It highlights its critical role in the automotive industry's future.
It's time to rethink connected systems with IoT. In this article, we will focus on diverse applications of IoT in automotive. Tag along to learn more.
Basics of IoT in Automotive
Let's take a moment to think about the automotive sector. The ecosystem has sensors, gadgets, applications, cloud computing, and more. It may sound like a complex system to keep them integrated into a connected ecosystem, but it is a seamless process with the Internet of Things (IoT).
IoT can help with the connection of such complex devices (sensors, GPS trackers, and cameras). Further, the devices are connected to the cloud and provide real-time data, enabling optimization of the processes. The connected objects, minus intervention, can now interact, share data, and operate seamlessly.
The new solutions and applications embedded with IoT technologies offer smarter, safer, more efficient, and more comfortable user experiences. In short, the IoT in automotive is immense and continues to offer thrilling use cases. Let's explore some benefits.
Benefits of IoT in the Automotive Landscape
In the vast expanse of the automotive sector, IoT is emerging as a key driver of innovation and efficiency. From redefining user experiences to fortifying vehicular safety, the benefits of IoT are profound and game-changing. Here are some key benefits of IoT in the automotive sector.
Smart infrastructure
With IoT and AI applications, drivers can access a critical facet of roads and infrastructure. It improves driving experience, improves better road safety, and reduces collision rates. IoT technologies further help with the following:
Smart parking management
Traffic congestion prevention
Intelligent road lighting
Proper energy management
Connected vehicles
Automotive IoT helps to connect smart transport systems and vehicles with each other. Thus, it helps vehicle-to-vehicle (V2V) interaction, which is a critical component in the intelligent transport system. Vehicles are more poised to share essential information, such as route speed, location, etc.
Predictive maintenance
IoT solutions help scrutinize the conditions of vehicles and predict potential issues. IoT sensors can pool essential information on various facets such as fluid levels, engine status, temperature, fuel consumption, navigation, etc. The data helps to predict when the vehicles require maintenance, thus, preventing serious issues.
Fleet management
IoT in automotive helps integrate systems of trucks and other vehicles. Therefore, it is easy to facilitate drivers and fleet managers based on the sensory data gathered.
Reduced emissions
IoT in automotive can assist in reducing emissions. Further, IoT technologies can help V2V communication and optimize fuel and energy usage.
IoT Applications in Automotive Manufacturing
In automotive manufacturing, IoT applications are revolutionizing processes and outcomes, setting new standards for the future. Let's delve into some of these pivotal applications and their transformative impacts.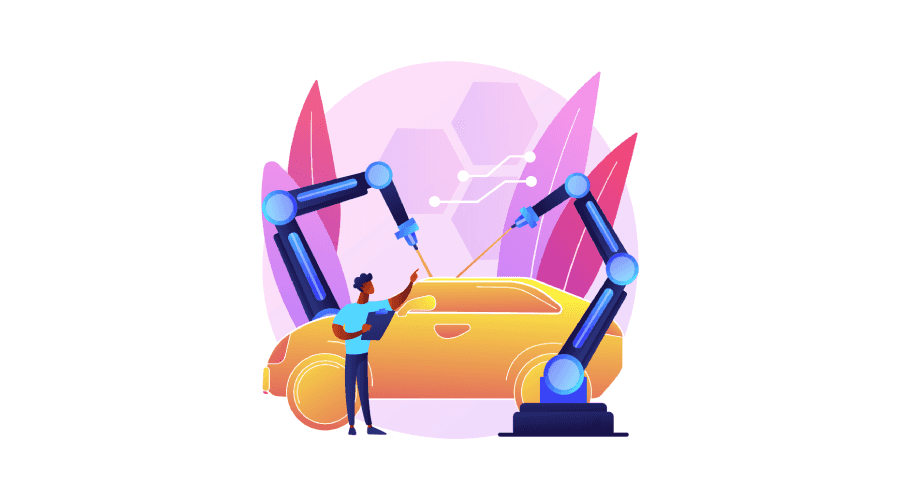 1. IoT in supply chain management
Automotive manufacturing involves the process of assembling various components to build trucks, automobiles, and other motor vehicles. The process can get complex as it involves many stages. However, IoT in the supply chain of automotive manufacturing has made it exciting for manufacturers.
As the sector is all set to modernize the supply chain, one can expect the processes to be more agile and resilient. Moreover, the industry will propel toward a sentient supply chain with emerging technologies such as AI and IoT. Thus, the supply chain can sense, process, and respond promptly in real-time.
Here's an example—the decisions related to the movement of inventory between factories can be based on the sentient supply chain, which can help with recommendations that can be subject to approval.
Plus, with cloud and AI, the entire supply chain network can create a digital brain that can make informed decisions or recommendations. The information can be used to reduce load times, improve delivery times, reduce inventory costs, and more.
2. IoT-enabled predictive maintenance
IoT in automotive manufacturing is getting a lot of traction. It's no surprise with the multiple benefits it extends—one being predictive maintenance (PdM). In an automotive manufacturing ecosystem, any scheduled or unscheduled downtime can have ripple effects on costs, resulting in critical setbacks.
However, PdM can help constantly monitor the industrial equipment's health in real-time and predict the probability of failures. Thus, one can benefit from improved efficiency of operations. Further, it reduces the maintenance costs of equipment.
3. IoT-based quality control and defect detection
IoT-based solutions augment quality control in automotive manufacturing to deliver high-quality products. The automotive industry has intricate processes, which are featured with a low tolerance for failure. Emerging technologies such as IoT, AI, and AR can contribute to defect-free manufacturing and operations in this context. Excellence in vehicle development can improve the overall quality and conform to the highest safety standards for customers.
Further, IoT helps make the inspection process smoother through automatic alerts if parameter values cross the limits. It helps to increase the razor-sharpness in QC and save defect detection time and effort, adding to the business benefits.
Also Read: How is IoT Used in Manufacturing: 8 Use Cases and Upcoming Trends
IoT Applications in Connected Cars
Connectivity is the core of next-gen vehicles. Simply put, you're looking at a connected car when a vehicle uses internet connectivity to communicate with outside systems. One of the primary use cases for the IoT car is safety through V2X communications, i.e., vehicle-to-vehicle communication with vehicle-to-roadside units. The good part is that there are many IoT applications in connected cars. Let's explore.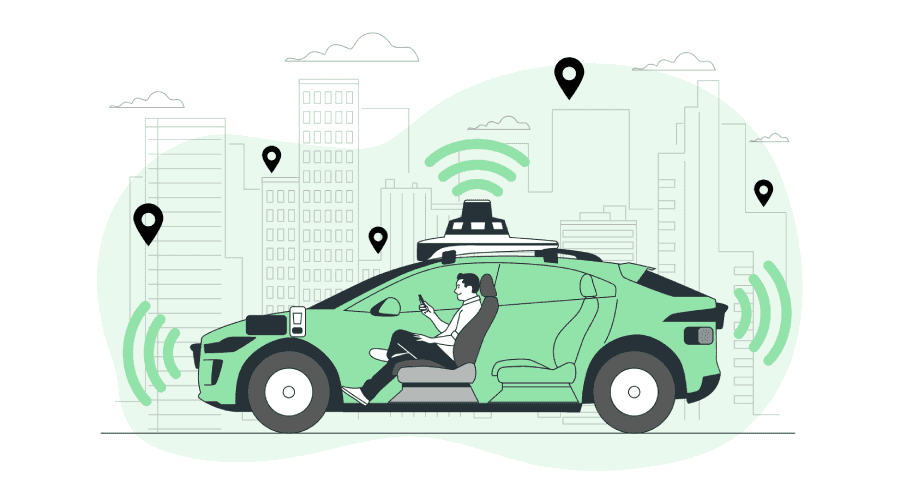 1. IoT-enabled telematics and remote diagnostics
Telematics is a technology that's supported by IT systems and telecommunications. It helps to monitor and track a vehicle's location, movements, and other vehicle diagnostics. What's more: with automotive telematics systems, one can monitor and track down real-time vehicle details, including the pressure of the tires, vehicle idling and breakdown, fuel usage, and more.
Here's an exciting statistic, the global automotive remote diagnostics market is expected to reach US$ 25.4 Billion by 2027, exhibiting a CAGR of 16.81% during 2021-2027. The statistic highlights the growing adoption of automotive remote diagnostics.
Remote diagnostics in IoT-enabled connected cars ensures the vehicle is operates within specified parameters. The technology also proactively helps to identify potential issues based on the granular data, minimizing service downtime and predicting component defects.
2. IoT-based vehicle-to-vehicle communication
Here are some statistics—every year, around 1.3 million people die each year attributed to road traffic crashes. What's more: road traffic crashes cost quite a few countries almost 3% of their GDP. Enter connected vehicle technologies—it can provide drivers with the tools they need to anticipate potential crashes and reduce the number of lives lost yearly.
A good part of vehicle-to-vehicle (V2V) communication is that vehicles can wirelessly exchange information about their facets, such as speed, location, and heading. IoT-enabled vehicles are equipped with apt software (or safety applications) that can collate and use the messages from vehicles around to establish whether there are any potential crash threats as they develop. The technology has a blend of visual, tactile, and audible alerts to warn drivers, which helps them to avoid crashes.
3. IoT-powered infotainment systems
As the automotive sector grows, autonomous vehicles have evolved to meet the changing lifestyle of customers. Thus, the need for in-vehicle infotainment (IVI) services and devices is increasing rapidly.
What's infotainment? It combines the words information and entertainment. Let's take an example—Apple's CarPlay, helps drivers to make calls through the console. Plus, one can add Audible, Spotify, and other voice-enabled apps to the dashboard.
Further, drivers can benefit from speech-activated navigation, apart from which they can also try texting and calling. With such exciting benefits, it's no wonder analysts predict that the global automotive infotainment market will be able to generate around $20,720 million by 2030. Plus, the market will grow at 8.32% CAGR.
IoT Applications in Autonomous Vehicles
The realm of autonomous vehicles is one where imagination meets reality. Fueled by the Internet of Things (IoT), these self-driving marvels leverage an intricate web of connected devices and sensors to navigate, make decisions, and ensure safety.
The fusion of IoT with autonomous vehicles not only propels the automotive industry into the future but also redefines our understanding of transportation.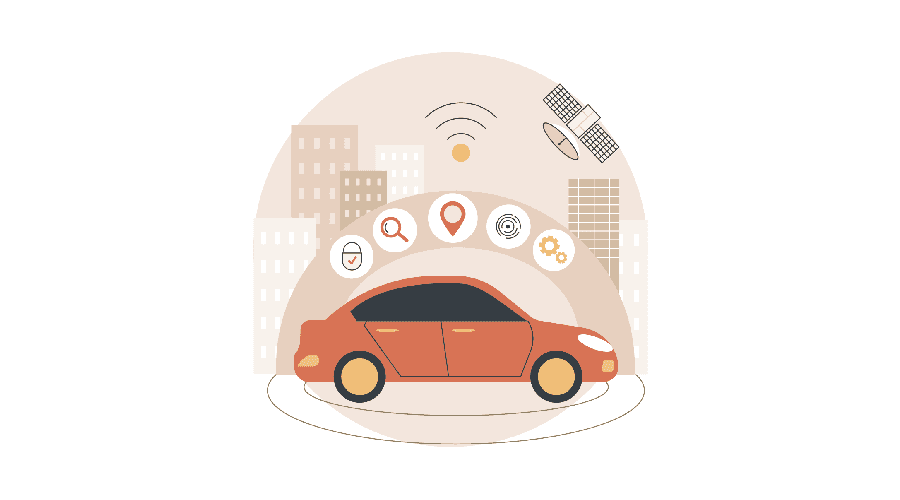 1. IoT in sensor fusion and perception
Perception and sensing are critical to the operations of autonomous vehicles. An autonomous vehicle (aka self-driving car) can sense its surrounding environment accurately and navigate safely with little or almost no human input.
Sensor and communication technology have evolved and are all set to revolutionize the future of transportation and mobility based on the reliable application of obstacle detection techniques and algorithms.
Many companies are working on driverless cars, such as Honda, Volvo, BMW, etc. In autonomous vehicles, sensors are a core element that augments the perception of vehicle surroundings, which determines operation with the highest degree of safety.
2. IoT-based predictive analytics for autonomous driving
Self-driving cars are flourishing, and the driving experiences are getting better with innovation at its heart. IoT in the automotive industry is taking driving automation to the next level. The technology is helping contribute to intelligent traffic systems with the use of sensors like lidar, radar, and cameras, which can collect real-time data about their surroundings.
The data creates a detailed environment map that can identify road signs, traffic lights, and other vehicles. Plus, the data and analytics can also predict others' behavior in autonomous driving. With continuous innovation, IoT is boosting self-driving experiences to design future-ready vehicles.
3. IoT-enabled fleet management and optimization
Autonomous and IoT-connected vehicles have intense research at the heart of development. In the backdrop of the global ecosystem changing rapidly, the shift to an ACES fleet (autonomous, connected, electric, and shareable) must be based on grounded research. In this context, IoT and other emerging technologies have already contributed to revolutionary changes in the fleet management industry. IoT applied in fleet monitoring and optimization can help boost savings and increase the visibility in passenger-load and cargo vehicles via advanced telematics solutions.
For instance, the good news for fleet owners and even managers is that with IoT-enabled solutions, they can find data that can support them in monitoring vehicle maintenance, driver operation, and cargo management. There are many several other use cases for IoT-enabled telematics for fleet management, such as:
Fleet predictive maintenance
Route planning
Asset and cargo management and optimization
Service efficiency
Waste reduction
Passenger safety and onboarding
Driver safety and behavior
IoT Applications in Automotive Cybersecurity
As vehicles increasingly adopt digital functionalities, their vulnerability to cyber threats grows. However, the Internet of Things (IoT) is stepping up to the plate, not just as a potential risk factor but as a key defender.
In the realm of automotive cybersecurity, IoT applications are the unsung heroes ensuring the protection of vehicle data, driver privacy, and onboard systems.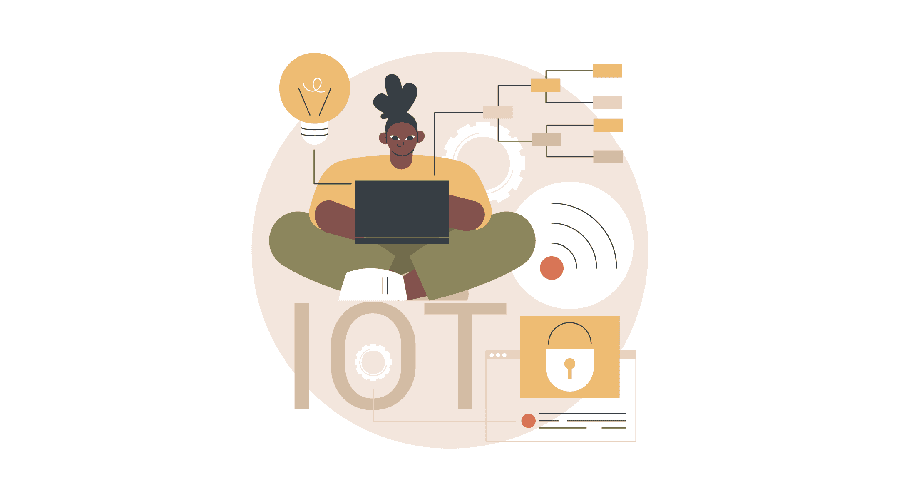 1. IoT-based intrusion detection and prevention
Automotive IoT is prone to security vulnerabilities. There is a need for robust security to tighten the security and protect it from exploitation by malicious actors. In this context, intrusion detection systems (IDS) can help secure vehicles from unauthorized access.
The IDS can sense and track external attacks in the automobile. Plus, it collates the data and sends them to a backend at the vehicle manufacturer. The IDS backend can be linked to the manufacturer's systems, and such measures help to protect both the driver and the vehicle from the risks of hacker attacks. During a malicious attack, notifications can be sent to notify special OEM departments, remove intervention, or activate visual, acoustic, or haptic displays. Plus, one can also benefit from disabling compromised functions.
2. IoT-powered secure communication protocols
Connected vehicles need the support of wireless communication technologies at various stages, which include Bluetooth, Wi-Fi, and cellular networks. In the automotive industry, a critical component of IoT security is using secure communication protocols.
It is essential to ensure that these communications are authenticated and encrypted to help protect connected cars from man-in-the-middle attacks and eavesdropping. Consequently, it is pertinent to explore the potentials of IoT protocols and standards, which help automotive manufacturers to tide away the risks of leaking data, creating a secure environment.
3. IoT-enabled over-the-air updates and patches
What is OTA? Simply, it is an over-the-air update, a type of software download that gets delivered remotely to connected cars via a cellular network or Wi-Fi connection. These days, cars that have infotainment systems can also receive software updates.
According to market experts, the automotive OS market size is predicted to grow at 13% CAGR during the period 2023 to 2032. Major automotive OS industry companies include ArcherMind OS Type (Nanjing) Co. Ltd., General Motors Group, Ford Motor Group, etc. Further, automotive OS, such as Tesla, Mercedes MBUX, or BMW's OS 7/8, work towards scanning the cloud for OTA updates. Additionally, they can download the verified update and next use the telematics control unit (TCU) of a connected vehicle to run it.
However, there are vulnerabilities in the process. For instance—unsecured automotive over-the-air updates are pretty susceptible to threats and attacks, including tampering, information leakage, repudiation, spoofing, and escalation of privileges. Thus, one needs robust automotive-grade OTA security frameworks to include a layer of protection. In this context, one of these emerging security standards is Uptane. The security standard helps secure OTA software updates for automotive electronics and is an open and secure framework.
It's time for the automotive industry to adopt a standard OTA security framework where drivers can operate the car peacefully and also know that the data within it is safe while traversing on the road.
Wrapping Up
IoT has gained significant traction in the automotive industry over the last decade. With exciting IoT applications, the technology is helping optimize and transform business processes. IoT in automotive plays a critical role in boosting the quality of customer and driver experiences. It's time you think of accelerating development and improving your brand experience!
Build IoT-Enabled Solutions with Imaginovation
For automotive manufacturers who wish to experience transformational change with game-changing IoT-enabled solutions, talk to us.
We are an award-winning mobile app development company in Raleigh with an incredible experience building futuristic IoT-enabled solutions.
Let's talk.
Book A Consultation
Book a meeting with one of our team members and we will help you plan out your next steps. You can also use our calculator tool to receive a rough estimate on your project.