Experience travel and tourism like never before with Augmented Reality (AR). Join us as we uncover how AR is revolutionizing the customer experience, redefining how we explore the world.
From virtual guided tours to immersive hotel room previews, AR opens up a new dimension of possibilities. Step into a world where reality blends seamlessly with imagination and embark on unforgettable journeys.
Discover how AR is reshaping the travel industry, creating immersive and engaging experiences for travelers. Get ready to explore destinations in a whole new way, with AR as your guide.
The future of travel is here, and it's augmented.
Augmented Reality in Travel and Tourism Industry
AR or Augmented reality is nothing but a reality that's augmented or enhanced with interactive digital components – in the form of images, real-time locations, labels, 3D models, etc.
Therefore, AR enhances users' perceptions of their physical surroundings when seen through devices such as mobile phones or handheld/head-mounted displays.
Do you know how much the mobile AR market is worth?
As per Statista, in 2020, the mobile AR market value was 6.87 billion USD. It is forecasted to reach 26 billion USD by 2025.
Moreover, in 2022, total consumer downloads of AR apps worldwide are expected to reach over 5.5 billion. This is a drastic increase from 2016 downloads of around 1 billion.
AR creates vast possibilities for a great customer experience (CX).
AR experiences include (but are not limited to) the following for travel and tourism:
AR apps direct users to locations with the help of virtual pointers and arrows.
AR solutions translate image-based text written in a foreign language to the language of your choice.
These apps act as a personal guide while traveling.
And many more.
Let's check how AR has gained an essential place in the sector.
Importance of AR in the Travel and Tourism Industry
Have you noticed, unlike other purchases, customers heavily research travel?
That's because the customer in the travel industry needs lots of information about the destination, journey, stay, food, and even places to explore to plan the travel.
Moreover, this research goes on even after the customer arrives at their targeted place.
AR-enabled travel apps ensure this information is available at the customer's devices, 24x7, especially when the most relevant.
In addition, AR-travel apps help businesses enhance their services and offer unique and personalized CX.
Here's why AR is beneficial for the travel and tourism industry.
1. Users Get Easy Access to Essential Information.
Tourism is all about people traveling to new places, exploring and appreciating their food and culture.
By leveraging the power of AR, travelers find the experience of information searching fun and interesting. 
AR-enabled apps make access to all information portable and straightforward. So, the user is in control all the time. For example, a traveler can look for news and reviews of nearby locations, their direction, Wi-Fi hotspots, food joints, and even check a weather forecast in real-time. AR will make this experience multiple times better and more fun.
2. Easy Navigation
Many online maps and navigators are already available.
But the experience provided by an AR app is much more informative and fun. You can find even the most minor details like a subway map which is vividly clear with AR.
3. Share Exciting Facts and Information.
Explorers love to learn stories and information about new places. And, AR helps you display amazing facts about homes.
With AR, your customers can also experience the thrill of seeing historical artifacts come to life.
4. Offer Travel Convenience and Comfort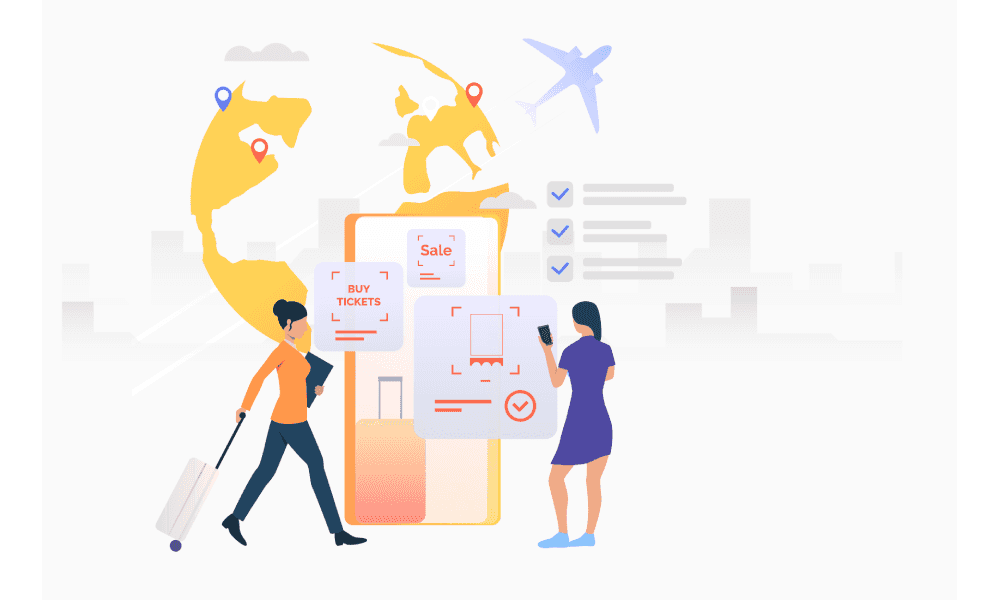 What travelers look for in the travel app is timely availability of essential and on-the-go information.  
AR-based travel apps offer precisely that.
They help travelers navigate their way with arrows, pointers, and other navigation-related signs in an unfamiliar city. An AR app is a 24X7 travel guide for users and helps them do away with language barriers by translating image-based text.
Travelers' convenience and comfort are a priority, from booking travel tickets and hotels to finding the best location for eating, shopping, and exploring popular tourist destinations.
7 Ways Augmented Reality is Changing the Travel and Tourism Industry
If you are still wondering how AR changes the travel and tourism industry, here's a list of 7 use cases of AR in the sector.
1. Augmented Travel Locations
Interactive tours of travel destinations and landmarks are one of the most significant benefits of applying AR technology in the travel domain.
AR technology lets travel app developers incorporate 3D models of places with historical significance. App users can thus have an immersive experience, interacting with their surroundings and traveling fun.
AR-based apps facilitate augmented tours of ancient locations, buildings, and landmarks.
The process is as simple as pointing the app toward the building or landmark. What follows then is a fantastic experience for the travelers in the form of visuals of the history and events there.
It's an excellent way of learning and exploring travel destinations.
This feature of travel apps can be extended to restaurants, hotels, and other essential places. For example, users may point their phones at a restaurant and check its menus and reviews.
With AR apps, travelers can gather information about other relevant points of interest and take travel experiences to the next level. 
2. Augmented Self-guided Tours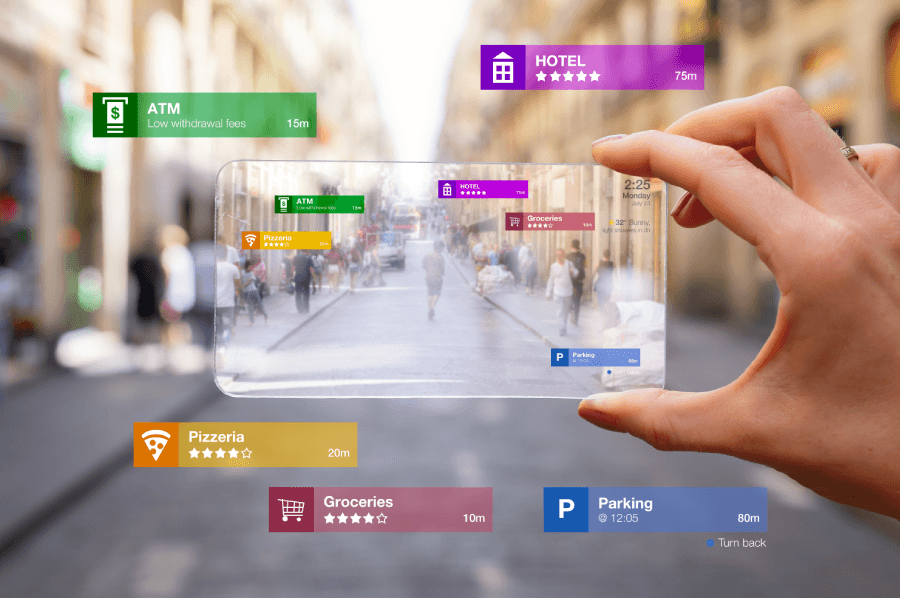 AR significantly alters travelers' perceptions of their physical surroundings and thus provides exceptional tourism experiences and opportunities for interaction.
For example, AR-enabled mobile travel apps use object recognition and provide on-screen info about museums, food joints, landmarks, parks, and other places of interest as a tourist strolls through a city. You can also build mobile apps with a library of crowdsourced guided tours that users can watch from home. 
Moreover, with AR-powered glasses, travelers can get an immersive experience with an element of fun, thus eliminating any need for a tour guide.
3. Augmented Local Transit
AR offers a significant improvement in local transit.
Even when the user is at a foreign location, things become super easy and secure with AR travel apps. They provide all the essential information for local transit – interactive map views of roads, traffic situation, alternate route, destinations, and popular places to travel in the city.  
In addition, such AR apps remove the need for tourist guides, bringing information that a traveler needs on their smartphone. AR can transform a metro map into an engaging AR travel guide in various languages.
4. AR in Beacon and Push Notifications
Beacon technology is popularly used in Bluetooth platforms. AR in beacons has become very useful for companies that want to advertise their brands cost-effectively. For example, as soon as a user enters a specific location, they can receive push notifications about the latest offers and services directly on their smartphones.
In addition, the use of beacons allows the users to leverage many stay amenities such as unlocking their hotel rooms as soon as they are nearby of their room, accessing menus, special deals, discount vouchers, checking real-time reviews, interactive user maps, etc.
The companies can even send personalized discounts to loyal customers using beacon technology.
5. AR Eliminating Language Differences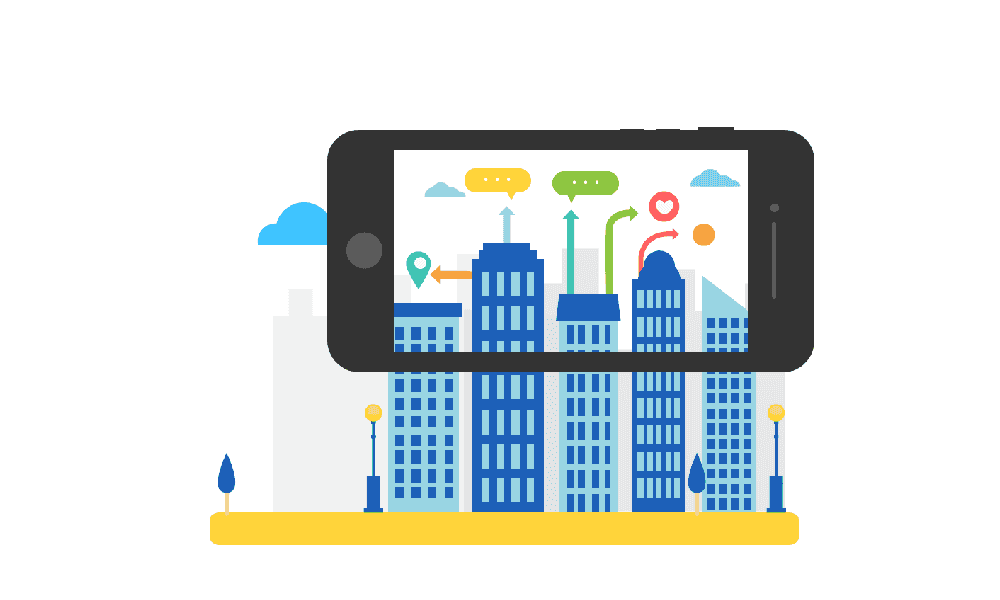 In this age of global tourism, travel to a foreign destination has become common. However, most travelers face one hurdle is the language barrier in a foreign land.
It especially gets challenging to read signs, menus, and other information.
However, with AR apps, it becomes easy to translate several foreign languages. Furthermore, these apps translate objects in various forms using augmented reality and render an engaging experience to travelers.
6. Augmented Museum Experiences
Museums are a wonderful treasure of information. However, most travelers don't get to experience them to their fullest because of barriers such as language issues, lack of a guide, too much crowd, and more.
AR makes sure your user's museum trips are super fun.
AR creates real-time videos, holograms, and stories about the exhibit. Through interactive content, visitors can witness wars and other significant events right in front of their eyes. As a result, they get a memorable experience, thus appreciating their travel better.
7. Innovative Advertisement and Marketing
As a tourism business, you must understand that no matter how attractive your offer is, it will still not yield results if you don't promote them. That's how vital advertisement and marketing are.
AR helps hotels and other travel businesses to enhance their physical properties and services. This way, customers visualize the benefits a lot more realistically and interactively.
Therefore, you can drive the traveler's decisions about travel by providing a unique CX. They can even see many things about your hotel, sitting in their rooms. 
For example, reading the menu is one thing. But customers can use the AR app of your restaurant and see in real-time the fries or pizza they would order and get tempted instantly.
In addition, AR technology offers travel companies a great experience in providing lifelike virtual tours. Besides influencing the booking decisions of customers, AR-based marketing strategies boost trust and convert first-time users into loyal customers.
Enrich Your Travel App AR Experience with Imaginovation
AR is the perfect tool for travel and tourism customers.
It enhances what your customers see around them, increasing their joy and creating an incredible experience while they explore different places.
Get in touch with Imaginovation to discuss your travel project. We will help you discover what AR element to add to your travel solution to bring memorable experiences for your customers. We will build the right solution for you and guide you right through the consultation to launch your app.
Imaginovation is an award-winning web and mobile app development company with vast experience crafting remarkable digital success stories for diverse companies.
Let's talk.