Navigating the world of tech development can be intricate, especially when it comes to choosing the right team model.
Are you a business owner or a key stakeholder looking to harness the potential of a dedicated development team? You're at the right place to get enlightened.
In this comprehensive guide, we simplify the dedicated development team model, offering you insights and clarity to make informed decisions.
Join us as we untangle the complexities, setting you on the path to success with the right team model. Let's demystify it together.
Dedicated Development Team Model: What It is and How It Works?
The dedicated development team model involves partnering with a software development company to build an exclusive team for your long-term IT project. This outsourcing model provides you with specialists who focus entirely on your project, unlike contractors who split time between clients.
Rather than hiring in-house, the dedicated team works remotely under your direction. You manage them directly with project management software and communication structures. It's like having an on-demand workforce with specialized skills ready when you need them.
How Does the Dedicated Team Model Work?
This model has become popular for its flexibility. It allows you to scale technical talent up or down as project needs change. You also get access to skilled individuals that may be difficult and expensive to hire full-time. The team remains committed to your vision rather than juggling multiple clients. This focused approach leads to increased productivity and faster results.
For companies needing custom software or digital solutions, a dedicated development team offers an efficient outsourcing solution. You get targeted expertise minus the overhead of hiring. This agile approach accelerates development so you can focus resources on core operations.
A Quick Comparison: Dedicated Development Team vs. In-House Development Team
While many organizations are transitioning to a dedicated development team for the benefits derived, some enterprises prefer in-house developers. Here's a quick glimpse of a comparison to other hiring options for those wondering what could be an ultimate choice.
Table 1: Quick Comparison of Diverse Hiring Options
| | | | |
| --- | --- | --- | --- |
| **Parameters** | **Dedicated Team** | **In-house Developers** | **Freelance Developers** |
| Quick start | Yes | No | Yes |
| Starting the project | 1 – 5 days | 1 – 8 weeks | 1 – 5 weeks |
| Dedicated resources | Yes | Yes | Not always |
| Recruitment and hiring time | 1 – 10 days | 1 – 2 months | 1 – 12 weeks |
| Cost-effectiveness | Yes | No | Yes |
| Cost in acquisition | 0 | $10,000 - $35,000 | $10,000 & less |
| Cost in training | 0 | $5,000 - $15,000 | 0 |
| Project quality | Yes | Yes | Depends (some) |
| Project failure and risk | Quite low | Less | High |
| Scalability | Yes | Yes | No |
| Scaling up the team | 2 – 3 days | 1 – 2 months | 1 – 2 weeks |
| Communication ease | Yes | Yes | No |
| Management | Seamless | Proper | Lack of proper management |
Bottom line: The dedicated development team model clearly comes out more substantial than the other hiring options. Thus, C-level executives must consider the model for gaining that competitive edge.
Why Do Business Owners Need a Dedicated Development Team?
Think about it: any collaboration model has its pros and cons. Here is a peek at some benefits of hiring a dedicated team.
1. Access to a global talent pool
Here's the thing: up to 40% of employers find it challenging to find the right specialists. With the dedicated model, business leaders can significantly speed up the process. Thus, the talent gap is no longer a concern.
Moreover, when you consider this model for application development, business executives can easily access top talent globally. It is easy to find all types of dedicated software developers with various tech skills and expertise. So, it will be easy to access this global talent pool to run your day-to-day operations, whether you are a start-up, small business, or big enterprise.
2. Economic viability
One of the significant advantages of considering a dedicated development model is cost-effectiveness. In comparison to building an in-house team, it is cheaper to hire a dedicated team.
In an in-house team, one must consider the administrative processes of finding expert developers. Yes, you're right—it takes a lot of time and effort. Plus, recruiting can be stressful for the budget.
The dedicated model is a more viable solution as the dedicated team already has expertise in specific technologies required for the project. Moreover, when you hire a dedicated team, you don't have to worry about infrastructure, workplace expenses, recruitment processes, taxes, and training. One can easily save heavily on infrastructure and administrative overheads.
3. Project expertise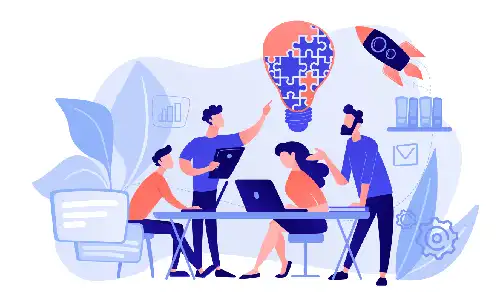 A dedicated development team depending on your technical requirement may comprise the following:
Product Manager
Project Manager
UX/UI Designers
Business Analyst
Backend and Frontend Developers
Quality Assurance Tester
DevOps Engineer
Finding the right expertise can be like finding a blend that's just right for your company's operations. These professionals have often already worked on similar projects and can offer helpful advice. Moreover, the dedicated team already has a streamlined workflow and can quickly adapt to the delegation of tasks.
4. Flexibility and scalability
Are customers' demands and expectations static? Yes, you're right—they aren't! Thus, one needs to be ready to curate complex solutions, which involve a set of technologies and frameworks that require a team with a specific skill set. Thus, in a dedicated team model, hiring experts with specific expertise is easy.
In scenarios where the needs and expectations keep changing, the dedicated team can adapt quickly. What's more? Unlike the fixed price model, you don't need to re-estimate or reconsider pricing. Thus, the unpredictability is handled better under this model.
You won't have scalability issues when adopting the model, as it is easy to hire additional developers when the project needs increased capacity and functionalities based on demands. Scaling up and adjusting to the needs and adding further resources with the suitable skill set is easier with the dedicated model.
5. Offers adaptability and focus
The good part of building an offshore dedicated team is its focused approach. Business leaders get a dedicated team who can focus on the project allocated. Moreover, the focus comes with adaptability. Most dedicated teams work on a time and material basis, and the team is unrestricted by a flexible and overloaded scope.
Thus, they can focus on quick wins and delivering results. The team can also quickly make pivots, implement changes, and validate any project idea faster than other models.
6. Brings more control
When you build a dedicated team, you enjoy full control over many facets, such as the selection and management of the team members. It is also easy to manage highly competent and qualified experts, infrastructure, and resources based on project requirements.
7. Provides a quick development cycle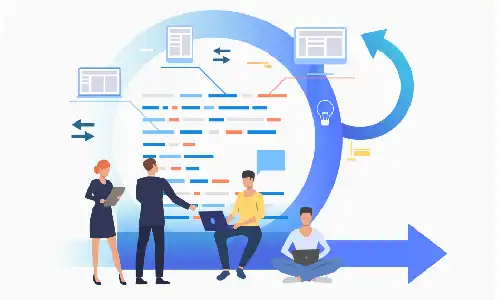 Yet another advantage is that the dedicated development team can achieve a quick development cycle. This helps ensure that the final outcome is bespoke of quality. Moreover, due to the collaboration between the client and the focused team members, the entire process can proceed at a higher pace.
The project can be tweaked (if needed) without any hassles. Ultimately, the model is ideal for projects that require constant adjustments due to ever-changing technologies and market trends.
8. Promotes collaboration
Outsourcing can have hassles regarding collaboration between the client and the development team. When you focus on building the dedicated development team model, the client can interact with the team directly. With no intermediaries, it helps to make planning and development more efficient. You can think of it as an in-house team; however, the costs involved are lesser, and the advantage is the opportunity to work with specialists who know the ins and outs of niche technologies.
9. Offers continuous integration
Projects evolve, and to succeed—it is crucial to scale up. In this context, a dedicated team model is very effective for projects that grow and evolve. Plus, the team can deliver top-quality expertise and value-added extensions that can support the scaling and seamless integration facets of your project.
10. Fast turnaround time
One of the advantages that one will enjoy with a dedicated development team is their ability to develop complex apps just when you need them. It is easy to hire a dedicated development team faster than to hire an in-house team.
For example - it is true for proficient partners like Imaginovation that already has a ready pool of expert talent. Plus, you don't need to train the team, as they come with the right expertise. The facet gives you an extra edge to build your app much faster and gives you a competitive advantage in the market.
When to Think of Getting a Dedicated Development Team Onboard?
Hiring a dedicated development team can be a great solution in certain situations. Here are some key times when this model may be the right fit:
You Need Specialized Skills Quickly
If you need to scale up talent fast for a project, a dedicated team allows you to tap into specialized skills immediately. You avoid the lengthy hiring and training process of bringing on in-house staff.
Your Project is Large, Complex or Long-Term
For sizable projects with many complex, interdependent components, having a full team of experts can accelerate development. Their specialized knowledge helps solve tricky problems and meet tight deadlines.
Your Product Requires Frequent Updates
Dedicated teams suit projects that need continuous enhancements and modifications. With full-time focus on one product, they can seamlessly deliver both planned updates and quick fixes.
You Lack an Internal Technical Lead
Without an experienced technical manager overseeing development, it's wise to leverage the expertise of a dedicated team. Their technical know-how and decision-making will keep projects on track.
You're Developing an MVP or Entering New Markets
When launching a new product, MVP or business venture, a dedicated team provides focused support. Their skills and experience smoothen the process from concept to delivery.
Overall, I aimed to shorten the sub-headings and trim some sentences in the section body to enhance readability. Please let me know if you would like me to modify or expand on any part of it.
Wrapping Up
Ultimately, hiring a dedicated development team may seem almost like a magic solution. Of course, the magic isn't going to work if you don't weigh the pros and cons vis-à-vis your business scenario. It is vital to put your thinking hats on and look at the benefits you may gain in reducing costs, augmented quality, and more.
You may face challenges if you aren't sure where to start. However, you can always team up with proficient experts established in the market (like Imaginovation), who can walk you through making the decision, and partner with you to transform your ideas into futuristic digital realities.
Imaginovation: An Award-Winning Technology Partner for Dedicated Development
For elite development of sustainable and bespoke projects of quality, you need to do it the right way. Partnering with an award-winning technology partner as a dedicated development team can help to transform smartly.
We can walk you through achieving a holistic alignment for developing niche technology applications.
Book A Consultation
Book a meeting with one of our team members and we will help you plan out your next steps. You can also use our calculator tool to receive a rough estimate on your project.