"How do I get funding for my startup?" is one of the most common questions that crosses every entrepreneur's mind.
According to CBInsights, only 1% of the startups evolve into unicorns such as Uber, Slack, Airbnb, and Stripe. Then what happens to the remaining 99% of the startups?
Well, a few of them manage to hold their position in the market with continuous innovation, but many startups become an utter failure.
According to the Fundera report, 25% of the businesses surveyed by NSBA couldn't receive the funding, which significantly affected their growth. Not getting enough funds is one of the primary reasons why startups fail.
Surely, you don't want to become yet another failed startup. You need funding to run and grow your startup.
So coming back to the main question – how do you get funding for your startup? The answer is – build a great MVP that can please your investors.
What is an MVP?
MVP is an acronym for the Minimum Viable Product. It is a development method in which a new product (an app or a website) is developed with just enough features to serve the early adopters.
The primary purpose of an MVP is to satisfy the early customers and receive valuable feedback for future development.
The concept of an MVP was first introduced in 2001 by Frank Robinson, President of SyncDev, Inc. However, MVP was truly popularized by Eric Ries.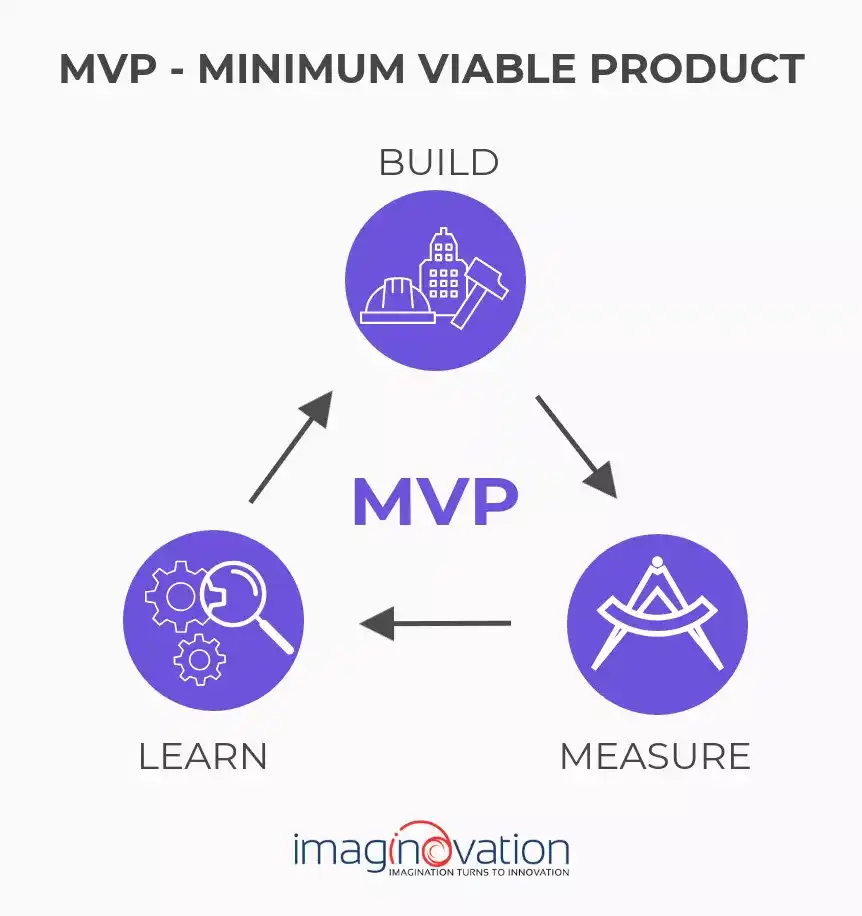 "The minimum viable product is that version of a new product which allows a team to collect the maximum amount of validated learning about customers with the least effort," says Eric Ries.
Simply put, developing an MVP means creating an elementary version of your startup idea and make it available to the audience as quickly as possible. It allows you to test your assumptions and see whether or not your startup has the potential to succeed.
So, how do you develop a powerful MVP that can earn you funding required to kick start your business idea? Let's see.
How to Build a Powerful MVP?
Building a powerful MVP involves many different steps. From validating your ideas to designing the user flow, you need to consider a different aspect of the business while developing an MVP.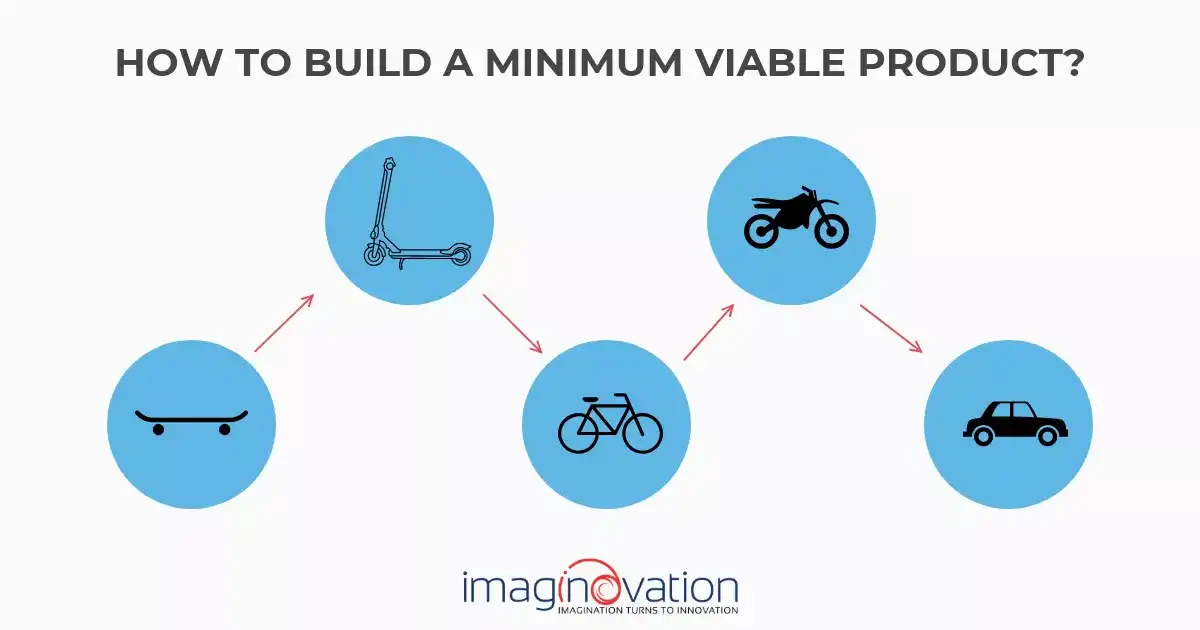 1. Validate Your Ideas
Just because you got an "awesome" idea, doesn't mean you're bound for success. There are a lot of startups that started with a unique concept, but yet they failed miserably.
That's why validating your ideas should be the first step of building an MVP of your startup. Start by asking yourself basic questions such as:
Why would the customers buy my products/services?
What unique value my product offers to the audience?
How is my product/service going to help customers?
It's no brainer that if you want people to download your app and use your services, make sure that they really need it. Even basic research on Google can provide you ample resources to conduct your research on the audience.
2. Create a Business Plan
The next step is to create a business plan. Whether you want to get funds from a bank or a VC firm, you need to have a proper business plan. Your business plan should include crucial information about your business, such as –
The type of services or products you offer
Your target market (target audience, demographics, etc.)
The goals you want to achieve and how (the plan of execution, marketing strategy, etc.)
Your business plan should provide a clear vision of the milestones and funding requirements to achieve those milestones.
To create an effective business plan, you need to perform:
Identify the strengths, weaknesses, opportunities, and threats to your business. Make a list of areas that it can perform well, areas that aren't profitable, unique opportunities, and negative factors in the market. Make a rough plan of how you're going to cash in on the strengths, market opportunities, and how you're going to deal with the shortfalls.
It can be a part of your SWOT analysis, but it's better to perform a competitor analysis during the initial planning stage. Find out your direct competitors, the type of products or services they offer, and their marketing strategies.
Determine your target market and get insights, such as market size, growth pattern, trend, and consumer demand.
Investors are often interested in your financial plan. Make sure you include financial data in your business plan, such as sales forecasts, balance sheet, cash flow projection, etc.
3. User Flow and Design
Defining the user flow is one of the critical aspects of building an MVP. The user flow should focus on serving the primary goal of your business – sales. It should be convenient and straightforward to the end-users too.
You first need to design a funnel or steps you want users to follow that can ultimately lead to a sale.
For example, let's say you're planning to build an e-commerce mobile. The process stages to reach the final goal include – finding the product, adding to cart, entering the delivery details, and making the payment.
4. List of Necessary Features
Once you're done with the user flow design, it's time to identify the necessary features. You need to make a list of features that users need to perform specific actions on every stage of the user flow.
For example, in an e-commerce app, showing related products at the bottom of a product page can be crucial in terms of marketing.
You have to think from the end user's perspective while deciding on the necessary features of your MVP. The best way to do this is by categorizing the features based on their priorities.
You can create a full list of features you want in your app and then make segments such as – Must-have, Good-to-have, and Not-so-important.
Think of the most significant action you want users to perform on your app. If users can't just move forward without a specific feature, it should be in the "Must-have" list.
If you think not having a specific feature won't affect the customer journey, it probably wouldn't be a good idea to have it in the MVP.
"Remember it's not about your product. It is all about what that product is going to be able to do for the buyer. If you provided a magic pill that produced the same value props then customers would just buy that from you" says David Gardner, a serial entrepreneur, writer, and Founder of Cofounders Capital.
5. Hire Professionals to Develop Your MVP
Remember, an MVP is not just a prototype of your product idea. It is a fully functional app that should be created to validate your ideas and gather information from users.
Hiring amateurs to develop your MVP will not only waste your time, effort, and money, but also leave you back to square one. Most importantly, your reputation and trust are at stake as it's the MVP that's going to attract the investment.
That's why you should hire a professional app development company to build your MVP.
Top Investors in the Raleigh and Triangle Area
Raleigh is emerging as an innovation hub, thanks to the tech giants like IBM, Red Hat, Cisco, and Citrix. There are already more than 500 startups in Raleigh that have created roughly 3000 jobs across different industries such as Software, Design Media, Life Sciences, and IoT.
Raleigh, being a part of the Research Triangle, is attracting new talents and investors alike to bring forth the latest innovations. If you've got a great MVP for your startup and looking for funding, you might want to connect with some of the top investors in the Triangle area for your startup.
Build a Robust MVP with Imaginovation to Attract VC Funding
We at Imaginovation have helped many startups and wannabe app entrepreneurs to develop powerful MVPs.
We are a full-service web and mobile app development agency. Our development team brings in 19 years of technical experience to provide innovative solutions to businesses of all shapes and sizes.
If you've got a brilliant web or mobile app idea and want to build an MVP, get in touch with us.