From managing different processes, customer expectations, and the list goes on. It takes a lot to efficiently run the business.
There are several complex processes and functions to handle. And it often feels like there isn't sufficient time to get everything done correctly. Besides, there are human errors, delivery delays, and financial ramifications to deal with.
Business Process Automation can transform complex business processes into simplified systems that can reduce manual interference and human errors.
With a custom BPA platform, you can truly optimize your business and improve efficiency. If you are looking to automate manual business processes, read this guide.
We discuss a step by step approach to getting started with developing a custom business process automation platform.
But first, let's start with the basics.
What is Business Process Automation?
Business Process Automation is much more than a process – it's a strategy.
It uses technology to not only "automate" business processes, but also optimize the workflows for improved efficiency.
Typical examples are – CRM (Customer Relationship Management) software, ERP (Enterprise Resource Planning) software, Employee on-boarding software, HRM (Human Resource Management) software, vendor management software, and many more.
How to Know If Your Business Needs Automation?
Businesses evolve with changing market demands. And, therefore progressive businesses use advanced platforms such as BPA or Workflow Automation to stay updated.
Below are a few key elements that can help you find out if your business needs automation. You can think of developing a custom BPA software if your business has processes that are:
Repetitive

Involve a series of predictable steps

Consistent across the organization

Needs to be error-free
So, you might be wondering – is it only about using technology to replace paperwork with PDFs?
No, it's much more than that. BPA facilitates businesses to
Execute recurring tasks

Cut costs

Make processes error-proof and transparent,

Increase productivity and

Streamline operations
Is BPA Suitable for Small and Medium Businesses Too?
Well, it's a common misconception that BPA is useful only in cases of complex business tasks. Every business can benefit from BPA. BPA is about making every work process better – even simple tasks like mass emailing or sending notifications, for that matter.
Depending on the work process to be optimized, BPA can either be wholly stand-alone or be part of a larger initiative.
Let's take a look at different approaches for BPA that you can apply:
Business Process Improvement (BPI)

– It's about automating to improve lackluster processes.

Business Process Re-engineering (BPR)

– BPR works just like BPI, with the critical difference being that it focuses on tearing down and rebuilding business processes from scratch. At times re-designing happens because of new technologies.

Business Process Management (BPM)

– BPM is about continuous improvement – unlike BPI or BPR, which are more of one-time initiative. BPM is something a company does systematically. Accordingly, BPA will streamline and automate outdated processes.
Based on the approach you choose to apply, you can use any of the following types of automation:
Basic automation

– You can create a central server to store all the essential business info. With all the critical data in one place, you'll be able to improve the speed of work and its system.

Process automation

– it can help your business achieve consistency and build effective task management. This type of BPA is achieved by using custom software or purchasing off-the-shelf business tools.

Artificial intelligence automation

– You can use a bot (a piece of software designed for a specific function), in this case, that is trained using machine learning to perform high-volume, repeatable tasks. They are used for data entry, form checking, or rekeying the interface between a system and the user into something streamlined and easy to use.
Let us now understand why you must invest in a custom BPA platform.
Why Does Your Business Need A Custom BPA Platform?
The stats point towards a likely boom in the process automation market. Let's take a look at some important figures:
74% of the companies are actively looking for new use cases for automation.

Companies using automation for mission-critical processes increased from 16% to 50% between 2017 and 2019.

As per

Statista

, the global business process automation market is expected to reach 12.7 billion USD in 2021 from 5.1 billion USD in 2016.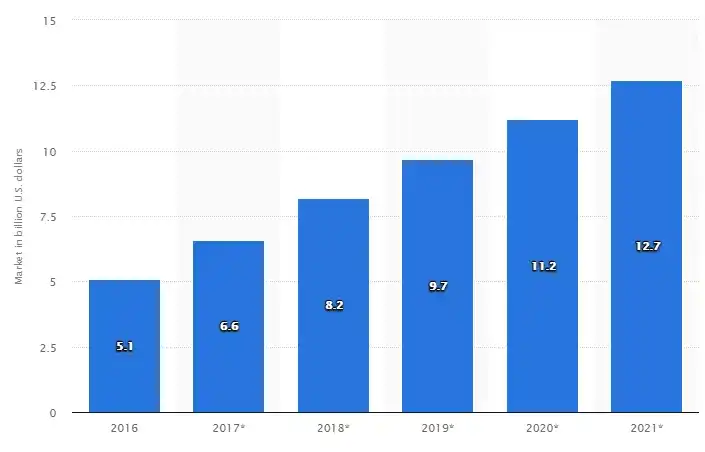 Here is how a customized business process automation system can benefit your company:
1. Increased Business Productivity
Using the BPA platform to automate recurring and mundane tasks will benefit you and your employees in many ways.
It will save your organization valuable time, effort, and resources. It will further increase productivity as you will be able to focus more on the complex and revenue-generating processes.
From as simple as sending a birthday email to employees to generating monthly reports, custom BPA software can do everything for you.
With automation in place, you can also develop data backup strategies for your company – setting up data backup frequencies. The actual data backing up will be managed by the system you set up.
You can also set up a digital process to push blog posts on your website or publish posts on Official Instagram or Facebook handle. You do not require to hire a person for this.
2. Cost Reduction
We know, running a business is an expensive affair.
Besides paying your employee's salaries, you also get to deal with frequent human errors and inefficiencies that might prove expensive to the company.
With automation, you can reduce the costs of human errors and inefficiencies such as delayed payments or approvals. You can take basic tasks out of human hands and engage their brains more into developing strategies and other important functions, thus saving unnecessary costs.
You can consider automating almost all the tasks that are repetitive and are related to paper processes.
Automation is beneficial for small and medium-sized enterprises because they do not have a big team to delegate tasks. Most of the jobs there are handled by a small group of team.
3. Improved Customer Service
Customer satisfaction is always a #1 priority for businesses.
Technology has impacted customer service considerably. As per a report, 85% of the customer service interactions at businesses are powered by AI bots and not humans.
By introducing automation in customer service, you can provide faster and more accurate assistance to your customers. , along with a cost reduction to manage a support team.
When a customer calls, you can quickly pull up their related information without shuffling through papers. With an improved quality of service, your customers are likely to be more satisfied and loyal.
Chatbots are common examples of how automation can lead to a better customer experience.
Imagine a bot answering all of your customer's questions directly, and then providing your team all the information in the back-end. Typical constraints such as public holidays or different time zones do not affect such type of automation.
Chatbots can help respond to customer queries quickly, which human support can never guarantee. Thus automated customer service ensures response wait time for customers is virtually nil.
4. Standardize Business Operations
Don't you wish that the same business processes across the organization must have the same solution? But many times, we see the same processes being dealt with in different ways across the same organization.
A BPA can resolve this.
Business process standardization is the efforts to unify or standardize how an organization solves the same problem across various stages or verticals. Business process standardization aims to: Identify the numerous, scattered ways a specific problem is solved across an organization and bring consistency to its solution.
When you automate a business process, you can expect a consistent standard of outcomes every time. Standardization helps position your organization as reliable, which in turn can help increase your customer base. It also helps reduce trial and error in the company.
5. Improve Employee Morale
Maximizing output is one of the main aims of any business. You can get maximum output from highly motivated employees. It's best to engage them by providing them opportunities that develop a sense of purpose for their work.
When employees spend most of their work time doing only repetitive and menial tasks that do not add much value, they will not feel motivated.
With automation, you can automate such repetitive tasks, free up their time, and engage them in high-value work, boosting their morale.
An employee with high morale is always an asset for a company, as they can be more productive and innovative.
Let us now check all the steps needed to get started with your own customized BPA.
Getting Started with Business Process Automation in 2023
It's time to use technology and get started with your own Business Process Automation.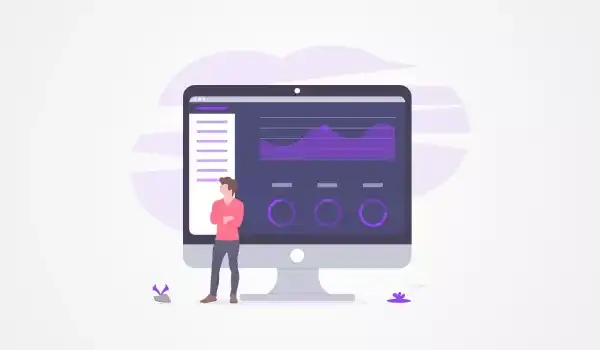 Here are simple steps that can make the journey easy for you.
Step – 1: Identify
Let us begin with the first step of our business process automation journey. It is pretty straight-forward – Identity.
So, identify the processes you would like to automate.
Okay, let me help you in deciding how to identify such processes.
Well, to begin with, check if the process you're considering for automation:
Falls under the area with low productivity.

Is the most repetitive process.

Is the most time-consuming process.

It needs to be consistent and error-free across the organization.
Make sure you don't list everything for automation – especially the processes which are infrequent.
Consider the business case of each process listed for automation.
Step – 2: Evaluate
Evaluating the process chosen will be the next step for automation.
The evaluation will help you identify any problems with your current workflow of the process. So begin this step with an analysis of the process for any issues, errors, inefficiencies, or breaks.
Do you know why this is important?
Well, it's important because you can take the time to streamline and fix processes that aren't working and make them error-free. This is also because automation will not be able to improve any broken processes or workflows for you.
Instead, it will do exactly as you tell it, and that means that if you ask it to do it the wrong way, it will do it the wrong way. That's why it's essential to fix any errors or inefficiencies with the processes at this stage.
Another reason to evaluate your process is assessing the risks of automation implementation and how you will mitigate them. Such risks can be related to the system's security, the likely level of disruption.
For example, evaluating if your automation platform will interact with any sensitive data? What if the automated processes fail?
Step – 3: Prepare
So what after the fixing up of broken processes and identifying the potential risks of implementing automation?
The next step in your automation journey is – prepare for your automation solution and take actions to reduce the risks you've identified until the automation benefits outweigh them.
For example, you can identify new organizational roles and responsibilities that automation will bring. You can also put any required training in place to help the team members prepare. This is an excellent way to minimize the fears of automation-fuelled job loss in team members.
You can also prepare for a change management plan. This strategy will help ease your team into the changes that automation is expected to bring. You can involve your team and provide continued education.
Step – 4: Select
It's now time to select your automation solution. You'll have to select from the list of few options available.
You may select to build your automation solution. This is a valid option if you have the team and resources to do it or only need a few macros. Otherwise, you can look for a suitable third-party option. This is often the best route, as it saves you time, and you can also access support if you need it.
When selecting an automation solution, remember to analyze the vendors as well as the software.
You can check for privacy/security, vendor track record, cost of the solution, if the solution will fill all your automation needs, the available support options, and how easy the solution looks to you. This can also help you further mitigate potential risks.
Do take care that the solution you're selecting is:
Easy to use

Simple to understand

Flexible

Scalable

Integrates with the existing tools
Step – 5: Implement
This is the final step of your automation journey. This is precisely where the actual implementation of automation happens.
When first implementing your automation, it is essential to start small. Begin with a single process that presents the least risk if something goes wrong. This lets you test it and ensure system integration — without disrupting all the workflows.
You can start adding more processes once you're satisfied with the stability of your automation solution.
So we can see, there are myriad ways to apply business process automation to your business.
Whether it's process improvement or complete process automation, you'll find that optimized digital systems cut out manual processing in favor of fast, error-free operations.
Build A Powerful BPA Platform with Imaginovation
If you're a business that wants to implement process automation to increase efficiency, maximize revenues, and streamline processes, we will help you walk the automation path.
We have helped many businesses achieve higher growth with digital transformation. Let's talk.
Book A Consultation
Book a meeting with one of our team members and we will help you plan out your next steps. You can also use our calculator tool to receive a rough estimate on your project.