There are over 1.7 billion websites online, so its important to make sure yours stands out. At Imaginovation, we turn ideas into reality.
Our innovative spirit can guide your project to success. We are thrilled to announce that Imaginovation has been included among the Clutch 1000! The Clutch 1000 is a list of the 1,000 best B2B service providers worldwide!
Imaginovation is ranked #541 on the Clutch 1000, putting us among the top 1% of the over 160,000 companies on Clutch. We are one of over 200 mobile app development companies on the list and we are the only company on the list from Cary, North Carolina!
This award is especially meaningful because Clutch rankings are based on client reviews. Their independent team directly interviews the past clients of companies on their site to ensure their rankings are fair and transparent.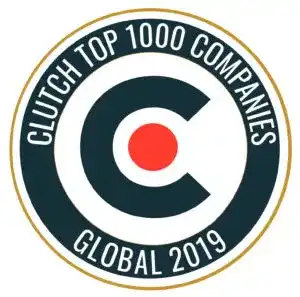 At Imaginovation, we provide custom enterprise-grade technology solutions to a variety of businesses in any industry, from funded startups to Fortune 500 companies. Our services include building custom web applications, mobile apps, and emerging technologies such as AI development, IoT development, AR & VR app development, and blockchain development.
Imaginovation company started in 2011, and since then we have grown to an enterprise technology company with 40+ full-time employees. We have won several credible tech awards, such as AVA Digital Awards, IMA 2017 Award, The American Business Award, and NC Tech Award for our innovative services. We have also been featured in top publications such as Entrepreneur, VentureBeat, Business.com, and Foundr.
"We are very honored to be included in this list as our team is consistently seeking to exceed the competition and innovate within this wonderful industry" – Michael Georgiou, Co-founder & CMO
Clutch has two sister sites, the Manifest and Visual Objects. The Manifest combines company shortlists, business survey data, and how-to guides. We are ranked among the top developers in Charlotte on the Manifest! You can also find us on a development resource shortlist on Visual Objects, a portfolio-based site. Visual Objects allows users to look through the past work of companies to find the best aesthetic fit for their next project.
Interested parties can check out our Clutch profile or get in contact with us directly to start your next project today!
Book A Consultation
Book a meeting with one of our team members and we will help you plan out your next steps. You can also use our calculator tool to receive a rough estimate on your project.