It's no secret that online banking is transforming the banking sectors. According to a survey, about 80% of Americans prefer digital banking over in-person branch visits .
With increased smartphone adoption, digital platforms have become a key channel for accessing banking services.
And why not. After all, mobile banking makes the banking more accessible to the customers.
Surveys and reports show interesting statistics on the growing popularity of mobile banking across the world.
Here are some of these facts for you:
It's time that banks and financial institutions should focus on mobile-first approach in their digital banking strategy.
Let's take a look at the driving factors for a mobile-first approach in banking services.
Mobile-first Approach in Banking: The Driving Factors
The banking industry has been contemplating using smartphones as a banking channel for a long time. Today, it has turned into a reality.
Here are the factors responsible for the growth in mobile-first banking.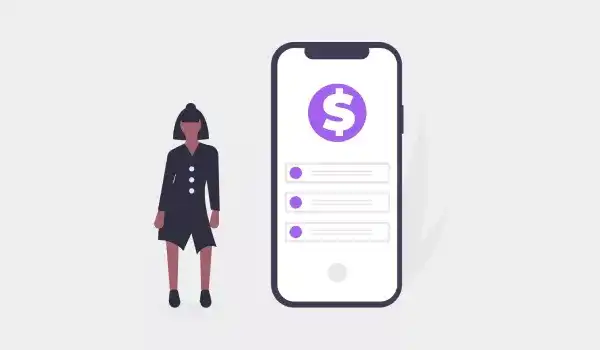 1. Faster adoption of Smartphones
There was a time when ATMs revolutionized the banking industry. Internet banking took it a few steps further.
But, when mobile phones started connecting to the internet and financial institutions began developing mobile apps, that really made the banks on the go.
Over the last decade, consumers have chosen smartphones as their preferred mobile devices. As per Statista, 20.2% of the U.S. population owned a smartphone in 2010.
By 2018, this number grew to 69.6%. And in 2021, it is expected that 72.7% of the U.S. population will own a smartphone.
2. Higher scope for product & service innovation
Another factor that's driving the mobile-first approach is the increased scope for innovation and customer engagement.
Mobile banking provides a richer experience to customers. It offers some unique features to customers – which they cannot find on regular bank websites.
Some of these features include real-time fraud notification, remote cheque deposit, and person-to-person payments.
Besides, the Mobile Banking apps send push notifications. These notifications can consist of amazing deals and discounts for the customers. The customer is not required to log in to the app to get these offers.
3. Changing Customer Preferences
Mobile banking is giving bank customers more options than they ever imagined.
Customers can access their account information, set-up automatic payments for regular utility bills, perform payment transactions, and many more. None of these would require access to bank branches, ATMs, or even computers.
Customers' preferences are changing, and they are learning to expect the convenience of banking from anywhere and anytime they want.
4. A significant capability build-out
When it comes to making investments in mobile banking capabilities, neither the large banks nor the smaller financial institutions are left behind.
Moreover, mobile network carriers, credit card processors, and other online financial services are also making their position stronger with capability building in this fast-growing space.
Let's find out why mobile-first should be at the foremost for your digital banking strategy.
Why Should Mobile-First Be At the Core of Your Digital Baking Strategy?
Now that we know the factors behind the mobile-first banking movement, let's try to find out its benefits to the banks and end consumers.
Read on and discover how mobile apps are beneficial for the banking industry. And why you should follow a mobile-first approach for your digital banking strategy.
1. Enhanced Customer Experience
A positive customer experience is crucial for all businesses. And banks are no different.
Here's how a mobile banking app enhances customer experience.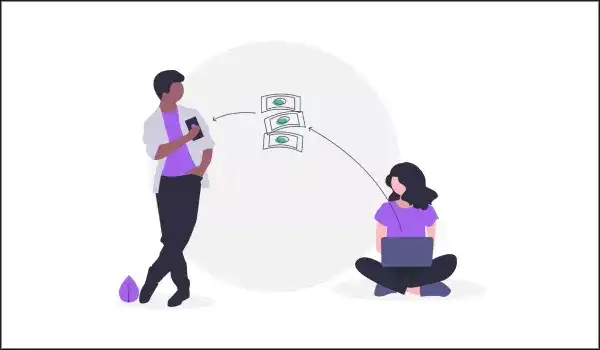 Mobile banking makes the banking services accessible and available 24×7 to the customers. It is not limited to a specific set of working hours in which business is done. It is also not limited to the location of bank branches or ATMs. Customers can access their bank accounts whenever and wherever they want.
Instant fulfillment of customer's needs
Customers start preferring mobile banking over traditional banking because it puts all the banking services at their fingertips.
Financial transactions are done instantaneously, and there is no waiting for a transfer to arrive because the bank isn't open yet.
Opening an account through the mobile app is a lot faster than traditional banking.
Such an instant gratification provided by mobile apps makes customers satisfied with and loyal to a financial institution.
It is essential to provide a personalized customer experience to build trust. Moreover, modern digital banking customers expect a greater level of personalization from their banks.
For example, they expect banking apps to feature tools that can help them budget. They prefer an app that can assess their finances and offer not just generic advice but also personalized advice that is more useful.
Customers can receive notifications for every single action that takes place on their card.
Therefore, by collecting data about customers' financial behavior and preferences, banks can create unique experiences. This can result in increased customer satisfaction and bank's credibility.
The personalization options for products and services offered via mobile banking apps are much more than those in branch-only or Internet-banking scenarios.
Complete control over customer finances
Mobile banking helps customers keep all finances under control. They're able to monitor the account balances, get account alerts, transfer money instantly, check deposits, and do much more.
Also, there are no monthly fees, cash can be withdrawn easily from various ATMs with no additional fees, and currency conversions are very simple.
Customers can also get alerts and avoid late fees when it's time to pay recurring bills.
The biggest benefit of mobile banking for users is convenience. Imagine getting most of a regular bank's services without the hassles of physically going to an actual bank.
It's super convenient to use a mobile app to exchange currencies at market rates, withdraw money from an ATM anywhere globally, and even exchange cryptocurrency, besides managing our account.
Customers can lock or cancel their debit and credit cards using the mobile app. They can keep an eye on what is happening in their bank accounts in real-time.
Mobile banking is just the right solution for anyone who travels a lot and wants to manage all the banking activities on their phone while on the go.
2. Reduced bank expenses
Mobile banking is not only advantageous for the customers; it is equally valuable to financial institutions.
There are many ways in which mobile transactions increase the efficiency of a bank.
It facilitates the banks to go paperless and thus have environmentally friendly processes.

Banks can cut down the expenditure on printing and delivery.

It eliminates the need for hiring an additional workforce by banks.

Banks can save on the operational costs of running many bank branches.
Banks can realize operational efficiencies and reduce their expenses by adopting a mobile banking strategy.
As per Deloitte's report, the cost of processing a mobile transaction can be 10 times lower than via an ATM and almost 50 times lower than via a bank branch.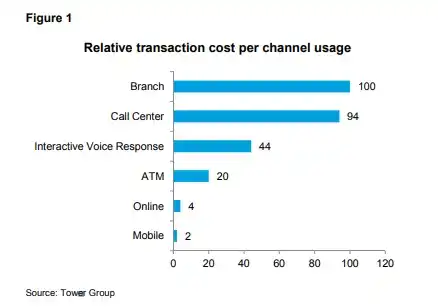 So, if the bank can convert a substantial percentage of branch and ATM transactions to the mobile channel, it'll prove extremely beneficial.
Mobile banking features like remote cheque deposits or P2P contribute to a growth in mobile transactions. An increased number of mobile transactions reduce the dependency of customers on branches or ATMs.
Thus, banks may choose to close poorly performing branches. Operational efficiency for the banks will further improve when branch employees' focus will shift from transactions to more advisory-services leading to greater sales or cross-selling rates.
3. Improved Return on Investment (ROI)
By increasing the rate of mobile banking adoption by customers, financial institutions generate additional revenue and reduce attrition.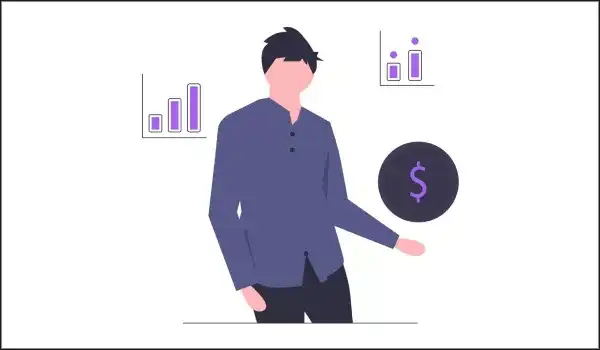 Expanding distribution and coverage
Mobile banking allows banks to expand their reach beyond their geographical range. It also enables banks to cross-sell and up-sell many products to their existing customers.
Engaged customers use more services.
In comparison to the branch-only customers, mobile banking customers invest in more products from their financial institutions. This is because mobile banking customers get more opportunities for engagement with companies and services.
Mobile customers stay with financial institutions longer.
It is often seen that mobile banking users' attrition rate is lower in comparison with branch-only or online users. Mobile-banking users tend to stick to the banks/financial institutions longer.
Mobile customers complete transactions more frequently
Immediate access to a user's financial information influences additional transactions. This is the reason why users of mobile banking services generate more revenue than users of other non-mobile banking services.
4. Better Security
If you are someone from a bank, I'm sure you understand very well that security is a primary concern for customers.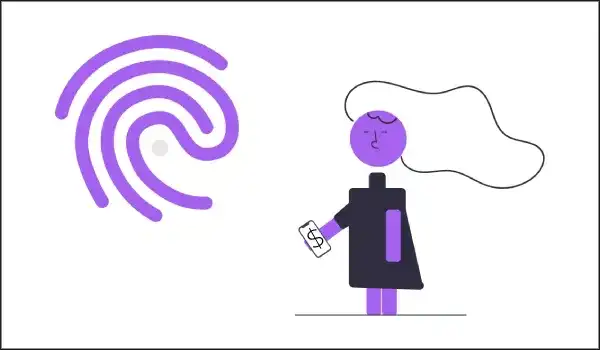 As you deal with your customer's finances, you must keep their information safe and secure.
While there are risks involved in online and mobile banking, mobile banking is a more secure option than its online counterpart. It is mainly due to additional security from extra hardware.
There are many things you can do for a worry-free customer experience in mobile banking.
Biometrics like retina scans and fingerprints or gesture patterns are some of the security solutions you can use to secure mobile banking.
These can be used on top of the two-factor authentication and passwords. Also, financial institutions must utilize encryption for privacy and information protection.
5. Customer Analytics
A mobile app helps you collect and analyze actionable metrics. These metrics assist you in measuring and improving various aspects of your customer service.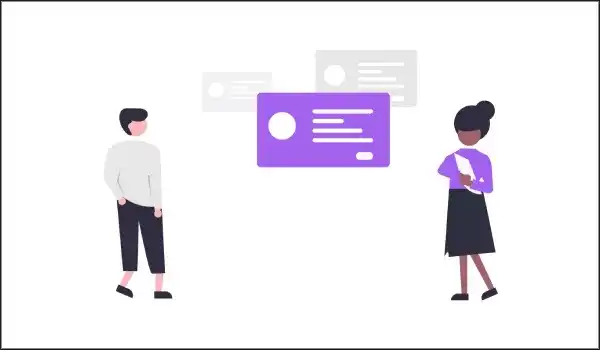 They also allow you to understand how your customers use their mobile apps.
For example, you can determine the user engagement by different factors – the number of active users, retention rate, abandonment rate, and session intervals.
To know which of your marketing campaigns are working, you can analyze the volume of downloads and their respective channels.
You can also measure your mobile app performance, especially its loading times and crashes. By analyzing these metrics, you can easily check where you're good at and which areas you need to improve. It also helps you analyze why your mobile banking app might have a high abandonment rate.
Mobile-First Digital Banking – Getting Started
Let's now see the steps that banking c-suite leaders should consider when building a mobile-first culture.
1. Build a Mobile Banking mindset
Building the right mobile banking mindset is necessary. Keep in mind that no technology can turn a business into a success without the right mindset.
Do make sure your organization has a robust internal digital foundation before presenting digital solutions to customers.
Remember, establishing a digital culture begins with you and your team. They must become comfortable with digital technology (mobile banking in this case) first. Only then will they be able to effectively promote and discuss the company's mobile capabilities with customers.
Once this is done, you will see how the entire organization is on board with the digital shift. It will ensure everyone is open-minded to the new and evolving mobile landscape.
Besides, you can also include consistent staff training.
The following steps will additionally help you build and enhance a mobile mindset in your organization.
Encourage bank branch staff to use your bank's mobile banking app actively.
They will not discuss the app and promote it to the customers unless they are comfortable using it themselves.
As they use the app more, they'll have more natural, confident, and well-informed conversations with your customers, which are always the most effective.
Identify the "digital enthusiast" in each branch.
A digital enthusiast is someone who does everything via their mobile device – right from banking to ordering food to listening to music. Tap into their mobile enthusiasm and bring others along the mobile journey.
Work with your digital expert to build – and measure – goals around training of frontline staff. Also, making sure everyone is trained and up-to-date on new releases and new technology.
Set mobile adoption goals for all staff members. Keep the momentum by ensuring they are incentivized, rewarded, or recognized for their success based on the mutually agreed-upon goals established.
2. Personalize and Customize Mobile offerings
All the mobile offerings should reflect your customers' unique preferences. But no two customer bases are the same.
For that, you must know more about your customer and what they want in a digital experience.
You can build a customer experience that will keep them returning to your mobile channels by understanding your app users' behaviors, preferences, and activities.
3. Be a trusted advisor
Customers nowadays turn to banks for more than just banking transactions. They look for a trusted advisor.
Banks can opt to send targeted offers to customers. You can also contemplate including financial education programs. All of this shows you care about your customer and that you are a trusted advisor.
4. Find a trusted development partner
Search for a reliable app development partner such as Imaginovation.
You can evaluate the past work and credentials of potential app development partners. Take note of what you like and what you don't like.
When comparing the potential development partners, make sure to check for the following:
Does their website mention reliable office locations?

Do you know correctly what each potential development partner does or what they can do for you?
For example, do they only do mobile app development, or only design a website? Finding a partner that does everything is the most convenient approach.
Is there a contact phone number? If they don't have one, they may be outsourcing labor somewhere else and might not be exactly who they say they are.
There was a time when people chose a bank only for its reliability. However, today, customers are more demanding. They favor banks that bring convenience and make their lives easier.
With a mobile app, your bank can make transactions easier and faster. If you wish to increase your online presence and build a robust mobile banking app for your customers that provides a personalized customer experience, get in touch with us.
We are an award-winning web and mobile app development agency with vast crafting remarkable digital success stories for diverse companies.
Let's talk.
Book A Consultation
Book a meeting with one of our team members and we will help you plan out your next steps. You can also use our calculator tool to receive a rough estimate on your project.