Undoubtedly, the NFT (Non-Fungible Token) is skyrocketing into a massive industry.
NFTs are quite popular, particularly in the world of art and collectibles. However, their potential goes beyond mere digital artwork. You can use them to purchase digital lands in the virtual worlds, access game items like avatars, publish and license next-generation music ownership, buy event tickets, and access limited-edition digital products.
You'll be amazed to know what the statistics tell about the rise of NFTs.
The global NFT market size is projected to hit 5093.3 million USD by 2028, from 1894.4 million USD in 2021; It is estimated to grow at a CAGR of 17.9 percent between 2022 and 2028.
As a result, NFT-based marketplaces have emerged all across the crypto world and are becoming ubiquitous.
In response to this kind of multifold growth, companies are exploring ways to engage with the world of NFTs.
Are you interested in building and launching your own NFT marketplace? Do you want to know how developing an NFT marketplace can benefit you?
Yes?
Here's a step-by-step guide for you that'll answer all your questions.
Let's dive in!
What is an NFT in Crypto?
Let us first understand the term NFT.
NFT stands for non-fungible token. It is a digital asset on a blockchain having a unique identification code that helps it maintain its uniqueness. Another interesting thing about NFT is that you cannot replicate an NFT or tamper with it.
NFTs are built with a similar kind of programming that's used for cryptocurrencies. However, both are different.
Cryptocurrencies are fungible tokens, similar in nature, with equal values. But NFTs are unique. At any given time, there can not be more than one instance of each NFT. So, for example, if you own 50 Ethereum tokens (cryptocurrencies), they all will be the same, while if you have 50 CryptoKitties (NFTs), each of them will be different and unique.
To put it more simply, NFTs represent real-world items such as artwork, gaming assets, and real estate, but they have no physical form. Therefore, tokenizing them makes it easy to purchase, sell, and trade them efficiently while also bringing down the probability of any fraud in the transaction.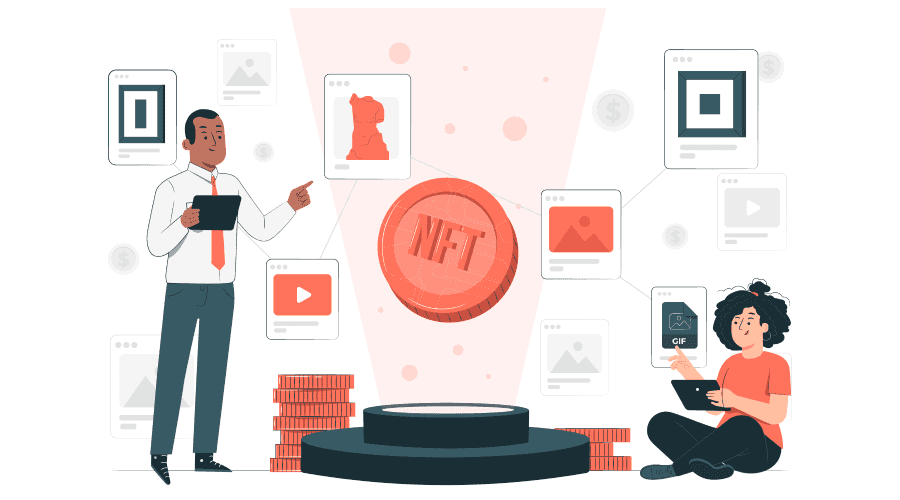 Now that we've discussed what NFTs are, let us discuss how they function.
NFTs are managed on a blockchain. You can consider using the Ethereum blockchain, which is one of the most popular blockchains for non-fungible tokens.
These blockchains function as a decentralized ledger that can trace the ownership and transaction history of every NFT. Furthermore, the code and the unique ID of the NFT make sure no other token can duplicate it.
The next step is to own cryptocurrencies such as ether (ETH) and store them in a wallet such as Trezor or Electrum.
Users can build and sell their digital assets on an NFT platform or marketplace, such as the OpenSea platform or SuperRare.
Here are some fascinating NFT statistics that are worth knowing.
What is an NFT Marketplace, and How Does It Work?
Unlike Bitcoins or other fungible tokens, you cannot trade NFTs directly. Instead, you need a special platform called NFT marketplace to do so.
NFT marketplaces are virtual shopping places or online spaces where users can purchase and sell NFTs.
You can call an NFT marketplace the 'Amazon of the crypto world.'
It enables users to create an account, upload digital artworks or other assets, and make sales or purchases.
Here, the tokens or digital assets are available for easy auction, purchase, and sale at a fixed price. You will require crypto wallets to store and trade the NFT tokens in the NFT marketplace.
Benefits of NFT Marketplace
The growth of NFT marketplaces is transforming the face of online transactions by offering a more transparent, secure, and efficient way of trading assets.
Here's a list of the key benefits of NFT marketplaces that highlights why they are the best way to transact online and why they are the perfect solution for you.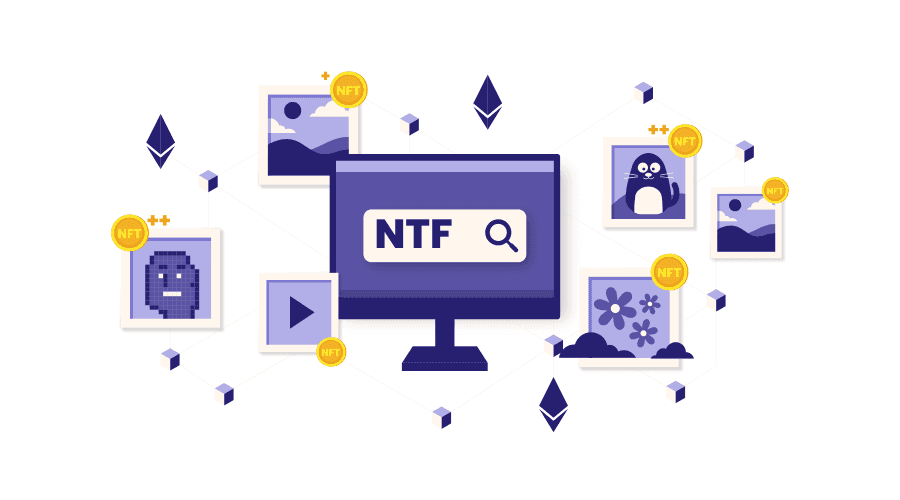 1. Transparency
Most traditional marketplaces fail to gain the trust and confidence needed for business transactions.
However, blockchain technology on which NFTs are based ensures all NFT transactions are visible to its users. In a distributed database, this enhances users' trust, offering them error-free payment procedures and a seamless transacting experience.
2. Increased Security
All the transactions done in the NFT marketplace are secured by blockchain.
You can experience all the benefits of highly secure transactions - safeguarding you from transaction loss and ensuring no one's able to steal your digital assets or commit scams.
Moreover, being immutable, your assets will not be removed, altered, or misplaced from the blockchain network.
3. Liquidity
You must invest in an NFT marketplace because there is a rising demand for cryptocurrencies and NFTs. In addition, decentralization makes people actively invest in digital assets. As a result, we see increased liquidity in the NFT.
Moreover, built-in liquidity features of NFT marketplaces ensure NFTs are easily traded/exchanged with other assets. In simple terms, you can easily transform your NFTs into other assets without waiting for buyers to come along.
4. Easy Transfer of Assets
NFT marketplace allows you to own an original item and provide a built-in authentication for the proof of ownership.
In addition, you can tokenize your assets and sell them to the NFT marketplace.
5. Decentralization
Building an NFT marketplace is all about creating a decentralized platform. Here, users can freely trade assets without having to depend on traditional financial institutions, regulators, etc. This is possible with the use of blockchain technology.
6. Instant Payments
Transactions and payments made on the NFT marketplace with cryptocurrency do not require a user's complete personal information or credit card details. This makes it hassle-free, quick, and private for anyone to make instant payments.
7. Decreased Fees
NFT marketplaces are known to charge lower fees than traditional marketplaces. This is because they do not need a third party or agents to facilitate transactions.
8. Greater Independence
Because of the decentralized nature of NFT marketplaces, the same rules and regulations as traditional online marketplaces do not apply to them.
This gives users freedom and flexibility in purchasing, selling, and trading digital assets.
9. Growth Potential
Thanks to the ongoing hype surrounding NFTs and cryptos, the NFT marketplace finds itself in an excellent position to garner attention from investors worldwide. This can enable its fast growth.
10. Traceability
Blockchain technology, on which the NFT marketplace works, ensures you can trace and verify the NFT ownership.
Due to the traceability feature of NFT, users can verify the uniqueness of the NFT and assess its worth. This is how many fashion brands and celebrities can sell millions of dollars worth of NFTs.
Must-Have Features in an NFT Marketplace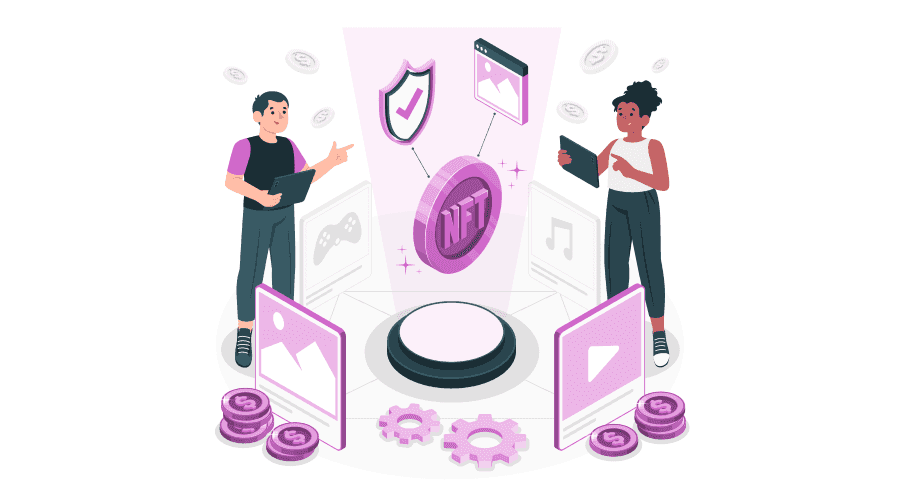 Make sure your NFT platform is power-packed with all the prominent features needed to support the seamless functioning of the marketplace.
Here is a list of all the features you need in your NFT solution.
1. Storefront
Most NFT marketplaces have a feature called storefront that functions like a dashboard. It attracts users to the platform by providing them with all the information about an NFT - its owners, bids, transactions, previews, price history, etc.
2. Advanced Token Search
This feature ensures users can easily search for available NFT assets per their preferences.
For that, all assets must be sorted based on different categories (For example, memes, pictures, videos, music, art, etc.). This is a great feature that enhances the user experience.
3. NFT Rankings
Here the traders can rate and write their reviews about the NFTs according to their price, trading volume, and other factors. This helps other users know more about the ratings and standards of the NFTs.
4. NFT Listings
All those users (creators) who have registered with the platform can mint their assets and list them. Once this is done, customers can sort assets based on various parameters.
Creators can mention the costs of their NFTs and write their descriptions.
5. Listing Status
Listing status is essential for someone who provides NFT products and passes their authentication process. It tracks the position of the confirmation process and helps execute NFT verification.
6. Crypto Wallet Integration
Since the users need to register with a crypto wallet, your NFT platform should allow crypto wallet integration to store and trade the NFTs.
7. Selling and Auctioning
Biddings always increase the chances for sales and earn the highest possible price. Therefore, your marketplace should offer real-time bidding rights to users for NFT assets. At the end of the auction, the highest bid will own the digital asset.
For selling, they can choose to sell their NFTs at a fixed price.
How to Create an NFT Marketplace
If you are contemplating building an NFT marketplace for your business, you must follow the below-mentioned steps:
1. Focus On Your Niche
To begin with, your custom NFT marketplace design must fit your selected niche.
It could be based on digital artwork, game content, sports memorabilia, other collectibles, or even a soundtrack.
Remember, if you optimize the layout of your NFT platform to cater to the requirements of your specific target audience, you will be in a better position to drive more traffic and increase your customer base.
2. Select the Right Blockchain Network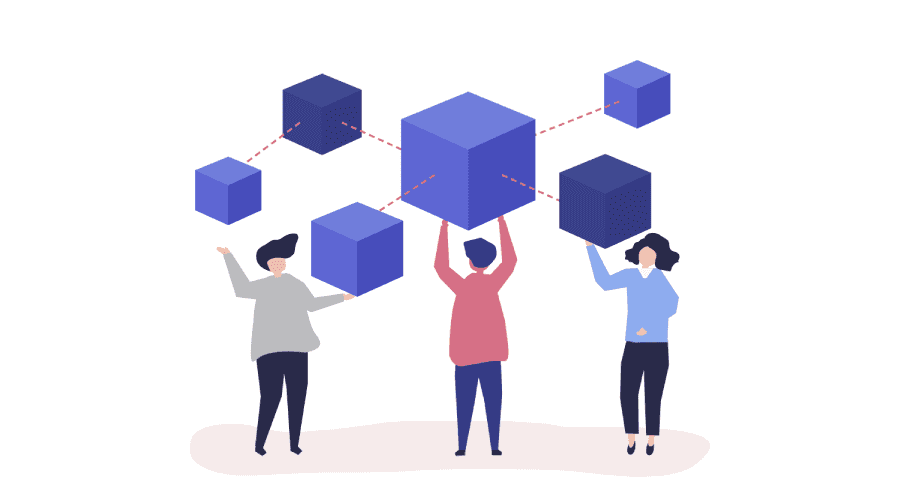 As we all know, a blockchain is a distributed database that keeps track of all NFT transaction data.
NFT creators use NFT platforms or marketplaces to sell their NFTs and receive royalties. Similarly, other users use NFT platforms to buy, store, and resell NFTs. All these transactions on NFT marketplaces are recorded on the relevant blockchains.
NFT marketplaces need robust, secure, scalable, and interoperable blockchain networks. So the very first step of NFT platform development is to make the apt choice of your blockchain network.
Some of the most sought-after blockchain networks you can consider include blockchains like Ethereum, Polkadot, Stellar, Tezos, and more. Among all these, Ethereum is one of the most popular blockchain networks.
You can look for the following factors before deciding on your choice of blockchain.
Transaction and NFT development cost
Robustness of smart contracts
How fork-proof is the blockchain
Speed of transaction
3. Choose the Most Advanced, Top-Notch Features
Ensure to implement all the top-notch features in your NFT platform and optimize its functionality.
Unique features can distinguish your NFT marketplace from similar platforms and enhance its worth in the industry. That's why you must carefully consider the functionality you want to implement while building your NFT marketplace.
So based on your project requirements, be very specific about the features you want to add. Besides adding the mandatory features, use a variety of options, such as 3D display, interoperability, social media interaction element, and others.
4. Build an Intuitive User Interface
An engaging, intuitive, and straightforward interface is a must-have for your NFT marketplace. This is important to ensure the secure and hassle-free trading of NFTs without glitches and bugs.
Moreover, a great UI can create a good impression for your NFT marketplace.
So, the trick is to keep it aesthetic, straightforward, user-friendly, and responsive while ensuring the features are displayed in the best possible way.
Along with an intuitive UI, you can opt to include signposts and tutorials to benefit first-time users.
5. Build IPFS & Database Storage
The next thing you should do is build an immutable and secure database.
This database is responsible for holding all the sensitive and private data of the user and admin profile.
The database also carries information about their NFTs. The IPFS, or the Interplanetary File System, stores and shares data in distributed files and database systems.
IPFS allows NFTs to represent data of any format and size in a secure and distributed way that can stand the test of time.
6. Integrate Other Third-party Services
A successful NFT marketplace needs to be integrated with payment gateways, crypto wallets, social media, and email services.
Check if these are the only tools you need or if your platform requires more integration. Everything depends on your business needs.
7. Build Smart Contracts
At this stage, you should build smart contracts to initiate transactions and mint NFTs automatically when sales conditions are met.
There are several reasons why smart contracts must be built. First, they are backed by trustworthiness and reliability.
The smart contract you create must be aligned with the functions that your NFT marketplace intends to perform.
8. Testing and Deploying
Bugs and errors tend to disrupt the user experience on a platform. So, testing is a crucial phase that ensures a hassle-free user experience.
As your NFT platform is ready for use, you can perform testing on different parameters. For example, you can test the usability, functionality, and other elements of your NFT marketplace with the help of quality testers.
A thoroughly-tested product is ready for launch and eliminates any expected and unexpected real-time discrepancies and loopholes.
Build a Powerful NFT Marketplace With Imaginovation
The NFT hype is far from over. On the contrary, with every passing day, this domain has started attracting many more individuals, celebrities, businesses, and entrepreneurs contemplating how to build a customized and unique NFT marketplace to enter this game.
If you are ready to build a robust NFT marketplace, we at Imaginovation are ready to help you.
Contact us, and we will brainstorm your subject idea with you and build a stunning and unique NFT solution.
Imaginovation is an award-winning web and mobile app development company with vast experience crafting remarkable digital success stories for diverse companies. Let's talk.