In today's technology-driven world where ground-breaking innovations are disrupting almost every industry, the one sector that has remained more or less the same is healthcare.

It's a well-known fact that the healthcare industry is quite slow to adopt new technologies. However, new-age entrepreneurs are now challenging this notion by introducing on-demand healthcare apps.
The Rise of On-Demand Apps in Healthcare
On-demand service applications are a hot trend in the world of startups. Apps like Uber, AirBNB, Lyft, and Postmates have disrupted the market by providing better customer service at lower costs.
Although healthcare is an important industry in the United States, it hasn't evolved much in the last couple of decades.
For many of us, healthcare is still an in-person, in-office experience. Patients still have to make an appointment and wait for long hours to see the doctor.
According to the survey conducted in 15 major cities of the US, on average, it takes 24 days for the new patients to get an appointment with the physician.
The average time to see the doctor varies greatly between the cities, and ironically these major cities have the highest doctor-to-patient ratio.
It's quite clear that when it comes to the convenience of medical care, nothing significant has changed. In society, where we believe in "health is wealth," providing the quickest medical care to patients can do wonders. It can be beneficial for both patients and doctors alike.
Do Patients Really Want On-Demand Healthcare Apps?
An idea becomes successful when it solves the real-life problems faced by the masses. The same goes for on-demand healthcare mobile apps.
Imagine that you're suffering from a severe headache or high fever, and instead of waiting or visiting your doctor, you can instantly book an appointment with the doctor or even request him/her for a home visit. All of this in just a few minutes on your smartphone. Sounds like a blessing, doesn't it?
Patients value quick and convenient healthcare service. They seek simpler ways to reach out to healthcare providers, and get solutions to their issues. According to a survey done by Accenture, a growing number of consumers prefer digital health services.
"Driven by experiences outside of healthcare, consumers increasingly expect to use digital technologies to control when, where and how they receive care services," said Kaveh Safavi, M.D., J.D., the global lead at Accenture's health practice.
The majority of the patients are willing to use digital platforms, like on-demand mobile apps, for faster service. With on-demand healthcare apps, patients can get care without even having to go to the hospital.
How Does an On-Demand Healthcare App Work?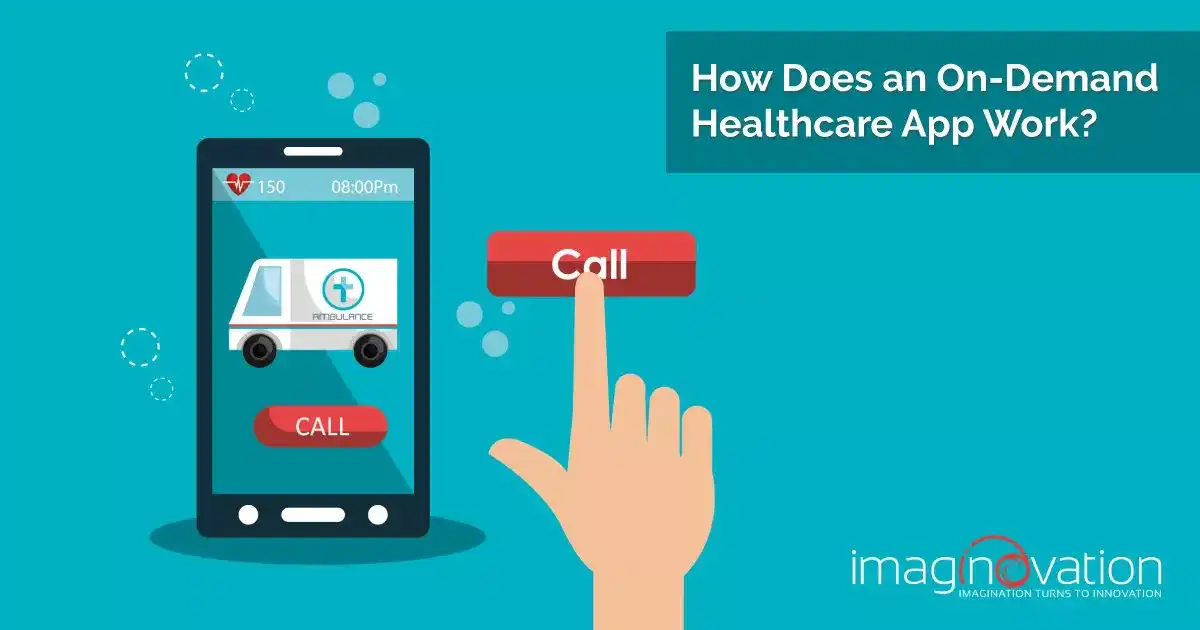 The process for using an on-demand health care application is pretty straightforward:
Step #1 – Scheduling a Visit: Using an app or website, you set up a home visit for the time that's best for you. You provide information about your symptoms, medical history, and insurance information at the time of booking.
Step #2 – Doctor's Visit: The doctor or a healthcare worker shows up at the given address and time for the house call. He/She will perform physical assessments based on the symptoms and diagnosis. They will then prescribe medications or tests.
Step #3 – Payment: You pay a set fee to the doctor through the app itself. Usually, an app will show the doctor's fee for a house call before scheduling an appointment.
Step #4 – Reports: Some on-demand apps offer a digital report or summary of the service. You can use these documents for record-keeping purposes.
Benefits aren't limited to the on-demand house calls, these apps can also provide a great alternative to get supplementary care services. With an on-demand app, you can find different services including:
Blood tests
Flu shots
Virtual assistance for colds, ear infections, headaches
Annual physical exams
Family health assessments
Benefits of On-Demand Healthcare Apps for Patients
Since mobile healthcare is becoming more mainstream, the United States is an ideal market for on-demand health care services. Of course, it's not possible for on-demand health care apps to replace all types of medical care, but they do offer additional support to the current US healthcare landscape.
Some of the main benefits of on-demand health care include:
1. Convenience
One of the primary reasons why on-demand apps hold great potential in healthcare is the comfort and convenience they offer patients.
You don't need to take a day off from work and travel in traffic to see the doctor. All you have to do is schedule a house call and wait.
2. Reduce Healthcare Spending & Hospitalization
According to a study published in the journal Health Affairs, the House Call program for seniors can significantly reduce the hospitalization rate and health care spending over the course of a few years.
"Overall, we see a potential for substantial improved patient outcomes and potential savings in total health care costs from this home-based care program for high-risk Medicare beneficiaries," says Glenn Melnick, the lead author, and professor at the USC Schaeffer Center and USC Price School.
Patients are less likely to visit ER's, or urgent care clinics when they get to see doctors in their own house. This will free up space for patients who seek more intensive care in hospitals.
Advocates of on-demand healthcare believe that it will reduce the cost of medical care by cutting down unnecessary ER visits.
3. Efficient Interaction with Patients
On average, doctors spend 15 to 25 minutes seeing individual patients in their clinic. Since there are other patients waiting outside, doctors don't usually get enough time to interact and thoroughly discuss the patient's condition.
Unlike the office setting, an in-house visit allows doctors to spend more time with the patient. When doctors are not pressed for time, they can provide the best care and ensure a proper diagnosis.
4. Reduced Paperwork
Numerous studies have shown that doctors spend most of their time doing unnecessary paperwork.
On-demand healthcare apps reduce the burden of the in-office administrative paperwork. It can help doctors save their time, and focus their full attention on their patients.
5. Supplemental Work for Doctors
On-demand healthcare offers flexibility for physicians and general practitioners to work supplemental hours. They can work full-time or part-time on these platforms based on their own schedule.
Disruptive Healthcare On-Demand Startups You Need to Watch in 2019
Investment in on-demand healthcare startups has dramatically increased in the past few years.
Most of these investors are eager to invest due to the ROI potential, as well as the community impact that these applications can bring.
In 2018 alone, investors have closed 50 deals in on-demand healthcare startups with a total investment of $1.4 billion.
Some of the top on-demand healthcare startups that received huge funding from VCs include:
Getting Started with Your Own On-Demand Healthcare App
The trend of on-demand healthcare isn't going away soon. With investors having an eye on innovative on-demand healthcare solutions, it's easier than ever to get funding and turn your ideas into a digital reality.
If you have an awesome idea for something groundbreaking in healthcare, or any other field, please get in touch with us. We at Imaginovation are experienced with helping startups, as well as Fortune 500 companies build innovative solutions to solve problems, as well as starting trends with new technologies.
We have vast experience in developing mobile applications, web applications, AI, and IoT applications. Connect with us, and we can help take your ideas further!
Book A Consultation
Book a meeting with one of our team members and we will help you plan out your next steps. You can also use our calculator tool to receive a rough estimate on your project.