Gamification in health apps is helping people stay on top of healthy habits. Staying fit and healthy becomes simpler when the health goals are broken down into mini-goals using a mobile health app. As you work towards these mini-goals, you get the mental rewards that keep you motivated.
Not only does the gamified health app make fitness tracking easy, but it also improves the user's engagement and retention rate.
Studies reveal that by 2027 the healthcare gamification market will reach 35,982.7 million USD from 3,072.5 million USD in 2019.
Today, it's no longer a surprise that gamification of health apps positively impacts people's behaviors and helps prevent different ailments in the long run.
Low User Engagement and Retention: The Biggest Challenge for mHealth Apps
User engagement and retention are necessary components for the effectiveness of a mHealth app. In a competitive market with many choices, low app engagement and retention are a cause of concern for mobile app developers.
Statistics around these metrics aren't flattering. Studies reveal that the average health and fitness mobile app retention rate drops from 20.2% on the first day to just 4% by the 30th day. Data also suggests that just about 2% of the patients actively engage with their mHealth applications.
It is possible to improve user engagement and retention of your mHealth app by implementing some modern design principles. But, adding gamification elements can take your health app to a whole new level.
Gamification: A Win-Win Solution for Patients and Healthcare Providers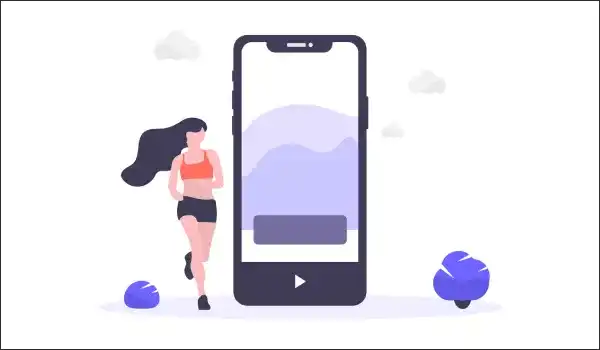 Gamification – the user engagement approach, which uses different game elements in mobile apps, is gaining ground in the mhealth app industry.
From facilitating healthcare professionals in diagnosis to motivating patients to adopt a healthy lifestyle, gamification transforms the healthcare landscape in many areas.
Here's how both patients and healthcare providers can benefit from the gamification of healthcare apps.
For patients
1. Customizes user-journey
We all like the freedom to select our paths, even if it's related to taking care of our health. Games give us a choice to follow a self-journey, which is one of the most appealing aspects of gamification.
The game levels used in the app can be personalized for each user, including the balance between rewards and user fatigue. These settings are controlled and individualized by the user.
2. Enhances user engagement
Gamification techniques in a mHealth app facilitate users to engage with the app more often. When the patient engages with a gamified app, their engagement and drive are based on their need for achievement and gratification, which a gamified app fulfills.
3. Provides motivation
Gamified apps with rewards, badges, and points provide users more motivation to continue their journey towards achieving their target.
Why?
It is simple.
Users gain motivation when they know they are in control. Then they tend to stick to their goals for a longer period.
Besides, gaining rewards after achieving mini-goals motivates them to continue pursuing their larger goal.
4. Creates better user experience
Gamification transforms healthcare activities that a patient would typically look at as dull chores, such as glucose monitoring or following a healthy diet, into something more fun, thus creating a better patient experience.
For healthcare providers
1. Provides more patient data.
Gamification of healthcare app increases the potential to gather additional patient data relevant to the health providers.
Since gamified mhealth apps motivate patients to use them more often, they are likely to provide feedback, which helps healthcare providers find new trends.
It also helps them understand user demand, helping them make products that address the target audience's needs.
2. Boosted use of healthcare apps improves patient's health.
The ultimate goal of any healthcare practitioner is to improve people's health. This can be done in a fun way by gamified healthcare apps.
Gamification attracts customers, engages them, and then turns them into habitual users who keep coming back for more. And since these app games are directly associated with their health, they don't realize, but such behavior positively impacts their medical conditions.
3. Easy and fun solution for patient's self-service
When you gamify your mhealth app, it allows your users to track their journey without any hassles.
Users are motivated to book their appointment or add something useful. Self-services relieve medical staff from routine paperwork and free them to focus on helping people.
4. Ease of education through the app.
Gamification allows medical practitioners to learn training material available in apps in less time and with a greater success rate than traditional learning methods. This, in turn, improves their quality of work.
5. Additional benefits
Fun activities and fascinating rewards in a gamified mhealth app take the monotony out of regular activities and excite users to actively attain their daily goals, thereby boosting user engagement.
Gamification also attracts new customers to your app when existing users share their achievements and experiences in popular social networks.
Gamification improves the user experience and boosts the customer retention rate of your mhealth app.
How to Gamify Your Healthcare App?
Follow the below-mentioned progressive approach towards gamifying your mhealth app, and you will not go wrong.
1. Identify the pain points you want to solve
First things first – begin by setting business objectives you want to attain.
Single out the problem areas that gamification needs to address. For example, problems faced by patients in focusing while meditating, motivation loss while following a prescribed diet, or difficulties encountered during rehabilitation.
Whatever may be the case, you must identify the issues you want to solve to provide maximum value to your users.
2. Choose the right gaming strategy.
Once you are clear about the purpose for achieving your app goals, define your app gamification strategy.
Layout a well-thought-out and dedicatedly constructed app development plan. Include gaming elements that suit your mhealth app the best.
You can base the gamification strategy for your app on the two core principles of mechanics and dynamics.
The principle of mechanics drives the user activity. For example, a user will earn a badge on burning 1200 kcal.
Dynamics is all about the behaviors and patterns of the game, which can be seen in the following game elements:
Constraints

: These are the limits that can be imposed on the player (user). For example, you can consider adding a feature to your app to make the user complete an exercise within a specific time frame.

Personalization

: Gamification elements are formed on the symptoms the user specifies in the application. For example, a mindfulness app can offer multiple meditations and activities depending on the user's psychological state.
It would be best if you considered the following while making a gamified healthcare app:
Rapid feedback:

app users should get quick feedback in the form of achievements, rewards, or recommendations from the health provider.

Progression:

app should provide users a way to track their progress and compare their initial performance with the current ones.
At this stage, you are supposed to gather all the ideas and requirements related to gamification to focus on designing the application.
3. Design your app
Take a look at the different gaming elements that you can use to design your gamified healthcare app.
i. Storytelling
Gamified health apps can use this power of storytelling to connect with their users and grab their attention. For example, you can try building an immersive gamified running app, where every player acts as the hero.
The story can be built around a series of missions, during which players run and listen to audio narrations uncover an adventure story. Such elements can make your app adaptive and fun.
ii. Levels
Like other mobile games, levels in a mhealth app add to users' curiosity levels, encouraging them to go further in using the app. With every level up, the game's complexity grows, challenging the user with new and exciting activities.
iii. Challenges
Don't we all like challenges? Especially when we come out as winners?
This approach of adding challenges spurs competition and enhances the performance of users. It allows them to challenge their friends or family.
iv. Progress Display
Progress displays are crucial elements. They resemble graphs or charts that show a player's performance compared to their previous progress and track the progress made towards the goal. The user can evaluate themselves better and get motivated to do more.
v. Leader Boards
At times, people feel interested and tempted to use an app to compare their performance with others. Leader boards give you a clear picture of the ranking of other participants. Unlike progress displays, leader boards display a user's performance in relation to the performance of other users, encouraging the user to try harder.
vi. Rewards
You can choose to reward your users with points or in-app currency. These can be exchanged for digital or physical goods (like cash rewards by credit card companies) or to make special purchases in the app to stay ahead in the game, cash prizes in e-wallets of the app, or lab tests.
Rewards drive users to try and complete tough tasks. They can be triggered when a user accomplishes personal targets, participates in quizzes, shares posts with friends, or invites them to join the app.
vii. Awards
Awards are offered in recognition of the efforts which engage users or gets you additional revenue. They can be visual presentations of digital badges, medals, and trophies after they reach a specific goal.
viii. Avatars
Avatars provide virtual representatives of your users.
Is it important?
Having a visual manifestation plays an essential role in enhancing user's engagement as it keeps them satisfied with their need for self-expression.
4. Implementation
Don't forget that the primary purpose of your app is to help people get healthier, be it forming new habits or tracking their activities.
Gamification is not the final goal. It is just a tool to help your users stay motivated. Gamification should not distract from the real purpose that the user wants to achieve with your app. Remember, you're developing a healthcare app with game elements, not just a game.
Do remember that gamified health apps collect personal user data. Therefore its security should never be breached.
Privacy must be of utmost importance, and most healthcare apps are subject to strong legislation. It would help if you had certifications through the HIPPA (Health Insurance Portability and Accountability Act). You must also
Add user passwords or other forms of user authentication

Install and enable encryption on mobile devices
Decide on the devices for your app.
Gamification in mHealth (on smartphones, tablets, and smartwatches) gives users quick and instant accessibility to your app. In contrast, gamified apps on desktop devices are preferred by older users and those performing more in-depth, time-intensive research.
Define your users and understand their needs.
Identify your target users and incorporate playful elements according to their preferences. User expectations can be identified from customer feedback and market surveys.
mHealth App Gamification: Case Studies
Let's take a look at how different gaming techniques are used to make mhealth apps more engaging.
Re-mission-2
Re-mission-2 is a series of games from HopeLab. It is a video game that is scientifically proven to improve the health of youngsters fighting cancer.
It uses the research and experience obtained from Re-Mission developed in 2006 and is designed with the input of 120 plus young cancer patients.
Re-mission games are based on actual cancer treatment methods. They are intended to empower users (young players) and encourage their adherence to cancer treatment.
Re-mission-2 is a series of six different games.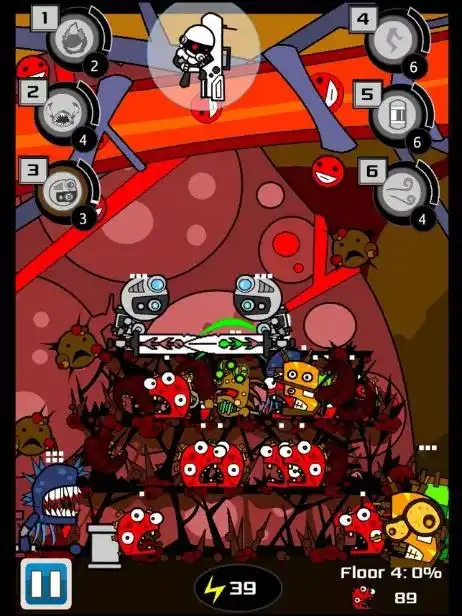 In one, with the title "Nanobot's Revenge," the user (youngster) plays as a nanobot who fires the targeted treatments at a tumor created by the evil Nuclear Tyrant. The purpose is to prevent the tumor from escaping into the bloodstream.
As the user progresses through a series of levels, they get to unlock different weapons and fight against increasingly tough enemies.
Another game, "Feeding Frenzy," allows the user to play as a WBC who consumes bacteria and tumors within a specific time frame. All games are designed in collaboration with medical teams, game developers, and young cancer patients.
Five of these six games are available online, while the sixth — titled "Special Ops" — is available for download after five levels are completed.
What's the overall objective?
Games like Re-Mission 2 can boost many positive emotions, increase self-efficacy, and shift attitudes about cancer and cancer treatments, leading to better adherence to treatments.
mySugr
mySugr is an excellent example of a gamified diabetes management solution.
Check the app at https://www.youtube.com/watch?v=GJQzFjHjaZU&feature=emb_rel_end
Besides having a personalized logging screen for the user that the patient can customize, it has a bolus calculator to do the insulin calculations.
mySugr app challenges help you bring joy and encouragement to your daily diabetes routine. These challenges help the user become more engaged with different activities, from routine logging and workouts to blood sugar checks.
CHALLENGES
Forgot to log your diabetes data? Challenge Accepted!
With all the craziness of our lives, it's natural to forget entering a logbook entry sometimes. The mySugr challenges like Greenhorn reward you with some points every day when you enter your diabetes data in the app. This challenge helps you gently in building a diabetes routine.
Getting physical activities done? Challenge Accepted!
Finding the motivation to work out is tricky. The mySugr challenges help you get up off the couch and get moving. The challenge called Sweat it gets you moving. It is like having your own personal trainer with you 24X7.
Want to keep your Blood Sugar in Range? Challenge Accepted!
A challenge like No Hitter helps keep the blood sugar of the user in the prescribed range.
Challenges like Blood and Breakfast can help you learn from your diabetes data to keep the blood sugar in check in the future.
EARNING REWARDS
The mySugr app allows its users to collect points daily. Every action they take to care for themselves helps them earn points.
Points are earned for tags, pills, notes, meal entry, description of the meal, blood pressure, uploading your first pic, activity, activity description, etc.
The goal is to earn specific points per day and tame your diabetes monster.
CREATE YOUR VERY OWN DIABETES MONSTER
The mySugr app provides you with your giggling diabetes Monster. You can personalize it by naming it whatever you like. Your Monster will add to the fun by reacting to every log entry with a comment or sound.
Happify
An app like Happify helps users improve their emotional well-being, besides assisting them to overcome negative emotions like stress and anxiety.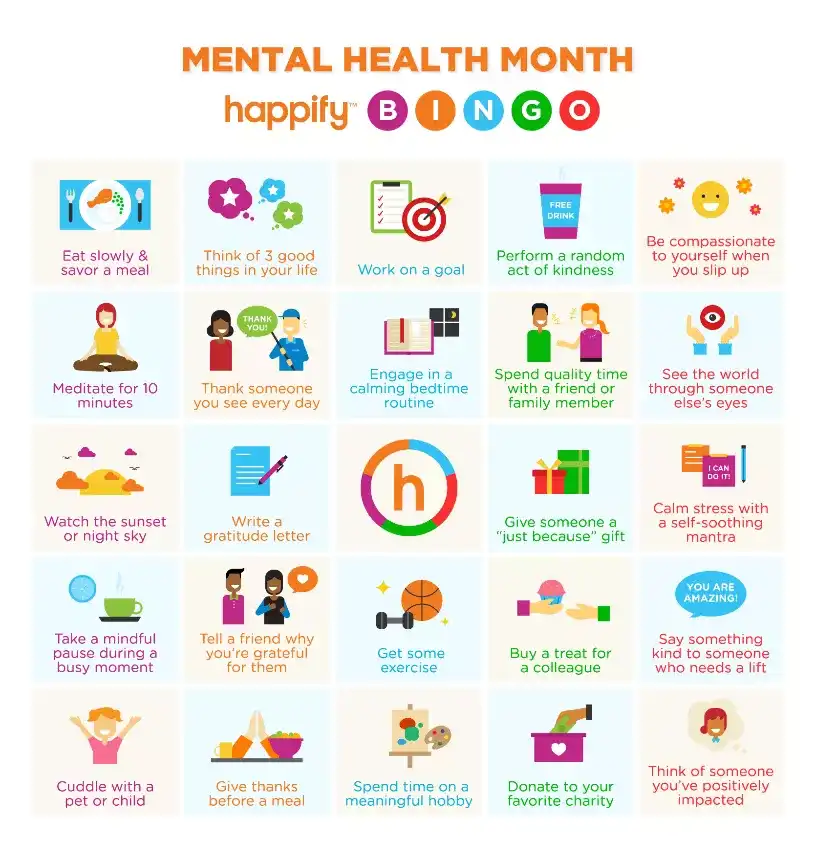 It is a fun, engaging, and interactive health app that puts the user's well-being in their own hands.
Besides offering tracks on family, relationships, and mindfulness, etc., Happify offers other activities too. For example, the Instant Play section has games and fun activities like reflections and guided relaxations that train the user's brain and build happiness. Users can play in categories like Aspire, Empathy, Give, Revive, etc., that correspond with overall life satisfaction and happiness.
Gamify your mHealth App with Imaginovation
If you are looking to build a successful mobile health application, then get in touch with us.
Imaginovation is an award-winning web and mobile app development agency with vast experience in crafting remarkable digital success stories for diverse companies.
Let's talk.
Book A Consultation
Book a meeting with one of our team members and we will help you plan out your next steps. You can also use our calculator tool to receive a rough estimate on your project.