Welcome to a new way of managing warehouses - where Blockchain and smart technology join forces.
Do you believe Blockchain is just a tool for cryptocurrencies like Bitcoin? It's time for a rethink! This smart technology has the potential to optimize your warehouse operations like never before.
Piqued your interest? Let's journey into the world of Blockchain-powered smart warehouses.
Get ready to unveil how this advanced tracking technology can revamp an ordinary warehouse into a cutting-edge, highly productive hub. Eager to glimpse the future of warehousing? Let's take the leap together.
Challenges in Warehouse Operations
Smart warehouses help businesses better visibility of assets, improved customer experience, and improve employee morale.
However, one must understand the pain points. Why? Well, here is an interesting statistic. According to a report by McKinsey & Company, about £300 billion is spent each year worldwide on overall warehousing costs. Now, that's huge! And that amount doesn't include the extra costs of correcting errors and mistakes. (Source)
As warehouse managers, you may still be facing several challenges with traditional warehouse operations. Let's look at some common problems encountered in warehouse management. The insights will help to understand the scope of innovation in the landscape.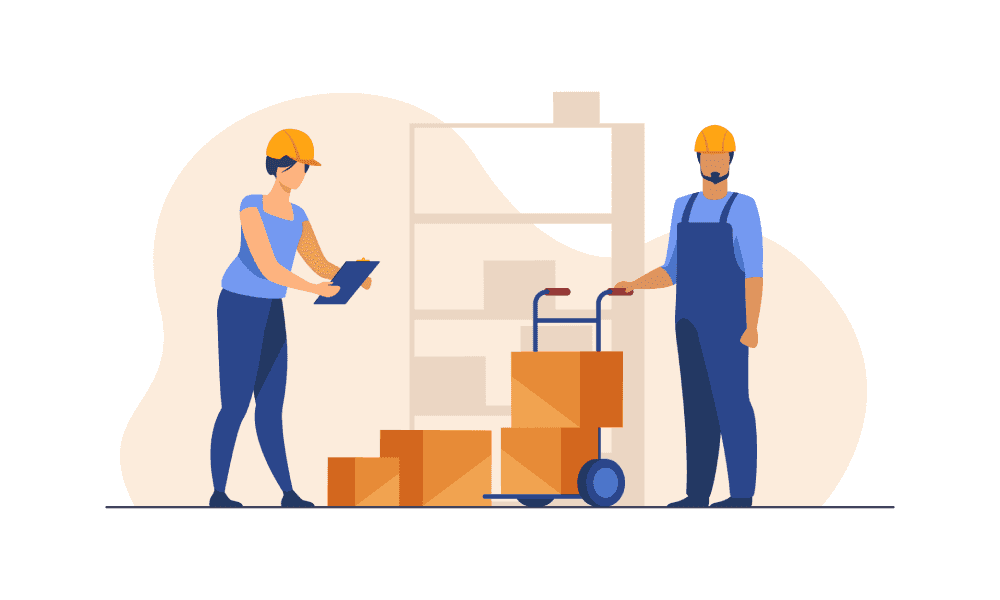 1. Inaccurate Inventory Information
Imagine what inaccurate inventory information can do.
It can lead to picking problems, where workers (aka pickers) go to a location, and the product is just not available.
Manual updating of inventory data can often lead to improper stock information, which leads to obsolete inventory and affects workers as they have to make error corrections.
When processes aren't optimized, they waste lots of valuable time and money for the warehouse. Robust inventory management that automates such activities can help.
2. Inefficient Space Utilization
What happens when the warehouse spaces aren't utilized efficiently?
That's right; there is a lot of wastage and inefficiencies. The average warehouse capacity utilization is only 68%. The statistic reiterates that warehouse spaces are not being utilized efficiently.
When developing smart warehouses, one needs to create an optimal layout to store as many products as possible. Plus, one needs to consider reducing the search time for high-frequency and fast-moving items. Intelligent setups can directly impact profitability, so managers need to consider reducing search times more carefully.
3. Customer Expectations
Customers today have high expectations. They wish for shorter shipping times, impeccable customer service, and perfect order accuracy. To meet customer expectations effectively, one needs a smart warehouse that can cater to individual customer preferences by automatically creating the correct type of labels.
Inaccurate inventory could lead to shortages, delays in fulfillment, and out-of-stocks that could lessen customer satisfaction. It is unimaginable to lose customers on counts of this diminished satisfaction, and one needs to cater to stay ahead of expectations proactively.
4. Improper Labor Management
Workers are an integral part of the warehouse ecosystem, and managing them well can boost the overall productivity in the system. Take a moment to think - labor costs comprise nearly 65% of the total warehouse budget.
Thus, warehouse managers must make significant decisions about getting the most out of the available workforce. Managers can reflect on areas where automated systems can pitch in to reduce labor costs, making the order fulfillment process more efficient.
5. Poor Preparedness for Seasonal Demands
When there is a sudden influx of demand, your warehouse should be prepared to take on the orders.
What if—one was taken by surprise? Logically, one can suffer a lot of damage.
Thus, it is critical to be aware of the market trends and the fluctuations in demand for the products that one works with. The preparedness can help with managing changing stock levels effectively.
6. Globalization
We are in the heart of globalization today, and with it, there is a massive influx of competition from abroad. One can easily observe that products from certain countries miss out on the same level of artistry that you choose to curate carefully. However, it can stand out when it comes to lower production costs.
Ultimately, managers will wish to turn to smart warehouses, which will save both time and money through automated processes. Plus, it can offer greater accuracy in delivering orders.
Also Read: Using Blockchain to Build Transparent Supply Chain
How Blockchain is Changing Warehouse Operations
Blockchain is still in its infancy, especially when it comes to the landscape of warehouse operations. However, business leaders reiterate its promising contribution to the industry.
It has immense potential with the ability to contribute in huge ways, from inventory management to transportation tracking and logistics. Warehouse managers stand reassured by using the blockchain for data authentication. They can also relax, knowing that the data is not susceptible to tampering.
Here are some immediate benefits of the potential of blockchain streamlining warehouse operations.
Blockchain Benefits for Warehousing
1. Enhancing Traceability
Many pharmaceutical companies need to identify and trace prescription drugs. Why? Firstly, it is a mandate by the U.S. Drug Supply Chain Security Act of 2013. Moreover, the order helps to protect consumers from stolen, counterfeit, or harmful products.
Thus, pharmaceutical companies can manage drug inventory, tagging it with electronic product codes that adhere to GS1 standards. So, when each inventory unit flows from one company to another via the supply chain, the attached tag can be scanned and recorded on the blockchain. The process helps create a history of each item through the supply chain.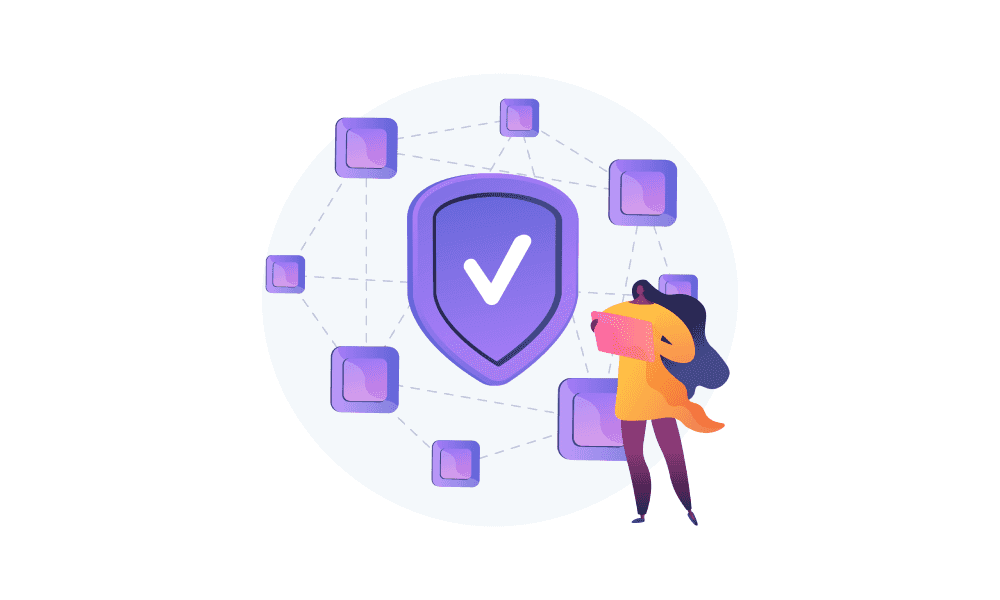 2. Proactive Inventory Management
Many companies function on a reactive basis, that is, those who have been ordering more inventory only when stock runs low. Some rely on predictive models, which take time to populate and forecast the need to order more merchandise. Now, Blockchain can entirely transform such processes.
Blockchain allows companies to track product locations in the warehouse accurately.  The technology also allows manufacturers to see end-user demand in real-time, which helps with better management of manufacturing planning and quick inventory allocation and replenishment. 
It also offers a happy blend for those who wish to rely on minimum stock volume or predictive models. In such cases, blockchain helps optimize the determinations more accurately and timelier.
3. Improving Efficiency and Speed
Traditionally, warehouse companies deal with supply chains affected by unpredictable lead times and lack of visibility. However, blockchain can overcome these challenges.
Participating companies can find rational solutions when sharing their inventory flows on a blockchain. The sharing would allow the distribution of list flows on a blockchain and let each company make its own decisions using standard and comprehensive information.
Furthermore, companies can use a Kanban system when placing orders with one another, helping to manage production better. Ultimately, the process can enhance the visibility of inventory flows and increase the predictability of lead times.
4. Minimizing Manual Processes
Several companies operate warehouses using manual processes, which include picking inventory, tracking inventory locations, and monitoring inventory.
With smart warehouses, one can expect increased automation via blockchain. Blockchain can increase stocking, replenishing, picking, and packaging efficiencies attributed to the digitization of recordkeeping and smart contracts.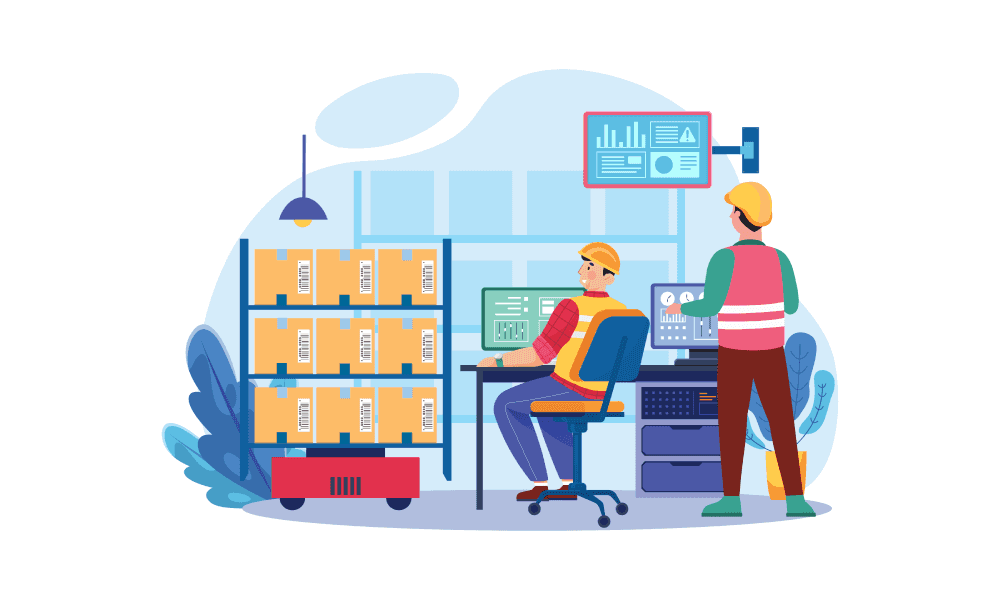 5. Building a Resilient Supply Chain
Typically, an unexpected event can cause significant supply chain disruptions. Therefore, supply chain solutions these days incorporate the use of smart contracts that automatically trigger when pre-defined business conditions are met.
There is near real-time visibility into operations with smart contracts, which further helps to take action proactively.
Implementation of Smart Contract Solutions
We just talked of smart contracts, which is a critical aspect that warehouse managers can look out for in implementing blockchain technology.
Smart contracts are computer programs that execute an action automatically based on a pre-determined set of rules.
For example, when a connected pallet is transported. One can expect to receive confirmation. Plus, what gets informed is the time of delivery and condition to be transmitted to the Blockchain system to be verified, so as long as they are in the agreed conditions. Thus, apt payments can be initiated for release to the relevant parties when confirmed. Such automation augments integrity, efficiency, and security.
The implementation helps to simplify transactions between supply chain members. Plus, it can offer an audit trail for the transactions in question.
What's more?
It benefits the supply chain members with faster payments and reduced administrative costs. Ultimately, warehouse and logistics companies can use smart contracts to:
Automate payments when receiving inventory
Automate the recordings of delivery times and receipt of goods into inventory
Automate payment of credits on counts of failure to meet Service Level Agreement (SLA) and Key Performance Indicator (KPI) metrics
Automate recording of product transfers between supply chain members from the factory to the consumer
Alert all relevant parties about the expiry of products held in inventory or when the price of a product contained in inventory has met a strike price
Use IoT devices that help trigger alerts when warehouse or shipping container conditions change, which includes facets like temperature and humidity
Efficient execution of trade deals via automatically connecting importers, exporters, and their respective banks to the blockchain, reducing redundant paperwork and quality assurance processes
Wrapping Up
Amidst the global pandemic, a lasting change that one will see is trying to incorporate smart warehouses.
Today, smart warehouses can increase overall service quality, efficiency, and productivity while reducing errors, costs, and failures. Therefore, the timely adoption of blockchain technology can help warehouse and logistics companies transition easily to smart warehouses.
Develop Blockchain-enabled Solutions with Imaginovation
You can help build a game-changing blockchain-enabled solution that steers you ahead in the customer-led era. If you want to develop a robust blockchain-enabled solution, talk to us.
We are Raleigh's award-winning web and mobile app development company with incredible experience helping businesses chart futuristic digital solutions. Let's Talk.