Virtual Reality (VR) is creating gigantic waves in the healthcare industry. With excellent immersive features, VR can benefit healthcare providers and patients alike.
If you want to trailblaze in the healthcare industry, keep reading to learn more from the best use cases of VR in the healthcare sector.
How the Healthcare Market is Adopting to VR Tech?
Virtual Reality (VR) and other emerging technologies such as Augmented Reality (AR) are already being used by many healthcare businesses.
Technologists use VR in a variety of settings, which include patient treatments, physician training, and hospital management.
Now, before we dive in, here's a peek at some interesting stats that help understand the global picture better.
According to Statista, as of 2018, the North American healthcare AR and VR industry was valued at $477 million. Experts suggest that it will reach $4.64 billion by 2028.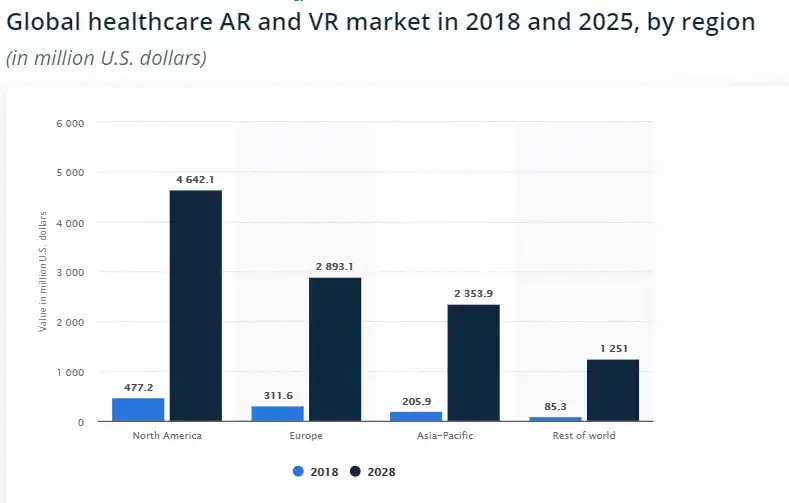 Global healthcare VR and AR market (in 2018 and 2025) by region | Image Source
The VR in healthcare market size is estimated to reach $8.03 billion by 2027 from $2.06 billion in 2019, with a CAGR of 16.21% through the forecast period, according to a new report by Reports and Data.
The increase is considered mainly due to the increasing demand for innovative diagnostic techniques, an increase in neurological disorders, and disease awareness.
Breakthrough Use Cases of VR in Healthcare
Experts believe that VR's immersive characteristics and sense of presence make the technology appealing for the healthcare industry.
Here are some of the most promising use cases that are taking healthcare to the next level.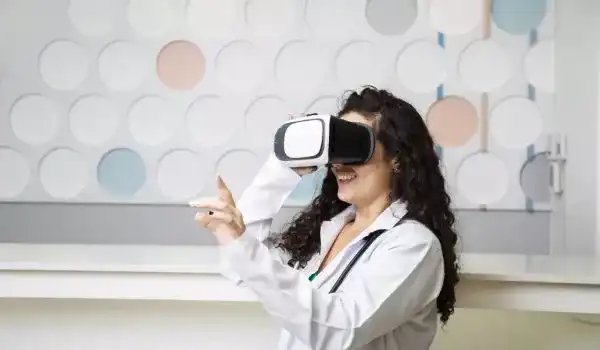 Photo Credit: Technology photo created by freepik
1. Embodied Labs
*Top specialties**: Eldercare, immersive storytelling, VR simulations to understand Alzheimer's, and more*
Embodied Labs, an immersive educational technology company, uses VR software to train caregivers. The company headquartered in Los Angeles developed a new technology.
The technology was born out of founder Carrie Shaw's personal experience.
As a 28-year-old caregiver, Shaw struggled to explain the exact nature of her 61-year-old mother's visual impairment to caregivers. Her mother ultimately passed away from early-onset Alzheimer's.
Embodied Labs started focusing on aging care and developed various training programs looking at vision, hearing impairment, and dementia.
Shaw revealed they started focusing on aging care. However, now, they have training programs looking at Alzheimer's and other types and focusing on the hospice market.
*A well-known \example** of an immersive experience at Embodied Labs is* The Alfred Lab.
It helps learners embody Alfred, a 74-year-old African American man with macular degeneration and high-frequency hearing loss. The technology can help the learner walkthrough with Alfred as he goes about his daily life. The learner can understand how deficits in hearing and vision affect communication and impact emotional wellbeing.
Also Read: AR in Healthcare: 9 Real Use Cases of How AR is Improving Patient Care
2. Floreo
*Top specialties**: Tools to accelerate the learning of individuals with Autism Spectrum Disorder (ASD)*
When you hear of challenges from autistic people and their families who miss out on education, you understand their struggle to find work. The challenges also include becoming isolated, most often due to misunderstandings about autism.
The D.C startup Floreo offers an excellent platform for adults and children with autism, teaching speech, social, behavioral, and motor skills using VR. The platform is designed for the unique needs of individuals with Autism Spectrum Disorder (ASD) or other related developmental delays.
Individuals with ASD can practice real-world skills through Floreo's library of lessons in immersive environments with the supervising adult's help.
The idea for Floreo struck CEO and co-founder Vijay Ravindran, who is also the father of a child on the autism spectrum. Vijay captured his son's first experience using VR.
Floreo is currently available on iOS mobile operating systems and is used by parents, schools, and therapy practices. It's helping many learners with ASD as the science-backed lessons are fun and engaging.
3. XRHealth
*Top specialties**: Stress management, ADHD, Post-COVID rehab, hot flashes, memory decline, and more*
XRHealth offers compassionate healthcare to individuals who are battling recovery with ineffective treatments. The cutting edge treatment technology includes effective use of VR.
Founder and CEO of XRHealth Eran Orr cited his former severe condition due to frequent high G-force flights requiring physical therapy. The physical therapy presented some massive flaws, and surgery with a relatively high risk of paralysis came up as an alternative.
That's when it struck Orr that the process needed a change. He turned to VR for an ideal recovery space. Together with his team, they have been developing innovative treatments for a variety of different conditions.
A recent great example is an at-home treatment to ease the after-effects of the coronavirus. XRHealth's post-COVID-19 rehab helps patients with their rehab exercises that aid in their quick recovery.
4. SyncThink
*Top specialties**: Eye-tracking impairment, ocular-motor assessments, VOR or VORx assessment, support athletes during the rehab process after a brain impairment, etc.*
Another brilliant VR use case is that of Palo Alto, California-based SyncThink. The neuro-technology company, founded in 2009 by Dr. Jam Ghajar, developed a fully-integrated VR device used for eye-tracking called EYE-SYNC.
Designated by the US Food and Drug Administration (FDA) as a breakthrough device in 2019, the head-mounted solution helps determine ocular-motor impairments that can arise due to concussions or sleep-deprivation.
Brain impairment due to concussions in sports is a critical subject. SyncThink's eye-tracking VR platform is helping this area with rehabilitation in a big way. The company's Eye-Sync is used by basketball and American football teams in the United States' professional and college leagues.
The platform integrates a VR headset that can record data with a cloud-based software application to process the information gathered. When a user wears the VR goggles, Eye-Sync can run through tests that can track eye movement.
The platform also offers objective insights into the athletic performance as professional teams can study the accumulated effects of fatigue throughout the season.
5. Surgical Theater
*Top specialties**: Surgery Rehearsal Platform (SRP) for neurosurgical pre-operative planning and rehearsal*
Picture this — a surgeon needs to perform risky surgery. What if surgeons could train like fighter pilots previewing the surgical procedure? You've got it! It would increase their situational awareness from every angle and help with the process.
In 2010, Moty Avisar and Alon Geri envisioned the brilliant idea, and Surgical Theater was born. They created a surgical rehearsal platform (SRP) for neurosurgical procedures called Precision VR.
The platform has been helping surgeons with better pre-operative planning. How? For example, if a person faces an operation for a brain tumor, surgeons can see a VR scenario that shows the process.
It's no wonder that the enterprise-wide visualization platform is helping neurosurgery at some top academic hospitals, including New York University, UCLA, Mayo Clinic, University Hospitals Case Medical Center, Mount Sinai, and more.
6. Osso VR
*Top specialties**: Fully immersive VR experiences to facilitate surgical training and assessments*
The innovative solution was grounded in research, and that's awesome!
There were nagging issues in the training of surgeons. Research highlights that 30% of surgical graduates are unable to operate devices.
Furthermore, surgeons out in practice don't have much time to perform cases required, safely using complex techniques and devices.
That's when the CEO of Osso VR, Justin Barad, MD, decided to solve medical problems such as inept training with technology. He founded Osso VR in 2016 to improve patient safety and augment access to modern surgical techniques.
The organization has helped to transform healthcare using innovative technology. It was involved in a pilot program at Vanderbilt University Medical Center and was the winner of the DocsF18 Innovation Award in 2018.
The Osso VR team is currently focused on solving training gaps for orthopedic and spine therapies and is also expanding into other specialties and procedures.
7. KindVR
Top specialties: Pain management, stress management, pre-operative stress management, and more
KindVR is developing virtual reality therapies that alleviate patients lower their pain and stress due to medical procedures or conditions.
The research company also has clinical trials with sickle cell disease patients and has been completed with positive results.
What's their story?
Simon Robertson, a game developer and Child Life Volunteer at UCSF Benioff Children's Hospital Oakland, discovered no hospitals were using VR despite 20 years of clinical research on VR's efficacy. That's when KindVR was founded in 2014 to make it easy to provide VR therapy to patients in need.
Simon's critical insight was that each VR experience should be developed for a specific hospital procedure or medical condition. Today, the clinically-validated KindVR experiences demonstrate that they are safe and effective.
The company also has over ten clinical trials underway with leading research hospitals across the US and Canada. KindVR therapy is being tested with patients experiencing MRI procedures, emergency room visits, mediport access procedures, and pre-operative stress.
8. USC Institute for Creative Technologies
Top specialties: Treating PTSD, Mental Health, Rehabilitation
Imagine people with PTSD experience. That's right — they have traumatic memories. Now, VR can treat post-traumatic stress disorder (PTSD).
At the USC Institute for Creative Technologies, they have been working on delivering therapy using VR. Skip Rizzo, director for medical virtual reality at the USC Institute for Creative Technologies cites, they had first used VR to treat PTSD around 2003.
The team created the BRAVEMIND VR Exposure Therapy software at the University of Southern California Institute for Creative Technologies, which was updated to run on the latest state-of-the-art VR equipment.
The solution is based on exposure therapy, in which a trained therapist guides a patient. Next, the subject confronts trauma memories through a retelling of the experience. Experts have now endorsed the approach as an evidence-based treatment for PTS.
9. Karuna Labs
*Top specialties**: Chronic pain management*
Another significant player using VR effectively is Karuna Labs, a developer of personalized functional restoration and chronic pain management programs.
The company, founded in 2016, works on evidence-based approaches using VR. Their solutions help to retrain the brain to deal with chronic pain without the need for opioid pain relief or costly invasive surgeries.
Karuna's technology includes personalized training to increase range of motion through therapeutic exercises. Their HIPAA-compliant and FDA-registered products can also help patients decrease anxiety in calming environments.
10. OxfordVR
*Top specialties**: Evidence-based psychological treatment*
When it comes to helping patients relieve the symptoms of mental disorders and fears, OxfordVR has been doing some pioneering work. The company has partnerships with the United Kingdom's National Health Service and the McPin Foundation, which works to improve mental health research.
What's more? At the MedTech Visionaries Awards, OxfordVR also won the 2020 award in the Apps and Software category for Best Mental Health Immersive Technology.
The team has developed psychological interventions based on proven treatment protocols, which are delivered using highly immersive technology.
Their immersive therapy has proven to be successful in reducing patients' fears by almost 68%. It's exciting how they have been able to transform mental healthcare.
Virtual reality has transformed the healthcare landscape with refreshing and innovative solutions. It will continue to pave breakthrough solutions in 2020 and beyond, developing new life-saving techniques and training physicians.
Trending Applications of VR in Healthcare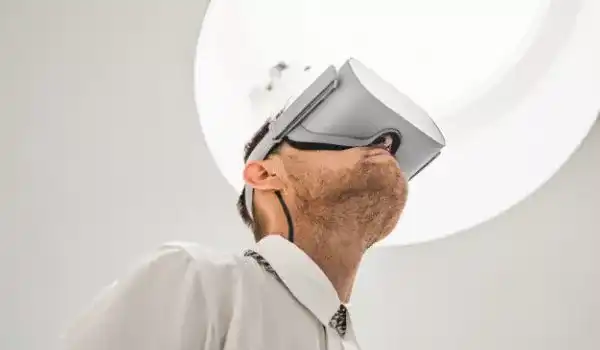 Photo Credit: People photo created by wirestock
The use of VR is accelerating at a pace that can change the overall face of the healthcare segment. Here's a quick snapshot of some trending applications of VR in healthcare.
Treating chronic pain

: Medical VR has proved efficient in curing chronic pain. Many software developers have created software to deflect the ailing patients' minds to focus more on VR worlds, alleviating stress.

Tackle memory loss

: It is estimated that there 5 million cases of Alzheimer's disease in America alone. Memory loss can be a difficult situation, and neuroscientists are leveraging VR to tackle such scenarios.

Enhanced surgeries

: One of the most promising elements VR brings to the medical industry is using 3D models by surgeons to plan operations. Surgeons can get a full picture with 3D images in real-time and perform successful surgeries.

Treating autism

: VR is also effectively helping individuals with autism and Asperger's syndrome. Mobile VR helps investigate social interactions with autistic kids by including virtual characters.

Post-Covid rehab

: VR technology provides an excellent environment during this COVID-19 period for effective rehabilitation. Patients can be home-treated to soothe the after-effects of the coronavirus.
Today, VR has transcended into all facets, including dentistry, PTSD, phobia treatment, and more. It's a great responsibility to optimize cutting-edge technology to improve the quality of health care.
The Future of VR in Healthcare
Virtual reality has already helped reshape the medical field. The top companies have continuously brought use cases that have pioneering takeaways.
As C-suite leaders, it is interesting to stay abreast of the progress. The innovations and latest trends in VR are promising.
The bottom line — you must keep innovating to improve the quality of life. Cutting-edge technology, such as the use of VR, can help accomplish this!
Develop Brilliant VR Solutions for Healthcare with Imaginovation
App creation for the healthcare industry is a huge responsibility. With the right technology solution provider, the app creation journey can be more meaningful. We can guide you through the entire app curating journey, finding VR solutions that are just the right fit for your business.
We at Imaginovation have helped many businesses with best-in-class healthcare solutions. Let's talk.
Book A Consultation
Book a meeting with one of our team members and we will help you plan out your next steps. You can also use our calculator tool to receive a rough estimate on your project.