As the popularity of smartphones is at its peak, you might have already recognized the importance of a mobile app for your business. In today's digital world, it's crucial to stay on top of the customer's mind, especially if your business is located in Raleigh, NC. Why?
Raleigh is one of the top 10 best places in the US to start a new business. As more and more businesses are coming to Raleigh and Durham area, there's will definitely be tough competition in the market. And, if you want to sustain and grow your business in such fierce competition, you need to leverage the power of mobile apps and the internet.
The good news is getting a custom mobile app built in Raleigh is not as hard as it may seem. All you have to do is find a reliable technology company. Now, here comes the tricky part. There are hundreds of mobile app development companies in Raleigh and finding the one who can fulfill your needs can be a little hard.
So, how to find the best iPhone and Android app development company in Raleigh? In this guide, we'll be discussing some important things that you need to remember before hiring a mobile app developer in Raleigh.
But, before we start, let's see in detail why your business needs a custom mobile app.
Why You Should Develop an iPhone or Android App for Your Business?
Many business owners in Raleigh ask us why should I invest in these mobile apps when my business is doing pretty well. Our answer is simple and pretty straightforward – you need a mobile app to secure the future of your business.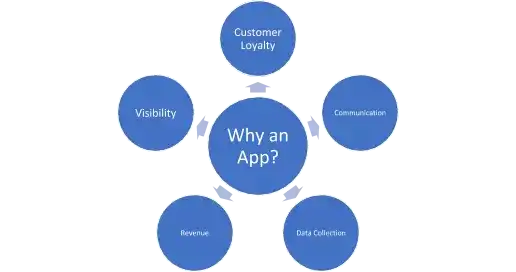 Below are some most important reasons why your business in Raleigh needs a mobile app.
1. Better Communication
Mobile apps help you efficiently communicate with your customers. A custom business app allows businesses to connect to their customers on a personal level.
It also allows you to reach out to your customers at any time and keep them engaged by delivering important updates such as offers, product news, etc.
2. Data Collection
Data holds great power in the digital world. You can collect insightful data based on how users interact with your mobile app.
You can find out the online shopping behavior of your customers and improvise your marketing strategies accordingly.
3. Customer Loyalty
Having a mobile app can help you improve customer loyalty. As you get to know more about your customers and make changes to your strategies based on the data, you'll be able to effectively engage with your customers.
With regular updates, you get a competitive advantage over your competitors in Raleigh, who are still running their business in a traditional way
4. Apps Increase Chances of Revenue
Apps are quicker and easier to navigate. A website can be handy to create awareness about your business, but a mobile application can simply increase your chances of generating more revenue.
You can send tailormade offers to different sets of the audience to improve the conversion rate.
5. Increased Visibility
Mobile apps increase the reach and visibility of your business. People these days are inclined towards searching for things on their smartphones. Having an app can help you cater to these demands of the people and be accessible to your audience all the time.
According to Statista, after browsing products and shopping online, 42% of the time, a user is likely to open another shopping app or a social media/communication app (Source). This means that either the user likes to keep shopping or want to tell their friends and family about the purchase they just made.
Having your own app in the market will not only increase revenue but also spread your business with the help of this word of mouth
Key Takeaways:
A custom mobile app can help your business in many ways. It can help you increase your brand visibility, increase your customer base, establish a strong online presence, keep customers engaged and ultimately improve your business bottom line.
Now, you need a reliable technology partner such as Imaginovation to build a successful mobile app for your business. Let's see a few important things that you need to remember before hiring a development company in Raleigh.
Things to Remember When Hiring an iPhone/Android Development Agency Raleigh
Raleigh is the fastest-growing tech hub in North Carolina. You might find several technology companies that offer mobile app development services. Make sure you perform the activities mentioned below before signing a development contract.
1. Check Portfolio
The first thing you should do while searching for the best mobile app development company in Raleigh is to check their previous work. You can find a company's portfolio on its official website or you can check online directories for reviews by clients.
Checking a company's portfolio will give you an idea about the level of quality and creativity a company has to offer.
2. Get Some Client References
It is always good to ask the agency for some client references. You can check out the reviews by submitted by clients on some B2B directories such as Clutch or Upcity. Even a simple Google search can show you reviews, but it's better to check out different other sites to gather a good amount of information.
If the agency provides you with client contact details for references, you can directly contact the clients and get the information you want.
3. Get to Know the Team
Once you get a bird's eye view of the agency, it's time to interact with the actual team. You can ask the agency to introduce you to the app developers or the team who will be working on your project.
This gives you an opportunity to know each team member personally and understand their knowledge and expertise You will also get some helpful insights about team coordination and their approach to the project.
4. Discuss the Elements of Development Lifecycle
Once you know that the agency is capable of handling your project, you need to have a detailed discussion about all the UX aspects with the team.
User Experience (UX) is the most crucial element of any mobile app. It is essential to discuss the developer's approach towards user experience. If you couldn't comprehend the technicalities, you can also ask for a glimpse of the end result you can expect from the company.
The user experience might be a little different for Android app development and iPhone app development. Thus, make sure to discuss these separately for clarity.
5. Submission and Distribution
Apart from the development part of the application, you also need to discuss if the company will submit your app to the relevant stores like Apple's App Store or Android's Play Store.
Most of the times companies don't offer this service or tend to charge extra for it. It is always recommended to discuss this in advance.
6. Post Launch Services
Always ask the agency about the post-launch services they will be offering to you. This is important because you will need assistance with your app for a while after the launch.
There are chances that your app might have some technical problems after the app launch which might make it difficult for you to recover. The post-launch services come handy here to help you with the difficulties you face.
7. Mode of Communication
Communication is essential to stay updated on the progress of your mobile application. It is possible that the development team of the agency might be working offshores.
With a change in the time zone, it becomes tough for you to communicate with the developer to get an update on the project. Therefore, make sure you ask the agency about the mode of communication so you will be prepared in advance.
8. Code Ownership
Ownership of the Code is another basic question you need to ask the development agency. Discuss who will own the code once the project is done.
Some companies hand over the system and wireframes along with the mobile app once the project is done. Some companies keep the code with themselves. As a business, make sure you own the code once the mobile app is built.
If you have the entire code, your in-house technical team can handle any small changes or updates you want to make and you don't have to call the agency every time you face any inconvenience.
9. Different Platforms
It goes without saying that when you have a discussion with the development company, make sure you ask if they develop two separate apps for different platforms or a single app with cross-platform compatibility.
To reach out to a broader audience, you will need a mobile app that can operate on all platforms such as Android and iPhone. Experienced app development agencies like Imaginovation use React Native to build cross-platform mobile apps. React Native app development is a cost-effective option, you can learn more about it in this post.
10. Delivery Structure
You should also discuss the delivery structure. Before starting the project, make sure you get a tentative deadline. This is very important since it will give a structured schedule to your project and will help you understand what to expect by any given phase of the project
11. Documentation
Make sure you ask the development company if they follow proper documentation guidelines before starting a project. Project documentation and logs are necessary to keep a track of complete development lifecycle. It's especially important for clients because it's the documents that hold all the necessary data which can be accessed long after the development is finished.
12. Cancellation Policies
Always discuss the cancellation policies in advance because you never know what may happen. Even the best-laid plans can fail, and you need to know the cost of canceling the project if things start to go south.
Key Takeaways:
There are several things you should before finalizing your app development plan with an agency. Make sure you make a list of your queries before meeting the team. This will help you have transparent communication with them in the first go and give you a clear picture of your app's future with the company.
Turn Your Ideas into A Digital Reality with Imaginovation
Are you a business owner and looking for ways to boost your business in Raleigh? If you have mobile app ideas for business, we can help you turn your ideas into a digital reality.
We, at Imaginovation, are a team of award-winning web and mobile app developers. We have developed stunning mobile apps for startups to Fortune 500 companies. Over the years, we have helped many businesses achieve their true potential through our innovative technology solutions.
If you want to reap all the benefits of a mobile app for your business, get in touch with us.
Book A Consultation
Book a meeting with one of our team members and we will help you plan out your next steps. You can also use our calculator tool to receive a rough estimate on your project.