The blockchain gaming landscape is growing at a dizzying pace, and GameFi is one of the hottest buzzwords.
What makes it more exciting is that with a trending array of play-to-earn games, the gold mine of opportunities is too good to pass up.
What can you do?
Get involved in blockchain game development early on. The solutions are mind-boggling. Plus, technological advancements can benefit you.
Keep reading as we demystify the facets of play-to-earn crypto games and GameFi.
What is GameFi, and What are Play-to-Earn Crypto Games?
The cryptoverse is buzzing with talks of GameFi. So basically, it is a fusion of "Game" and "Finance".
It encapsulates the gamification of financial systems to create profit from playing play-to-earn crypto games.
The concept of GameFi sounds like sci-fi, but it is founded on grounded concepts. It relies on the intersection of gaming, blockchain technology, and various forms of DeFi (decentralized financial) products. The DeFi products include non-fungible tokens (NFTs), yield farming, borrowing and lending, and more.
First coined in a September 2020 tweet, GameFi courses back to CEO of Yearn Finance Andre Cronje's tweet. Since then, the term has been used widely to refer to video games embedded with blockchain-powered DeFi elements. The projects benefit from the popularity of video games, blended with the unique features of cryptocurrencies, making GameFi a fascinating space.
Take a moment to reflect – for conventional games, the in-game assets that gamers purchase have no value outside the game's universe. Moreover, gamers invest money to procure these assets, and they don't have control over them.
In comparison, GameFi transforms the concept through blockchain technology, cryptocurrencies, and DeFi products, making the financial reward system more attractive and engaging.
Here are some interesting insights into the crypto gaming industry vis-à-vis GameFi:
Bottom line: The market holds massive potential growth. However, as Web3 continues to evolve, GameFi will adapt to the changing ecosystem.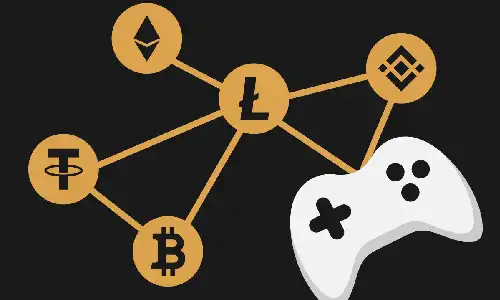 Play-to-Earn (P2E) Basics
Now, let's talk of Play-to-Earn (aka P2E) games. P2E is at the heart of GameFi projects. These are blockchain-based online games that have gone mainstream.
The P2E is a simple business model where players can play and potentially earn cryptocurrency. So, the games let players earn rewards with real-world value on the completion of tasks. Plus, these rewards extend to battling other players or even touching milestones of progressive levels.
What are the rewards?
They come in various forms of in-game assets, such as virtual land, crypto tokens, skins or cards, weapons, and other NFTs.
The more players play, the more assets gamers can collect; plus, it makes them more valuable. The exciting part is that due to the decentralized nature of the games, players can transfer, buy, or sell these in-game assets outside the game's virtual world in exchange for cryptocurrency or real money on their own terms.
Furthermore, in P2E games, in-game assets are distributed among players. Thus, when players participate in the in-game economy, they can generate value for other players as well as the developer.
How do Play-to-Earn Games Work?
Play-to-earn gaming model is innovative, and one can observe apparent differences from the usual video game play-to-play concept. The USP for P2E stands for the rewards for playing blockchain-based online games.
Gaming developers are increasingly embracing blockchain gaming development and bringing real money into play. Some titles that are nestled in this space include Gods Unchained, Axie Infinity, and Splinterlands.
P2E games rely on blockchain technology to support their ecosystem. They let users access in-game tokens that have real value outside the game. Many of these games will reward you by offering one of the digital assets, including digital currencies, decentralized marketplaces, and NFTs.
For example, in the game world of Axie Infinity, you earn tokens called smooth love potions (SLPs,) which you can sell on exchanges for fiat or stablecoins.
Furthermore, players can also sell and trade digital assets like land and weapons in the form of NFTs to other players in a dedicated marketplace.
What's interesting is that these items are tokenized. So, they are unique assets that cannot be replicated. Plus, the token for these items is stored securely in a distributed ledger. For instance, in a game called Decentraland, players can sell and buy virtual plots.
Since these assets are stored on a blockchain, one does not need to worry about their security. What's more? You would wholly own these assets. So, the publisher or the developer would not have any right of ownership. Moreover, players have endless opportunities to monetize their collections using the blockchain. Here's a peek.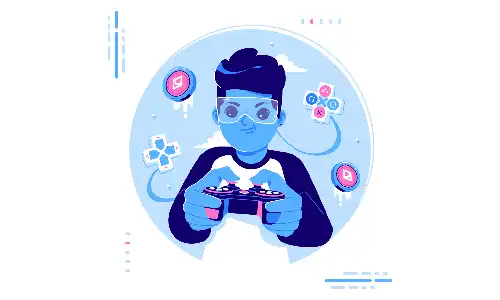 P2E Earning Modes
Earning crypto through gameplay: Here, gamers get the opportunity to collect game assets. They can play and take part in tasks, contests, duels, and more and get rewarded for them. They can spend more time improving their characters or creatures to perform better in a game.
Earning or selling in-game assets (through NFTs): Gamers can create original content as NFTs via creatures, skins, virtual land, and add-ons. The catch is that the rarer they are, they become more valuable. It's simple - when the demand increases, so does the price.
Earning crypto through investment: Let's reflect on the popularity of the blockchain-based game Axies. What is driving up prices are the in-game assets. Many NFTs have become financial assets that resonate with real-world assets. This facet makes it attractive to investors to invest in P2E. Furthermore, it has led to the rise of guilds, platforms that help players access in-game assets and lend them out in return for a share of the profit made.
P2E gamers can find some great platforms like the Blockchain Gaming Alliance, where they can find the latest news and regular updates about the industry.
The Future of Blockchain Gaming and Play-to-Earn Games
Gaming is evolving, and the future of gaming is all set to grow in value as new technology trends are integrated. Here are some exciting facets reiterating the promising future of blockchain gaming.
In 2021, the number of GameFi projects increased dramatically, and the industry is set to see over a $2.8 billion valuation in six years.
The global NFT market was worth $2.5 billion in the first half of 2021. Plus, more companies are eager to build their blockchain gaming businesses now that NFTs have joined the market.
There are over 1550 blockchain games as of June 2022.
Popular games are now available on many blockchains, including Ethereum, Polygon, Harmony, Solana, BNB Smart Chain (BSC), and others.
Blockchain game development is already dramatically stirring the gaming landscape, and it is a trend that is here to stay. With more blockchain technology innovations, the game world's possibilities are limitless.
In this context, the GameFi growth pattern is projected to evolve as blockchain technology develops rapidly. GameFi is particularly appealing, especially in developing nations, because it allows players to own in-game assets and make money from them.
5 Best Crypto Play-to-Earn Games
1. Axie Infinity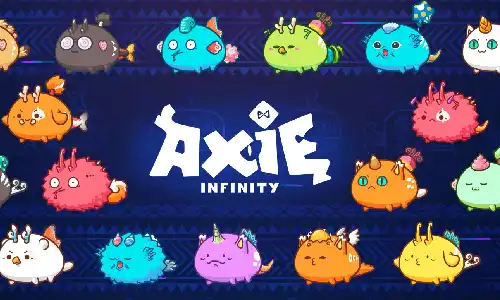 Axie Infinity recently surpassed $4 billion in all-time sales. Before we dive in - here are some basics; Axie Infinity is one of the top P2E crypto games. It uses a three-token economy and smooth love potion (SLP) as the utility token. Players collect non-fungible tokens (NFTs) representing digital pets known as Axies. What's exciting is that the creatures are bred and battle with each other within the game.
The game is evolving - and recently, Axie Infinity introduced NFT runes and charms that can be minted on the Ronin network through the marketplace. Plus, the game's management plans to reward players using Origin's ranked gameplay mode.
2. Alien Worlds
Alien Worlds is another popular game on the BNB Chain and continues to top the GameFi charts. With a total number of users of around 491,000, AlienWorlds ranks as one of the top blockchain gaming platforms on data acquisition and analysis company DappRadar.
The game is designed as a virtual world where everything is tokenized. The gaming world comprises various in-game artifacts where players have the opportunity to mine Trillium (TLM) and stand a chance to mine new NFTs that can be interacted with through gaming.
3. Splinterlands
Blockchain-based Splinterlands is an online P2E trading card game. In the game, every card is owned as an NFT and traded using similar features to cryptocurrencies like Bitcoin and Ethereum. In the game, players get the opportunity to make money in crypto as they enjoy the in-game battles and wins.
Recently, Splinterlands achieved a new milestone as it entered a partnership with EMP Money. So, EMP Money is an Ethereum-pegged coin that holds the same value as Ethereum (ETH) and will now be available to players to use and make in-game transactions.
4. The Sandbox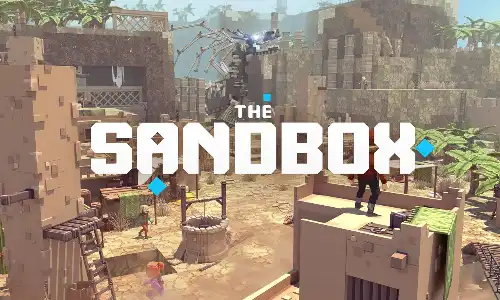 Launched in 2011 by Pixowl, The Sandbox (SAND) is based on the Ethereum blockchain. It is a unique virtual world where players can build, own, purchase, and sell digital assets in the form of a game. It combines the application of decentralized autonomous organizations (DAO) and NFTs to build the decentralized platform.
The Sandbox aims to attract both crypto and non-crypto game enthusiasts by offering the advantages of true ownership, digital scarcity, monetization capabilities, and interoperability. It experienced a few price plunges in 2022, but the token is still popular in the gaming community.
5. Pegaxy
Pegaxy (Pegasus Galaxy) is a PVP-style mech-horse racing game that resonates with futuristic mythological styling. In the game, each race is randomized with various elemental variables, including wind, water, fire, speed, and more. Plus, players can breed, rent, see, and race the Pega (horse) to earn Vigorous (VIS) tokens.
It features a P2P and PVP rewarding mode in its metaverse that is built on the Polygon/Matic Layer 2 Solution. The game also transitioned into 3D compatibility and has plans to expand in the future.
Wrapping Up
The long-lasting success of GameFi and P2E games has grabbed much attention. The game projects have improved gameplay attributed to cutting-edge technologies and innovations in the landscape. The time is ripe for unlocking new experiences and enjoying incredible growth.
The future of GameFi is exciting, and business entrepreneurs can make the most of the promise of the cryptoverse through gaming. It's an incredible time to push the boundaries of the current GameFi space and bring in high-quality game projects that raise the bar and help shape the future of blockchain gaming.
Build Powerful Blockchain Games with Imaginovation
GameFi and P2E have the potential to revolutionize the gaming landscape. It's time that you carefully consider building sustainable models that focus on creating immersive and enjoyable gaming experiences.
If you want to develop robust blockchain games and don't know where to start, talk to us.
We are an award-winning web and mobile app development company in Raleigh with incredible experience helping businesses curate thriving gaming ecosystems.