Blockchain for insurance businesses, sounds odd, right?
You see, blockchain technology is not just limited to bitcoin and other cryptocurrencies. It has wide-ranging applications in other industries, such as health and insurance.
Blockchain's distinct attributes can help insurers reduce costs, bolster the bottom line, enhance customer service, and more. Insurance companies that are using blockchain have witnessed transformative benefits.
For CTOs and CIOs working in the insurance sector, it's time to unlock the potential of blockchain and grow your organization. Keep reading to find out how you can remain competitive in today's marketplace with crypto-insurance, blockchain insurance claims, and more.
Let's dive in!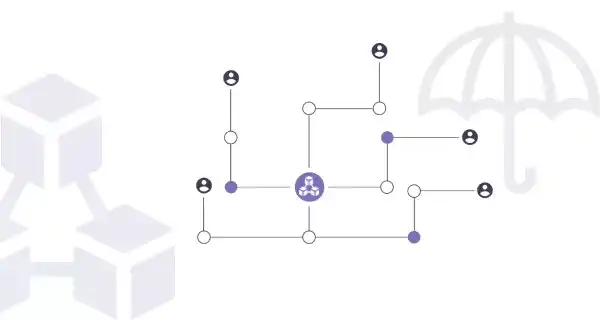 Importance of Blockchain in Insurance
With the pandemic, insurance has suddenly stolen the limelight. Yet, it would be inaccurate to say that insurance hasn't played a pioneering role so far because it has.
In fact, in the United States and other parts of the world, different types of insurance have been responsible for humongous revenues. However, with the new era, fraudulent activities are denting the insurance landscape, dipping the industry's popularity.
Enter—blockchain. In the insurance industry, blockchain has made a massive impact on such fraudulent scenarios. Technology has the potential to transform how insurance companies do business.
It can boost transparency, comply with regulations, and build excellent products and markets. Here are some exciting benefits.  
1. Improves Trustworthiness
One of the significant benefits of Blockchain is its trustworthiness. The ability to have consensus algorithms built into it allows auditability and immutability.
The features make it easier to create smart contracts on the blockchain, benefiting the insurance industry. Plus, as blockchain is an immutable ledger, smart contracts enable timely, transparent, and trustworthy transactions.
Blockchain can offer an entire proof-of-insurance ledger, meaning your company can no longer rely on one-off state databases.
What's more?
When the industry can use a shared claims ledger for inspection with no per-transaction charge, it can reduce fraud. Regulators can monitor all insurance variables on the ledger in real-time, making auditing more seamless.
2. Facilitate Operating in a Highly Competitive Environment
Insurance companies operate in highly competitive environments where retail and corporate customers expect the best value for money and an exceptional online experience.
Now, with the low cost of smart contracts and their transactions, many insurance companies can render their products that are more competitive for penetration of underinsured markets.
3. Tamper-proof Audit Trails
Insurance can be conducted over blockchain accounts, which will help with more automation and reliable audit trails.
With Ethereum's smart contracts and decentralized applications, insurers can look forward to transformative benefits.
4. Empowers More Automation
Smart contracts enable transparent transactions. Plus, they can streamline the insurance process. The entire insurance claims process can be much smoother now as the blockchain executes on smart contract terms.
What makes it more exciting is that it does so automatically, which makes automation a massive benefit for insurance. Ultimately, blockchain can save insurance companies time, effort, and money by lowering administrative costs.
With such excellent benefits, the insurance industry can look forward to leveraging the new technology's disruptive nature to regain its dipping glory.
Top Use-Cases of Blockchain Applications in the Insurance Industry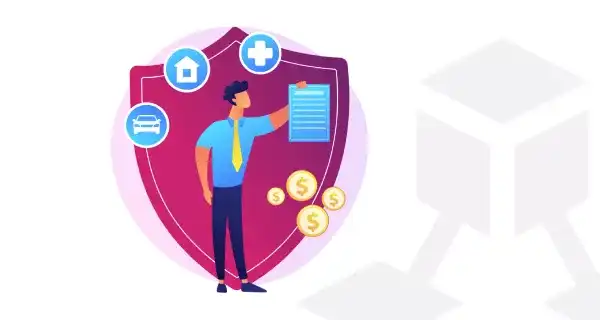 Now that you know the benefits of blockchain for the insurance sector, let's take a look at some real-life use cases of how it can actually help organizations.
1. Fraud Prevention
Insurance Fraud costs can cost families $400-700 per year in extra premiums. According to an FBI report, experts estimate non-health insurance fraud in the US to be around $40 billion per year.
With blockchain insurance claims, insurers can eliminate such common types of insurance fraud.
How?
When one moves insurance claims onto a blockchain-based ledger that is shared among insurance companies, it cannot be modified due to the immutability feature of blockchain, and it can eventually reduce fraud.
Plus, blockchain makes coordination much easier among insurers. When insurers access the same shared blockchain ledger, they can immediately know if a specific claim has been paid. They can identify suspicious behavior quickly, as they use the same historical claims information.
Currently, many insurers use publicly available data and data from private companies to detect fraud. The problem with such data sets is that they are incomplete due to legal constraints around sharing individuals' personally identifiable information.
So, what can resolve the predicament?
When blockchain is paired with cryptography for securing data, it will allow claims information to be shared across insurers without revealing sensitive, personally identifiable information.
2. Customer Engagement
Insurance providers experience many issues while collecting data simply because of the unwillingness of customers to reveal sensitive answers to insurance agents. It's not surprising, as they are worried about protecting their sensitive data.
Now, blockchain can facilitate such scenarios. How?
It guarantees protection and greater control over personal data. With this niche technology, clients can share their personal and sensitive information securely.
It is easy to request data from a Know Your Customer (KYC) data service, where clients can easily share identity information on a smart contract basis. Plus, it would be easy to reuse it for safer verification in other companies.
3. Claims Management
According to BCG, when insurance policies are placed on a blockchain as smart contracts, it can drastically improve Property & Casualty (P&C) insurance efficiency. Plus, it can save insurers over $200B a year in operating costs.
Now, that's huge!
Let's take an instance of car insurance to understand the scenario. Imagine you get involved in a car accident, and it was the other driver's fault. You naturally submit a claim to your insurance company to recover your loss.
The request puts your insurance company to start investigating the claim, trying to recover money from the other driver's insurance company.
However, the other insurance company would have its own claim processes, leading to duplicated work, delays, and possible human error. The entire procedure could be time-consuming, and you may get paid at a much later date.
The scenario could expedite with insurance claims placed on a blockchain where different insurers, reinsurers, brokers, and other parties can access the same shared data. The shared blockchain can reduce duplicate work by various parties.
Insurance policies as smart contracts on a blockchain automatically execute programmed claims processing actions, which can automate information transfers between insurers and other parties. Plus, releasing payments to policyholders seamlessly.
Now, all parties would have access to the same information, which would make disputes quite unlikely.
4. Health Insurance
Wouldn't it be excellent to have faster processing of health insurance claims and lower costs for customers? With blockchain, this is possible.
The technology can enable fast, accurate, and secure sharing of medical data among healthcare providers and insurers.
Privacy laws in the context of sharing patient data among hospitals and health insurance providers can make the process time-consuming and expensive to process health insurance claims. In fact, the lack of data can also lead to claim denials.
When encrypted patient records are placed on a blockchain, healthcare providers and insurers can access a patient's medical data without compromising patient confidentiality.
The synchronized database of patient data can save the industry billions annually. Plus, patient privacy is guaranteed because the blockchain can store cryptographic signatures for each medical record.
Changing a patient's medical records stored on the blockchain would be impossible without creating an audit trail.
5. Auto Insurance
Yet, another area where technology can bring payouts to the next level is auto insurance.
Let's relook at the car accident example; both sides can get the requisite information with blockchain. Now, a client can expect to get an immediate payout, while the insurer can get to see the car repaired by a licensed service provider.
6. Reinsurance
Data sharing typically among insurers and reinsurance companies can get complex. Plus, it is time-consuming and requires duplicate manual work. With blockchain, the processes and information flows can get streamlined, benefitting both insurers and reinsurers.
Reinsurers offer insurance to insurance companies. So, insurance companies won't get wiped out when many claims occur at once. For example, at times of a hurricane or earthquake.
The primary issue with the reinsurance process is that it is inefficient, lengthy, and manual. Plus, the methods are based on one-off contracts.
Insurance companies typically engage multiple reinsurers for the same risk. It means that data has to be shared among many companies to settle claims.
When reinsurers and insurers share a blockchain ledger. The data relating to policies, premiums, and losses can simultaneously exist on insurers' and reinsurers' systems. The process takes away the need for reconciliation. Moreover, it can save time and money. Reinsurers can also automate claims processing and settlement.
7. Micro-insurance in Emerging Markets
Micro-insurance schemes, at times, may not look viable because of the human-intensive administrative processes and high fees for small payments.
However, with blockchain, underwriting and claims handling can be automated based on defined rules in micro-insurance schemes in emerging markets. Payouts to insured farmers can now be facilitated easily
Examples of Blockchain in the Insurance Industry
Blockchain has immense potential for the insurance landscape. To reiterate, here are some numbers!
According to Gartner, experts estimate blockchain to be heavily adopted by 2023 and lead to $3.1 trillion in new business value by 2030. Now, the estimates are worth investing your time and efforts in.
The insurance landscape is already bustling with incredible startups and platforms bringing immense value using blockchain in insurance. Let's look at some compelling examples.
1. Ryskex
Insurtech company, Ryskex helps provide insurers with an easier way to assess and handle risks accurately through its blockchain-based platform.
2. Fidentiax
Fidentiax, a blockchain market for trading insurance policies, launched its digital ledger product (ISLEY) for insurance policies in 2018. The product supports consumers as insurance buddies.
It allows users to store, view, and receive alerts for their insurance portfolios. What's more?
The portfolios can be shared with designated loved ones through the ledger to support beneficiary payouts after death.
3. Lemonade
Lemonade combines AI and DLT to offer insurance to renters and homeowners. The Lemonade protocol is interesting. It requires a fixed fee from each participant every month, and it allocates the rest toward future claims.
It attempts to remove bias from submitting and paying claims by grouping customers by the charity they choose upon sign-up. Lemonade is grounded on AI-based algorithms to establish claim legitimacy.
4. Black
Black is a digital insurance company on the blockchain, which empowers MGA-s and brokers, opening the centralized insurance market for crowdsourcing.
5. B3i
B3i incorporated in 2018, helps the insurance market with excellent solutions for end consumers through faster access to insurance and reduced administrative costs.
6. Etherisc
Etherisc helps with outstanding blockchain solutions, making insurance more accessible. How? With its decentralized insurance protocol, it can collectively build insurance products. Their insurance policy for flight delays is the most popular product, it includes:
Hurricane protection
Crypto wallet insurance
Collateral protection for crypto-backed loans
Moreover, they have also prototyped crop insurance and social insurance.
Blockchain is all set to alter the insurance space. The industry is yet to see more mind-blowing Blockchain implementation. So, you are in the right time and space to look out for trends and focus on riding the waves of change.
Limitations of Using Blockchain
The adoption of technology isn't without challenges. Here are some snags of using Blockchain.
1. Nascent Technology
As the technology is still evolving, resolving issues such as transaction speed, data limits, and verification processes will be critical in making Blockchain widely applicable.
2. Uncertain Regulatory Status
Insurance regulations are uncertain, and dynamic, and require to be updated frequently. As the landscape is unsettled, blockchain faces a hurdle in extensive adoption by insurance carriers.
3. Security and Privacy
While robust solutions exist, including private or permissioned Blockchain and strong encryption, many insurers are still concerned about cybersecurity.
4. Integration Concerns
Blockchain applications offer robust solutions that may require significant changes or overhauls of existing systems. So, companies need to plan the integration seamlessly.
5. Operation Time
The new technology is still unexplored, and some consequences are still to be identified. The customers' demands are high, whereas, on the other hand, the software keeps changing at a fast rate. Because of the inequality in the rate of changes between software and hardware, blockchain can affect and impact its performance.
6. Cultural Adoption
Blockchain requires a new way of thinking. Ultimately, a complete shift to a decentralized network requires the buy-in of its users and operators.
7. Cost
Blockchain offers massive savings in transaction costs and time. However, the initial capital costs are high, which acts as a deterrent.
8. Competition
As blockchain technology is evolving, the competition grabbing for opportunities is also increasing. There are many rumors around the marketing, making it difficult for customers to trust. Plus, it also increases the cost of adoption.
9. Exchange of Information
With rapidly changing technology, it is logical software and hardware systems also change. As the rate of change is fast, it is a challenge that there is no fixed standardized system for exchanging information.
10. Rules and Regulations
With blockchain, there is a need to overthrow the old system of rules. It is pertinent to have rules and regulations where everyone reaches a consensus with all networks buying in.
Every challenge is a beautiful opportunity. The question is, are you up to using these challenges to your advantage? The benefits surpass all hurdles. All it takes is learning, adapting, and creating winning solutions.
Wrapping Up
Today, blockchain in insurance can be a game-changer. There are compelling use cases for blockchain, and it can transform the way physical assets are managed, tracked, and insured digitally.
With incredible benefits, such as enhanced cost efficiency, reduced risk, and more, it's time you leverage blockchain. Blockchain is here to stay on the insurance roadmap.
Although it is still nascent, given the readiness of the market to embrace newer models and protocols, blockchain is here to stay!
Develop A Robust Blockchain Insurance Software with Imaginovation
Do you want to build robust blockchain applications for your insurance business? If you wish to design and develop futuristic solutions, get in touch with us.
We are an award-winning technology company in Raleigh with vast experience in emerging technologies such as blockchain, AI, AR, and VR development.
Let's talk!