Blockchain - 'The Technology of Trust', has taken the world by storm. It has redefined the way businesses transact.
Businesses are assured of having a technology that combines the openness of the internet with the security of cryptography. And what they get in return is a new, faster, and safer way to transact data and establish trust without the need for any central authority.
Simply put, blockchain is called blockchain because -
It puts data into blocks, and
It securely chains those blocks together using cryptography.
This chained structure continues to increase with every transaction.
Because of the host of unique benefits it offers, blockchain businesses like yours must keep an eye on the blockchain's market potential. Here are some remarkable trends and statistics about this technology you must know in 2023.
So, let's quickly dive into the latest blockchain numbers!
Blockchain Market Size Statistics
The blockchain market is growing at an astonishing speed. This outstanding market growth is attributed to several reasons. The legalization of cryptocurrency is one of its primary reasons. It has encouraged many businesses and investors to put money into blockchain technology.
Moreover, since crypto is now legalized in countries like Ukraine and El Salvador, you can expect newer opportunities for blockchain market growth. Another reason for blockchain's phenomenal growth is a rise in venture capital funding.
For example, in May 2021, Circle Internet Financial Ltd., a prominent blockchain tech provider, declared it raised 440 million USD in funding from investors, which was then used for organizational development and market expansion.
So, the key blockchain market size statistics for 2023 and beyond show a promising future. Let's take a look!
From 2022 to 2030, the blockchain market is expected to grow at a CAGR (compound annual growth rate) of 9 percent.
The global blockchain technology market's value was 92 billion USD in 2021. By 2030, it will be worth 1,431.54 billion USD.
Because of the adoption of blockchain solutions in government institutions, about 46 percent of the blockchain market's growth in 2021 originated from North America.
Boosted by the mainstream adoption of crypto, today, almost half (46 percent) of the blockchain's market share is owned by people/businesses in finances.
Financial services, healthcare, media & entertainment, government, and retail are the sectors with the largest blockchain market opportunity.
By the end of 2021, there were nearly 300 million crypto owners. As per crypto.com, this number will grow to 1 billion by the end of the year 2022.
With 16 percent, cross-border payments and settlements were the most prominent individual blockchain use case in 2021.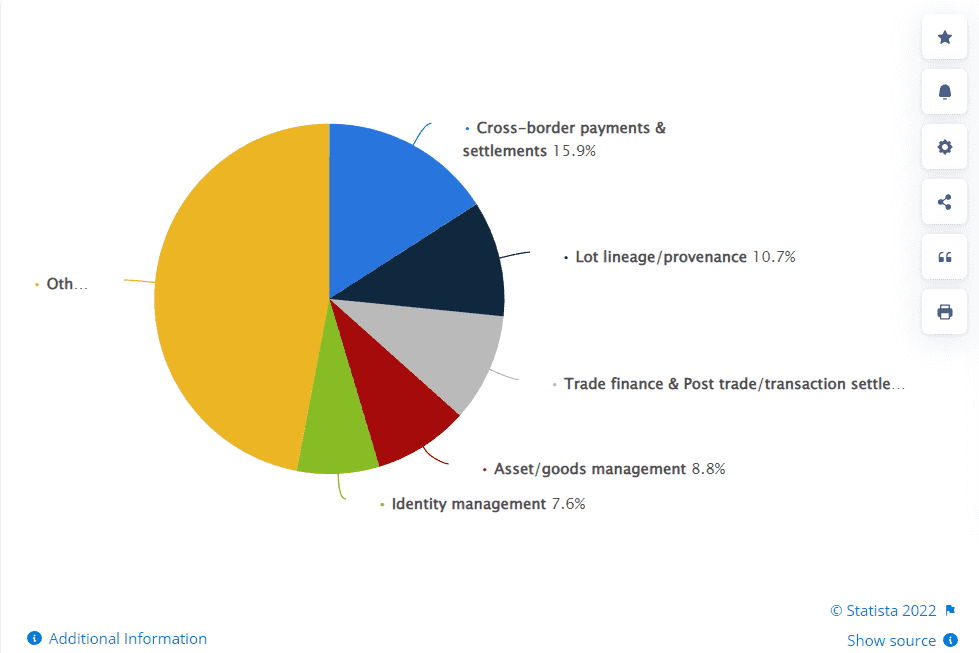 As of September 17, 2022, there are 115 milliontransactions on Blockchain.com.
As of September 17, 2022, there are 84,607,000 blockchain wallet users.
Blockchain Spending and Adoption Statistics
Various surveys done in the last couple of years report that blockchain-based financial infrastructure is set to transform industries.
The spending and adoption of blockchain technology are rapidly increasing globally across sectors. As a result, blockchain has the potential to play an integral role in the growth of the world economy.
Enterprises globally are exploring the adoption of blockchain in their daily processes. Many are experimenting with technology to provide different use cases.
The following stats will show you how industries are spending on the blockchain: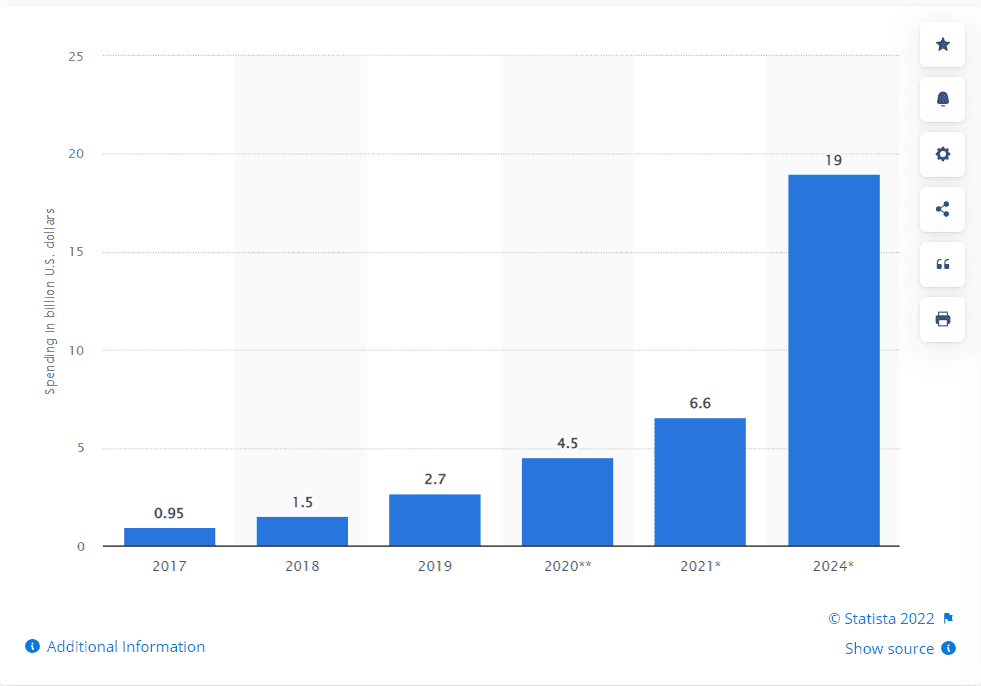 Global spending on blockchain solutions is expected to grow 3 times and reach almost 19 billion USD by 2024, as compared to 6.6 billion USD in 2021.
40 million people globally (0.5 percent of the world's population) use blockchain tech. This number will rise so much in the next 10 years that 80 percent of the world's population will start using the blockchain.
Touching 159 deals in Q2 of 2022, NFTs, gaming, and metaverse attracted 150 plus deals for the 3rd consecutive quarter.
Blockchain can bring down investment banks' infrastructure costs by as much as 30 percent.
By 2026, blockchain adoption in the food and agriculture sectors will be worth 1.48 billion USD.
The world's top 10 countries leading blockchain adoption are Japan, China, Lebanon, Switzerland, South Africa, United Kingdom, Singapore, Bahamas, United States, and Estonia.
By 2025, total spending by the healthcare sector while integrating blockchain could touch 5.61 billion USD.
There was collectively an investment of 5 billion USD in blockchain games during the first two quarters of 2022. By the end of 2022, the overall investments in blockchain games are expected to reach 12 billion USD.
Few of the world's biggest banks are investing 50 billion USD in building a blockchain digital cash settlement system.
A PWC "time for trust" 2020 report states that by 2030 blockchain will raise the global GDP by 1.76 trillion USD.
9 of 10 governments plan to invest in blockchain technology.
More than half (57 percent, to be precise) of blockchain funding in Q2 of 2022 went to Web3 startups, reaching 3.7 billion USD out of 6.5 billion USD.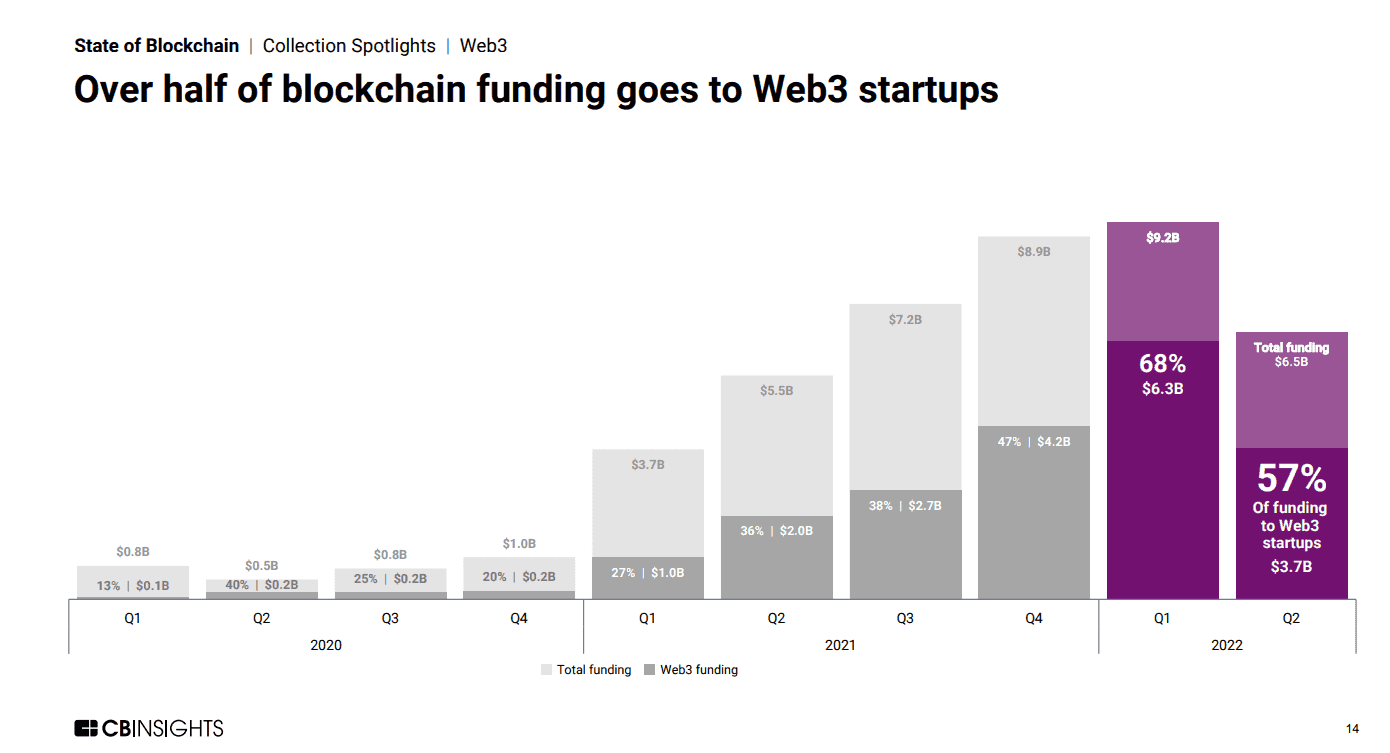 Blockchain for Business Statistics
With distributed ledger as its core feature, blockchain allows all participants to access the same set of information simultaneously (if needed), enhance efficiency, build trust, and remove friction. In addition, businesses love that blockchain permits a solution to quickly size and scale.
Businesses have started to see how blockchain technology is beneficial for them.
Here are some fascinating statistics about blockchain in businesses.
As per the PWC "time for trust" 2020 report, by 2030, blockchain is expected to add around 40 million jobs globally.
In the Gartner 2019 CIO Agenda Survey, 60 percent claimed they expected some level of blockchain tech adoption by the end of 2022.
As per a Deloitte survey, 96 percent of Financial Services Pioneers are convinced blockchain will eventually achieve mainstream adoption.
For about 40 percent of healthcare executives, blockchain is one of their top 5 priorities.
More than 80 percent of central banks globally are considering implementing their own digital currencies.
76 percent of financial executives are convinced "in the next 5 to 10 years, digital assets will be a strong alternative for fiat currencies".
People working in the financial sector believe cybersecurity is the biggest obstacle to successfully adopting digital assets.
74 percent of survey respondents said their consumer products & manufacturing company is developing a blockchain solution.
As of 2021, 45 percent of survey respondents said their companies were working on secure information exchange as a blockchain use.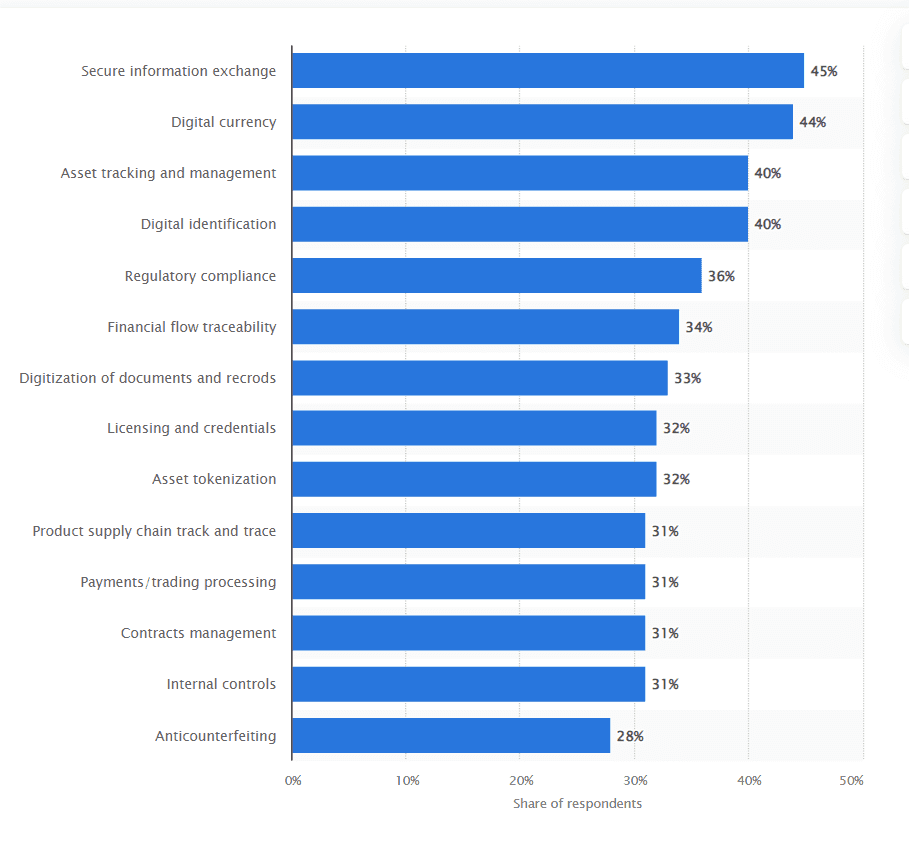 Blockchain Trends and Other Statistics
As a forward-thinker entrepreneur, I am sure you'd like to take advantage of blockchain technology and invest in it. Therefore, we have prepared a list of the key blockchain trends in 2023.
Read this section to broaden your knowledge, navigate this growing industry, and discover what lies ahead.
1. IoT and Blockchain - An alliance worth mentioning!
The decentralized market is finding many use cases for merging IoT with Blockchain. Blockchain is excellent at passing data with the highest level of security. This works well for IoT, connecting multiple devices and transferring information between various platforms in a hassle-free manner.
That's why the global Blockchain IoT market is expected to generate a revenue worth 5,802.7 Million USD and increase at an astonishing 91.5 percent CAGR between 2019 - 2026.
2. Social Media Platforms and Blockchain
Most of us have become skeptical of the well-known social media giants. They are known to sell user data to advertisers and are mired in controversies for their approach toward user content. However, blockchain-based decentralized social media (DeSo) is slowly coming up, where users have more ownership of the content they create.
Blockchain will enable the platforms to authenticate identities and verify accounts, making the content more credible.
3. Blockchain As A Service (BaaS)
Blockchain-as-a-service (BaaS) acts as a cloud service where you can create blockchain-based products like apps, smart contracts, etc.
The adoption of BaaS is increasing. Amazon, Microsoft, and a few others are already providing this service. Therefore, it is expected to benefit other companies, helping them utilize blockchain without worrying about the initial investment.
Statistics tell us the global blockchain-as-a-service (BaaS) market size in 2019 was 1.90 billion USD. By the end of 2027, it will reach 24.94 billion USD, with a CAGR of 39.5 percent.
4. Central Bank Digital Currencies (CBDC)
The blockchain industry is transforming the traditional financial system. One of the ways is through the adoption of digital currencies by central banks of multiple countries.
This trend would mean banks will create their own digital coins similar to fiat money.
87 countries have started showing interest in the CBDC.
There are many reasons for their keenness - cost-effectiveness of virtual money compared to cash, lower transaction fees by CBDCs, and a sense of financial inclusion promoted by digital currencies.
5. NFT Boom
NFTs or Non-fungible tokens, or NFTs, are gaining momentum for some time now. Therefore, these tokens will stay relevant in the future too.
NFTs have evolved into a means for people to generate vast amounts of money at digital auctions by offering their digital works in exchange.
This new trend is picking up in the gaming and fashion industries too. 
Develop Powerful Blockchain Applications with Imaginovation
The future of blockchain is certainly bright.
Like any other tech innovation, the blockchain continues to evolve. There are challenges, but you cannot treat them like obstacles.
And by crossing the hurdles associated, you can be part of this growing community.
To avail the benefits of blockchain technology, hire the services of a trusted blockchain development company like Imaginovation. We can help you build a fantastic blockchain app with this powerful technology.
Imaginovation has extensive experience in building blockchain-based applications.
Feel free to contact us. We will help you build a secure and transparent blockchain solution.
Imaginovation is an award-winning web and mobile app development company with vast experience crafting remarkable digital success stories for diverse companies.
Let's talk.
Book A Consultation
Book a meeting with one of our team members and we will help you plan out your next steps. You can also use our calculator tool to receive a rough estimate on your project.