Gone are the days when CTOs (Chief Technology Officers) focused solely on implementing technology. Instead, their current role includes creative thinking, problem-solving, and a keen eye for detail, amongst many others.
Facing an ever-evolving pace of technology and a hybrid work culture, CTOs are in an exciting position.
Besides, the year 2024 is already seeing challenges caused by inflation and staffing shortages. Then there are talks about returning to the work-from-office work culture.
Against this already complicated backdrop, CTOs must deal with cyber safety, cloud platforms, 5G, mixed reality, artificial intelligence, mobile apps, and a host of other variables disrupting businesses like never before.
If you're a fast-growing CTO and wish to stay ahead of your competition, this article is for you. We will discuss the most critical challenges that CTOs of fast-growing companies face in 2024.
Let's begin!
Key Challenges Faced By CTOs in 2024
Here's a list of the emerging challenges CTOs have to deal with.
1. Reinvent the legacy systems your business grew up with!
Many CTOs tend to hang on to their legacy systems even when better solutions become available.
In a time of technological advancements, CTOs who take this approach often believe they are saving the company time and money.
However, they end up costing their organization even more in the long run if you consider the total impact of continued use of legacy systems. Older technologies and legacy systems can cause financial losses that may not appear very apparent initially.
That's why you should be aware of these risks.
To begin with, legacy systems can devour your IT team's resources. In addition, the maintenance costs associated with them keep on increasing. Then there is the additional expense related to training new hires, rolling out new patches, and fixing security concerns. Moreover, these systems become inefficient with time.
But getting rid of old systems can be a challenge. It is also tricky to manage these old systems properly.
But what if your customers insist on using a very old version of your product?
You should do this carefully and strategically, as it might have an unforeseen impact on your business and customer experience.
Evaluate your legacy system and the modernizing approach you'd like to follow. Assess if rehosting, rebuilding, re-platforming, or any other approach is needed. Go for an approach with the highest impact and value.
2. Rising cybersecurity threats & concerns related to data privacy
Do you remember when the pandemic hit the world, remote work saved companies? People could not leave their homes, but they worked from home anyway.
Although the benefits of such remote jobs are beyond anyone's imagination, they come with a price - in the form of cybersecurity threats and data privacy breaches.
Moreover, employees working remotely cannot have a direct connection to the business networks. And they are forced to use their own systems, devices, and the internet.
This exposes the business to cyber threats and multiple entry points to defend. In addition, there are insider threats to combat from employees, partners, and suppliers.
Cybercriminals often target small-to-midsized businesses, and 60 percent of them will suffer a data breach or attack within six months.
Data breaches and cyber security threats make the roles of CTOs all the more demanding.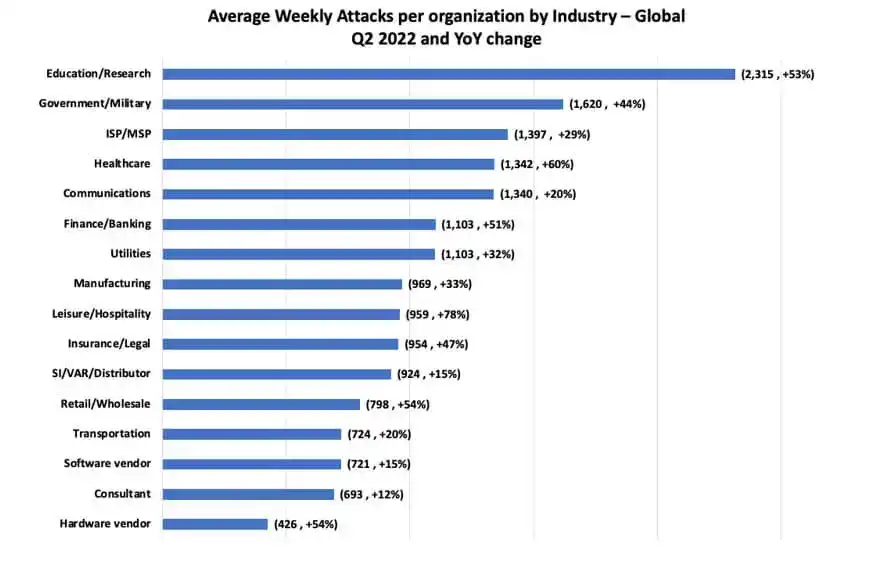 While everyone in the company needs to be aware of potential security risks, the CTO can lead by example. How? They must ensure that every technological move the company makes is scrutinized for its security implications. The CTO must try and work with other departments to promote a culture that prioritizes security as everyone's responsibility in the company rather than just one department or group.
3. Exploring various possibilities with cloud computing
Cloud has become an essential aspect of carrying out business operations everywhere. And why not - after all, it is efficient and reliable.
By adopting this revolutionary technology, you can avoid the upfront cost and complexity of buying, owning, and managing your own IT infrastructure. Instead, you pay for what you use, when you use it. Isn't that incredible?
Businesses that have already migrated to a cloud infrastructure setting have already experienced how value-adding it is.
But the real challenge is to transfer and integrate everything to the cloud. And then to ensure your business is sustainable, scalable, and secure with the cloud.
With a very competitive market, you cannot take things for granted.
CTOs have the arduous task of strategically evaluating various cloud tools and workflows and identifying how they align with their business requirements. It is time-consuming and takes additional resources to assess which cloud has the best suitable security protocols and the most streamlined migration processes.
Here, CTOs may use external help from certified cloud partners to correctly assess the viability of available options and then make a more informed decision toward cloud adoption.
4. Rising complexity in business tech environments
In the face of increased business operations, markets, and interconnected global business situations, businesses grapple with adopting complex technology transformations.
This enhances the difficulty of the CTOs, who are expected to lead from the front. In addition, the more complex the system becomes, the more challenging it becomes to find an apt solution and resolve glitches.
This adds more stress on CTOs as they are responsible for handling these issues.
Such situations continue now, worsened by the complex hybrid working environment.
5. Mounting expectations to deliver ROI on Tech Projects investments
Businesses expect their CTOs to bring excellent investment returns, especially on tech projects.
After all, every venture capitalist wants to invest in companies that make money.
CTOs are expected to build strategies and plans that generate better ROIs.
But this cannot always be guaranteed. And this puts the CTOs under tremendous stress.
The biggest challenge comes when you're expected to deliver tech solutions faster, having the same number of resources. It is then that the quality suffers.
You start cutting corners to meet deadlines. As a result, you end up creating technical debt.
Technical debt evokes consequences such as poor user experience, losing clients, making the product vulnerable, and additional development costs.
Managing technical debt is challenging for CTOs.
6. A high attrition rate of IT workers
Businesses hugely depend on skilled IT professionals, but a high attrition rate among IT workers is a pressing challenge most CTOs face.
While you may be willing to pay excellent remunerations to suitable IT professionals, the high attrition rate makes it difficult for you to keep the talent in your organization for a long time.
It is because there is always someone who is ready to pay IT professionals, more than your company.
Here is a survey result that shows the shortage of IT professionals in various IT fields: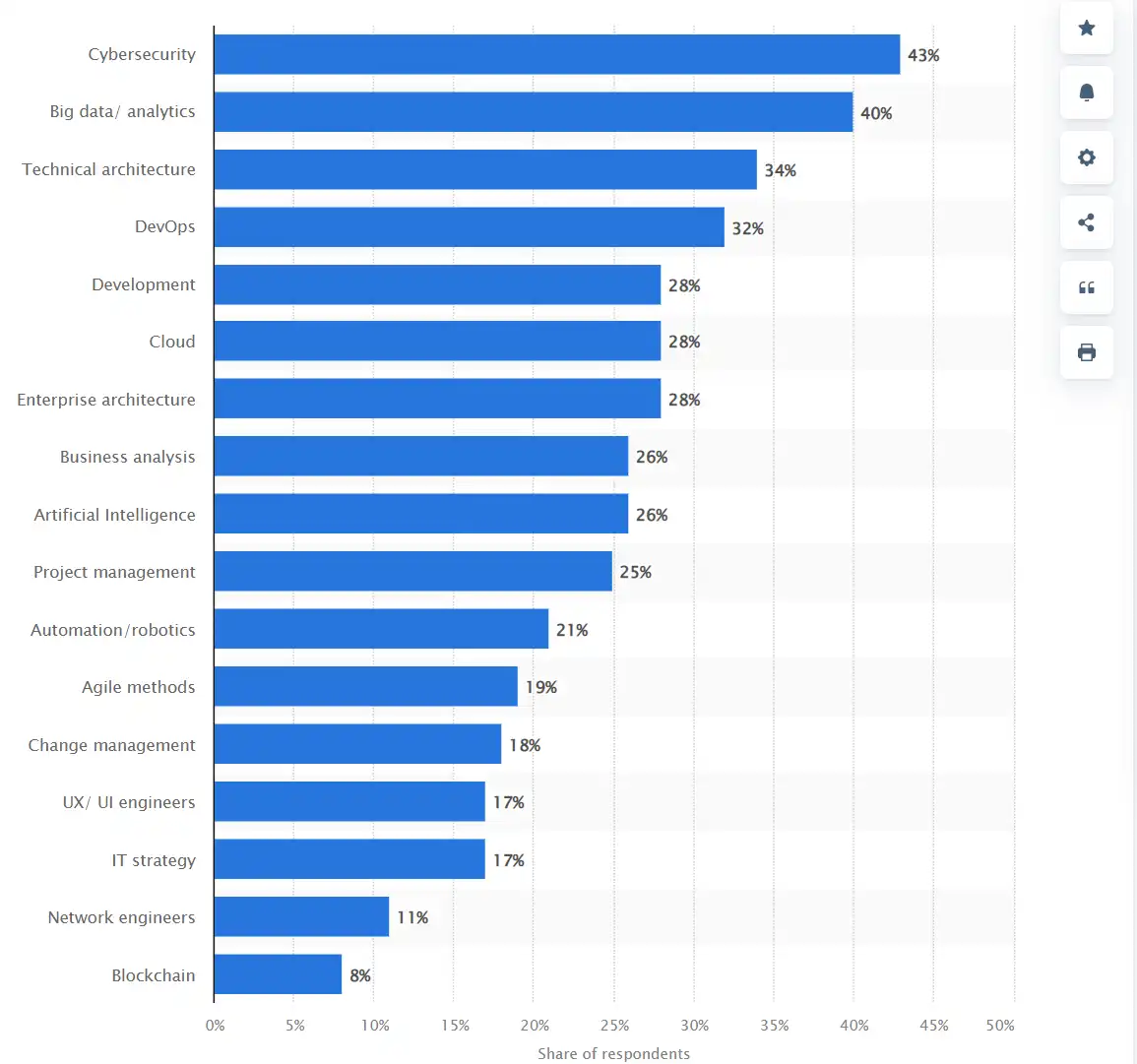 This shortage can complicate the IT processes when a company loses critical workers for essential business operations.
7. Choosing between in-house and outsourced workforce
CTOs often struggle to find the right talent for the company. But the real challenge is to choose between in-house hires and outsourcing. Both have their own set of advantages and disadvantages.
Either way, you can opt for one of three solutions:
Employ fresh talent - You can do this, but there is always a shortage because of huge demand. While you may be willing to spend competitive remunerations on your IT team, the attrition rate makes it impossible for you to retain. Remember, there will always be an organization that will be willing to offer them more.
Upskill the in-house team – You can always try working on the skills gap of your current staff. Make sure you train and upskill your workforce on the latest technology and solutions.
Go for a dedicated outsourced IT team – Such a team would constantly be working with you. Moreover, when you establish a partner relationship with experts, they can help your team adapt to the upcoming industry trends. The biggest reason companies opt to outsource is the flexibility to scale up/down. Depending on the project's demand, you can hire additional people or add extra resources. It is easy on the budget. But outsourcing can have its own risks, such as communication barriers, issues with code quality, or something even more extensive.
CTOs must make well-informed and sound decisions for their teams to build a future workforce.
8. Growing hybrid work culture
The pandemic has turned our lives upside down. It has brought considerable changes to the way organizations work.
Traditional work-from-office models are replaced overnight with work-from-home and other remote options. Technology, digital solutions, and tools suddenly took center stage for businesses.
CTOs face the most significant challenge here as they ensure the reliability of business tools both at the office and at employees' homes.
For many small businesses, remote work is a viable option. But as companies grow and reach certain stages, a hybrid work model may be the most practical option. You can consider factors like employee demands, productivity, budget, IT infrastructure, security, talent, and employee mental well-being.
Moreover, companies adopt hybrid working because it enhances trust and collaboration between teams which is essential for higher productivity. That's why companies investing in well-designed hybrid architecture are better positioned than their competitors.
Partner With Imaginovation for Your Development Needs
The digital leader of an organization - the CTO, must be a strong negotiator, a problem solver, and a visionary who looks far into the future.
Security threats, customer experience, digital transformations, and technology adoption all present their own unique challenges that a CTO must face.
We at Imaginovation can take care of your development needs and accelerate the growth of your organization. We can help you build a digital solution that takes you ahead of the competition and make you a market leader.
You can let us handle all your development challenges.
Get in touch with us at Imaginovation.
Imaginovation is an award-winning web and mobile app development company with vast experience crafting remarkable digital success stories for diverse companies. Let's talk.