Cloud adoption is taking off in a big way, and it's no longer just for startups or small businesses. Modern enterprises of all sizes are catching on to the benefits of cloud computing. It helps them gain competitive business agility and cost-effective operations.
Cloud adoption has become so ubiquitous that the analyst firm Gartner predicts that by 2025, 85 percent of organizations will embrace a cloud-first principle.
It means more agility for your business - an essential attribute for achieving more incredible innovation, productivity, and a more adaptive organizational culture.
In this blog post, let us first see what cloud adoption means, what it entails, and why moving to the cloud is essential. We will also examine some of the best practices for successful cloud adoption.
Let's get started!
What is Cloud Adoption?
Cloud computing is the on-demand availability of computing services that you can use without buying storage space or other computing resources. You get to only pay for what you use.
It is like renting out a furnished apartment. You don't have to buy furniture or appliances; you have to pay for the time you use them.
So, cloud adoption is a strategy enterprises use to reduce operational costs, improve scalability and minimize risk. Businesses engage in cloud adoption to avoid the hassle and high cost of maintaining large data centers.
You may consider switching to the cloud if -
Your business is increasing, and you're finding yourself strapped for enough space and computing resources to keep up with the rising demand.
You have trouble finding storage space for all your data.
You suffer from slow response times of your apps due to your current infrastructure.
Your existing infrastructure is underutilized. If so, cloud computing can save you money.
Why Moving to the Cloud is Important for your Business?
Cloud can contribute to bringing business efficiency and digital transformation to your business. But moving your company to the cloud is a big decision that will affect every aspect of the business.
Here's how the cloud can benefit your business and why you should go cloud.
1. A secure collaboration environment
Collaboration is one of the top reasons organizations consider moving to the cloud.
An excellent example of collaboration is a cloud-based suite of productivity applications called Microsoft Office 365. It offers many features for connecting and collaborating, such as email, Office apps, access management, file sharing, and sync. As a result, as many as 25 million people have switched to the cloud with MS Office 365 to modernize their businesses.
Moreover, collaborating on a document in the cloud eliminates multiple versions of files. It is like working on a standard document in real-time. Changes are automatically saved, so no one has to worry about losing their work or emailing it back and forth.
Cloud-based Unified Communications as a Service lets you stay in touch, collaborate, and get things done in one app.
Like any other software, business technology is updated regularly for security updates and bug fixes. The cloud is no different. But the cloud's software updates can be a lot more effective because their responsibility falls on the cloud's software provider.
With the cloud in place, you will not be needed to develop and sustain your own IT departments responsible for communications infrastructure, security updates, operating software updates, and staffing customer help centers.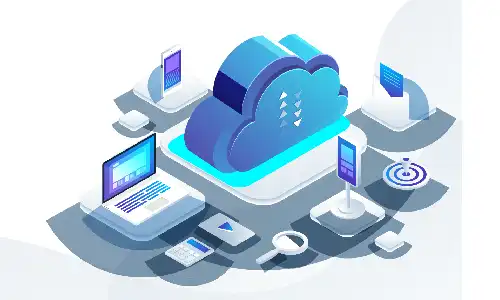 Cloud computing enables workers globally to share ideas, contribute to work, and collaborate regardless of location. It provides quick, simple, and trustworthy communication to teams worldwide.
Cloud-based collaboration can be especially useful in companies with multiple teams working on a common project. For example, an app-based company can use the platform to grasp how the UI/UX designers, architects, engineers, digital marketing team, and product managers perform.
2. Enhanced security
The digital transformation process can put your company at risk of losing control of its infrastructure and data.
But moving to the cloud reduces these dangers, as public clouds offer protection against data loss and illegal access. Moreover, since backups are generated automatically, there is no chance of data loss.
Cloud computing is becoming increasingly secure due to cloud service providers' efforts to protect their customer's info. Among the other security measures that you may have to take to protect your data in the cloud are the following:
Abiding by all stringent compliance requirements.
Using multifactor authentication for data access.
Ensuring end-user training regarding the cloud.
Collaborating with security operations centers for data security.
3. Enhanced cost efficiency
Cloud computing offers an easy way to store data without buying an on-premise infrastructure.
It provides you the opportunity to pay as you go. You pay only for the services you use and only when you use them. When you no longer require these services, your monthly payments ceases automatically.
It lowers the cost of buying hardware, software, and operating data centers. Since these savings are essential for every business, the pay-as-you-go (PAYG) cloud model enables you to innovate and produce new apps and systems quickly.
In a world where everything seems to cost more and more, the ability to only pay for what you use balances the rising cost of staff and infrastructure.
4. A greater level of scalability
Scalability, or the capacity to handle rising demand and data volume, is a crucial attribute of a business application.
Migrating to the cloud is the best way to grow or shrink your infrastructure resources as needed. Whether planning for company growth or tightening budget constraints, moving to the cloud allows you more control over your infrastructure costs and puts a reliable, scalable backup plan in place.
Cloud will ensure you don't have to worry about installing and maintaining extra hardware on-premise. Additional infrastructure resources are readily available as you need more processing power, memory, or storage. So you can rapidly scale your system up or down without incurring the expense of predicting and planning for any peak demand.
Instead of waiting for days, the cloud lets you rent or subscribe to platforms, infrastructures, systems, technologies, and data services that can be scaled up and down to meet your needs. This helps you save money on unnecessary investments and ensures you have what you need when you need it.
5. Effortless data backup & recovery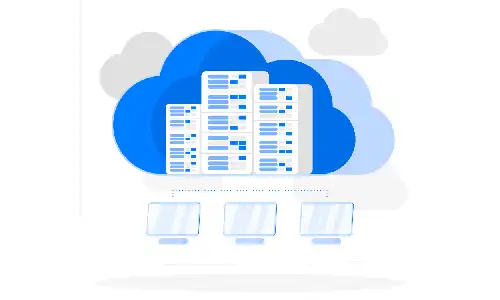 Storage space per your need is another critical advantage of migrating to the cloud. You can keep your most essential data in the cloud, quickly accessing it from anywhere at any time. This makes cloud computing ideal, especially if you have many remote employees or run an online business.
Furthermore, the cloud includes a built-in data backup and restore system that protects your data against hackers and unauthorized access.
Your data is broken into pieces and scattered across the cloud, making it impossible for hackers to steal your information from one place. Even if they do, it will be useless because you have a backup stored in the cloud.
6. Innovation at its best
Cloud services can shift your workplace into a space conducive to innovation. When operational and technical factors are in place, you can focus on innovating and advancing transformation initiatives.
The cloud enables one to innovate consistently, which is key to staying competitive in today's market.
Cloud platforms help companies to innovate at an accelerated pace, allowing them to bring new products and marketing campaigns to market.
Also Read: 8 Industries Cloud Computing is Radically Transforming for Good
7. Making data accessible - where and when you need it
Thanks to the cloud, we can now access data in volumes we never thought imaginable. Now your employees can work from anywhere—and you'll reap the benefits of increased flexibility and productivity.
So, cloud computing enables us to access data and store information "in the cloud." This means we no longer need to bring a computer with us, as we can use any Internet-enabled device.
This is convenient and much cheaper than buying an expensive laptop or tablet with all the software needed for your business applications. In addition, if anything happens to your device, you can get another one and connect to the cloud: your data will still be accessible immediately, without any delays.
7 Best Practices for Successful Cloud Adoption
Cloud computing is critical to business efficiency and digital transformation efforts. It can't be done hastily, however. First, you must understand the technology, your current setup, and the possibilities for going cloud.
Moreover, adopting the cloud—private, public, or hybrid—requires some learning. Therefore, you need to acquire skills and knowledge to develop processes that will help you go cloud.
Here are seven best practices that will help you prepare your organization for successful cloud adoption:
1. Take a cloud-first commitment
The key to making a cloud-first commitment is asking yourself, "Why do I need to move to the public cloud?" The answer to this simple but essential question could make all the difference between success and failure.
Commit to following a cloud-first approach. Cloud-first means all of your business apps and data will move to the cloud unless there is a compelling reason for them to stay on the premises.
A cloud-first strategy will involve your dedicated focus, without which results will be less than what you desire.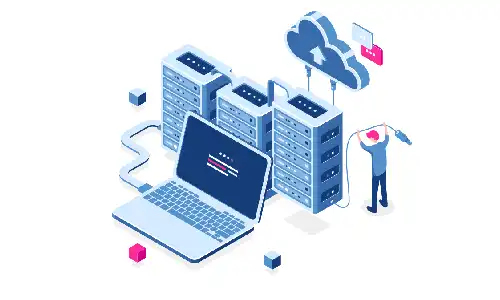 2. Initiate a Cloud Center of Excellence
The success of your cloud adoption depends on many things, including having the right skills and structure in place.
Establishing a Cloud Centre of Excellence (CCOE) will let you achieve this by ensuring everyone knows about your cloud initiative, communicating all necessary policies, and fostering collaboration in communities of practice.
CCOE needs a cloud champion with a high-level view of the organization. This person will drive the strategy formation and execution of the strategy. As the cloud adoption process progresses, other roles within CCOE will gain importance.
3. Identify the factors that drive costs
One of the best ways to ensure a successful cloud migration is to treat it like an economical decision.
Therefore, begin your cloud journey by determining how much your company can gain from moving to the cloud. Then, consider your current costs and how switching to a cloud-based infrastructure can help you cut costs.
Correlate your cloud costs with other measurable metrics to fully understand where you can improve business performance. Then, as you move along your cloud journey, track financial KPIs — over time, you'll be able to improve your economics based on additional use cases.
4. Set up a cloud governance model
Carefully analyze where you stand on the path to cloud governance. The way to its success is paved with policies and guidelines allowing your enterprise to use public cloud services safely and efficiently.
Remember, good governance does not get in the way of DevOps. On the contrary, the excellent rule requires input from all stakeholders so the business remains agile.
Your cloud governance model should be such that it prevents unmanaged growth, immediately eliminates waste, establishes processes for long-term optimization, and includes automated monitoring and remediation.
5. Have an MVC - minimum viable cloud
In cloud computing, the Minimum Viable Cloud approach refers to a public cloud platform that allows you to launch at least one app and engage all the key stakeholders in the organization, where they can explore and experiment with that platform.
The minimum viable cloud is one of the essential cloud best practices. It's just as simple as it sounds the MVC is a cloud that you'll improve upon over time as you migrate to the cloud.
Azure, AWS, and Google all allow for automation programming as the primary means to build a new platform.
6. Opt for the best workloads for cloud migration
Assess all your business applications and workloads to see which ones are best suited to cloud migration.
You can assess the cloud readiness of each workload based on its technical viability and the value it will generate.
The first wave of migration should include 'quick win' applications that are valuable from both perspectives. Next, you should move on to workloads critical to the business but require adapting before they can be migrated to the cloud. Finally, applications that aren't impactful to the company should be included in the third wave of the migration, even if they are ready on the technical side. Focusing on them earlier might contradict the business goals defined in your strategy.
7. Select the proper cloud configuration and provider
Cloud adoption isn't just about the money but performance as well.
Look at your infrastructure and your data peaks and valleys. Get to know your business figures and combine this knowledge with the information you have about cloud services. Then, choose a model that addresses your company's needs.
When choosing a provider, look at the big picture: not just their offerings but also how their goals align with yours in the long run. Your provider should support you by providing smart infrastructure and services.
Accelerate Cloud Adoption with Imaginovation
Cloud migration is a journey—it's not a destination.
Even after you've set up your cloud infrastructure, you'll continuously plan, monitor, and optimize it.
At Imaginovation, we make the cloud work for you. Our team handles the migration process so that the transition to the cloud is less cloudy.
If you wish to enjoy the benefits of the cloud and gain a competitive advantage, contact us at Imaginovation. We will help you smoothly migrate to the cloud and increase your business agility.
Imaginovation is an award-winning web and mobile app development agency with vast experience crafting remarkable digital success stories for diverse companies. Let's talk.