In today's healthcare environment that is increasingly connected, patient-centric, and open to sharing information, the use of mobile apps is becoming prominent.
Moreover, as mobile technology evolves, it offers patients healthcare opportunities never seen before.
As more patients seek convenient and personalized ways to improve their quality of life and manage their health, there is a rising demand for digital solutions in healthcare.
Do you want to know how much the patient-centric healthcare mobile app market is growing? Well, let's take a look at the numbers.
According to Market Data Forecast, the global patient-centric healthcare app market will grow from $8 billion in 2023 to $367 billion by 2028 - a good 35.20% CAGR over the next five years.
Since patients are the end-users of healthcare apps, their needs and preferences must be at the forefront of healthcare mobile app development.
Keeping this in mind, this blog post delves into the critical considerations for building a successful healthcare app in 2023, highlighting what patients really look for in a healthcare app. This post also talks about some prominent patient-centric healthcare apps available today.
We will discuss the top features and benefits patients expect from healthcare apps. Understanding these key factors allows you to create healthcare apps tailored to patients' needs.
This blog also provides valuable insights to build successful patient-focused apps in 2023.
Let's go!
What Do Patients Want in a Mobile Healthcare App?
Dr. Karen DeSalvo, Chief Health Officer at Google Health, says, "The future of health is consumer-driven. People will expect a mobile-first experience with more personalized insights, services, and care".
By designing an app that meets the needs and preferences of patients, you can improve the user experience, increase patient engagement, and ultimately improve health outcomes.
A patient-centric approach can also help you gain trust and confidence, as patients are more likely to engage with a provider who understands their needs and preferences.
Although healthcare mobile apps are intended to improve the quality of care for patients, most fall short of this expectation.
Brian Kalis, managing director of Accenture's Health practice, said that simply having a mobile app is not enough--it has to be useful and engaging for patients.
Highlighting this need, he observes, "Apps are failing to engage patients by not aligning their functionality and user experience with what consumers expect and need. Consumers want ubiquitous access to products and services as part of their customer experience, and those who become disillusioned with a provider's mobile services – or a lack thereof – could look elsewhere for services."
It is highly concerning that hospitals are able to engage only 2% of their patients on healthcare apps.
Healthcare organizations have an incredible opportunity to improve patient satisfaction through mobile apps.
But how and where to start?
Below are some tips that will help you understand what patients really want and what areas you should focus on when developing a healthcare app.
1. Easy Navigation
A healthcare mobile app should be easy to use and navigate. Patients expect intuitive and simple interfaces that are easy to navigate and understand.
It's good to have unique features in your app, but don't make the basic features so hard to find that patients won't use them.
"Right now (and we do mean right now), consumers are looking for the basics in mHealth access. We want to make it as simple as possible for patients to navigate," says Dr. Peter Fleischut, CIO at NewYork-Presbyterian.
Patients look for an app that helps them save time on booking, changing, or canceling doctor's appointments. If your mobile app requires patients to spend a long time figuring out how it works, they'll no longer use it. It's that simple.
So, whether it's about booking an appointment or scheduling an online diagnosis, a successful healthcare app is one that provides easy access to all the necessary functionalities and saves a tremendous amount of time and effort for patients instead of adding more.
2. Access to Detailed, Actionable Information
Patients expect access to their health information, medical records, test results, and other relevant information via the mobile app.
Providing information just for the sake of it will not make your app successful.
Easy access to health information will allow patients to keep tabs on their health status with the app, check out how they're doing over time, and take proactive steps to manage their conditions. For example, they can monitor blood pressure, blood sugar, and heart rate.
Design your healthcare app in a way that it can walk patients through the pool of information about a specific condition.
Make sure you use interactive tools and layman's terms to keep patients engaged with your app.
3. Telemedicine / Video consultation with Healthcare Professionals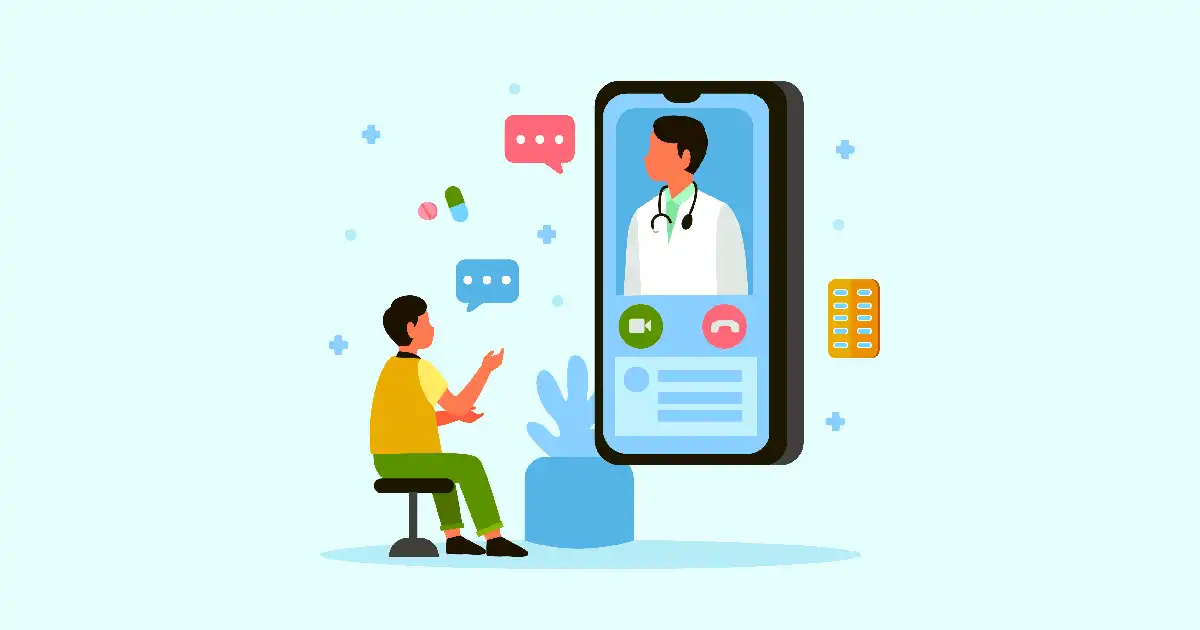 It is essential that the mobile healthcare app allows patients to interact easily with healthcare professionals. According to the study, roughly 75% of hospital visits are very basic in nature and can be handled over the phone or via video call.
Such video consultations feature enables patients to consult with their healthcare providers from the comfort of their homes or other remote locations. This can save them time and effort. It is particularly beneficial for patients who live in rural or remote areas, have mobility issues, or have difficulty traveling to healthcare facilities.
Patients can also avoid the costs associated with transportation to and from healthcare facilities and reduce the need for in-person appointments, which can be more expensive.
Patients also get increased access to specialists. Consulting with specialists who may not be available in their local area can improve the quality of care patients receive.
"Medical boards and medical associations were hesitant about embracing telehealth; physicians were concerned about diminishing the relationship they have with patients. But the experiences with telehealth during the last couple of years have been reassuring, and telehealth increasingly has become one of the ways physicians interact with patients," says Roy Schoenberg, CEO of American Well, one of the leading telehealth companies in the US.
4. Connecting with Patient Community
Patients want to connect and interact with one another. That's why adding a community feature to your healthcare app is essential.
According to a study published in the Journal of Medical Internet Research, providing a social platform to patients is a powerful way to enhance healthy behaviors. More than 56% of the 217 users surveyed found that the social feature in-app increased their belief that others wanted them to lead a healthy routine.
There are many benefits of adding social features to the app. For example, when an individual is diagnosed with a particular illness or disease, they would most likely want to connect with people diagnosed with a similar condition.
It helps patients feel comfortable and part of a supportive community. In addition, it can be a great tool to keep patients engaged with your healthcare app.
5. Simple Yet Amazing Digital Experience
Modern consumers expect a smooth and elegant user experience. Unfortunately, data shows that 90% of the mHealth apps are NOT regularly used once they're downloaded. Poor user experience can be a reason why most mobile health apps fail to make a great first impression.
In fact, data shows that about 21% of millennials tend to delete an app if it offers a poor digital experience.
So, your mobile app must have a user-friendly UI. Mobile healthcare apps that provide attractive data visualization are much more likely to retain and engage patients.
Users typically prefer pages and designs that have soothing colors. Also, keep your target audience in mind while designing the overall appearance. For example, your app should have bigger icons and text if you're targeting older people.
6. Integration with Wearable Devices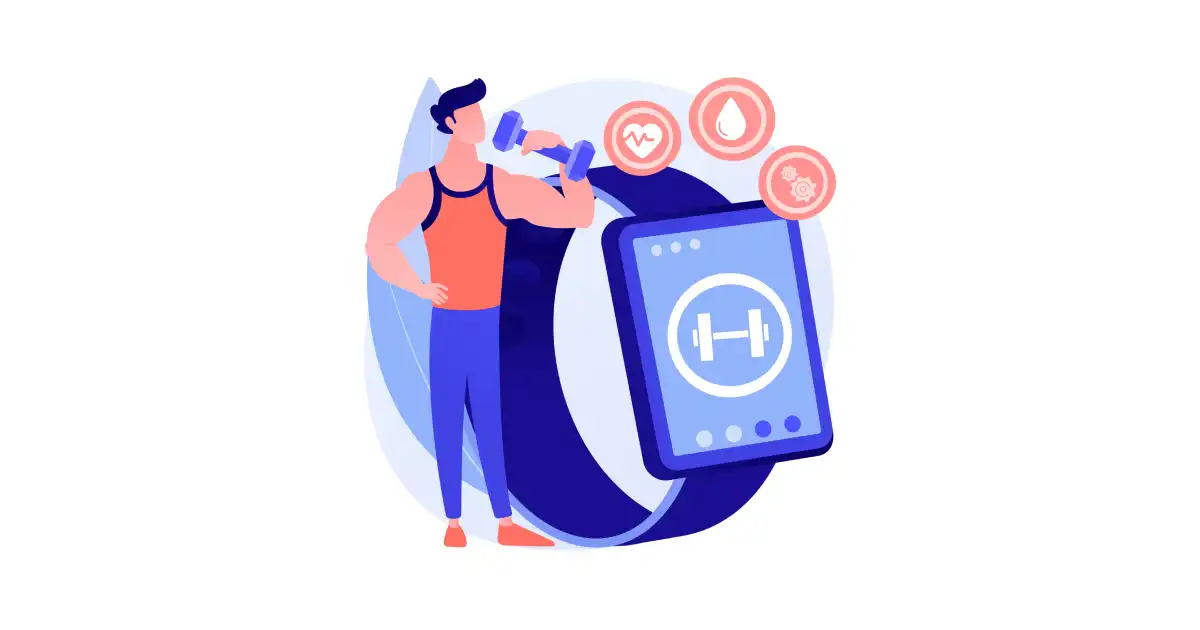 Patients are increasingly looking forward to integrating healthcare apps with wearable devices. According to a new study by Juniper Research, the healthcare wearables market will reach $20 billion by 2023.
Wearable devices, such as smartwatches, fitness trackers, and other health-monitoring devices, can provide patients with real-time health data that can be used to monitor and manage their health conditions.
Here are some reasons why patients are interested in the integration of healthcare apps with wearable devices:
Improved Health Monitoring: Wearable devices can provide patients with real-time health data, such as heart rate, blood pressure, and sleep patterns, which can help patients monitor and manage their health conditions more effectively.
Convenience: Wearable devices are convenient for patients. Patients can monitor their health data without visiting healthcare facilities.
Personalization: Wearable devices can provide personalized health data tailored to patients' needs.
Increased Patient Engagement: Wearable devices can improve patient engagement. Patients who can easily monitor their health data are more likely to take an active role in their health management and seek medical care when needed.
Better Healthcare Outcomes: Wearable devices can lead to better patient healthcare outcomes. Patients who monitor their health data regularly are more likely to manage their health conditions effectively and avoid complications.
7. Appointment Scheduling
A healthcare mobile app should allow patients to book appointments easily and quickly without having to make phone calls or visit the healthcare facility in person.
Patients can choose an appointment time that is convenient for them and avoid long wait times associated with walk-in appointments.
8. Secure messaging
Secure messaging provides a secure and convenient way for patients to communicate with their healthcare providers. Patients can ask questions, share health information, and receive personalized advice and treatment recommendations from their healthcare providers.
It ensures the confidentiality of patient health information. As a result, patients can communicate with their healthcare providers without worrying about the privacy and security of their health data.
Besides, it allows patients to receive timely medical advice from their healthcare providers. Patients can communicate with their healthcare providers in real-time and get quick responses to their health concerns.
Overall, patients look for a healthcare mobile app that can provide them with quick access to relevant health information, improve their engagement in their health management, and make their healthcare journey more convenient and efficient.
Also Read: 9 Web Development Solutions Healthcare Businesses Need to Fight Corona-like Pandemics
Develop a Minimum Viable Product (MVP) First
Developing a Minimum Viable Product or MVP for your healthcare app idea is a smart way to know what customers want to see in an app. MVP, as the name suggests, is the most basic version of your app that has all the primary features.
"We really built EventBrite through having a dialogue with our customers," says Julia Hartz, CEO of EventBrite, a billion-dollar ticketing company.
To build a successful mobile app, you need to make it a habit of getting your customers' feedback and working on them from time to time.
When developing a healthcare app, you want to ensure that you're creating something valuable and easy to use.
An MVP (minimum viable product) will help you test the waters with early adopters and generate a lot of actionable insights. However, make sure that you take user feedback seriously and try to implement them to make your healthcare app more accessible and convenient.
Top Performing Patient-Focused Healthcare Apps in the US
Among thousands of healthcare apps, you will find some apps far more valuable to improve the way you manage your health. From appointment scheduling to medication reminders and finding your medical records, these apps allow you more control over your health at your convenience.
Some top-performing healthcare apps in the US include:
1. ZocDoc
If you're tired of waiting long to get an appointment, the ZocDoc app can help you. The app is endorsed by MTI College and Becker's Hospital Review. It reduces the hassles of making an appointment with the doctor by providing an instant online booking feature.
2. Medisafe
The Medisafe app sends notifications on your smartphone when you're supposed to take your medicines. This app works as a "virtual pillbox." Patients who use Medisafe have experienced incredible health improvements as it allows them to take medications on time precisely as directed.
3. HealthTap
HealthTap is a mobile app that provides users access to reliable and trustworthy health information and medical advice from a network of licensed physicians. You can seek answers to health-related questions, search for information on specific health topics, and even schedule virtual appointments with doctors for personalized advice.
4. Amwell
"Telehealth can bridge the gap between supply and demand in healthcare," says Roy Schoenberg, CEO of American Well.
Powered by American Well, Amwell is one of the most popular telehealth apps in the US. The app offers healthcare services around the clock and without any appointments. In addition, the app allows patients to book a virtual urgent care appointment and instantly connect to a real doctor for face-to-face interaction through a video call.
Additionally, Amwell offers 24/7 availability, making it easy for patients to receive medical care at any time, day or night.
5. GoodRx
GoodRx is a healthcare app that helps patients find the lowest prices for prescription medications at pharmacies near them. Here are some of the important features for patients in the GoodRx app:
Medication Search: It allows patients to search for medications by name or condition.
Pharmacy Locator: GoodRx helps patients find nearby pharmacies that carry the medication they need.
Price Comparison: GoodRx provides patients with price comparisons for the medication they need at different pharmacies.
Medication Savings: GoodRx offers patients savings coupons for their medication. Patients can present the coupon at the pharmacy to receive a discount on their medication.
An Experienced Technology Partner for Healthcare App Development
Healthcare mobile app development is about creating a mobile application that provides healthcare-related services to patients and healthcare providers. Patients appreciate an easy-to-use interface of mobile apps for healthcare.
If you're a healthcare service provider looking to develop an incredible healthcare mobile app, talk to us.
We are an award-winning team of web and mobile application developers with vast experience in emerging technologies like AI and IoMT (Internet of Medical Things).
We will help you build your patient-focused mobile healthcare app that meets the demands of patients. We can help you build applications that quickly recognize a patient's needs while maintaining privacy and security.
Let's talk.
Book A Consultation
Book a meeting with one of our team members and we will help you plan out your next steps. You can also use our calculator tool to receive a rough estimate on your project.