In the fast-paced realm of business, efficiency and productivity are the cornerstones of success. Enter Enterprise Workflow Automation, a game-changing solution that's reshaping how organizations operate.
If you're a business owner, tech leader, or part of the C-suite, you know that optimizing workflows is not just beneficial; it's imperative. But the real question is, how can you achieve this seamlessly and effectively?
Join us on this journey as we uncover the transformative power of Enterprise Workflow Automation. In this article tailored for tech-savvy decision-makers, we'll explore the concrete benefits, delve into real-world use cases, and provide compelling examples that highlight its potential.
Ready to revolutionize your organization's processes? Let's navigate the world of Enterprise Workflow Automation together, where efficiency meets innovation.
What is Enterprise Workflow Automation?
Workflow automation is the process of planning, implementing, and streamlining the flow of business activities and processes
Think about it – in a large organization, one needs to ensure that employees can coordinate, access information seamlessly, and complete pre-defined tasks efficiently. Adopting enterprise workflow automation is a great way to transform the way one works, where one can orchestrate data and business processes.
It will involve using various techniques to implement business rules that spell out how data and other resources flow from user to user to complete a task. Thus, enterprise workflow automation is a collection of strategies that make employees' daily work cost-effective and effortless.
Let's look at some strategies:
Using automation platforms
Using dedicated software packages for diverse workflows
Developing or using workflow management software
Adopting integration tools
Adopting non-technical workflow optimizations and management strategies
Using low-code solutions
Logically, business owners will use a blend of strategies. It will also help to keep a watch on the trends in the business landscape and incorporate them into your enterprise workflow automation solutions. Interestingly, one trend likely to advance is using artificial intelligence (AI) and machine learning (ML) in enterprise workflow automation.
The technologies keep evolving, impacting your solutions and making them more sophisticated. Thus, businesses can look forward to automating more complex processes and achieving greater efficiency and cost savings.
Ultimately, with the increasing use of AI and ML and the growth of RPA and cloud-based solutions, organizations will continue automating more complex processes and achieve greater efficiency and cost savings than ever before.
Benefits of Enterprise Workflow Automation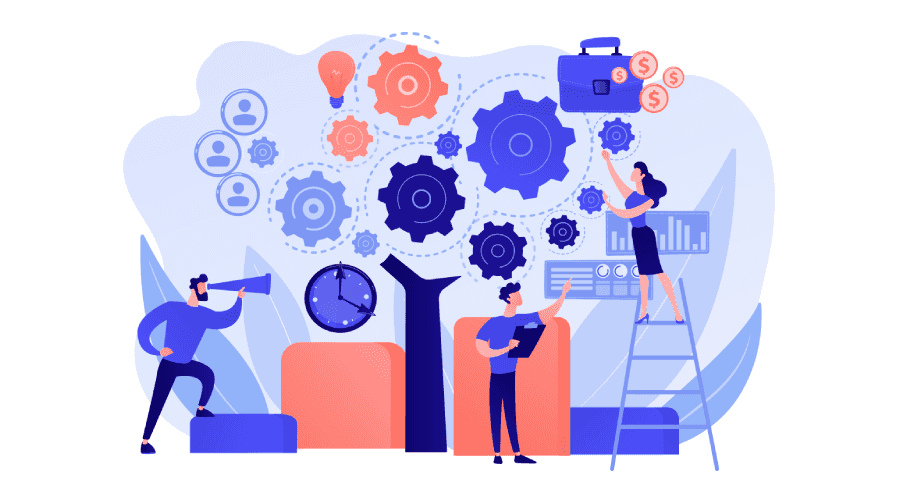 An enterprise workflow automation can consistently deliver excellent customer experiences. Automation will continue to play a critical role in enterprise workflow automation. Why? It can aid in quicker operations, seamless functioning, and timely delivery.
Businesses of all sizes can enjoy the benefits of automating processes. For instance—by 2024, Gartner predicts that 69% of daily management tasks will be completely automated.
Thus, adopting innovative automation solutions will help your business stand the test of time. Let's look at some additional benefits of enterprise workflow automation.
One of the first benefits is decreased workflow cycles. The reduced cycles boost productivity, resulting in a more productive workforce. Further, it creates faster and more efficient workflow and process cycles.
Automation helps in simplifying tasks and chaotic operations.
It reduces manual processing and handling, enhancing output and cost savings. Using technologies such as AI and ML can significantly reduce the scope of human error.
It brings visibility to enterprise operations, making identify constraints, bottlenecks, and opportunities easier. Further, it helps with more transparency and greater visibility, enabling faster identification of operational constraints.
It empowers teams, which helps boost accountability wherein employees begin to own processes and believe they own a stake in the organization's success.
Yet another critical benefit is enhanced customer satisfaction and more employee satisfaction with advanced workflow analytics, such as KPIs. The solutions also help improve relationships with customers and suppliers.
In today's fast-paced business landscape, it gives an edge over competitors and builds resilience when market shifts occur with agile automation and process optimization.
Use Cases of Enterprise Workflow Automation
Enterprise workflow automation has broad applicability across departments including:
1. Information security and IT operations
IT automation can deal with security threats swiftly. Companies can proactively protect their businesses by automating workflows to deal with the increased severity of cyber threats. Integrating incident report automation with existing security tools can help IT teams manage cloud and hybrid ecosystems.
Further, regarding in-house network operation, workflow automation solutions can help manage network users across different departments, such as operations, sales, and finance.
2. Finance
Financial institutions such as wealth management, investment services, etc., have strict requirements for file security. Moreover, the domain has complex workflows. Finance process automation can help streamline operations. It helps reduce errors and enables faster decision-making.
Automation also moderates compliance requirements and supports greater accuracy in forecasting and revenue collections. Further, streamlined processes increase efficiency and help gain customer trust. Plus, it safeguards the institution's reputation.
3. Human Resources
Human resource (HR) management involves many manual and repetitive processes. Imagine manually entering new hires' personal information, such as employee data, location, personal details, etc. That's right! It can get tedious. HR automation solutions can bring significant benefits in terms of streamlining processes, cost reductions, and revenue increases.
AI-powered automation solutions can assist recruitment, onboarding, payroll processing, and travel and expense management. According to a survey by PwC, the insights show that 45% of HR leaders plan to invest in hyper-automation or Robotic Process Automation (RPA) technology ahead of the 12-24 months.
4. Manufacturing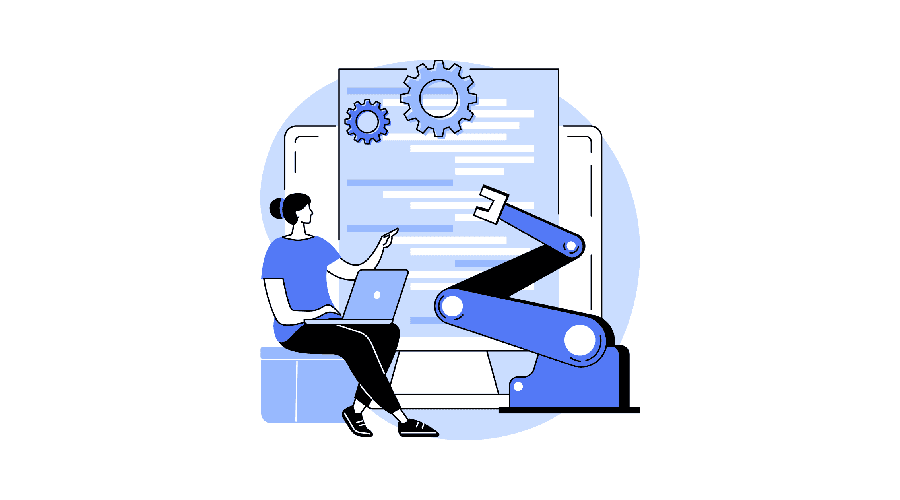 Manufacturers can embrace workflow automation to boost productivity, reduce downtime, and ensure consistent product quality. Automating workflows reduces purchase, budget, supply chain approval and cycle times. Manufacturing can automate workflows in various areas, such as purchase requests, contract management interactions, bill of materials (BoM) creation, predictive maintenance, and more.
The use of AI and automation technologies is not new for manufacturers. For example, Manufacturing was the top industry adopting RPA in 2021 (35%). Thus, manufacturers can move from automating narrow tasks to end-to-end processes by combining automation solutions with AI techniques such as machine learning, NLP, computer vision, and conversational AI.
5. Healthcare
In the healthcare landscape, automation can enhance patient care, minimize errors in data management, and simplify appointment scheduling. Artificial intelligence and automation technologies such as RPA are revolutionizing the industry. It helps healthcare professionals focus on higher-value activities.
According to McKinsey, 33% of healthcare providers' tasks are likely to be automated, which can reduce costs and improve healthcare affordability.
6. Marketing
Marketing campaigns and strategies are often faced with limited success. The key to success is marketing operations processes (MOPs) happening behind the scenes. It helps to use workflow automation for marketing campaigns, strategies, customer communication channels, and measuring metrics and marketing analysis.
The automation solutions also aid marketing tasks, such as sharing business emails, updating the status on social media handles, and more. Furthermore, AI-powered marketing automation is revolutionizing how businesses interact with their customers, paving the way for marketers to deliver personalized experiences at scale.
For example, Studies have shown that personalized campaigns can result in a 26% increase in open rates and a 41% increase in clickthrough rates.
Yet another good example is businesses planning to use AI to optimize their ad spend by targeting the right audiences and identifying the most effective ad placements.
7. Sales
Customer Relationship Management (CRM) software is the brain behind workflow management. It is a powerful sales acceleration tool for enterprise sales teams looking to boost productivity. It also helps automate customer communication, departmental collaboration, and more. Further, one can think of automating time-consuming management protocols, allowing sales reps to focus on product selling instead of manual tasks. An automated sales workflow can generate potential leads in managing campaigns and updating various deal implementations.
A good exampleof CRM workflows is around drip campaigns (where there is a sequence of emails sent to the audience based on the actions they take). Lead drip campaign workflows can help significantly boost the sales team's revenue. Marketers benefit from the clickthrough rates for drip campaigns, which are 3x higher, bringing in 451% more qualified leads than generic follow-ups.
Examples of Enterprise Workflow Automation
Here are some examples of companies leveraging enterprise workflow automation to transform business processes:
1. New Hires Onboarding
According to a study by Gallup, just 12% of employees believe that their organization does a great job onboarding its new hires.
It's time you take bad onboarding experiences seriously and transform them into engaging ones through onboarding automation. Let's look at the tasks that onboarding automation can handle.
Offering new employees the applications and equipment they need
Scheduling myriad orientation meetings
Assisting with pairing with a mentor or buddy
Providing onboarding documents that need to be reviewed and signed
Delivering packages with company swag
Helping with a survey to gather feedback on the onboarding process
Here's a detailed overview of how HR onboarding processes can work.
Imagine that an employee is marked as hired in your applicant tracking system (e.g., Greenhouse). As the following steps, one can use an integration-led automation platform to start the following actions.
The new hires' profiles are created, and their Okta (access management software) user account is set up. Plus, accounts for the new hire can auto-populate in the HR, finance, and planning system.
A welcome email with further instructions about technical details is sent to the new hire. The information can include banking and tax information, employment eligibility verification, benefit plans, and more.
The progress of the onboarding tasks for the new hire is automatically tracked through an IT service management software or ticketing system like ServiceNow.
The new hires' orientation meeting gets scheduled, and they get invited to it.
The new hires get added to a channel in your business communications platform.
2. Order Processing For a Manufacturing Firm
Manufacturers encounter several challenges when it comes to document management and real-time access. All manufacturing processes generate massive data volumes, which the business must manage effectively. The use of workflow automation can transform the order processing workflow. Let's walk through some examples.
It's easy to sync customers between the CRM and ERP. When a rep marks an account as closed in their CRM (let's say - Salesforce), the workflow gets triggered. Next, an enterprise automation platform can run a check to see if that customer exists in your ERP (e.g., NetSuite). If the client already exists, their account in the ERP gets updated; otherwise, they get added as a customer.
Your sales teams don't need to enter orders into the ERP manually. With automation, customers can place accurate orders directly into the ERP by themselves.
Yet another exciting facet is when an order gets placed, and it's easy to update the inventory for the item in real-time. Inventory automation uses technologies, such as barcode scanners, RFID tags, sensors, and cloud computing to streamline and optimize inventory processes. Thus, tracking and locating inventory items and updating and syncing inventory data across different systems is easy.
3. Supply Chain Coordination Automation
Supply chain coordination improves when all chain stages take aligned and optimized actions and increase total supply. The lack of coordination in a supply chain increases variability and impacts the supply chain surplus.
Supply chain coordination can get complex as each stage of the supply chain needs to share information, and delayed actions can impact other stages. At times, the different stages of the supply chain have conflicting objectives. Moreover, the information shared between the stages is delayed and distorted. As each stage tries to maximize profits, it can often impact the total supply chain profits. According to a study, analysts highlighted that supply chain disruptions can cause a massive 62% financial loss.
However, supply chain automation can assist in coordination, improving operational performance, and building strategic partnerships and trust. For example—a company sets up automated notifications when suppliers may run behind schedule or lack manufacturing capacity. Further, supply chain tracking ensures that your shipments are sent and received on time.
4. IT Service Desk
According to a study, 88% of respondents estimated an hourly downtime expense exceeding $300,000. IT service desk's role has deepened with an increase in the breadth of requests. Moreover, with a growing reliance on cloud-based systems and technology-enabled processes at an all-time high within organizations, the rise in IT service desk requests is inevitable.
In this context, workflow automation in IT service desks can minimize the hours spent on redundant troubleshooting. Plus, it helps free up employees from manual work and aids them in focusing their efforts on more complex problems and processes.
For the IT service desks, workflow automation can transform the challenges. One can take the support of a chatbot to communicate between the business communications platform (e.g., Microsoft Teams, Slack, or Zoho) and the rest of your applications.
Here's an overview:
Deal with equipment provisioning by offering easily configurable request templates in the business communications platform.
Employees can request specific items.
After selecting the items, the chatbot generates a ticket in an ITSM tool, which includes the request.
It gets routed to the appropriate approver via a message in the business communications platform.
The approver can approve or reject the request by clicking a button.
Next, the chatbot messages the initial requestor via the business communications platform, passing on the information of the approver's decision.
Wrapping Up
The pace of modern business innovation is growing on the one hand, and on the other, there are more complexities. No matter how complex the business environment gets, one can consider adopting enterprise workflow automation solutions. It can save time, increase quality, reduce costs, and boost customer and employee satisfaction.
An enterprise workflow automation solution can help you optimize the full value of automation. Plus, it can support business agility and innovation. Moreover, automation helps play a critical role in digital transformation. It's time you start your journey to enterprise workflow automation and transform your business.
Automate Your Enterprise Business Workflow With Imaginovation
In today's fast-paced business environment, efficient and streamlined processes are the keys to success. At Imaginovation, we recognize the importance of seamless workflows for enterprises. Our solutions in Enterprise Workflow Automation are designed to optimize your operations, drive efficiency, and promote scalability.
Choose Imaginovation to be your beacon in the complex realm of enterprise automation. Our expertise ranges from understanding the nuances of your business processes to deploying tailored automation solutions that enhance productivity.
With us, you don't just get a software solution; you get a partner committed to ensuring that your automation journey is smooth and results-driven. We help you identify bottlenecks, visualize potential automation scenarios, and implement solutions that bring tangible results.