The excellent Internet of Things (IoT) technology transitions us into a smart world where everything "connects" with a network. 
In a data-driven modern world of supply chains with growing logistics volumes, these "connected things" store and share information and help build a digital supply network that is more efficient, notices problems faster, and responds automatically to mitigate the impact of issues. 
This blog post will take you through various challenges, opportunities, and use cases for implementing IoT technology in the supply chain and logistics.
Let's read on.
IoT in Supply Chain and Logistics
IoT is becoming increasingly popular. In 2019, approx. 50% of industrial manufacturers surveyed confirmed they had been using IoT in logistics, while another 18% planned to do so in the next two years.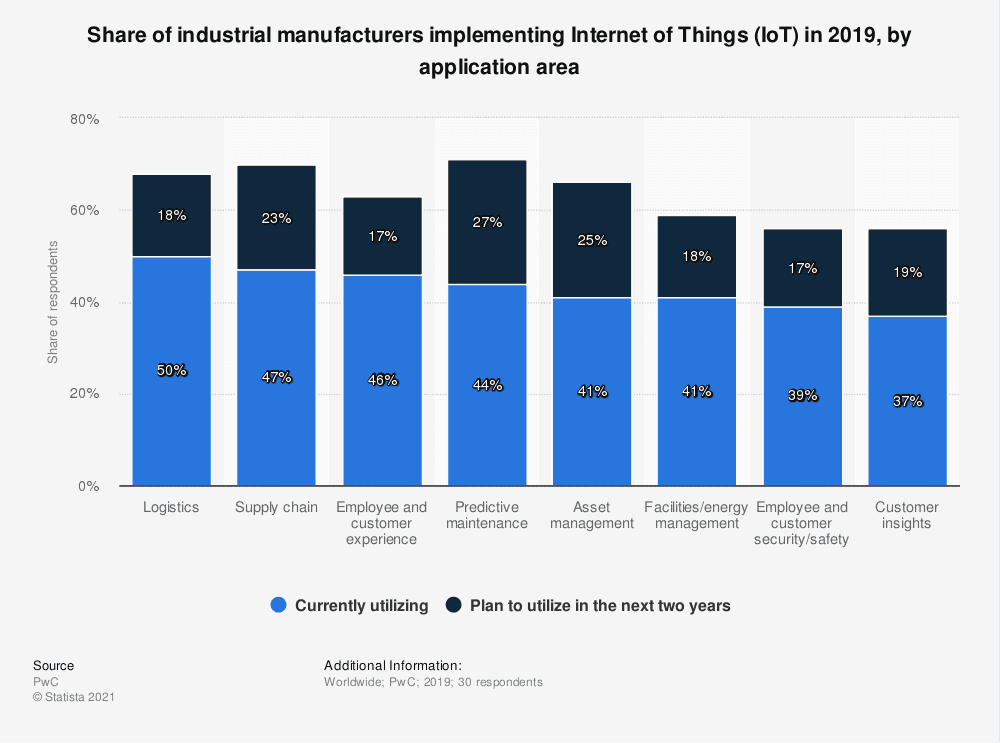 (Source)
But first things first – What is it that's making the IoT a sought-after technology for these sectors?
The adoption of IoT brings added transparency and efficiency through real-time monitoring of fleet operations, route management, and delivery status transparency to the customer. 
To give clarity, the Internet of Things (IoT) is a collection of interconnected physical devices that can monitor, store, send, and exchange information. They are typically connected to computer systems via data and Wi-Fi networks.
With the help of sensors, IoT devices can measure location, temperature, humidity, movement, handling, speed of motion, and other such factors. 
In the supply chain, they can track and authenticate products and shipments. They can also monitor the storage conditions of products, further enhancing quality management.
Challenges in Supply Chain and Logistics Industry
Like many other industries, supply chains and logistics are evolving. Driven by the disruptions caused by technological innovations, stringent government regulations, and growing customer expectations, both supply chain and logistics face newer challenges. 
If you do not tackle these issues head-on and leave them unchecked, they can soon snowball into significant pain points for you.
Here's a list of challenges that need quick actions across the supply chain and logistics companies. 
1. Rising transportation costs
One of the biggest challenges of the logistics industry is cutting down on rising transportation costs. Logistics costs easily reach 50 percent of the total expenditure in some sectors, and growing fuel prices aggravate this problem.
There is no doubt that higher fuel/diesel prices directly impact transportation costs. And, rising fuel prices escalate surcharges added to freight rates. 
Besides the high fuel and freight costs, other factors such as more global customers, the use of advanced technology, increasing labor costs, and rising commodity prices put pressure on the operating costs of logistics. 
2. Redundant business processes  
Logistics/supply chain companies are under pressure to find creative ways to plan, strategize, offer services, and improve their business processes, such as delivery density, utilizing production capacity, cost-efficiency, and facing competition. 
Besides the need for innovative technology, logistics companies must stay on top of newer transformations in business processes that remove inconsistencies. 
Such process improvement can help you offer better service to your customers and boost operational efficiency. 
However, companies find it expensive and challenging to implement and adopt these improvements without assistance. 
3. Changing customer expectations
Managing to change customer demands and nurturing lasting relationships with the customers is essential for logistics. 
Customers expect complete transparency and visibility into where their delivery is at all times. Moreover, there is an expectation for a seamless process, from placing the order to delivery. 
While your customers understand the complexities involved, they expect the service provider to manage everything in a time-bound but cost-effective manner.
Customers' willingness to pay extra for fast shipping has been reduced despite high service expectations.  When surveyed, 64 percent of the respondents expressed their unwillingness to pay anything extra for less than two-day shipping.
Therefore, logistics companies are pressured to deliver a top-notch and unmatched customer experience without compromising time and money.
4. Impact on the economy
The logistics sector directly links production and consumption industries and facilitates trade and commerce. However, rising inflation and high fuel prices result in a credit crisis and impact growth.
Moreover, the political scenario, decline in manufacturing sector performance, and consumer price index impact the demand for products/services, further impacting the freight demand. 
5. Cash flow management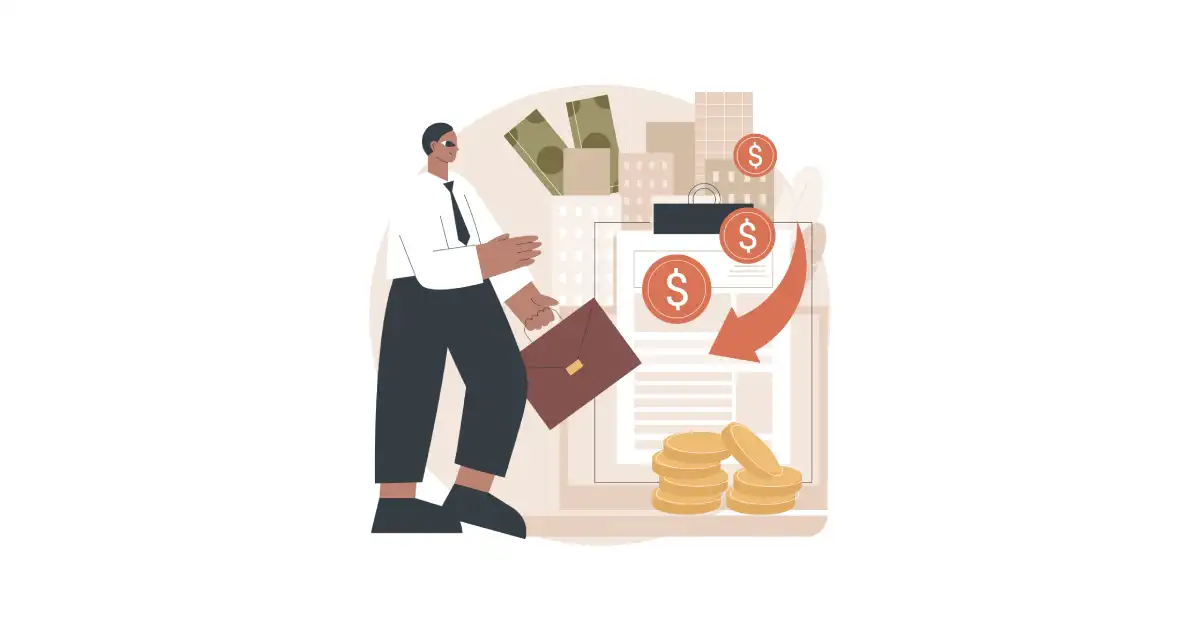 Cash flow management is a pressing issue in most businesses, especially within the logistics and supply chain. 
Cash flow is no longer easily predictable. With tightening global supply chain capacity, and increasing demand and shipping prices, all stakeholders – carriers, shippers, and vendors are under pressure for a faster influx of cash and a slower pace of outgoing money. 
What the companies need to do is to implement long-term changes to help manage cash flow better. However, it isn't easy to know where and when to allocate the resources with many different entities operating simultaneously.
For example, if you spend $10,000 on materials, you must know how much it will cost to turn them into products and deliver them to customers. This process includes shipping, storage, manufacturing, packaging, distribution, and more.
6. Inventory Control and Visibility
Every logistics company wants to know what inventory they have on hand and where it is located at any moment. 
It may be critical to your business, but gaining this visibility and control over your inventory can be challenging. 
Poor inventory management results in incomplete, inaccurate, and delayed shipments. 
7. Driver shortage and retention
Do you know that over 68 percent of all freight is moved on U.S. highways by truck drivers?
In 2018, the trucking industry confirmed a shortage of 60,800 drivers, nearly 20% up from 2017's data of 50,700. With this trend, the deficit could swell to approx 160,000 by 2028. (Source)
Even with high unemployment, the driver shortage is a significant concern. Shippers and carriers are struggling with the need and retention of commercial drivers. 
Of course, you can blame it on factors like the demographics of the current workforce and drivers' lifestyles, but this shortage is impacting driver pay. 
This significantly affects supplier costs, consumer pricing, shipping delays, and shortages at stores.
8. Implementing technology developments
Although most supply chain companies are aware of the requirement to implement tech developments to survive competition, the cost of adapting to innovative technology is extremely high. 
IoT and other digital solutions with AI/ML, drones, and robots, are a great way to move ahead in a traditional supply chain. 
They all can make your e-commerce processes better, more efficient, and cost-effective. But the real challenge lies in implementing them across the company's existing supply chain.
Because it takes time and organizational realignment to put these techs into action, mainly when working with multiple warehouses and omnichannel selling.
9. Accountability and compliance
Supply chain companies that do business internationally have to be careful about social compliance. 
Many factors such as child labor practices, unacceptable working conditions, and unfair work compensation promote unethical practices in global supply chains.
Although there are ways to verify supply chain partners who follow ethical standards, one must be careful.
The risks associated with such issues are high – potential brand damage and legal actions.
Staying ahead of these challenges may seem overwhelming to you; however, with the support of the right solutions and technologies, you can deal with these obstacles and make your business run smoother with a lot more efficiency.
5 Ways IoT Can Boost Your Supply Chain and Logistics Business
It's time more supply chain and logistics companies start their IoT adaptation journey. 
Here are five thought-provoking ways you can use IoT technology to improve the operations of your supply chain and logistics business. 
1. Improving Inventory Management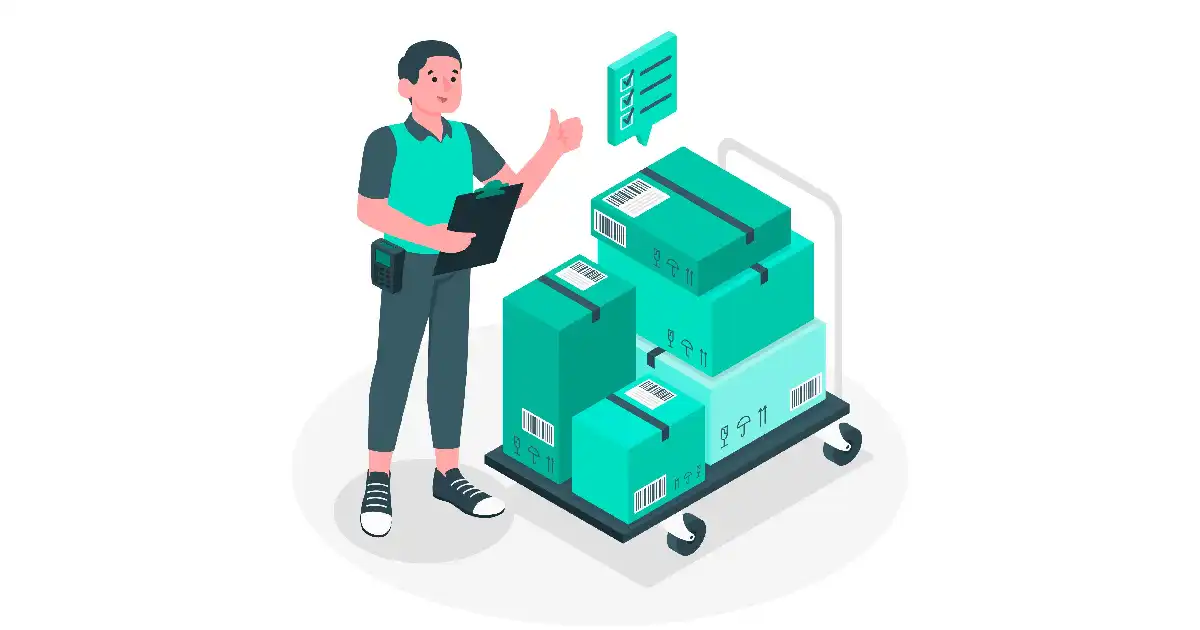 Inventory management in the supply chain is about ensuring you have enough materials to deliver orders and placing orders tactically for their timely delivery.
The traditional supply chain is not designed to handle large volumes of small orders. Moreover, there is no way you can quickly predict future business requirements.
With an IoT-enabled inventory system, you can get an insight into inventory status, monitor the supply levels in real-time, make informed business decisions, and prevent product shortages. 
The data from these systems can predict the business's future inventory needs. 
You can also monitor the physical factors of your product, such as leakage, damage, and broken packaging. IoT makes it easy to update asset info without any manual intervention.
You can get instant access to essential insights on every delivery - parcel contents, storage manuals, etc. 
In short, you can build a smart warehouse with IoT to remotely manage inventory assets, prevent under/overloading, monitor the supply level, track the condition of goods, and quickly locate the goods.
2. Bringing more transparency 
Bringing transparency amongst all supply chain parties is one of the critical concerns of businesses. 
IoT does precisely that – adds transparency and avoids disruptions.
Once you implement IoT, you can track drivers and shipping and check if they comply with internal policies. 
You can be better aware that the product is stored the right way and any delivery delays between the warehouse and the customer's doorstep. 
With real-time access to information at your fingertips, there is nothing to hide if something goes wrong; you can communicate better with end clients and keep them informed at all times.
3. Managing last-mile deliveries
While the goods travel thousands of miles worldwide to reach the customer, still, it's the last mile—between the local distribution center to the final destination—that is usually the most expensive and wasteful part of the distribution.
A 2019 Capgemini study suggests that last miles represent 41 percent of supply chain costs.  
Because last-mile deliveries take up time, companies looking for ways to improve find IoT a perfect solution.
GPS and IoT can identify the optimized routes to bring down fuel waste and time wastage because of traffic. All of this becomes possible due to IoT's real-time traffic analytics and IOT's capabilities for real-time notification of problematic situations.
4. Fleet Management
Is your warehouse responsible for a fleet of trucks, vans, forklifts, cranes, etc., for delivery?
Equipping your fleet of vehicles with IoT sensors can help you monitor the vehicle's maintenance levels, alerting if there's any problem.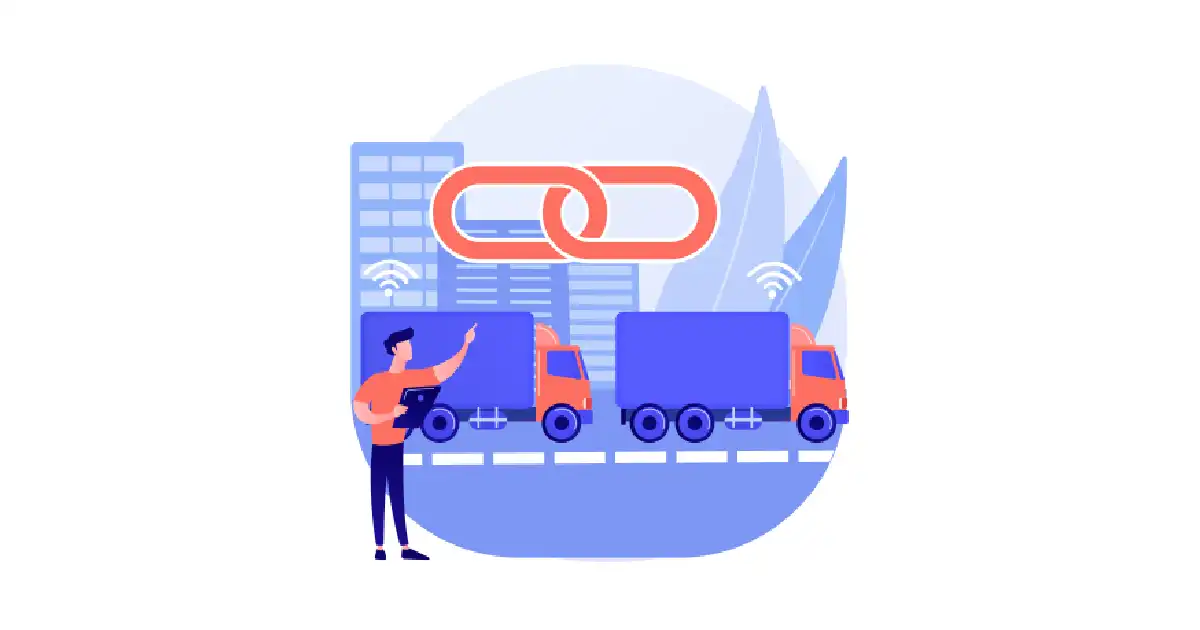 You can also get timely updates on the driver's health and traffic conditions so that you may improve fleet management strategies. 
Implementation of IoT can reduce fuel costs and help you streamline vehicle maintenance.
5. Predictive maintenance
Warehouses and supply chains usually have a well-established maintenance schedule that involves taking equipment offline to inspect and repair to remain functional. 
This may be the most commonly used maintenance strategy. But, is it the best one?
No. Since equipment fails due to age, sometimes even randomly, supply chains can do better with an IoT-enabled strategy to ensure equipment doesn't fail.
Instead of preventive maintenance, IoT can facilitate you to predict when a piece of equipment might need work. IoT sensors monitor equipment health and send that info to the warehouse management software, which will alert you when something needs to be taken offline and repaired, thus preventing expensive downtime and equipment failure.
With exponential growth in IoT, you can explore additional utilizing the technology to your benefit.
Examples of IoT Transforming Supply Chain and Logistics
IoT devices have brought about a revolution in logistics and supply chain management. 
It's much easier to track your goods, how they are stored, and plan their delivery well with IoT.
Here are some practical examples of IoTs transforming supply chains and logistics across the globe.  
1. Amazon
Amazon is one of the leading e-commerce giants. 
Amazon manages multitudes of products of varying shapes, weights, and sizes.
Earlier, Amazon employees had to roam warehouse floors to scan every order and product. But the company has made noticeable progress in implementing warehouse management automation. 
For managing their 493 warehouses globally, covering an area of 180 square million feet, Amazon has brought in 100,000 IoT robots.
Not only that, Amazon acquired Kiva Robots, which produced the first-ever warehouse robots for them in the year 2012 for 775 million USD. 
Amazon Robotics's endeavor continues to bring efficiency to Amazon with its inventory management automation. 
These robots can carry up to 750 pounds of heavy loads while navigating pre-programmed paths. This move has also eased Amazon's continuous requirement to find warehouse workers. The workers are put to good use of customer support.
Amazon has also designed Relay, its first trucking app, making deliveries to Amazon warehouses hurdle-free, faster, and transparent.  
2. NJTA – New Jersey Transport Authority 
The NJTA – New Jersey Turnpike Authority (NJTA) is working with IBM to implement the Internet of Things (IoT) and data to manage vehicular traffic better and also improve roadway safety.
The data generated with the help of IoT sensors will be used by emergency services and traffic management operators to get to an accident site quicker and reduce traffic congestion.
3. Volvo
The famous Swedish car manufacturing brand Volvo has been pushing for IoT technologies. Theirs is an excellent example of how IoT fully automates container ships traveling between ports with minimal human intervention. A control center monitors everything from start to finish.
A container slows down automatically when it's approaching the destination and docks itself. Then, the container loader with IoT sensors will unload the container onto another vehicle.
This transport system is enabled by a cloud platform that connects people and logistics.
Create Powerful IoT Applications with Imaginovation
The Internet of Things (IoT) gets you the desired visibility, transparency, productivity, and work efficiency any supply chain and logistics business looks for.
It might be a relatively new technology, but businesses must start embracing it unhesitatingly to gain an edge over their competition.
If you want to use technology to make life easy without any worries, consider having a powerful IoT application for your business and contact us at Imaginovation. We'll help you automate your business processes and bring efficiency in ways you had not imagined.
Imaginovation is an award-winning web and mobile app development company with vast experience crafting remarkable digital success stories for diverse companies. Let's talk.
Book A Consultation
Book a meeting with one of our team members and we will help you plan out your next steps. You can also use our calculator tool to receive a rough estimate on your project.