integrating RPA is becoming a cornerstone in the modern manufacturing landscape, offering efficiencies that were previously unattainable.
Are you a decision-maker eager to innovate in the manufacturing sphere? RPA presents opportunities that are vast and transformative.
In this article, we delve into the substantial benefits of RPA, providing compelling use cases and examples to underline its pivotal role in contemporary manufacturing.
Curious to know how RPA can be a game-changer in manufacturing? Let's explore its potential together.
What is Robotic Process Automation?
RPA is the use of a software solution to automate manual tasks. It eliminates the need for people to perform repetitive tasks. How? By using software that executes the same set of steps in the task. RPA tool mimics the path a human worker would follow to finish the task.
The ability of RPA as a software bot to automate certain repetitive, predictable, and rule-based processes traditionally handled by humans makes it a sought-after technology. It minimizes human errors and boosts business efficiency and productivity.
You can assess the popularity of RPA from a report by Gartner, which estimated that by the end of the year 2022, 85% of large corporations will have deployed RPA.
Another forecast report by Forrester predicts that the global RPA market is expected to grow to 22 billion USD by 2025.
RPA and the manufacturing sector
The manufacturing industry has been using physical robots to assemble, test, and package merchandise for many years. They have been very helpful in streamlining the assembly lines, but the industry struggles to automate back-office processes.
To overcome these pain points, manufacturers are turning to RPA.
Survey shows that 43 percent of manufacturers are already using RPA, while another 43 percent plan to deploy new RPA initiatives.
By integrating it with other technologies such as Artificial Intelligence and Machine Learning, RPA is getting smarter.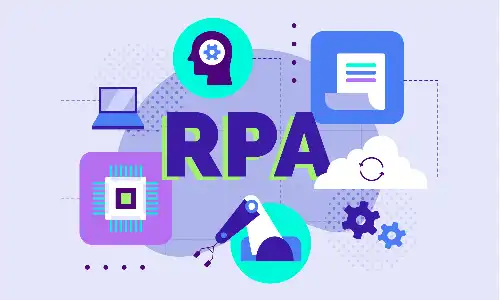 Key Benefits of RPA in the Manufacturing Industry
Manufacturing companies are heavily dependent on reliable processes. They must consistently keep up with an ever-increasing demand for faster and more efficient production.
But their ability to achieve speed and efficiency is impacted by enormous effort and human errors due to the high volume of repetitive tasks and processes.
Implementing RPA in different manufacturing functions can bring some significant benefits in such cases. They are:
1. Significant Cost Saving
Implementing RPA in manufacturing involves a one-time cost for the setup. However, you can expect long-term cost savings in terms of:
Costs needed for manual labor.
Costs needed for healthcare and insurance of staff doing manual labor.
Costs are used for maintenance and upkeep.
Administration cost.
Uninterrupted work, without any restrictions.
Imagine the cost savings when your company can enhance its productivity by performing 24/7 operations with RPA bots.
According to a Capgemini report, implementing RPA typically results in up to 20 percent cost savings.
2. Improved Efficiency
RPA helps manufacturing companies in enhancing efficiency by reducing the number of human errors.
With RPA implemented to manage administrative tasks, your workforce can focus on higher-value operations.
This way, you can better utilize your budget, resources, and time while boosting your company's overall productivity without delays or downtime.
3. Reduced Wastage and Errors
As manufacturers, we keep seeking ways to cut down waste in production.
The RPA bots are great at fixing manufacturing hurdles like manual lapses, inventory wastage, and process wastage.
The rule-based execution of RPA solutions brings down occurrences of errors and increases accuracy. Subsequently, wastage in all forms is reduced too.
4. Mitigate Labor Shortage
When you're looking for staff to fill positions, finding skilled manpower to perform certain processes might also take time, effort, and money.
However, a one-time investment in RPA can lower this dependence on manpower, eliminate delays, and increase business efficiency.
5. Improved Back Office Operations
With RPA in place, manufacturers can dismiss their conventional systems, which are prone to errors.
Back office operations such as purchase order creation, inventory management, and customer or vendor communication can improve drastically with bots.
And, you'll get to work with more reliable digital processes that are accurate and efficient.
Top 6 RPA Use Cases and Examples in Manufacturing
With RPA, one witnesses a shift from physical to software robots. Let's discuss this in detail with six real-world use cases of RPA in the Manufacturing industry.
1. Invoice Processing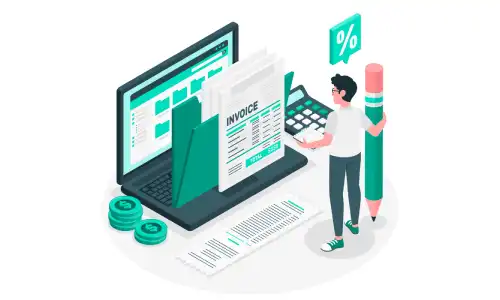 The invoice processing procedure in manufacturing calls for coordination between multiple people. These people are required to execute several invoices checking and approving procedures.
Since invoices may be available in different formats and languages, it increases the complexity of the process.
In addition, the coordinated efforts between employees hold possibilities of manual errors, which further increase due to the monotony of the task.
All of this can result in a weak focus of the employee.
An RPA deployment in activities like invoice processing can be extremely helpful in collating, organizing, and making good use of the data, eliminating inefficiency and faults in the process.
The software bots can quickly skim through the data available in forms, input the data accurately in appropriate fields, and send out the data for authorization.
Moreover, RPA software bots can automate invoice processing by:
Pulling out specific data from invoices using OCR
Converting the pulled-out data into a structured format
Check invoices against orders placed
Cross-check for any duplicates
Updating invoice records in the company's ERP.
2. Purchase Order Creation
Have you observed how daunting the manual process for purchase order creation is? Especially so if your company is dealing with multiple product categories.
Besides, there are thousands of vendors to deal with. Staff needs to generate thousands of purchase orders regularly. So creating a PO manually isn't easy. Not to forget about the errors it would generate.
RPA can automate the entire PO creation process, enabling accurate and fast results.
For example, bots can pull out data from independent systems, seek email approval from concerned departments, and smoothly process the PO generation request.
3. Inventory Management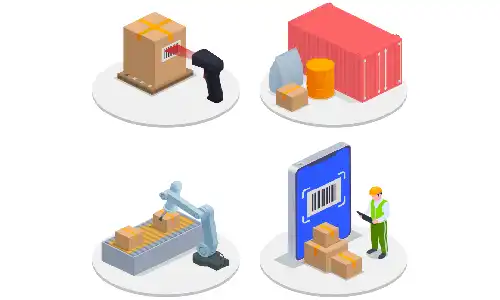 Inventory management involves everything from stock auditing to tracking assets flow from the factory to the PoS (Point of Sales).
Inventory management in the manufacturing industry has a tremendous amount of paperwork.
RPA-based automation furnishes inventory managers with real-time information about the inventory levels to monitor these and make better decisions based on historical data.
This greatly improves operational efficiency, reduces costs, and enhances communication.
RPA bots can automate the following processes in inventory management:
Monitoring inventory levels
Orders placement
Receipts generation
Deliveries tracking
Responding to quotations and other queries emails
4. Automation of Administrative Tasks
Administrative tasks are pretty laborious. If employees are set free from such tasks, they can focus on other tasks that may be more critical. The manufacturing industry sees RPA as a magic wand as it automates:
Recording and documentation of meeting minutes and action items
Recording daily attendance
Responding to FAQ e-mails
Scheduling meetings and sending reminders
Predicting computer problems
Creating and filing invoices
5. Data Migration
Manufacturing businesses can thrive with regular and effective upgrades (for systems, procedures, and technology).
To ensure consistency in business procedures and continuous incorporation of new and better processes, you would require moving data from old to new systems.
There's a possibility of human errors if we perform this task manually. Such errors will prove to be immense and costly in the long run.
RPA software streamlines the migration process from paper to a full-fledged digital system.
Since bots can handle data maintained in legacy systems in multiple formats, RPA can speed up the migration process while reducing the chances of error during data migration. In addition, RPA lowers the cost of data migration.
RPA tracks the complete migration process, identifies data inconsistencies and faulty datasets, and rectifies these errors in real-time.
6. Bill of Materials (BOM)
BOM is a crucial document in the manufacturing industry. It consists of an overall record of materials and components needed to create a new item or product. The document is maintained to provide employees with all the data they would need in the future during upgradation or creation of new products.
It contains the record of raw materials, sub-assemblies, intermediate assemblies, key components, parts, and the quantities of each component required to manufacture the end product.
RPA bots are programmed to fetch data of specific products or elements and replicate human steps it would need to generate a bill of materials. As a result, it ensures that a new product is built fast and without errors.
Also Read: Implementing Business Process Automation: Best Practices and Potential Roadblocks
Build Powerful RPA solutions with Imaginovation
It is the most appropriate time to adopt this innovative automation technology if you are a manufacturing company. Think automation beyond your core processes. Implement Robotic Process Automation and enjoy its various benefits.
Invest in an innovative RPA solution and stay competitive.
Imaginovation has extensive experience in building robust RPA solutions.
Contact us we will help you overcome challenges and build an amazing RPA solution.
Imaginovation is an award-winning web and mobile app development company with vast experience crafting remarkable digital success stories for diverse companies. Let's talk.