A smart contract, the result of an evolution of blockchain technology, is the latest buzzword in the property tech world. It has become a go-to solution in the real estate businesses, looking for transparency and security for everyone engaged in a binding agreement.  
Besides, it eliminates the need for intermediaries from a business contract, thus streamlining the contractual process.
But how "smart" is a smart contract? What are its use cases in real estate?
In this blog, we are going to take all these questions.
Let's read on.
Smart Contracts in Real Estate
Before we talk about how smart contracts are set to transform the world of real estate, let's first understand what smart contracts are.
A smart contract is a concept that facilitates you to set up the rules and agreements that govern business transactions.
Let me try to make it more simple. A smart contract is a paperless digital code that defines a set of promises on prewritten conditions that the parties of a transaction have agreed upon. These programs are executed on a decentralized network of blockchain.
The parties involved can set a condition that can trigger a series of actions when met.
The best thing about the smart contract is that its ledgers cannot be tampered with or altered by any party after a transaction happens.
That's why smart contracts are considered reliable for transactions requiring trust, transparency, and anonymity among stakeholders.
So, the code can be trusted to do what it says it will do at the specified time.
Its use is growing at an exponential speed. According to the Globe News Wire, in 2020, the Global Smart Contracts Market size was 144.95 Million USD. By 2028, it is projected to reach 770.52 Million USD, growing at a CAGR of 24.55 percent.
Benefits of Blockchain and Smart Contracts in Real Estate
Despite the impressive growth statistics, you must still be wondering why to switch to smart contracts when traditional legal agreements have worked well all these years.
The number of benefits the smart contracts offer the real estate industry is impressive. Here are some of the most prominent advantages of using a smart contract as a prop-tech.
1. Removes Intermediaries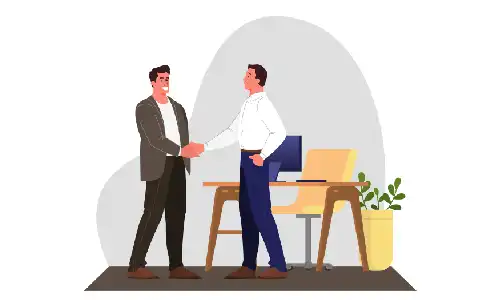 We all agree that real estate transactions are incredibly costly - the closing fees can reach a massive figure as dozens of intermediaries, such as lawyers, brokers, and other individuals, are involved in the deal.
‍Blockchain and smart contracts eliminate the need for many people to be involved in the process.
‍How?
This innovative technology is known to automate processes involving document verification or mortgage approvals by writing a piece of code that will, in turn, cut down the lengthy and tedious process of buying a property.
Blockchain technology can benefit the real estate industry.
‍For example, a smart mortgage contract can remove the need to depend on intermediaries and the constant back and forth between parties involved. Moreover, you wouldn't be waiting months for mortgage approvals.
The code for the smart mortgage contract will grant your mortgage request the moment all the documents and requirements defined are fulfilled.
‍In addition, when you rely less on brokers, banks, agents, and lawyers, these processes will significantly reduce the associated costs and processing times. 
So, blockchain technology and smart contracts enhance markets' liquidity and function as listing agents, payment brokers, or legal documenters.
2. Better Accessibility
Investing in real estate can only be realistic if you can afford to buy a property, which can be super expensive for many. Besides, people also get deterred by the lengthy and complicated processes involved in property investment.
‍Blockchain tech offers people other alternatives. For example, projects like Parcl can help you gain customized exposure to real estate by investing in your preferred locations. This becomes possible with the help of synthetic assets and smart contracts.
You can invest in your favorite neighborhoods without any physical real estate ownership; the initial investment amount is totally up to you.‍
3. Cost Saving
When you remove central institutions and intermediaries from the real estate exchange, you experience a reduction in the costs associated with transactions. For example, registration, loans, and legal consultation need fees to move transactions forward.
Eliminating intermediaries in smart contracts removes additional fees, facilitating buyers and sellers to interact and transact directly and do so with fewer transaction fees.
4. Improved Transparency and Trust
Smart contract development happens when all the stakeholders agree to every condition mentioned in the contract that is triggered at some point.
Once smart contracts are executed and implemented, they can not be altered or manipulated by anyone because they reside on the Blockchain.
Because of blockchain's immutability & transparency, any data stored once cannot be tampered with by anyone at any point.
That makes smart contracts trustworthy - having every transaction transparent and available on the Blockchain.
5. Safety & Security
You get complete security in terms of data protection with blockchain transactions.
Blockchain's cryptography mechanisms ensure your data is stored in an encrypted format, making it literally impossible to hack or manipulate.
Moreover, since the data is distributed over the Blockchain, it's practically inconceivable for any hacker to hack.
6. Speed & Efficiency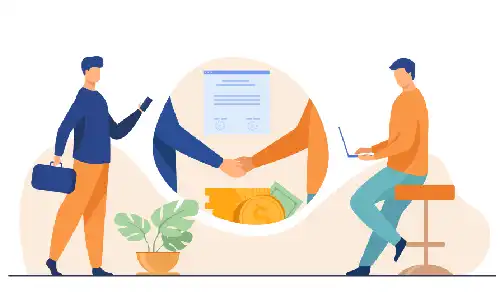 Real estate processes are known to be time-consuming. Transaction finalization in a traditional scenario takes weeks, months, and sometimes even years.
Implementing a simple, smart contract for real estate eliminates this inconvenience. The red tape is replaced by well-thought-out computerization. In addition, the transaction is executed automatically, making the process hassle-free for potential investors and property owners.
Simply speaking, smart contracts can connect buyers and sellers directly and more quickly than ever possible.
7. Enhanced Liquidity
Real estate is well-known for its low liquidity because of market entry barriers, complicated outreach, time-consuming transactions, etc.
Adopting a smart contract for real estate can boost your assets' liquidity. The transactions will no longer take massive time to complete, the fractional ownership will support the trading mechanism, and the property will become globally accessible. 
Moreover, tokenizing property facilitates digital exchange that helps list a property within a smart contract, where buyers can claim it when conditions are met. You can also fragment assets and sell them to multiple buyers if the conditions in the smart contract permit it. 
Smart Contract Use Cases in Real Estate
Smart contracts offer a reliable way to carry out real estate transactions that require trust, transparency, and anonymity among all stakeholders.
Here are the different use cases of smart contracts in real estate.
1. Identity Management
We must stay protected against the devastating effects of identity fraud - such as someone accessing your bank account, emails, etc., without your consent.
Many existing technologies can prevent such crimes, but they aren't as effective as they should be - as many do not give the owner complete control of his data and the information they choose to give out.
Digital Identifier (DIDs) smart contracts are built on decentralized, distributed ledger technologies. They give individuals complete control over their data and allow them to share the content of their data as they wish to, increasing data security and reducing the possibility of data mismanagement or a breach.
Smart contracts help ensure the following for effective identity management:
Identity safety in digital assets
The user chooses which data they give out
Easy and seamless KYC verification
2. Property Ownership Transfer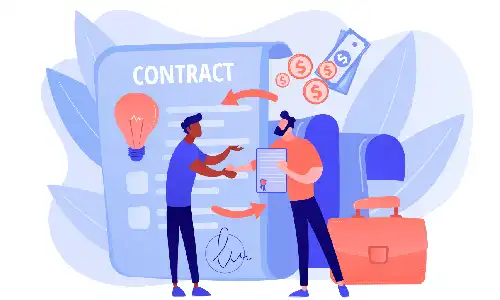 Conventional contracts in real estate are becoming obsolete for several reasons - they are meant to define mutual terms of agreements, which can be ambiguous and interpreted from various angles. That's why we see parties spending a lot of money and time arguing about contractual terms.
Smart contracts bring down the overall vagueness of these traditional contracts.
Because of the vagueness of traditional contracts, transferring property ownership becomes stressful and risky for both parties in real estate transactions.
The seller is often hesitant to transfer the ownership before receiving funds, and the buyer is equally afraid to transfer money before acquiring the property. Notaries solve the problem to some extent, raise the costs associated with transferring property ownership and cause delays.
Smart contracts solve these problems and speed up the property ownership change process. Property ownership change contracts are executed automatically when the appropriate conditions are met.
For example, as soon as the buyer transfers payment to the seller, the smart contract can automatically change ownership of the asset. Or, a notary can instantly notify a buyer that the mortgage against a specific property is paid out by its previous owner, and they can safely purchase it.
3. Hassle-free Lease Agreements For Rentals
It is becoming easy to rent out properties with the help of smart contracts. For example, Rent Peacefully is one platform that allows renting and listing properties on the blockchain using smart contracts.
One advantage tenants have on Rent Peacefully is that when a maintenance order is submitted to the blockchain, the smart contract realizes this and locks the rent until the issue is solved.
How does it work?
The property owner initiates the smart contract process by programming the leasing conditions into a new contract, such as rent, property management fee, and payment frequency.
The occupier reviews the lease's conditions via the online platform and digitally signs the smart contract once an agreement is reached.
The property owner also signs the contract digitally, which then transforms into a legally binding digital smart contract.
4. Real Estate Investing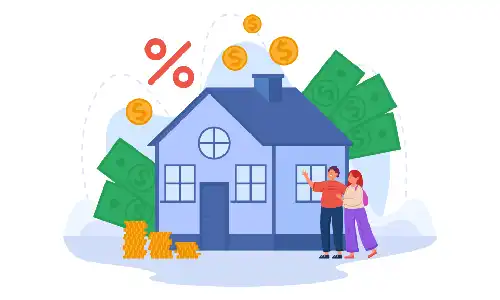 Blockchain opens up an entirely new layer of real estate investing. ‍For example, suppose you are aware that the government is investing heavily in the urban development of a specific town in a city. This will cause property prices to increase in the next few years. You can now benefit from the rise in real estate value.
‍Tokenized fractional ownership is an alternative blockchain-based investing method. It allows investors to buy and sell tokens quickly and trade fractions of their tokenized ownership rather than full ownership.
You can have smart contracts programmed for such real estate transactions so they provide the holder's income through rentals or dividends.
5 Companies Using Smart Contracts to Transform Real Estate
Going by the above-mentioned use cases, we can be confident that smart contracts are a perfect fit for real estate businesses. While we can spend hours discussing the perks of implementing smart contracts in real estate, nothing can beat the experience of seeing this state-of-the-art technology in action.
Today, there are many success stories of real estate businesses. They have already given smart contracts a try. Here are five companies that are using smart contracts to transform real estate.
1. SMARTRealty  
SMARTRealty, founded in 2017, uses smart contracts to facilitate peer-to-peer transactions in the American real estate market.
The parties willing to work out an agreement can use the SMARTRealty platform to enact and maintain transactions, including - property sale, purchase, and rent.
So, whether it's rental agreements, purchasing property, or establishing mortgages, SMARTRealty smart contracts can help you establish protocols that, if not met, can automatically dissolve a contract. 
The conditions that can be coded into a SMARTRealty agreement may include but aren't limited to:
Trade amount
Payment deadline
Monthly installment
Contract duration
Applicable discounts and penalties
Security deposit
Auto-renewal, etc.
2. SafeWire
When we purchase a home or participate in other real estate transactions, we need to send a large amount of money via a wire transfer. Wire transactions are easy, but unfortunately, hackers have figured out ways to intercept these wire transfers and confuse us into sending the money to their account instead of the account of the intended parties.
SafeWire offers a solution to the increasing wire fraud challenges that real estate agents, clients, and companies face because of hacking. The SafeWire solution operates via a blockchain network and ensures security over vulnerable transactions.
SafeWire offers a great solution to reduce the amount of money lost, clients lost, and time lost because of wire fraud.
3. Propy
Propy, a real estate marketplace, uses smart contracts for enacting international property transactions. The company's platform facilitates buyers, sellers, and agents to use a range of smart contracts that help speed up the real estate process, often hindered by international legalities.
In addition, it allows owners and brokers to list properties and also search and negotiate the sale. Paperwork and signatures are facilitated through the app, regardless of where the buyer and seller live. The parties involved participate in the smart contract together, making the entire process fair, legal, and easy.
4. Vairt
Vairt offers an all-in-one real estate solution for property management & vacation home management and delivers an entirely exceptional experience.
It also provides a crowdfunding platform for investing in rental income-generating properties and tokenizing and liquidating real estate assets with the help of blockchain.
5. PropertyClub
In 2018, this company launched a real estate marketplace that uses Blockchain and smart contracts. As a result, PropertyClub is more than just an ordinary website offering property for rent.
Blockchain ensures safe tokenized property exchange and provides crypto rewards to the active users for taking active actions such as reviewing listings.
A smart contract here is used to conduct digital transactions. The platform uses Bitcoin and its own cryptocurrency, Property Club Coin, to maximize the customers' convenience.
Build Smart Contract Solutions with Imaginovation
Smart contracts in real estate have a promising future.
Let us know if you are contemplating building smart contracts for your business. We at Imaginovation can build a smart contract solution for you.
We will help you explore opportunities with blockchain to boost your efficiency and trust in the real estate industry.
Imaginovation is an award-winning web and mobile app development company with vast experience crafting remarkable digital success stories for diverse companies. Let's talk.
Book A Consultation
Book a meeting with one of our team members and we will help you plan out your next steps. You can also use our calculator tool to receive a rough estimate on your project.