You're ready to build your company's brand-new digital product and have some fantastic design ideas you wish to incorporate.
But delivering a perfect website or application is not just about making it beautiful but also about making it usable, straightforward, effortless, and enjoyable to use.
Statistics tell us that a good UX improves your product's performance and customer engagement. While an ill-designed UX can make you lose money. Therefore, treating UX design as an afterthought is a big no-no.
Moreover, we tend to believe information supported by data and numbers. But it is challenging to keep up with the consistently changing statistics and facts about UX. That's why we created a list of key UX stats in this blog. It'll help you stay in touch with the latest UX trends and stay ahead in UX performance.
Let's quickly dive in!
General UX Statistics
Bad UX design can make you lose both your potential and existing customers.
Therefore, your priority should be paying attention to how your end-user might feel and experience when interacting with your company's app, website, or any other digital product.
Let's check some of the most interesting general UX statistics and find out what businesses and users feel about UX design.
Here we go!
Investing in a good user experience provides a significant ROI - return on investment, as huge as 9,900 percent.
UX has become mainstream, and companies have started understanding its impact on the ROI of their digital products. A Forrester report suggests that investing 1 USD in UX brings 100 USD in return, generating a massive ROI of 9,900 percent.
88 percent of site visitors will not return to a poorly designed UX website.
This is a very significant statistic that suggests that a large number of users will not return to a website after having a bad experience at the site. In fact, they will move to a competitor in this case.
This issue is not limited to websites only. Applications with bad UX also experience a significant drop in the number of users. For example, 90 percent of app users reported they stopped using an app because it performed poorly.
A website's conversion rate can increase by 200 percent with a strategically well-designed user interface. And a better UX design can increase the conversion rate by almost 400 percent.
UX enhancement costs money. Research shows that every penny spent on improving UX design greatly returns this investment.
Slow-loading websites can make the owners lose up to 2 billion USD annually.
Speed is an essential parameter in mapping your product's user experience. Modern online users have expectations about a website's performance. If a page loads slowly on your mobile device or desktop, you will be quick to move to another website. Besides, a slow-loading site fails to attract new customers to your business.
The UX as a profession is projected to grow from about 1 million professionals in 2017 to approximately 100 million in 2050, showing a growth factor of 100 in this time period.
The UX profession has come a long way, and companies worldwide have realized how a proper UX methodology can enhance their product quality. This is seen in the growth of the number of UX professionals.
8 out of 10 customers agree to pay extra for a better customer experience.
Customer experience matters. A website that needs endless scrolling or lots of zooming is not considered just a minor inconvenience to its users; it's a complete "NO." That's why statistics tell us that 80 percent of online customers are likely to reward a business if they get a great experience working on their app or website.
Only 1 percent of online users are always satisfied with their e-commerce sites.
A mere 1 percent of online shoppers are happy with the e-commerce websites they interact with. This means 99 percent get frustrated with the way these sites function.
55 percent of businesses do usability testing on their digital products.
Conducting UX testing for your digital product is essential as it tells a lot about your product's user-friendliness.
But, statistics show that many companies still don't care about this aspect, and only 55 percent of the companies are currently testing their website/app's UX.
UX Design and Development Statistics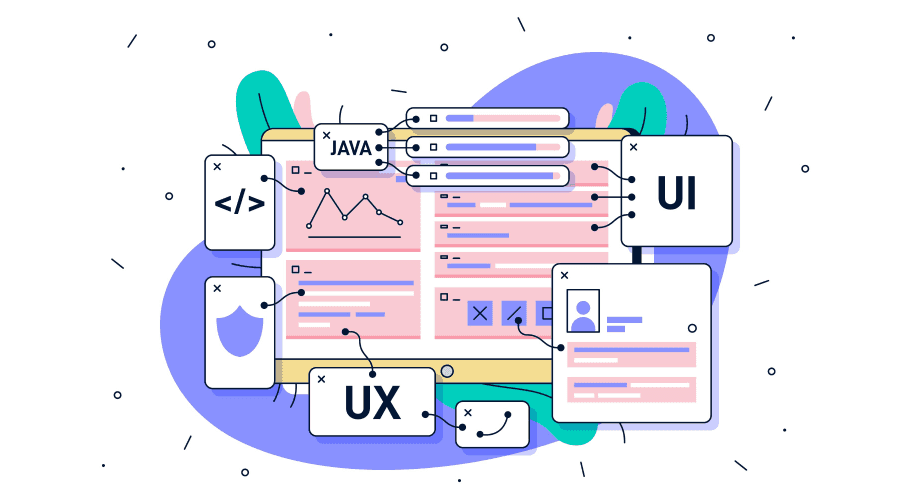 More and more people are consuming digital content across platforms and devices. Great user experiences (UX) for customers are critical to a product's success. UX designs shape the kind of experiences we have online.
Here is a list of UX design and development statistics to help you better understand the UX design landscape.
83 percent of users agree that a seamless experience across devices is essential.
Cross-device e-shopping, online learning, etc., have made it challenging for companies to maintain consistency. However, most users expect a seamless experience across all platforms.
Investing in UX during your project's concept phase can bring down the product development cycle by 33 to 50 percent.
When a company invests in designing the user experience of its digital product, it can cut down the development waste and save money. So the key is to avoid building a problematic product from the very beginning.
Developers spend half their time reworking projects because of poorly designed UX.
UX design has become one of the essential factors for the digital products you build today. Unfortunately, most website/app developers already work long hours. Prioritizing UX design during the development process is the best way to avoid rework requests that take up approximately half the developer's time.
75 percent. That's the percentage of consumers who admit that they judge businesses' credibility on the basis of their website design.
A well-designed website generates trust in your business. This is what the web credibility research from Stanford says.
That's why businesses must have modern, updated designs for their websites. Implement all aspects of your website design - ratio, content, font, layout, etc. It signifies that the business cares about its digital presence.
Videos help encourage 73 percent of consumers to purchase a product or service online.
Adding videos on sites can be one of the best UX strategies. In fact, 73 percent of survey respondents said they would be inclined to buy a product if they watched a video about it rather than read its description. Moreover, videos enhance the reliability of products.
Fixing a UX error once the development is complete can be 100 times as costly as it would have been before the development.
Jeff Humble, lead UX designer, Career Foundry, said, "The value of UX is not wasting time and money developing the wrong solution." The stats also tell the same thing - it costs 100 times more to correct errors after the development phase.
3 out of the 12 reasons projects fail are user experience failures.
25 percent of the reasons why projects fail are UX failures. If there are UX failures, projects might take longer to deliver, use more resources during and after development, and get stalled by avoidable errors that later become expensive to correct.
Given 15 minutes to consume content, two-thirds of users would instead read something beautifully designed than something plain.
Nobody likes reading big blocks of text on a content-heavy page. It's plain boring and one-dimensional.
Every page on your website should be designed to maximize user engagement and not to make it look like a research paper.
Mobile and Website UX Statistics
The number of mobile users has been increasing steadily. Businesses are, therefore, paying particular attention to building mobile apps. But, unfortunately, a suboptimal mobile UX design negatively impacts user engagement and, eventually, the company.
When you invest in a good mobile and website UX design, you invest in having happy customers with fewer complaints, higher benefits, and more sales. Moreover, satisfied customers are known to upgrade faster and try out new features.
Here are some fascinating mobile and website UX statistics.
5 Times. Yes, that's the number of times mobile users are more likely to discard a task if your site isn't optimized for mobile.
Statistics show how a great mobile site experience is becoming increasingly important for users. Most do not have the patience to deal with usability issues.
And, if they get to know your website isn't optimized for mobile, they are five times more likely to give up on the tasks.
More than 70 percent of publishers claimed mobile-friendly content boosted positive UX feedback for their site.
Good user experience can work really well for businesses. The fact that 71 percent of content publishers believe that making their site content mobile-friendly got them positive UX feedback is something to remember when building your new solution.
38 percent of users will stop engaging with a website if they find its content or layout shabby.
Any snag the user hits on your website—whether related to scrolling, navigation, searching, zooming, or design — can be fatal to your business's chances of converting that person into a customer.
53 percent of people expect the mobile site pages to open in less than 3 seconds.
Page load speed matters to users. As per a Google study, more than half the users are likely to abandon mobile site visits of pages that take longer than 3 seconds to load. Page load speed is significantly more critical to mobile users than desktop users.
More than half of all brand experiences on a mobile phone are image and video-based.
According to a study by Google, 54 percent of experiences on mobile are based on image and video content.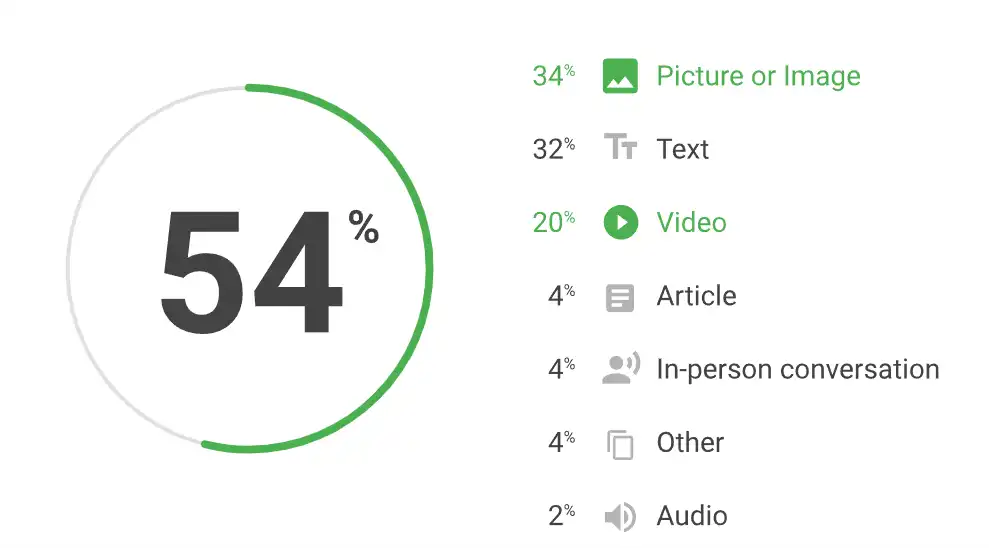 46 percent of people claim they would not buy from a brand in the future if they ever had an interruptive mobile experience.
It's obvious that more users are using mobile for internet surfing. However, they are looking for an equal (or even better) experience on their mobile site. According to a survey, 46 percent of consumers said they would not hesitate to stop buying from a brand if their site gives them an interruptive mobile experience.
Ad clutter can put off and turn away 54 percent of website users.
You need ads to make money. However, do note that too many ads will turn away more than half of your users, as indicated by website design statistics.
65 percent of visitors said they hesitate to submit an online form requiring personal information.
Most site visitors wouldn't want to submit an online form if it asks for too much personal info. This included the user's phone number, address, and job title. It's best to stick to the most critical information you may need rather than asking for unnecessary details about your users.
You must focus on addressing the following issues in your web design strategy.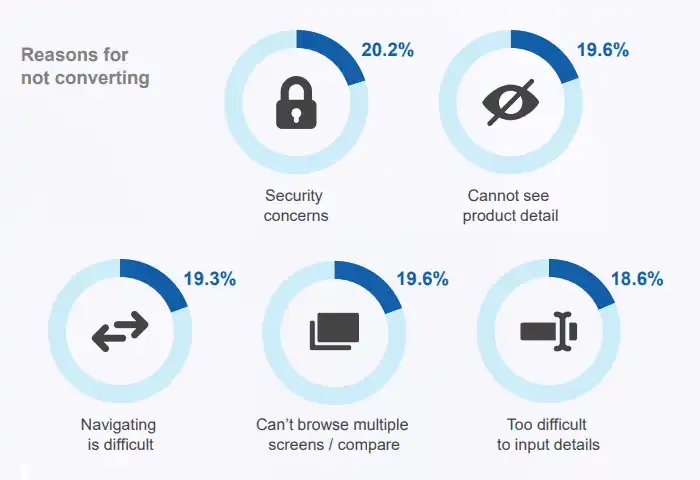 Customer Journeys & Decisions (User Behavior) Related Statistics
Consumer expectations are rising. It has become essential for brands to distinguish themselves from their competitors. Customer journey is one of the critical differentiators here.
Below are some eye-opening customer journey and decisions statistics to help you build a strong business strategy.
Online reviews influence buying decisions of 90 percent of customers.
Consumers frequently browse through online product reviews and rely on them for their purchase decisions. As a result, most believe it reduces the risk of loss and impacts their shopping options.
63 percent of people would consider messaging chatbots.
Chatbots are a preferred way to save on hiring customer support personnel and providing users with instant information. Most customers don't really care if there's a human or a bot they are interacting with as long as they get what they want. Besides, chatbots are fast to respond and provide 24x7 service.
75 percent of online customers expect help within 5 minutes.
Most of us are curious to know what our customers want. Almost three-quarters of them want the kind of customer support they expect from big brands like Amazon, Google, etc. They expect instant support within five minutes of contacting the company.
86 percent of visitors would like to see more information about a company's products on its website homepage.
When the user reaches your site's homepage, this is the information they want to find there.
As many as 70 percent of buyers tend to go back to Google at least twice or thrice during their search.
The nature of the content you present on your website/app's interface impacts whether your customer will pursue business with you or not. For example, a study shows that 70 percent of people go back to Google multiple times in between their searches.
70 percent of the customer journey is completed even before the buyer reaches out to sales.
Buyers complete their journey digitally, from being total strangers to buyers without reaching out to your sales. If you align their buyer journey with your sales process, it'll create a win-win situation for you.
33 percent of people end their relationship with a company because the experience wasn't personalized enough for them.
As per a report by Accenture, approximately 33 percent of consumers terminated their relationship with a company because they felt their experience wasn't personalized enough. Especially now, with the pandemic coming to an end, customers expect a lot more personalization in their interaction with your digital solution.
Create Stunning UI UX Design with Imaginovation
An excellent user experience is no longer a luxury for selective products — It's what your customers expect from every website, software, and application.
Gone are the days when any ordinary application doing its job would do. It is now expected to perform its functions in the smartest and easiest way. Strong UX design can make your digital product stand out in a pool of user experiences.
To create remarkable customer experiences, we must be aware of customer behavior and expectations.
Imaginovation offers to help you build a user-friendly, well-designed, fast, and easily navigated website/app. Our team has the relevant usability experience and knowledge to help you create impactful UX design and boost your business.
Feel free to contact us and learn more about how you can create stunning UI UX design.
Imaginovation is an award-winning web and mobile app development company with vast experience crafting remarkable digital success stories for diverse companies.
Let's talk.
Book A Consultation
Book a meeting with one of our team members and we will help you plan out your next steps. You can also use our calculator tool to receive a rough estimate on your project.