All thanks to the new trends and tools, digital technology has changed and continues to change how we do business.
The cloud is one of the key enablers of these trends. That's why cloud adoption has become a core component of most digital strategies.
Whether you're looking to build a modern business application or a new website, there's likely a cloud component somewhere in the picture. In fact, the cloud is the solution to many of your business problems.
But getting value from the cloud can be complex without the right strategy.
The goal of this blog is to help make your cloud journey smooth and ensure there are no bumps in the road, so you don't get caught at a dead end.
Let's read on and find out how cloud adoption fits into your digital transformation strategy.
Key Benefits of Cloud Adoption for Digital Transformation
Digital transformation is not just a buzzword. It is a lot more than just switching from paper to digital. It's about truly revamping your business processes and investing in new technologies to enhance customer engagement.
For digital disruption to take place, you need to revolutionize your current business process and leverage advanced technologies such as AI, the IoT, AR, ML, Big data analytics, etc. For this, you need to find a way to tap the heavy computing power, a lot of storage, and IT infrastructure that comes with cloud adoption.
Digital has thus become synonymous with the cloud, which is seen as the route to tapping opportunities and spurring innovation.
If you want to find out the real value of the cloud, then take a look at the following key benefits of going cloud.
1. Better collaboration
Collaboration is what makes the world go round. Without it, we'd all be stuck in our own corners, unable to share ideas and work together.
Digital transformation requires you to leave your cubicle behind and adapt to a culture of better collaboration.
This is where the cloud comes in handy.
Cloud-based collaboration solutions take the pain out of working together on projects.
They enable your employees to work together on documents and other file types within the business and with external partners.
For example, if a file resides on a cloud server, anyone can access it from anywhere. Also, there's no need to email large files or wait for an IT administrator to make the information available on a local server. This is the most significant way your teams can collaborate.
Besides, cloud-based video conferencing allows employees to have effective meetings and share links, files, and presentations as if they are in the same room.
Cloud technology also lets you instantly message your coworkers on chat workspaces and collaborate better on group projects.
Different teams can thus work together and have access to the same data, even when they are at different locations.
2. Flexibility
To execute a successful digital transformation strategy, a company will need to pivot its business practices more than once.
Cloud computing is the answer for you if you want the convenience of using different kinds of computing resources without having to purchase them over and over again. This makes it easier for you to be flexible, which is what all agile businesses need to be.
Moreover, cloud solutions facilitate flexible working by making it easier for your employees to work from anywhere there is an Internet connection. Cloud solutions further promote flexibility as it allows your team to work on any device - not just their office Windows PC but also Apple Macs, tablets, and mobile phones.
3. Cost effective
Cloud computing is like a magic formula for businesses: It can save you money, increase your productivity and make you more competitive in the following ways -
It is minimal or almost no upfront cost in the cloud. You can avail pay as you go subscription service.
The cost of upgrades to operating systems and software is already included.
You don't need to employ any in-house IT specialists for cloud management.
In fact, you experience reduced costs of investment in external IT support companies or service providers.
Reduced energy consumption because of the above reasons leads to further cost savings.
Space saving - You don't need to build your own data center to house local servers. The space-saving by the cloud adoption will lead to less cost.
There is less risk of system downtime, leading to better productivity, thus saving time and money.
Flexible Cloud computing contracts - You don't waste money on resources that are not needed.
As your business grows, so will your cloud system grow. This scalability means you don't miss out on any profitable opportunities just waiting for your local IT systems to catch up.
4. Security
Businesses can lose control of data and infrastructure during their digital transformation endeavors. But moving data to the cloud greatly lowers the risks of loss and theft since cloud backups are automatic.
Moreover, the cloud has become more secure than ever due to industry-wide advancements made by cloud service providers like Amazon Web Services and Google cloud platforms. As a result, it's easy to protect your business via many cloud security techniques such as encryption, authentication, authorization, penetration testing, firewalls, etc.
In addition, if you store your data in-house, in a local server, you're risking a data breach that could cost you time, money, and customers.
Cloud hosting, however, provides multiple backups that are especially critical when dealing with big data analysis. These cloud-based multiple backups in a distributed system make it impossible to completely destroy your data even if one security node fails.
5. Greater scalability
Scalability is the ability to handle rising on-demand business requirements. Cloud computing supports two types of scaling - vertical and horizontal.
A scalable cloud architecture relies on virtualization. Unlike physical machines whose resources are set, virtual machines (VMs) are very flexible and can be easily scaled up and down. You can move them to a different server or host them on multiple servers at once; workloads and applications can be shifted to larger VMs as and when needed.
Therefore, the main benefits of cloud scalability are convenience, flexibility, speed, disaster recovery, and cost saving.
With cloud scalability, you no longer have to worry about obsolete equipment tying you down. Instead, you are free to focus on other tasks, update systems, and increase power quickly—saving money in the process.
You can achieve maximum performance by dividing workloads among more servers as demand rises.
6. Possibilities for business automation
Cloud computing allows you to automate your workflow execution.
With the help of cloud computing tools, it is possible to automate backups and set up infrastructure as code techniques, manage processes, and fully take care of security measures.
In addition, the cloud efficiently manages the intricacy and adaptability of cloud environments and strongly emphasizes automating services and virtual infrastructure as a whole.
With a well-functioning coordination system in place, you can reap the rewards.
How Does Cloud Adoption Fit Into a Digital Transformation Strategy?
Digital transformation is the digital shift, the move toward using digital technologies in nearly every aspect of business and culture. It's a massive change transforming how businesses interact with customers, creating innovations and a thriving digital culture.
As we move into the future, more and more businesses are undertaking digital transformations to adapt to a changing market. In fact, a report published by Gartner says 91 percent of enterprises are engaged in some form of digital initiative, and 87 percent of senior business leaders rank digitalization as a top priority.
The COVID-19 pandemic has profoundly impacted the digital transformation of businesses. Many companies had to convert their records from paper to digital files to survive. However, this is just the tip of the iceberg; businesses have also been changing their processes to engage customers better.
However, none of these changes were possible without cloud and digital transformation services.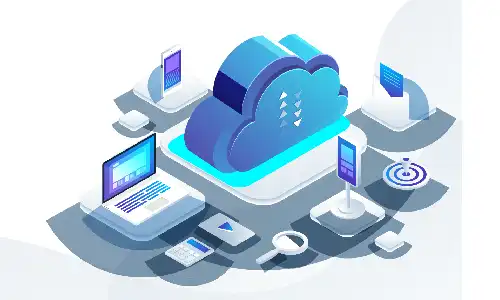 In fact, the only way you can ensure your remote workers stay on the same page, your large projects get accomplished even without in-person IT support, and your data remains secure but accessible is by integrating cloud and digital transformation systems.
Digital transformation is revolutionized by cloud computing, which allows for data to be kept in "clouds" rather than in physical hubs. As a result, all processes - analytics, maintenance, administration, and others can perform digitally with improved efficiency.
Cloud digital transformation is ushering in a new era of digital innovation, thanks to their ability to make the cost of converting and extending digital products manageable.
Cloud adoption in digital transformation can significantly impact computing power because it allows organizations to reinvent how they manage data and use their newly acquired technology to enhance consumer experiences.
Embrace Cloud Adoption with Imaginovation
Cloud computing is the future of technology, and it has the potential to be more cost-effective than traditional server-based computing.
By cloud adoption with Imaginovation, you can efficiently operate your business globally while maintaining a high level of security. The best part is that you don't need to invest in expensive infrastructure. You also don't need specific cloud technology skills; we handle everything.
Cloud computing offers numerous benefits, so why wait for tomorrow? Start your cloud journey today with Imaginovation!
We are an award-winning web and mobile app development agency with vast experience crafting remarkable digital success stories for diverse companies. Let's talk.
Book A Consultation
Book a meeting with one of our team members and we will help you plan out your next steps. You can also use our calculator tool to receive a rough estimate on your project.