Mobile applications are capable of driving exceptional business growth. That's the reason why over 42% of the small businesses in the US already have a mobile app.
And this trend is just going to boost in the near future.
Today, a custom mobile app has become one of the top priorities for businesses.
But, we often notice that when it comes to mobile apps, business owners and decision-makers experience this dilemma of whether to choose a custom mobile app or off the shelf solution.
We understand that getting your footing right can make a lot of difference because grounded research is going to help your business app in the long run. 
So, in this blog post, we will help you demystify all about custom app development. Plus, we will look at the pros and cons of both off-the-shelf apps and custom mobile apps.
Custom Mobile App or Off the Shelf App: Which One to Choose?
It's great to have choices, but making choices isn't always easy.
And that's completely true when it comes to building applications.
When it comes to business, the decisions aren't centered around personal choices. It's all about what is good for your business.
How can you boost your ROI? How can apps make your processes and functions more functional, seamless, and profitable? There are thousands of business aspects to consider when making a decision.
However, it gets easier once you weigh the pros and cons
The Difference - Off-The-Shelf Mobile Apps Vs. Custom Mobile Apps
Let's start by looking at what an off-the-shelf app is. It is a pre-packaged solution that comes with standard features and functions, which you can start using right away. 
You can make a few customizations to these apps, but you don't necessarily have to build these apps from scratch. 
However, if you need one specifically curated to match your business goals, you should opt for custom mobile app development. 
But how to decide whether you need an off-the-shelf app or a custom mobile app?
Some of the factors that you can base your decision on include:
The resources and infrastructure needed to develop and maintain the digital solution.
Your priority is to get an app for the specific business problem/project.
The pain points you wish to resolve through the app.
Once you gather information on the above points, you'll pretty much get an idea of which one to go for. However, make sure that you understand the pros and cons of each before making a decision.
Pros and Cons of Off-the-Shelf Mobile Apps
Pros
Off-the-shelf apps are pre-developed and are easy to deploy and use.
These apps are cost-effective and reduce time-to-market.
They are cheaper initially, where you need to pay a one-off upfront cost or a pre-set monthly license fee. 
Most apps are tried and tested by many companies, so you can study the reviews and then choose one to fit your business needs. 
Cons
Some readymade apps may not match your business processes; thus you may need to modify your workflows.
You may face compatibility and integration issues with your existing applications.
Since these apps cater to standard needs, your unique business needs end up unaddressed.
The apps can turn out to be highly restrictive when it comes to integrating with different other apps.
In the long run, the license fees can wipe out the initial cost advantage.
Security can be a significant concern when using off-the-shelf mobile apps.
Pros and Cons of Custom Mobile Apps
Pros
Custom mobile app development offers more flexibility in features and functions.
You can design and develop these apps based on your unique business needs. 
These apps are created to provide a high-end user experience to your customers.
They adapt to the changing market needs much better than their counterparts. 
You will face lesser integration challenges and compatibility glitches. 
Cons
Custom mobile app development is a little more expensive.
The apps are built from scratch, and hence the time-to-market is greater.
Custom mobile apps can help create a competitive advantage, as it is cut to your business vision and align with your goals.
Comparing Custom Mobile App vs. Off the Shelf Solution
So, what's the verdict? Let's compare the two app solutions further.
Table 1. Quick Comparison of Custom Mobile Apps and Off-the-Shelf Apps
| | | |
| --- | --- | --- |
| Comparison Facet | Off-the-shelf mobile apps | Custom mobile apps |
| Security | At times based on templates, security may be compromised. | The level of safety is higher in custom-built mobile apps. |
| Build purpose | Designed and developed to serve a wide range of customers and meet standard business needs. | Designed and developed to serve unique business needs. |
| Usability | Easy to use and implement, but the operations team may need to put in efforts to understand various functionalities and how to integrate with any existing software. | Implementation and integration are easier. |
| Modifications | Scalability may be a challenge in off-the-shelf software because you can't control the changes and upgrades. | Scalability is seamless with custom software, which helps to keep pace with your business's growing needs. |
| Cost | Low upfront costs and hidden expenses involved with formal training for using the software. | Expensive up front but lasts longer and saves time and overhead expenses in training the operations staff. |
| Community support | Pre-built software comes with ongoing support, but the support may come with some fee. | One can get in touch with the custom app developer to solve queries or issues. |
| Time to develop | The time to deploy is almost nil and ready for use immediately. | The development and deployment may take several months as the app needs to be designed and developed from scratch. |
| Competition | Off-the-shelf software is available to your competitors, too, and so that extra edge may not be possible. | Custom software offers a competitive advantage. |
Bottom line: When you look at the comparison, you can spot the advantages in favor of custom mobile app development. 
However, it's finally your business vision that can help to reach a conclusive decision. The more accurate you are about your needs, the more precise your decision will be.
Why is Custom Mobile App Development a Better Investment?
Businesses today increasingly prefer digital solutions because they help with superior digital customer experiences. Plus, they help your businesses thrive in 2023 and beyond. 
After the COVID-19 pandemic, there has been a surge in mobile app development. As you look at the comparison table, it is clear that it may be more profitable to look at custom mobile app development to help your businesses be more future-ready.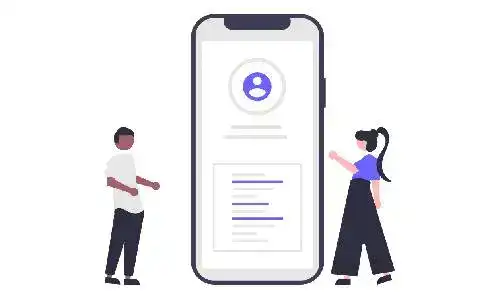 Furthermore, according to a report, 72% of organizations plan to invest in custom mobile apps. Now, that's huge! Here are some exciting insights on why you may consider mobile app development as a better investment. So, before you jump onto the bandwagon, read to know more.
1. Customization, Hyper-personalization, and Scalability
As an app entrepreneur, one of the most significant factors will be to plan your UI/UX strategy and usability. 
A generic UI that comes with off-the-shelf apps will not help you here. You can choose to have a detailed plan to tailor, test, and validate user experiences that surpass user expectations. 
Yet another vital factor is to have a digital solution that helps you adapt to the changing business landscape. 
So, you need to evaluate the degree of customization you need to satisfy your business's needs. Here, you can look for a custom solution that can offer you extensive scalability and the support that you need for app development and deployment. 
You may always choose to partner with a proficient partner, such as Imaginovation, who can offer future-proof digital solutions that are both resilient and sustainable.
2. Ownership of Intellectual Property
Imagine you invest in an app, but you don't own the source code! 
So, every time there is a changing market need, there is a dependence on the app provider to make the changes or upgrades. Plus, you may wish to own the source code to make seamless integration possible with existing apps. 
In the absence of ownership of intellectual property, there is a dependency loop created, which can be a roadblock to expanding functions and features. 
In such cases, it is always beneficial to opt for custom app development that allows you to own the source code.
3. Limitless Possibilities
Custom mobile apps can cater to a wide variety of business applications. 
So, you can have apps for customer relationship management systems (CRMs), an e-commerce marketplace, logistics, business process automation (BPA), and more. The possibilities are limitless. 
Plus, you can always start with a low-cost solution and ramp it up as the business grows. The model can help you incorporate trending best practices effortlessly.
4. Enhanced Security
Maintaining a secure data environment is of paramount concern, with data breaches and hacks increasing exponentially in the modern digital world. 
With a custom mobile app, you have the power to determine the best data-security technology or protocol that's relevant to your business and integrate those practices into your app.
5. Protecting and Extending Your Brand Identity
It's always advantageous to have a custom digital solution that seamlessly integrates and extends your brand across all platforms. 
When your users find the same constituents across different platforms, there is an excellent benefit of brand recall. 
So, plan detailed strategies that can offer you such hyper-personalized experiences for your customers.
6. Assured Long-term ROI
With custom mobile apps, you can own your proprietary software solution, which helps with better ROI and improved efficiencies. Plus, they offer to deliver measurable financial viability over time.
Real-World Examples of Successful Custom App Development
Now you know why developing a custom mobile app is worth it, let's take a look at some successful businesses that outsmarted their competitors with custom mobile app development.
1. Uber's Intelligent Custom App
Uber app is a success story that offers frictionless access and great experiences for drivers and riders. Today, it stands as a strong brand in the ridesharing market with brilliant strategies. 
Here are some facets of the custom app:
Seamless integration of geolocation to locate a user's device.
Point-to-point directions on a map within the app, making routing directions easy.
Sending and receiving push notifications and SMS.
Automating pricing, ensuring competitive fares for rides.
Scheduling rides for later as per rider's convenience.
2. Netflix's Blockbuster Custom App
Netflix has made immense strides since the time it was struggling to compete with its counterparts. However, it is a different story today; Netflix has a renovated platform with innovations and custom application development. 
Some significant changes include the delivery of popular box office, and cult hits from around the world. Plus, the subscription is more reasonable than one would pay for a single movie at a theater.
What has it achieved through custom app development? Here's a sneak peek.
Intuitive content is suggested depending on the user's viewing history.
Generation of multi-language subtitles.
Increased viewership via customization of content art.
Back-end technology supports a seamless viewing experience across devices.
3. Amazon's Retail Success with its Custom App Development Technology
Today, when one thinks of an online shopping experience, whether apparel or electronics, Amazon is one of the first shop-stop customers that wish to check out. Amazon branched out to different products starting from clothing to food over time. 
Later, the company used its custom application development technology to collect essential data to offer the products as per preferences.

Moreover, the brand made sure that the customers had a superior experience with hassle-free buying. Plus, the returns are processed automatically with no hassles, which adds to the overall customer experience.
Wrapping Up
Ultimately, custom mobile application development or off-the-shelf mobile apps aren't an elixir for creating successful businesses.
An innovative team can always draw the most optimal solutions. Plus, it's fun to make decisions and outshine the competition. So, do get your basics right—plot down your business requirements, USPs, and business vision. 
Next, base your decisions on grounded research. And don't forget to weigh the pros and cons of off-the-shelf mobile apps and custom mobile apps. All you need to do next is invest, deploy, and watch your customers enjoy superior digital experiences!
Develop Powerful Custom Mobile Apps with Imaginovation
Get ready to leverage your businesses with robust, scalable, and user-friendly mobile apps. With Imaginovation, you are choosing a proficient partner for designing and developing mobile apps that are future-proof.

We can walk you through the custom mobile app development process with our sharp business acumen and expertise. 
We've successfully delivered game-changing mobile apps empowering oodles of businesses. Let's talk.