Every day thousands of mobile apps are added to the app stores, making it harder for the brands to get noticed in the crowd.
However, there are some great businesses and appreneurs that always stay a step ahead in the mobile app market.
The notion of "Success has many followers" fits well into the mobile application development space. When there is a successful mobile app, you'd want to know what worked, what was their strategy, and how you can use that knowledge to create a stronger bond with your customers.
So, here in this blog, we will be taking a closer look at some of the inspiring brands that built exceptional mobile apps and successfully outplayed their competitors.
Brands that Outsmarted Their Competitors with Custom Mobile Apps
Let's take a peek at the top ten success stories that will not only inspire you but bring you closer to creating your dream custom mobile apps.
1. Starbucks
Picture this — coffee aficionados love their brew. They like to search for nearby coffee shops and love to find out about types and coffee brews. The most popular coffee chain globally, Starbucks, offers all of this and more through myStarbucks app.
Launched in 2009, Starbucks increased its digital presence. The app brought its loyalty program to users' smartphones with Card Mobile App.
How does it work?
Consumers can download the application to their phones. Next, they can load money onto the Mobile Card.
So, when they make a purchase, the barista scans the barcode on the screen. Next, the total is deducted from the account. Here are some reasons the consumers use the Starbucks app.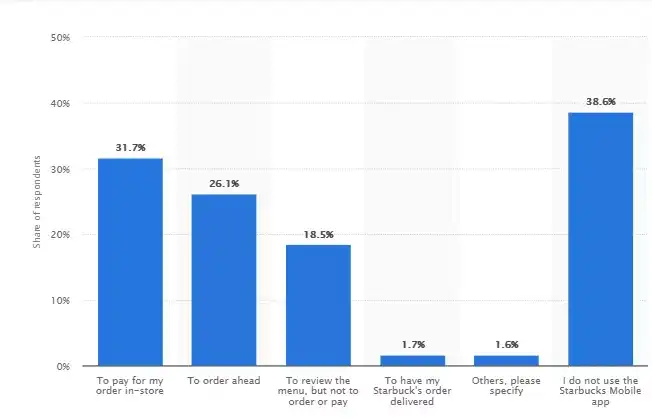 Image 1: Reasons consumers use the Starbucks mobile app in the US as of October 2019 | Image Source
The easy on-the-go app functionality became quite popular. It wasn't surprising when just three months from when it was first introduced, the application gained over 3 million users.
With (1,000,000+ installs on android), the app reiterates how smart mobile marketing can dramatically impact the overall sales goals and marketing brand awareness goals.
What worked for the Starbucks app?
The app made buying coffee more effortless than ever. Users could create their own drinks and order instantly. For health-conscious patrons, the nutritional details of every drink was a bonus. With exciting features, the app encourages customers to revisit the store, and it promotes customer loyalty.
2. IKEA
Imagine designing your dream home. It's fun to check out the designs for your kitchen, bathroom, office, etc. With Ikea's Augmented Reality Home Planner app, designing can be fun and useful.
Launched in 2017, users received the Ikea AR Place app enthusiastically. The app demonstrated AR's potential to create incredible experiences. It also solved practical problems, helping patrons try out furniture in their homes before buying it.
How does it work? Patrons can take pictures of a place in their house and virtually install Ikea furniture to give you a feel on how the room looks.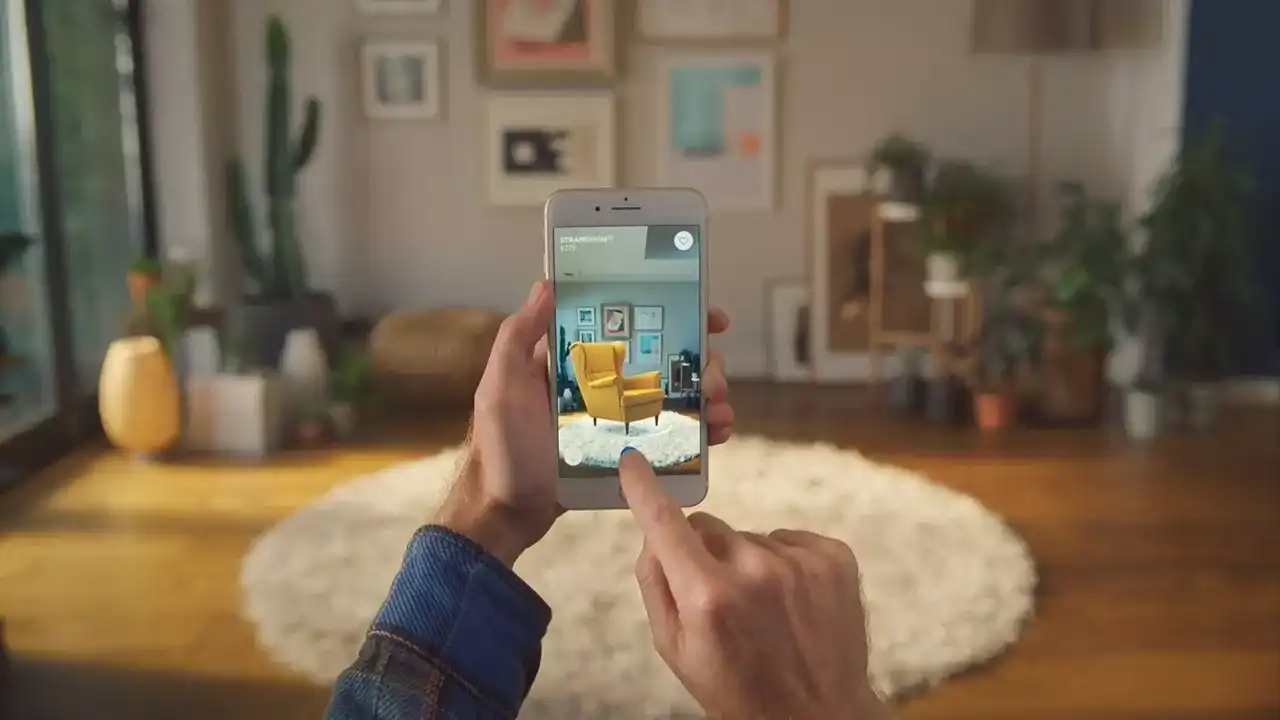 Image 2: IKEA Place app that lets customers virtually place IKEA products in their space | Image Source
What worked for the Ikea app?
It created an incredible marketing buzz. The searches for Ikea spiked according to Google Trends. The company also enjoyed great news media coverage and was lauded as one of the 50 most innovative companies by Fast Company.
IKEA proved that though gaming is the most popular type of AR app, brands can utilize the AR's full potential and solve practical problems.
3. Under Armour (UA)
Under Armour, Inc., an American sports clothing and apparel company, has found success by focusing and making considerable business investments in the mobile space.
How did an ah-ha moment turn into an opportunity?
The "ah-ha!" moment came a year before its launch in 1995. Founder Kevin Plank practiced playing football for the University of Maryland.
He carried a couple of undershirts during a two-a-day practice because his cotton t-shirts would get soaked in sweat, making him feel more hot and heavy. He realized that there was an opportunity. Plank began exploring synthetic material that was lightweight and wouldn't hold in sweat.
Under Armour spent $150 million on the exercise app MapMyFitness in November 2013, and then later, they paid $475 million for the calorie-counting app MyFitnessPal.
UA paid $85 million for the European fitness app Endomondo. With these apps, such as leading health and fitness apps, UA is trying to build a profound brand.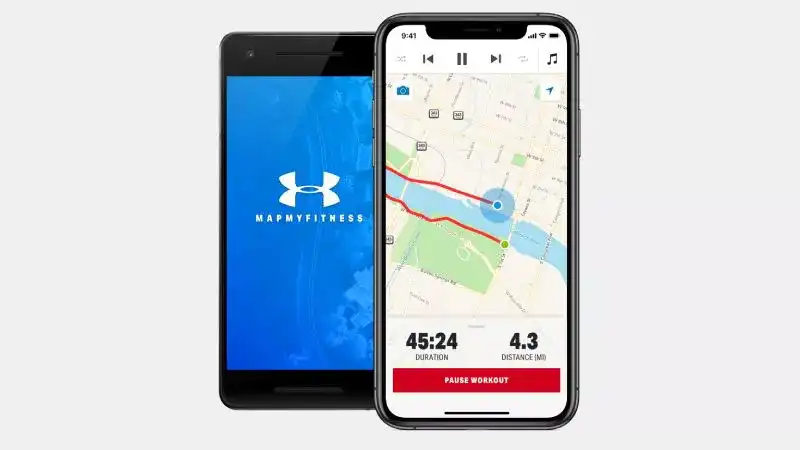 Image 3: MyFitnessApp by Under Armour
What worked for the UA app?
UA is an inspiring success story of how a small t-shirt business grew into a billion-dollar company in less than two decades. Just through one of the brand's fitness apps, UA is getting over 100,000 new users per day.
The bonus points—increased sales, brand awareness, and client engagement. It just goes to show that any small business can grow tremendously with the right financial backing, listening to customers, and delivering a product that is valuable for them.
4. Slack
Slack has a sensational fast evolution story that is the result of incredible customer satisfaction.
Founded in 2014 and with a net worth of $5 billion, Slack now has over 5 million users actively using the app for sharing messages with the people in their group.
What's Slack's secret sauce?
Slack focused its entire strategy on connecting with its patrons and encouraging them to give their feedback.
The team worked on a great blend of product, design, timing, team, and marketing. Slack founder Steward Butterfield reiterated that their team focused on education, feedback, customer happiness, and metric analysis that drove their success. (Source)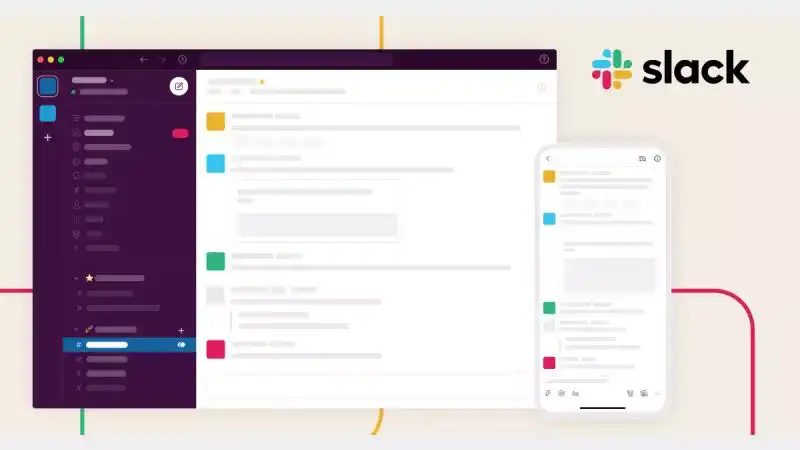 Image 4: Slack Mobile & Web App
How does the Slack app work?
Slack makes a great messaging app for casual usage. But the app also has the potential to be leveraged as a robust means of keeping co-employees and project teams updated and connected through creating individual channels.
Continuously innovating, Slack recently holding its Frontiers conference announced some new features that will make it easier to message between partners. (Source)
Slack is adding features such as Verified Organizations, which works a bit like verified users on Twitter. Users can also look out for tools (to be released soon), such as Managed Connections.
The new feature will let Slack admins control which organizations and individuals can connect with people inside your organization on Slack in a streamlined manner.
The major takeaway is to continually look at user needs and bring out relevant and valuable features!
5. L'Oreal
Picture this — you want to use a hair color changer, and you're reluctant to try it. Many patrons face the same dilemma when it comes to trying beauty products. With L'Oréal's augmented reality Makeup Genius app, it is a cakewalk to try on beauty products.
L'Oreal's Makeup Genius app, launched in 2014, uses augmented reality (AR) technology to allow users to virtually apply L'Oreal makeup products to a digital image of themselves.
How does the L'Oreal app work?
The AR Makeup Genius app uses advanced facial mapping technology to make the smartphone camera into a virtual mirror and lets you try on products in real-time.
The app scans the face and allows users to virtually apply makeup and try on specific products and looks specifically chosen by L'Oreal experts, all through the device's viewfinder.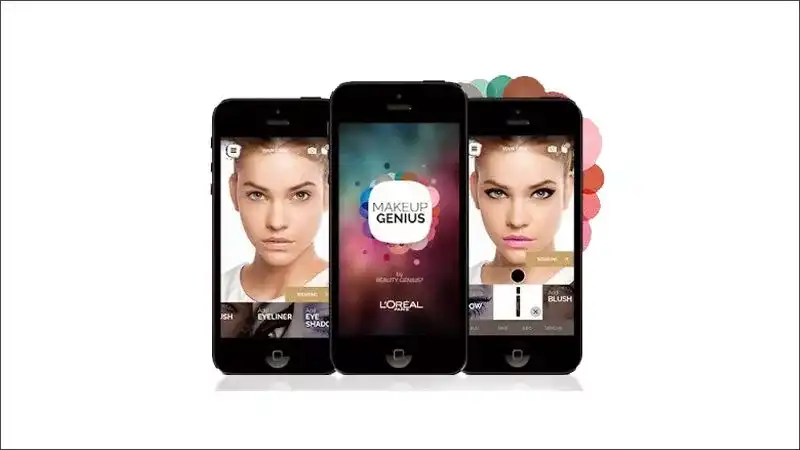 Image 5: L'Oreal AR Makeup Genius app
What worked for the L'Oreal AR Makeup Genius app?
The app leveraged the high penetration of smartphones and the growing selfie culture. The app addressed a critical issue for users who are hesitant to purchase cosmetics online as they cannot try them on as they do in brick-and-mortar stores.
The app's bonus is when the app collects user data to offer a personalized shopping experience, suggesting products that match their tastes, and sending alerts about new product launches.
The success is undoubtedly astounding! The app has been downloaded around 10 million times in the US, China, and France. L'Oreal's app is a pioneer, showing the way for similar apps in other cosmetic sectors like hair care and skin care.
6. Zipcar
Zipcar has shown tremendous success in the car-renting business world. Built by two moms, the app idea was novel—providing automobile reservations to its members through charging them a monthly or annual fee.
How does the Zipcar mobile app work?
The app is simple and fun to use. The self-service technology allows millions of mobile users to have on-the-go access to Zipcars. It facilitates users with the reservation process, locates nearby cars, and reaches out to customer support.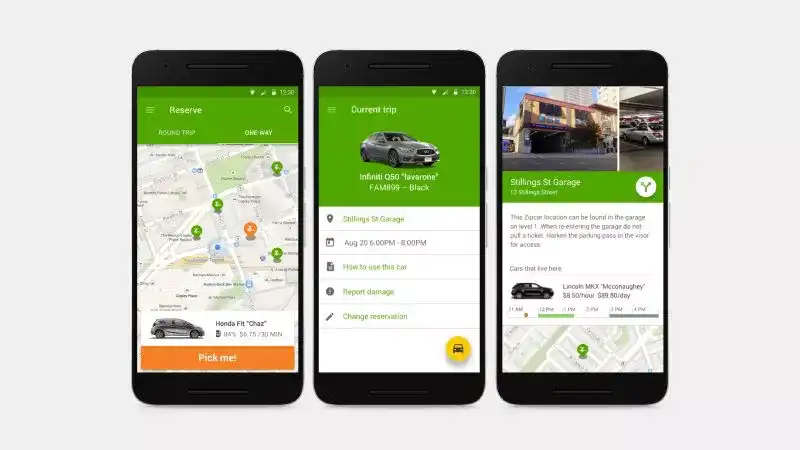 Image 6: Zipcar Mobile App
What's Zipcar mobile app's secret sauce? The team continuously works on overhauling member experience and introducing new plans to capture additional demographics and use cases. The app has helped to bring urban people immediate access to reliable and cost-effective transportation.
The need for immediate access is increasingly felt during the pandemic, where people are facing economic challenges and uncertainty.
Staying grounded in research and understanding user needs, car-sharing service Zipcar has added new features recently, such as Instant Access, that will allow users in the US to access a car within minutes of signing up.
During the COVID-19 pandemic, they introduced Dedicated Zipcar. The new service lets users reserve a specific car for a monthly fee. It also introduced a Stay Local plan that gives users up to 50 percent off standard hourly and daily rates if they take short trips locally.
The critical takeaway for appreneurs is quite apparent—innovate, research, and keep adding value to your custom mobile apps.
7. DirecTV
Picture this—you want to catch up on your favorite show, but you won't be home at the scheduled time. DirecTV addresses this critical issue.
With the branded app, you can catch up on popular shows, and you don't need to be home to schedule them.
The app allows users to set their DVRs with their BlackBerry, Android, iPhone, or Palm Pilot. The good part—there's a separate free app that provides DirecTV customers with access to every Sunday NFL game.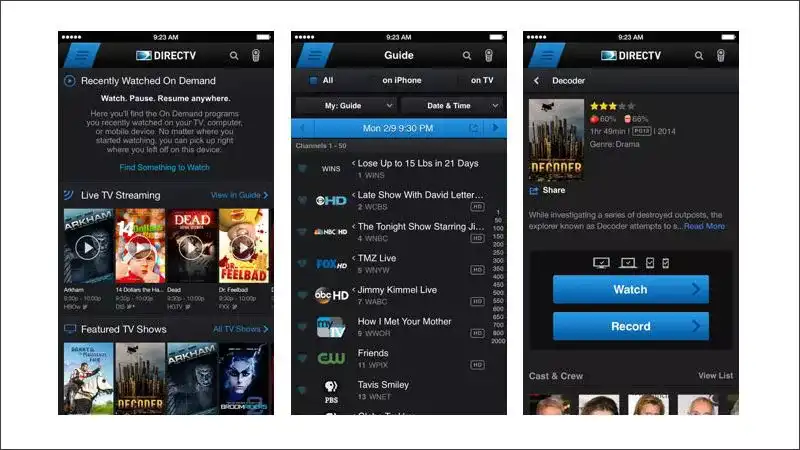 Image 7: DirecTV Mobile App
How does the DirecTV app work?
It's quite simple—you can download the app and enjoy the live-streaming of your hottest on-demand movies and shows. Users can live stream across their favorite smartphones and tablets.
What's worked for the DirecTV app?
The one word—Customer satisfaction! When diehard fans of a popular game or show can catch them on the go, they will inevitably be content and spread the word. The team is continuously working on improving the application performance and transaction volumes.
8. Domino's Pizza USA
There's very little that a thin-crust pizza won't set right! Domino's Pizza allows pizza-lovers to get closer to their treasured pizza flavors.
With over 1,000,000+ downloads, Domino's Pizza has one of the most successful Android and iPhone apps in the food and beverage industry.
How does the app work?
Users can order pizza from anywhere in the USA from over 5000 outlets. They can use their smartphone and select from a wide range of pizza flavors.
What's more? Patrons can customize and create their concoction. Users can also choose to order other offerings like sandwiches, desserts, drinks, etc.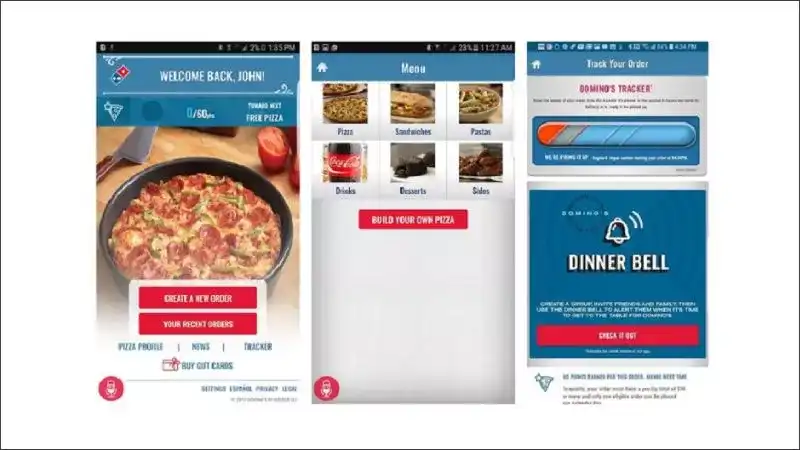 The order can be tracked so users can know exactly when the pizza will arrive. During the COVID-19, the delivery at the doorstep is a great benefit.
The app has a smart outlet locator with details and ratings of each outlet and can also be used for discounts on selected outlets.
What worked for Domino's Pizza app?
The team worked on listening to customer feedback and acting on them promptly. They completely recreated their pizza recipe and continue to reimagine ways to order pizza.
Making the best use of technology, the team works on making it convenient for users to order and receive deliveries.
9. Nike
Running-and-fitness enthusiasts treasure tools that include GPS run tracking, customized coaching plans for goals, audio-guided runs, etc.
Nike+ Running app bundles all of these features for its users. Though the app does not directly sell anything to the users, it is still tremendously popular as a fitness training app.
How does it work?
Users can download the app. They can now record and track runs, get guidance from Nike coaches and elite athletes, and join the Nike global community of runners. The customizable features are very popular with patrons.
Once the user starts running, the app measures their running speed, run time, calorie burn, distance coverage, etc.
It also allows users to add a social media element. So users can share their running goals on Twitter or Facebook and compete with their friends using the app.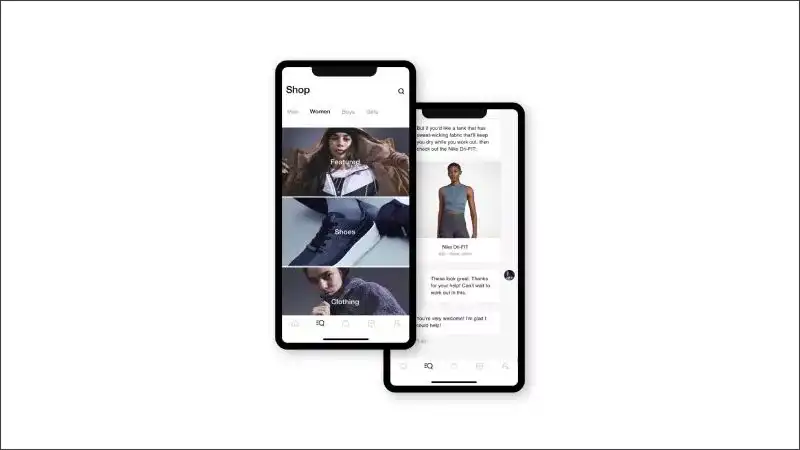 What worked for the app?
The focused experience on training users helped to build a close relationship with the brand. The team has been pushing the envelope on delivering more immersive experiences to motivate runners.
For example, users can now lookout for a new exclusive modular sports face, metrics, and streaks in time for the release of the Apple Watch Series 6.
10. United Parcel Services of America (UPS)
UPS is one of the pioneering courier companies in the world. It has millions of customers worldwide, ranging from individuals to Fortune 500 companies.
The UPS app is an ideal fit for the diverse range and works stunningly well despite the wide variety of demographics using their services.
How does the UPS app work?
UPS focuses on tracking shipments, deliveries and helping patrons with updates on their package status. The mobile app curates all these core features. Users can also use the app to locate the nearest UPS outlet and track shipments by searching the apt tracking IDs.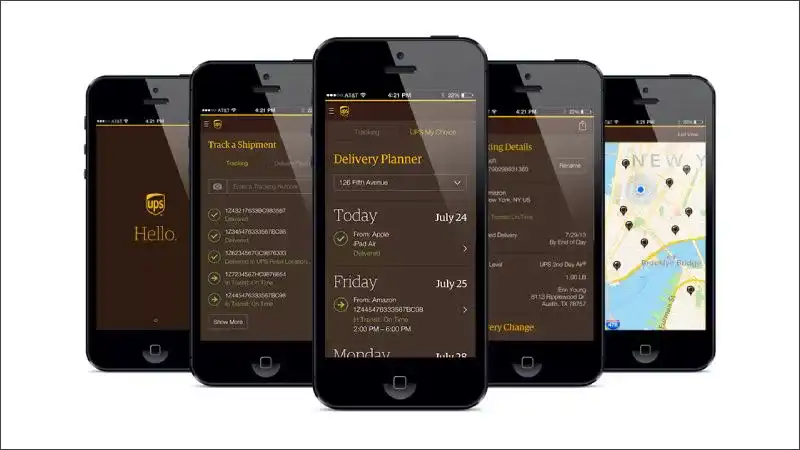 What worked for the app?
The team works on rapidly adapting to meet customer expectations in the face of rising digital demand. The app ensures higher reliability of operations, increased process efficiency, and simplified processes, and improved performance.
As appreneurs, it's critical to start working towards enhancing your company's product. If you plan to venture into mobile app development, it's best to look for inspiring stories and shape your app idea into a thriving success.
How to Know if Your Business Needs A Mobile App to Be Successful in the Market?
The mobile app landscape is getting bigger, and, logically, there's bound to be competition. So the big question is—should you venture into mobile app development.
Here are some quick hints your business needs a mobile app.
Trailing Behind: When your business is trailing behind, it's time to increase your business's visibility. Custom mobile apps can help raise awareness, which is the first step to creating stronger bonds with potential customers.
Competitors have astounding apps: It's good to have competition—it can be bad for your business, but it can help you innovate and think of more opportunities to reach out to users. If you don't have your business mobile app, it's ideal for reflecting and starting your app development journey.
Your site isn't ranking well on its searches: Ranking high on the Google index equates to brand visibility, and it's good for your marketing team. With your app, you can start working on visibility and user engagement.
Build strong brand recognition: With a mobile app, you can help customers identify your brand. It can help to expand horizons and keep your users looking out for more.
Gain customer insight: The success stories strongly highlighted customer feedback. It's essential to know your user patterns and preferences. It can help you to curate features that are apt for the selected customer pocket. With feedback, you can fine-tune your services according to your customers' tastes.
Excellent platform to showcase products: With social media networks, launching products has become more comfortable. However, a novel mobile application can facilitate showcasing your products and reduce marketing costs.
Outshine from the crowd: Your app can help you to stay ahead and stand out. Your team can bring out features that help your users with a meaningful app experience.
Augment business goals: As appreneurs, you'd want to expand your reach and increase ROI. There's no better way than to curate an app that can help you to further business goals.
Mobile app development is an exciting journey. Creating a fantastic app needs hardcore creativity and a willingness to bring value to your users. You can capitalize on learning from the success stories and find new ways to awe your users!
Develop A Successful Custom Mobile App for Your Business with Imaginovation
Succeeding amidst brands that have successful apps already can be adrenaline-pumping. All it takes for appreneurs is to nurture app ideas. If you are looking to curate your dream app to digital reality, and don't know where to begin, get in touch with us.
We are an award-winning web and mobile app development company in North Carolina, with an incredible experience of curating remarkable digital success stories. Let's talk.
Book A Consultation
Book a meeting with one of our team members and we will help you plan out your next steps. You can also use our calculator tool to receive a rough estimate on your project.