The coronavirus epidemic is escalating worldwide. Our healthcare systems today need out-of-the-box solutions with the increasing influx of patients.
Telemedicine app development has shown encouraging perks to curb transmission and improve patient care. It is heartening to see telehealth apps meeting the challenges posed by the coronavirus.
As a healthcare executive, this niche area will interest you. It is the best time to invest in telehealth app development as the demand for such services will continue to rise. Keep up with the article to understand how to launch a successful telehealth app, some benefits, and examples.
The Surge in Telemedicine: Some Statistics
Digital technology is helping healthcare organizations optimize services and patient outcomes.
As 2022 reshapes our health systems, health care executives can look forward to seeing a surge in the telemedicine sector. Let's look at some statistics that bolster the use of telemedicine.
The World Health Organization (WHO) recommends telemedicine as a practical recommendation to deliver some routine services. (Source)
Statista predicted (before the pandemic) that the telemedicine market size would increase to $460 billion by 2030. (Source)
Statista also predicted the telemedicine market to grow significantly by 2030. Experts suggest the valuation of the market at more than 224.8 billion U.S. dollars.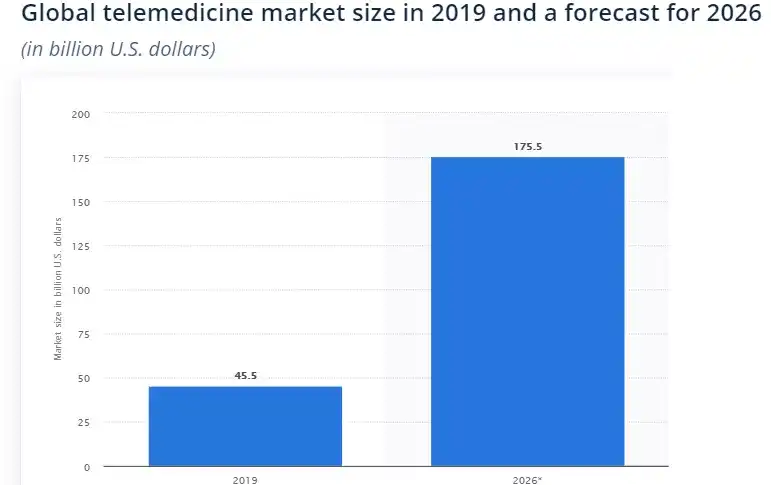 Image 1: Global telemedicine market size in 2019 and a forecast for 2026 | Image Source
The global telemedicine market size is expected to grow at a CAGR of 19.28% by 2025. (Source)
Customer adoption of the use of telehealth has accelerated. From 11% of U.S. consumers using telehealth in 2019 to 46% of consumers using telehealth. (Source)
Also, 57% of providers accept telehealth more favorably than they did before COVID-19. And 64% are more comfortable using it. (Source).
The statistics are encouraging. Looking forward, you can choose to develop your business app to strengthen health care services.
The telehealth app development process may be arduous. However, when you create an app with profound benefits, it can be tremendously satisfying.
Telemedicine App Development: Step by Step Guide to Start Your App
You can divide the telemedicine app development process into two phases—Discovery and Development. Start with putting on your thinking hats to accomplish both the stages.
At the heart of development, the intent is to bring innovative solutions. If you are committed to each step in the various stages, you will enjoy the telehealth app development process.
Let's start with the Discovery phase.
1. Evaluating Your App Idea
It's always a great idea to evaluate your concept. Where to begin?
Conduct business analysis—You can define your target audience. The step helps to start researching the audience's needs, requirements, patterns of use, etc.
Quick tips:
Define your target audience
Brainstorm the purpose of the telehealth app
Create a business plan for the project
Do a SWOT analysis—In this step, it would be best to reflect within and check out your strengths and weaknesses. Now, you can move to identify the telemedicine market leaders and probable competitors.
You can research on facets of your competitors' success stories, ratings, and user reviews. Also, look at their prices and platforms. The step will help to look at the gaps and learn from the market leaders.
Wait! Did we mention prices? So, how much does it cost to develop a telehealth app?
It depends on the concept, features-and-functionality, the development approach, and the chosen development vendor. You can expect the app to cost around $80k to $250k for one platform (iOS, Android, or Web). It can go well beyond $250k per platform if you choose to work on a feature-rich solution.
Use our awesome mobile app cost calculator tool to get the ballpark estimates now!
The ballpark figures will help you check your app development costs.
Build on USP—Your business has its USP, and that's what you can optimize. Look at your strengths and offer some distinctive features that cater to your target audience, bringing them value.
2. Consulting a Telemedicine Service Provider
You will find a plethora of telemedicine app development companies. Wouldn't it be great to look out for a consulting partner who understands your app idea and makes it a digital success?
To get excellent healthcare IT solutions vendor company (consulting partner), do the simplest thing. Yes, you've got it! Research. You need to conduct research and shortlist some development companies that align with your vision. You must also add price and expertise to your research parameters.
3. Creating Project Scope
The app's scope document is a critical step. You can reach out to the application and software developers and explain the aim of your telemedicine app.
Next, the business analysts and project managers can help you with app features, wireframes, project mock-ups, and prototypes. The company will also help you in developing features as per market and consumer expectations.
What can you do?
You can choose to contribute to the process with constant feedback. It will help keep the company aligned with the budget and timeline requirements for the telemedicine app development.
After the initial Discover phase, it's time to explore Development. The telehealth app development consists of the app coding phase. The development team organizes processes and sprints to meet deadlines.
4. Looking at development
The step concentrates on delivering the first app version with core features. It incorporates facets of scalability for the next variants.
You may choose to launch a fully-featured telemedicine platform. But, the expenses could be higher for such versions. The application development team will plan to develop the code, testing, and bug-fixing.
What can you do? You need to understand the diverse technologies used in telemedicine app development. Awareness can help to blend in with technology aptly. Let's take a quick look.
Table 1: Technologies used in Telemedicine App Development
| | |
| --- | --- |
| \\\*\\\*Technologies\\\*\\\* | \\\*\\\*Usages\\\*\\\* |
| Artificial Intelligence (AI) | \\\[Voice recognition](https://www.imaginovation.net/blog/driving-roi-with-voice-technology-healthcare/), language processing, machine learning, chatbots, and offering a personalized experience to users. |
| Big Data | Collect and analyze EHRs (electronic healthcare records), run medical researches, improve treatment, provide accurate diagnoses |
| Blockchain | Avoid loss of healthcare data (stored in soft copy format), and makes collection and transfer of medical data secure |
| IoT | Track data and offer diagnosis and treatment, medication adherence, real-time treatment, etc. |
You would love to blend your expertise envisioning how the product can grow. It always helps to see the app evolve; it is a satisfying feeling to contribute to the future healthcare landscape.
5. Approving the app's demo
As the app is ready, the development team will show you the app demo. The step is an excellent opportunity to see whether the app matches your requirements and ask for improvements.
What can you do? You can give constant feedback, keeping it transparent and leaving no scope for any miscommunication.
What matters most is the result resonating with your dream app idea. You can tweak the features until it matches the exact blueprint that you had envisioned.
6. Launching your Telemedicine app
After rigorous app testing and final product demo, you can think of launching your telemedicine app. Finally, your dream app, with all the features. can serve the target audience.
To guarantee the efficiency of your telehealth application, here are some quick tips:
Collect user feedback, analyzing, and promptly working on them
Add new features to address gaps, and make the app more efficient
With your dream app a digital reality, it can improve patient care and boost ROI. It's no doubt that a telemedicine app can be a powerful channel for both doctors and patients.
Lisa Hedges, Software Advice reiterates: "From a recent survey we conducted of U.S. patients, we found that 84% are more likely to select a provider that offers telemedicine over one that doesn't, so it's clear this technology is something patients want."
Now, that reflects the sentiments of the healthcare landscape.
Next, let's look at some outstanding benefits.
Why Develop A Telemedicine App?
Telehealth is revolutionizing healthcare. You can unleash the full power of telehealth to the benefit of patients and businesses.
As reiterated by Dedi Gilad, Tyto Care: by deploying telehealth solutions and programs, people [patient] who are suffering from other medical ailments during this time [COVID-19] can receive care from home. He adds without entering medical facilities, minimizing their risk of contracting the virus. Gilad highlights the critical need of the hour.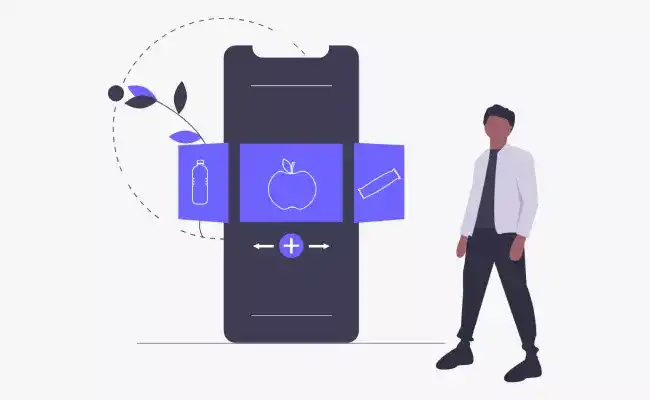 1. Minimizing Risk to Healthcare Workers
With the global pandemic, many chronic patients prefer to schedule teleconsultations to avoid face-to-face clinic visits.
The possibility helps to minimize the risks of exposure to the coronavirus. You can offer a 24/7 lifeline for patients, connecting them to their providers through the app. The feature can add comfort and assurance to the patients during trying times.
2. Triaging, Screening, Contact Tracing, and More
You can use telehealth to screen for COVID-19 symptoms. Phone screening and virtual telemedicine visits can help to evaluate patients.
The development team can include screening algorithms to conduct a remote evaluation of the patient's medical condition.
With telehealth, it is easy to interview patients with COVID-19 to determine who they were in contact with during the time. It is straightforward to follow-up with their connections, evaluating symptoms. The new features will prove to be helpful.
3. Cut Down Healthcare Costs
With remote healthcare services, many businesses don't need to think about renting a working space.
Startups like Doxy.me allow physicians to offer telemedicine services on a subscription basis. Now, that's cool! Many doctors can benefit from telemedicine app development as the overall consultation process becomes faster.
4. Convenient and Time-Efficient Treatment
Picture this—patients spending extra time to visit a hospital. They would need to travel, and then wait in line to get preliminary doctor consultation. Yes, you've got it! The process used to be frustrating and take ages.
With telemedicine apps, patients can schedule an appointment for remote medical help. The patient and doctor can connect at a convenient time. The process has become more effective with telemedicine applications.
5. Convenient access to EHR
Doctors need quick access to EHRs, and telehealth software can give them access on demand. The process saves the doctor's time.
Patients can also stay updated about the revisions made in EHR. However, the process needs to have a tight security feature incorporated to avoid any health record leaks. A robust app can take care of such issues.
6. Easier access to healthcare
Picture this—people living in distant, rural areas have no access to healthcare facilities nearby. As a healthcare executive, telemedicine can be an invaluable solution if you've wanted to increase healthcare accessibility.
Telehealth apps can benefit people from such areas. All you need to have is an app and a cellular network or WiFi. The added advantage is people from countries with a low level of healthcare can also look out for consultations from foreign physicians.
7. Unified patient management and monitoring system
Telehealth app solutions can extend aid to follow-up consultations. The apps can also help with updates to prescriptions, chronic disease monitoring, and more.
8. Optimizing administrative operations
Telemedicine apps can help to draw out time for actual tasks. With most of the paperwork automated, it cuts down inefficiency. The result—you can look for higher profits.
At a time when the pandemic has brought in new challenges, you can expand access and improve patient care with telehealth app development. You can launch a telemedicine app that can deliver high-quality care to consumers. The window to act is now!
Develop a Successful Telehealth App with Imaginovation
We understand that you want to curate a delightful experience for your target audience and streamline workflows with telehealth. If you feel overwhelmed with the process and are serious in launching a successful telehealth app, get in touch with us.
We at Imaginovation have helped many businesses with the best-in-class telehealth solutions. Let's talk.
Book A Consultation
Book a meeting with one of our team members and we will help you plan out your next steps. You can also use our calculator tool to receive a rough estimate on your project.