The rising real-time healthcare challenges today are disquieting. What can you, as a healthcare provider, do about these issues? You can leverage the power of digital transformation in healthcare and turn challenges into opportunities.
The key is to innovate and collaborate. Healthcare providers need to implement high-performance and scalable solutions to improve patient care. Here's where you can play a meaningful role. You can help to lead-and-craft brilliant solutions blending digital transformation and healthcare.
Keep reading to get started with digital transformation for your healthcare business. In this blog, we will look at healthcare digital transformation challenges, trends, strategies, and more.
Digital Transformation Trends in Healthcare
It's frustrating to keep waiting at a doctor's clinic for an extended time. With digital transformation, these types of pain points in the healthcare industry can be resolved efficiently.
It is no surprise that digital transformation has revolutionized the healthcare landscape. Let us take the example of virtual caregiver Addison.
The solution providers addressed an escalating issue effectively. Aging people need caregiving and there's an increasing demand for caregivers. So, the Addison team used technology as a way to resolve the concern.
Addison uses AI to track the health of older Americans so people are safely taken care of from their homes. The state-of-the-art 3D caregiver provides chronic care for patients of all ages. It can interact with patients and offer a plethora of other benefits.
Now, that's exciting! Let us check out how you can use emerging technologies to provide the best healthcare.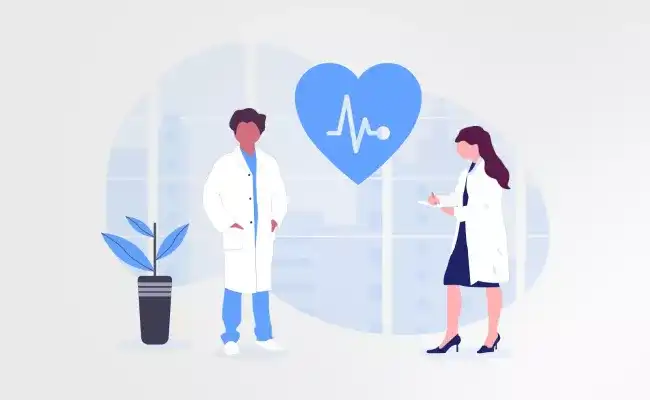 1. Artificial Intelligence (AI)
AI in the field of healthcare is promising. Picture this—you have gone in for a test. Now, typically you would have to wait for a week or so to get the reports. This where healthcare digital transformation comes into the play.
AI and deep learning have demonstrated scanning efficiency, as much as 150 times faster than human radiologists. According to a research study, AI-generated effectiveness in image analysis could create $3 billion in annual savings. The step leaves radiologists with more time to focus on reviews that need more interpretation. The accurate and faster response can be life-saving. (Source)
With the help of AI, labs can quickly generate test reports which means less waiting time for patients and improved business productivity for providers.
Some other areas of AI in healthcare include—AI-assisted robotic surgery, virtual assistants (example: Addison), and managing administrative workflow.
AI can also help to reduce costs, improve processes, prevent identity theft, and more.
2. Blockchain
What's the one thing that's frustrating when you've had to change doctors? Yes, you've got it! The transfer of your patient files. Now, with blockchain, patients can automatically provide doctors with a complete medical history. A blockchain platform can be developed to secure and consolidate patient data across a network.
For example, the start-up Workwolf invited the Canadian government to use its proprietary blockchain for tracking Covid-19 cases. The solution is remarkable.
Healthcare facilities can have easy access to data that's global. As a healthcare business, you can also enjoy data protection and security issues.
3. Augmented Reality (AR) and Virtual Reality (VR)
AR has the potential to reduce medical errors and improve the quality of delivery. Patients need not be at risk as AR can facilitate procedures with minimal support. How?
AR can help doctors learn how to perform critical operations without having to execute them on human beings. Another appealing facet of AR and VR is the ability to help Alzheimer's and dementia patients. The technology can retrieve memories for such patients. It brings them a sense of joy as they can return to time and experience in the past that was significant to them. Now, that's the power of digital transformation!
Check out 9 Real Use Cases of How AR Apps are Improving the Patient Medical Experience.
4. Wearables and the IoT
Wearables still figure out as one of the healthcare digital transformation trends. The collection of data through the IoT continues to grow in the healthcare industry.
Healthcare providers can use the data in research to advance different medical fields. IoT can also be used to prevent massive health epidemics worldwide.
5. On-Demand Healthcare
The new entrant 'on-demand' is making waves in healthcare. Patients are increasingly seeking on-demand healthcare due to the pandemic and their schedules. The trend is not surprising with people having more mobile since the past decade.
For example, Nomad Health, an online marketplace, links doctors directly with medical facilities for short-term work. Physicians can now provide on-demand healthcare services to patients. The trend meets the needs of the patients, adding to the benefits of digital transformation in healthcare.
The softer side of technology matters! It feels great to rediscover the pain points in your business. You and your team can turn them into prospects for better care. It is then easy to curate a healthcare digital transformation strategy that works best for you. When it comes to the advantages, they are encouraging.
How Different Digital Transformations Benefits Healthcare Businesses?
So, we checked some of the trending technologies that can bring digital transformation in healthcare and their examples. Now, let's see how these technologies can practically benefit healthcare providers.
1. AI and ML Improves Accuracy and Efficiency
It is no secret that data accuracy can improve decision-making. Artificial Intelligence (AI) and Machine Learning (ML) can offer meticulousness in data and help with predictive analytics. The correctness can help physicians to gain crucial insights and provide better care.
Benefits:
Brings in precision in analytics data for pathology images
Reduces the use of electronic health record (EHR)
Creates interfaces for mind-mapping via brain-computer interfaces (BCI)
Augments immunotherapy for medical devices
Enables the development of next-gen radiology tools
Helps to contain the risks of antibiotic resistance
2. On-demand Service Makes Healthcare More Accessible
Here is a quick question. Do you like waiting long hours in hospitals when you have a headache? It is a no-brainer; no one loves to wait long hours. With crazy schedules, it makes sense to seek on-demand healthcare services.
Benefits:
Offers flexibility to physicians to work supplemental hours
Provides instant medical aid, offering patients suitable treatment
Rewarding offers and discounts
Reduces healthcare spending and hospitalization
Lessens paperwork
3. Telemedicine Improves Healthcare Delivery
Telemedicine offers an excellent way to overcome the distance between patients and specialists. There is an increasing trend of seeking contactless medical aid through telemedicine.
Why? With the COVID-19 situation, patients prefer virtual consultations. Rising to the occasion, developers have come up with exceptional healthcare solutions.
Now, patients can get professional healthcare while minimizing physical contact. Governments in Latin America and other countries have been quick to adopt telemedicine. The initiative will help to support healthcare professionals during the COVID-19 pandemic.
Benefits:
Better allocation of resources (reducing the influx of in-person visits)
Provides contactless care
Reduces geographical barriers
Improves patient care quality
Reduces healthcare costs
4. Robotics Can Save Time and Improve Productivity
Have you heard of the TUG, Xenex Germ-Zapping, and CyberKnife? Yes, you are right! They are all robots in the world of healthcare. You can find compelling reasons to develop medical robots for use in healthcare. Robots can improve the quality of life for patients.
Benefits:
Makes surgery less invasive
Faster healing time for patients
Eases patient stress and provides comfort
Shorter hospitalization
Improves dexterity
5. Immersive Technologies Help with Diagnosis
AR and VR are offering countless opportunities in the healthcare landscape. You can choose to use the technologies to deliver improved patient care.
Benefits:
Saves lives and decreases medical errors
AR support for effective bedside procedures
Integrates all imaging and patient data and reduces procedure-related complications
Identification of the early signs of schizophrenia and Alzheimer's disease
Psychological relief and better treatment
6. Wearable Technology for Tracking Essential Data
Wearable technology can help patients with their fitness resolutions. Patients can have more control over their health outcomes. It is exciting that they can track real-time health-related data.
Benefits:
Facilitates physical activity monitoring
Checks remote and real-time patients
Helps patients take medications on time
Supports exhaustive analysis of information
Reduces healthcare costs, saving time and mobility
It is incredible how you can revolve healthcare challenges into benefits. All you need to do is sit down with your team and figure out the trends and models that work out best for your business. It is best to seize the moment and help in improving processes and systems.
Digital Transformation Challenges in Healthcare
As you shift to new care delivery models, you will face some challenges. It is best to be prepared to deal with them effectively.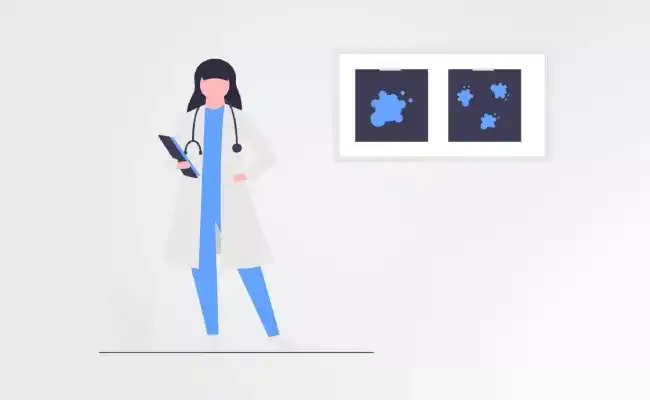 1. Resistance to Change
One of the most baffling problems you will face is resistance to change. You, as a team, should deal with change with optimism. We all know that it is easier said than done! As a healthcare business leader, it is your responsibility to drive digital transformation efforts.
What can you do?
You can create a cohesive organizational infrastructure that can help to navigate change. You can strive to realize changes smoothly. It is always a good idea to encourage everyone to share their ideas and help design new strategies. Active participation works wonders.
2. Get Your Business Needs Set Right
Take a moment—reflect on why digital transformation is necessary for your healthcare business. When you have a compelling story, it helps to get everyone on board.
Make sure the story is well-researched. You can conduct surveys, contact other stakeholders, and study your competitors. The insights will help to build a strong business case presentation. The mantra—the more gripping your story, you will find your team as excited.
3. Lack of Data or ROI
Data is at the heart of your business activities. However, stakeholders could challenge your justification for a digital transformation due to a lack of data or ROI. Many healthcare organizations are still struggling to consolidate data and extract insights.
You may also find that key performance indicators (KPIs) stand isolated within each department. Such disconnects can give a misleading picture of your business's well-being. Most often, you will find a lack of a proper strategy in place. It will be hard to stay ahead of the competition until you resolve such challenges.
4. Budgetary Concerns
You and your team must be able to recognize the value derived from digital transformation. You can start by plotting the revenue from the value that you create. Think of strategies that offer you more income, profit, and scale than your existing approach. You may also want to list down the inefficient methods.
Now, think of how much money drains out due to such processes. Once you have your data in place, it would be easy to position it correctly.
5. Siloed Technology Stack
Organizations typically don't operate efficiently with a siloed tech stack. How does this affect you? It affects the patient experience.
You may also find it percolating to communication between internal departments. When you think of digital transformation, you must remember that it works best when you transform the DNA inside your company.
With strong leadership, you can create enhanced opportunities for health care. What is the strategic move that you can make? The answer is simple. You must prioritize your business needs and values and organize them around meeting patients' needs effectively.
The heart of improved processes is to serve the patients better. There can be no better strategy than improving your healthcare services, processes, and systems.
Healthcare Digital Transformation Success Stories
Innovations in the healthcare industry are heartening. The key to your success is to keep learning. You will find that a learning organization can choose trends in the most effective way. Let's take a look at some success stories of digital transformation in healthcare.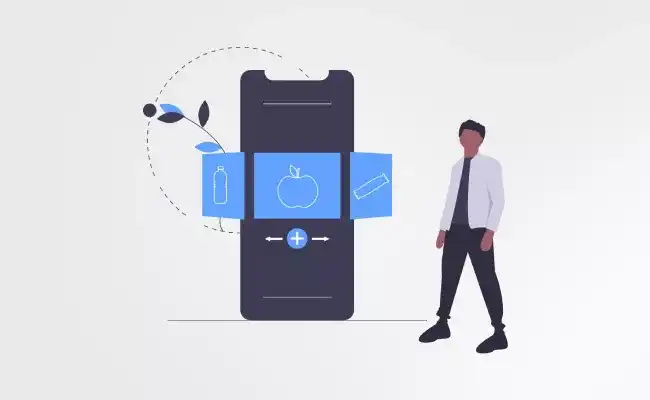 1. ThinkResearch
[A Canadian healthcare software company and knowledge-based tools provider]
ThinkResearch, set up in Toronto, Canada, develops evidence-based solutions. Their clinical documentation enables doctors to deliver the most significant patient results. What is at the core of the service? Digitization!
They digitize the document flows from a clinical point of care. The company enjoys access to all clinic-pertinent data and applications. Their solution includes EntryPoint. It is a cloud-based platform, which supports a set of apps for them. The apps include Progress Notes, Order Sets, Medical Reconciliation, Patient Portal, and more.
2. CANImmunize
[A digital tool for Canadians that enables them to manage vaccination schedules]
Developers designed this app to increase immunization rates. The app also works well on improving the accuracy of immunization records. Canadians now have control of their files, equipped with evidence-based information.
The team launched the app in 2014, with support from the Public Health Agency of Canada. Currently, the app has over 55,000 users of the cloud-based platform. Healthcare professionals expect the app to improve vaccination rates and surveillance among adults in the future.
3. AccuHealth
[A health management company that uses AI-powered remote monitoring to manage high-risk patients]
The initiative is a blend of remote monitoring and AI. The focus is to improve the quality of life for people with chronic conditions in Chile. It also has facets focusing on nutrition, psychological, and behavioral support.
The power of AI helps AccuHealth to identify high-risk patients. Consequently, health-coaching intervention supports almost in real-time.
4. Brighter AB
[A Sweden-based company and m-Health and data-driven service provider]
The team set up Brighter AB in 2007. The Sweden-based company offered solutions to people in managing and self-treatment of diabetes. Later, the platform extended help to people to adapt to the age-related changes in behavior. They also worked on improving the quality of life of older adults with chronic conditions.
jDome BikeAround™ is one of the company's hemispherical display solutions. The offering helps people in care homes to handle anxiety and panic. The exciting part—it encourages them to do cardio exercises and mental training.
The success stories in the healthcare industry are encouraging. As a leader, you would want to rise to the current healthcare challenges. With strong leadership, you can give hope and comfort to patients with brilliant digital solutions.
Now, more than ever, developing robust health solutions is the need of the hour. Such offerings are a great boon for the community. It's time to start innovating and contributing to this effort.
Create a Meaningful Digital Transformation Story with Imaginovation
It's the right time to create your successful digital transformation story. If you don't know where to start, get in touch with us. We at Imaginovation have helped many healthcare businesses, turning challenges into viable solutions.
Let's talk.
Book A Consultation
Book a meeting with one of our team members and we will help you plan out your next steps. You can also use our calculator tool to receive a rough estimate on your project.