Digital Transformation has become synonymous with innovation, improvement, growth, and development of businesses. It is the buzzword in many companies across the world today, and manufacturing is no different.
But do we really understand what digital transformation is?
Digital transformation involves the adoption of new technology to transform and redefine businesses.
It's important to note here that the process of digital transformation is a lot more than merely implementing new technology or upgrading the existing systems.
Digital transformation in manufacturing integrates digital technology into each aspect of a business and changes the way it functions.
Therefore, we can conclude that it is an ongoing journey for which companies must plan ahead. And for this, they need a proper digital transformation strategy.
Today, we will discuss important steps for creating a digital transformation plan for the manufacturing business. But, before we start, let's take a quick look at the current state of digital transformation in the manufacturing sector.
The Current State of Digital Transformation in the Manufacturing Sector
Manufacturing businesses all over the world are changing. This change is driven by the changing global & economic policies and emerging technologies like IoT (Internet of Things), AI (Artificial Intelligence), 5G, 3D Printer, predictive analytics, Big Data, and much more.
In 2020, many companies have started moving from 'talk' to 'action'. Some companies and businesses are leading this change and are defining new trends, while others follow the 'wait and watch' policy. In either case, everyone seems to be on their toes.
Moreover, with customer centricity as its core, the use of emerging technologies is continually challenging and changing the way product is made, and serviced, and business is conducted.
These technical advancements have disrupted traditional business models across the manufacturing industry. Companies are being benefited with unimaginable speed, scale, and innovation.
Despite the benefits, some organizations feel hesitant to travel the path of digitization.
Let's find out why.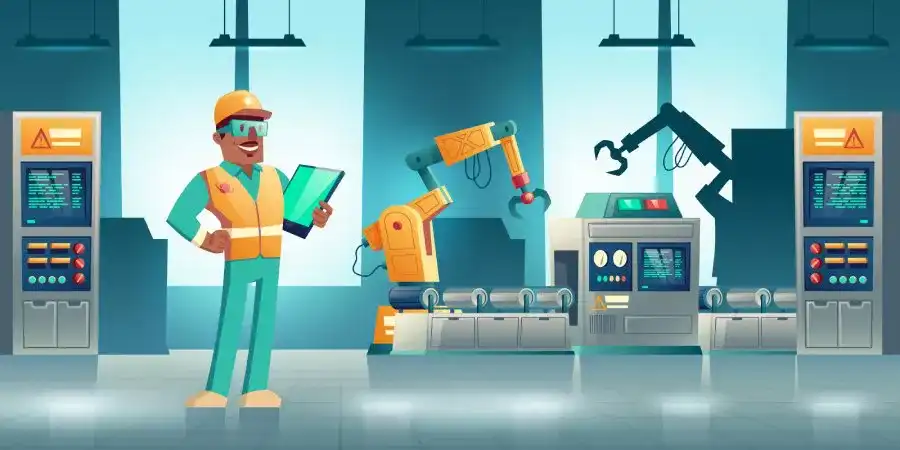 Challenges of Digital Transformation in Manufacturing
There are many reasons that actually hold back the companies from taking the initiative for a digital transformation. These challenges must be recognized, addressed, and handled aptly.
Let us explore these challenges that can hit you on your way to digitization.
1. Lack of digital vision and culture
Have you ever gone on a long road trip without a destination in mind? I am sure your answer is "No."
It's the same way with your digital journey.
Companies need to have a distinct, long-term digital vision. If you follow the digital journey of any company, you'll realize that its success was not a matter of chance or was accidental. The company first developed a clear vision of what it wanted and what was its objective in going digital.
Similarly, your digital vision must be in line with the business vision. Therefore, define your business needs clearly and support them with the right technology landscape.
2. Resistance to change
This one is generally underestimated by many. But it significantly impacts the digital transformation and its implementation.
While decision-makers of companies look at change as an opportunity to strengthen their business, many employees, however, do not look at it the same way. They are used to working with traditional processes and attached to routine processes. Therefore, when the time comes to improve processes by incorporating technology, they simply resist it.
For them, this kind of change brings uncertainty. They see it as a challenge to their set roles and responsibilities, and sometimes even a threat to their job security. Moreover, it's a known fact that people generally do not like to work outside their comfort zones.
The digital transformation of a company requires leadership and guidance.
You can plan for a top-down commitment to overcome this challenge. Strive for the best digital solutions to improve workforce efficiency. Besides, effective and transparent communication can surely get everyone motivated to use new technology.
3. Legacy business model
It becomes a challenge when companies get too comfortable with their legacy systems, not realizing if the business model (legacy system) is functioning as an asset or a liability.
Failing to let go of such systems for newer and improved technology generally proves to be a hurdle in the process of digitization.
4. Lack of competence
Digital transformation will need the right people on board. Lack of in-house IT competence and poor knowledge of modern tools can make anyone unsure of their digitization journey.
This may be handled via training your workforce or looking outside and finding new business partners or new hires to digitize your business.
5. Limited budget
Digital transformation requires substantial investment in the company processes, workforce, new technology, and infrastructure. Companies may feel compelled not to undergo the journey of digitization for want of a sufficient budget.
It is crucial in such a case to have a budgetary plan that involves multiple phases over a span of a few years. There is no point in putting your company at risk.
6. Data Security
Digitization gives access to critical data and information of your business to all the stakeholders. This makes the entire ecosystem vulnerable to hacking and cyber-attacks.
However, this too can be overcome by recognizing vulnerability issues and creating a robust system. Don't let a cyber-hacker trash away your digital transformation plan.
Now that we know that all the hurdles on the way to digitization can be overcome, let us check on the steps to develop the right digital transformation plan.
Also Read: 7 Digital Transformation Trends in the Manufacturing Sector
The Digital Transformation Strategy for Manufacturing Businesses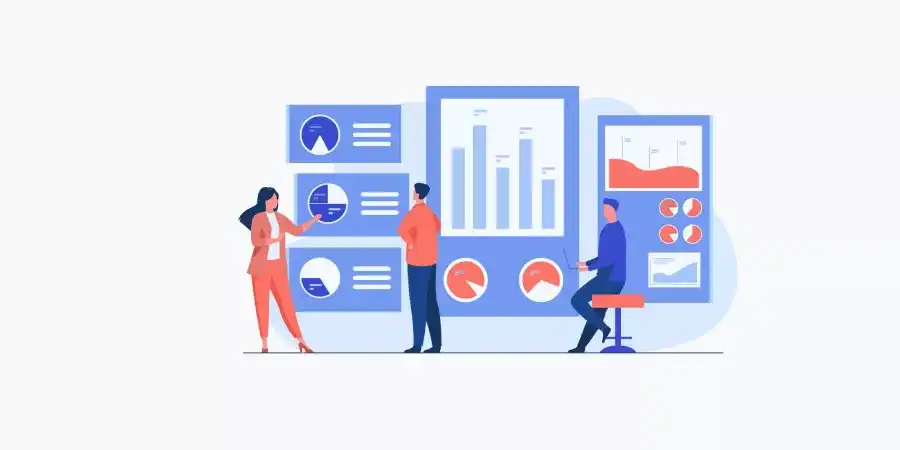 Digital Transformation is no longer an option for manufacturing businesses. It is a necessity.
Moreover, digital transformation involves investment and possible risks, and therefore it needs a clear strategy.
Let us prepare a framework to develop the digital transformation strategy for your business.
1. Create a digital transformation vision and objectives
Creating the vision and objectives for digitization is the first step in this process. You can begin by answering some critical whys and whats of your business – Why does your business exist? What are the objectives of your business? What are you trying to accomplish?
Do not look at the problems you are trying to solve with innovation, Instead, focus on your end goals. Remember to be SMART while defining your end goals – Specific, Measurable, Attainable, Relevant, and Time-bound.
You can:
Outline your vision and objectives of implementing digital transformation.
Define the long-term goals and focus more on the kind of experience you want your customers and employees to have.
Try to create a global vision, but do keep an eye on reality too.
For this, don't lose sight of the short-term objectives and resources available.
Avoid the adoption of isolated and silo technologies by emphasizing on business improvement rather than limited improvement of individual processes
Set objectives and targets for the initial few years, like maybe three years or five years.
Plan on the goals with the most significant Return on Investment as the top priority.
Include all business areas while creating the strategy such as customer service, operations, supply chain, product designing, support, and the complete business model.
2. Assess the current state and perform a competition benchmarking
Assessing the current state of your business can be the next step.
You can't map out a clear path to where you are going if you don't know where you are coming from. Therefore, knowing your business's exact current state is essential.
It will do the following:
Help you evaluate your workforce's existing skillset.
Define your company's current processes, organizational structure, and roles.
Define your organization's culture
Identify opportunities and limitations that need to be addressed.
You won't be able to migrate your current technology to a new platform without considering your current processes. Assessing your business's current state will help you make strategic decisions related to your resources and processes.
You can:
Evaluate where your organization stands with respect to the desired digital transformation.
Conduct due diligence.
Assess your infrastructure and investigate how well your system, software application, and tools address your needs.
Understand the current strength and limitations.
Identify a few direct competitors and the best companies for comparison.
Look for industry best practices.
Perform market analysis.
Rate capabilities against benchmarks.
Conduct a digital maturity assessment based on multiple dimensions of the organization.
3. Conduct gap analysis
Now that you know where you are and where you want to be, conduct a gap analysis. This will help you identify the gaps & opportunities that exist between those two states.
You can:
Figure out what technology and tools must be updated and which processes need to be automated.
Select tasks, investments, and efforts in the digital transformation strategy in the best possible way.
4. Design the apt user experience
They say good design is good business. Therefore, the quality of digital experience is critical for the success of a business.
User-centric design is key to a system being usable by your customers and employees. In short, it will help in retaining the user's attention and loyalty.
For example, a mobile responsive design can be good for business as it will help your website reach a wider market. Or, a digital system with easy user experience will allow employees with little or no experience to use the system.
You can:
Focus on the kind of experience you want to create for your customers and employees.

Keep in mind –

What value do you want to provide to your users?
Is it easy for them to interact with your company?
How can you improve the way employees engage in business processes?
How can employees' tasks be done in a much quicker and easier way via the new solution?
Is there a way you can better your customer's buying experience through a web or mobile application?
5. Review & choose the solutions and vendors
People often get overwhelmed with a lot of choices but you must carefully review, evaluate, and choose the best of solutions and vendors.
You can:
Have a list of candidate solutions that can meet your objective, deliver the right user experience, and fill the gaps of current technologies.

Carefully evaluate all the candidate solutions based on their:

Capabilities
Features and functionalities
Past deployment record
Reputation

Check on the service provider's capabilities of after-sales support and required response time.

Make an informed decision based on tools like a comparison matrix.
6. Prioritize business initiatives
Not everything can start together, so set priorities for digitizing your business. Decide which issues take priority and evaluate their return on investment.
You can:
Determine the importance of digitizing each business initiative based on criticality and return on investment.
Rate them on cost, benefit, and risk scale.
Conduct estimated ROI calculations based on low cost and high benefit outcomes.
Take a decision based on the above.
7. Prepare an implementation roadmap
Create a strategic roadmap.
Your roadmap must outline the critical objectives and priorities, intermediate goals, a timeline with milestones and benchmarks, and key players and their roles.
Keep in mind that the roadmap should be flexible. It must be able to evolve with your business and changing priorities of the digital landscape.
Because a digital transformation initiative requires time and resources, it is important to prepare the roadmap by defining phases.
You can:
Prepare an actionable plan.
Create a detailed roadmap on phased implementation with its timeline.
8. Work on company culture and infrastructure
Implementing innovative technologies require skilled and dynamic people who are willing to transform the ideas into an actionable plan. This can be handled by outsourcing or hiring new talent in case you don't have a sufficient talent pool.
You can:
Establish a qualified leadership in charge of digital business transformation.
Help teams acquire necessary skills and expertise – this may require training, qualification upgrades, and hand-holding sessions.
Build a digital culture within the company by communicating the benefit of digital transformation to every employee, integrating them into the process. and taking their feedback.
9. Recommend and implement
Prepare a detailed business case for validation and approval by stakeholders. This detailed business case must have all revenue and cost-related metrics that will be affected by digitization.
It must have the calculations for implementation cost, improvement targets, and net business gain. A final agreement on implementation timelines makes you all set to roll out the plan.
Whether you are looking for a solution to achieve cost-saving in your supply chain, improve efficiency and operations of your manufacturing business, find new ways to optimize your business and production processes, reduce equipment downtime, or if you have any other specific requirement, you will need a robust digitization plan to make it a reality.
You cannot go wrong if you diligently follow the steps mentioned above.
Drive Successful Digital Transformation with Imaginovation
Digital technology is evolving at a rapid speed. And, companies that have already embarked on their digital transformation journeys are definitely much ahead. We can help your manufacturing business move ahead with a successful digital transformation.
If you need help in getting a customized digitization solution for your manufacturing business and increasing your competitive edge in the business, then get in touch with us.
We are an award-winning web and mobile app development agency with vast experience in crafting remarkable digital success stories for diverse companies. Let's talk.