You want to develop a mobile application for your business, but you are on a tight budget. So, you straight up open Google and find out some "cool" mobile app creators that let you develop a mobile app all by yourself.
Wow, isn't that cool? To be honest, if you're serious about taking your business to the next level, you might not want to go for these DIY app creators. Why?
In this guide, we'll be discussing why you shouldn't invest in DIY app builders.
Why Investing in DIY Mobile App Creators is a Bad Idea?
Remember, you're not in the business for a short term, so you need a mobile app that's robust enough to support your business for a very long time.
It's common knowledge that mobile application provides a broader audience for your startup or business. Well, it doesn't matter what your startup is, but the numbers matter. Mobile apps make your business accessible to a large number of potential consumers.
Your mobile app is going to be the face of your business. Therefore, it's crucial to take care of every little thing when it comes to building a mobile app for business.
One of the most common mistakes businesses make is building their app using a DIY mobile app builder. It might look like an affordable option to create an app, but there are several disadvantages of using an app creator. Click To Tweet
Below are some problems you might face while building and using a mobile application made by a DIY mobile app builder:
1. App Creators Are Not Really Budget-Friendly
Mobile app builder turns out to be an expensive option for the long run. Below are some examples of popular app creators and their pricing:
Swiftic: Costs you between $30 to $50 per month excluding the taxes and annual fees charged by app stores
Buildfire: The basic plan by Buildfire costs $59 per month, but this plan is good for creating basic apps. For a fully functional app, you might need to subscribe for higher plans that range from $149 to $400+ per month
Appypie: Appypie platform costs from $36 to $120 per month for single app development. If you're looking for an enterprise app, you might need to spend more than $999 per month
It is safe to assume that any mobile builders will cost you a few thousands of dollars every year. And, you will need to pay the fees for the entire duration your mobile app is live on these platforms. This duration can be five years or ten years and even more.
Eventually, the final cost will be much higher than hiring a mobile development company.
2. Limited Customizations
Generally, these app builders offer limited functionalities and styling options that won't be able to serve your business for a longer period of time.
With minimum customization options, you won't be able to develop your "dream" app. You might also need to adjust to the themes and options available on the app builder.
This is a significant limitation of using mobile app builders since we know how important every little detail of the app is to your business.
Limited customizations also mean that you're paying for too high for too little. You will need to update your app every now and then to keep up with the market trend. With app creators, you won't have the freedom to make styling changes to your app, unless the new styling options are made available.
3. No Support from the App Stores
According to the latest guidelines by Apple, any mobile application that's built using a commercialized template or a mobile app builder will be rejected by the system. This means that your business mobile app won't even make it to the Apple app store if it's created using app creators.
This is another major setback since your mobile app will not get exposure to the iOS platform. Since most of the app stores are now implementing strict guidelines, using app creators to build mobile apps has become quite risky.
Apple dominates the smartphone market in the US. If your app gets rejected by the Apple store, your business will lose several potential clients. This will directly affect your sales and ROI.
4. Lack of Uniqueness
Lack of uniqueness is one of the most common reasons why mobile apps fail.
Building your app with a DIY mobile app builder will naturally take away the uniqueness of your app. You don't want your mobile app to look exactly like hundreds of other apps out there. With limited customizations, there's not much you can do to make your app stand out from the crowd.
Uniqueness is also important when it comes to design and end-user experience. A unique design will make your consumers hooked to your application. An application made with the best UX/UI in mind can go miles to retain your customer base.
You must give your customers a reason to choose 'you' from the competitors. And, if your mobile app is not truly unique, why would anyone even bother to download it in the first place?
5. Device Incompatibility
Mobile apps built with DIY app creators often fail to support different mobile devices. For example, the app might run just fine on an Apple device, but it won't run smoothly on Android devices. This leads to poor user experience and eventually affect your business bottom line.
The primary goal of your mobile app is to reach out to a wide range of audiences. If your mobile app is not compatible with different smartphones, you might lose a chance to reach out to potential customers.
6. Security Issues
Since you are developing a mobile app on the pre-coded platform, the security of the data used on your app is always under question. It's seen that apps built on mobile app builders are more prone to security breaches than the ones that are customized and developed by professional developers.
Security issues in the mobile app can pose a significant setback to your business. It can make consumers not trust you with their details. On top of that, security issues can also get your app delisted from the app stores.
These were some of the many disadvantages of using a DIY mobile app builder to develop your mobile application.
Next, let's take a look at why outsourcing mobile app development is a smart option.
The Benefits of Hiring a Professional Mobile App Development Company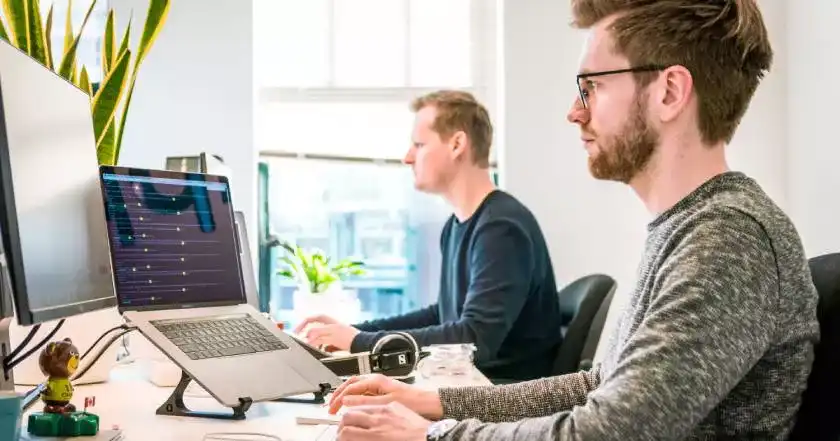 A mobile app development company has a team of professional developers, designers, project managers, quality analysts, etc. Each one of the team members plays a crucial role in the overall mobile app development lifecycle.
Below are the main advantages of hiring a professional mobile app development company over DIY app creators:
1. Technical Expertise
One of the major benefits of hiring a mobile app development agency is that their technical expertise.
App developers are handy with different development tools, programming languages, and frameworks such as React Native. Not only that, since they might already have worked on similar projects, they can also provide you improvement suggestions to solidify your app idea.
2. Focus on User Experience
User experience is crucial for the success of any mobile app. Professional teams use standard UI and UX design frameworks to make sure the app provides an excellent user experience.
App designers and developers know what exactly the end-users look for in an app. This expertise can help you get an app built with high-quality user experience.
3. Budget-Friendly
The mobile app creators tend to charge you for every little change that you want to make in your app. But, hiring an app development company will not burn a hole in your pocket.
Agencies have in-house experts that can take care of every little change you want to make during the development phase, and they bill only for the work delivered to you. Well, initially the cost of hiring a development agency may seem high, but it can turn out to be a cost-effective option in the long run.
4. Faster Results
Professional mobile app development companies, such as Imaginovation, use Agile development methodologies to deliver faster results.
The Agile approach enables clients to be involved in every project development stage. There's complete transparency and you can find out the progress on your project at any given time.
Agile development also allows for change, meaning there's a window for clients to constantly refine and reprioritize the project scope. In addition, the Agile methodology ensures a high level of cost predictability which can be an important factor for startups.
5. Long Term Partnership
Once you find a company reliable and trustworthy as per your needs and budget, you tend to develop a long term relationship with them. This comes with several perks like work completion on priority, best designs, several discounts, and others.
When you have long term partnerships with the development agency, you can depend on them for all your technical needs. Remember that with the ever-growing competition market, your business will need to grow as well. Having a long-term development partner can become really handy when your business needs a constant upgrade.
Turn Your Ideas into A Digital Reality with Imaginovation
Choosing an app development agency over DIY app creators is always the best option. If you've got an app idea for your business, we are here to help you.
We, at Imaginovation, are an award-winning team of mobile app developers. We develop innovative mobile apps for startups to Fortune 500 companies.
Our team of mobile app developers has vast experience building mobile apps for businesses of all sizes and industries. Over the years, we've helped many startups and enterprise businesses to increase their profits and take their business to the next level.
If you're looking for a reliable development partner for your mobile app project, get in touch with us.
Book A Consultation
Book a meeting with one of our team members and we will help you plan out your next steps. You can also use our calculator tool to receive a rough estimate on your project.