It's a brilliant time to run a fitness app-based business. Not only is this category witnessing tremendous growth, but also helping to shape our lives.
Fitness apps have been popular even before COVID-19, but now it has swelled more than ever. So, if you're planning to venture into fitness app development, you're in the right direction.
With advanced technologies such as AI, VR & AR, you can bundle your fitness app with smart features and enjoy a competitive edge.
Keep this blog handy to learn how to make a fitness app.
Fitness Apps Market Outlook for 2023 & Beyond
Fitness has gained a significant position in the lives of individuals all over the world. The massive growth of mobile fitness apps worldwide gives a clear picture of the future.
Here's a peek into the fitness apps market.
Experts project the revenue in the Fitness segment to reach US$22,537m in 2020.
Analysts expect revenue to show an annual growth rate (CAGR 2020-2024) of 0.6%, resulting in a projected market volume of US$23,127m by 2024.
Yet another study highlights the Global fitness app market size reaching over USD 15.96 billion by 2026
In 2019, in terms of revenue, the fitness and activity tracking segment dominated the market. Analysts expect North America to be the foremost contributor to the global fitness app industry during the forecast period (2015-2026).
The fitness industry has transformed in many ways. It's a brilliant idea if you are planning to build a workout app that can amplify fitness services positively.
Types of Fitness Apps You Can Develop
Fitness enthusiasts can choose from millions of fitness apps on the app stores.
If you plan to create a fitness app, it will help to study your niche customer pocket and build an app that they'd find invaluable.
1. High-intensity interval training (HIIT)
When it comes to fat burning, HIIT often trumps longer forms of exercise. The form of exercise involves periods of intense exercise alternated with short breaks.
HIIT app exercises are very effective, and with a certain level of training from a customer, it can work wonders. However, it isn't safe for a first-time user of the app.
A great HIIT app example is an Android fitness app Tabata HIIT Interval Timer.
2. Home Workout Apps
The home workout apps are a convenient solution during lockdowns!
If you are building a workout app, sync with fitness trackers to offer personalized health recommendations for users. A good example is — Fitness Buddy app.
3. Diet and nutrition app
Many users are diet-conscious, and apps can help them track the number of consumed calories. A great example is the Calorie Counter — My Fitness Pal app. It's a popular diet and nutrition app on the Google Play store.
4. Activity tracking app
Such apps work wonders with wearable devices. It can be a smartwatch or Fitbit. It can cover one specific sport, such as apps for cyclists, runners, or exercise trackers. A great example is the — FitNotes.
5. Meditation apps
The yoga and meditation apps have a high retention rate. Users can enjoy a range of sessions and choose a level or program as per choice. A brilliant example of such an app is the Daily Yoga app.
Must-Have Features of a Fitness App
Apps provide users with various functionalities. We've rounded up some must-have features that you can plan to include when making a fitness app for your business.
1. Sign-up and Profile Creation
As a health and fitness app entrepreneur, remember that app development requires a high level of personalization.
Your first steps — help users create a personal account. You can allow app users to save and maintain information even if they change gadgets. For your first-time users, it will enable them to create an account via social media accounts. You can let them sign up via Facebook, Twitter, Instagram, or via email.
Quick tip — users dislike the lengthy process, so keep the registration process as simple as possible.
example, a user profile for your app could include name, email id, mobile number, weight, height, and a profile photo. Typically, the registration process completes when the app sends a verification code to the provided email or mobile number.
2. Social Media Integration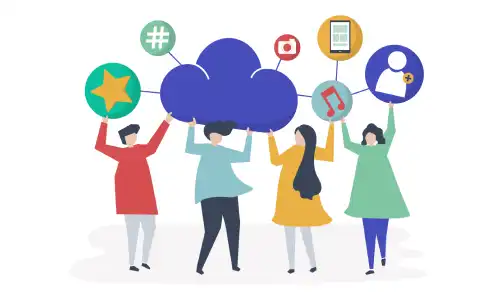 What happens after signing up? It could help to allow users to authorize registration through Facebook or other social media accounts.
The functionality helps the app combine social media functions. When users want to share any fitness-related activities online, the integration comes in handy.
It's not just millennials who want to publish their fitness results. Many users love to network with like-minded users and use social media news feed.
The feeds may include screenshots of routes they've completed, post photographs, or go live showing their workout routines.
3. Integration with Wearable and Non-wearable Devices
We live in an era where there are many wearables and non-wearables around. You have devices such as Alexa, Amazon Echo, Google Home, smartwatches, TVs, gym equipment, and more.
It helps to synchronize your fitness tracking app with wearable devices. The connection empowers users to track their fitness activities and workout routines. It also makes the app more user-friendly.
How can smart devices help?
The devices can detect and monitor vitals like blood pressure, pulse, and other physiological factors. Moreover, users can compare their progress reports by year, month, or week. The data can be beneficial for trainers who can make the routines more effective.
Here's a quick peek into types of wearables that are excellent for integration with fitness apps.
Smartwatches — don't just tell the time! They count steps, distance, heart rate, sleep, etc. What's more? Users can also see their social notifications on their wrists.
Activity trackers — can track various activities such as running, swimming, or cycling. They can also hint at the muscles that are exercised and the intensity of the exercise on the muscle.
Stress trackers — help track stress levels. Such trackers signal users to have a break and relax when their stress levels become alarming.
4. Geolocation
With this feature, users can build their walking routes, pathway directions and track their current position.
How?
By using maps from Google, Apple, and others, the app user can plan routes and track the current location. They can also record their workouts.
What's more?
Users can share map screenshots or fitness routes on social media. If you are looking for a great example, the recorded routes on Strava are a must-watch.
Image 3: Recording activity on Strava
5. Push Notifications
Here's a quick question—have you missed workouts? That's resounding, yes! When you incorporate push notifications, keeping the users' need to reach their fitness goals, you can help them maintain consistency.
Your app can help to keep missed workouts or skipped means in a diet plan at a minimum. Notifications are essential for the success of the fitness regime. They can help to motivate the users to burn calories or eat a scheduled meal at a specific time.
To make your app valuable, you can also incorporate inspirational quotes through push notifications.
6. Target Setting
It's significant to know what's essential for your users. It can help to set achievable goals.
Taking the primary variables, you can make sure that users continuously move ahead no matter what ups and downs they may face.
7. Workouts and Video Tutorials
Each fitness app may have its own workout. Users can choose from the ones that suit them the most, such as from different levels like beginner, intermediate, and advanced.
Another popular feature is to have video tutorials for people. The tutorials can show the best way to do a specific exercise.
Video tutorials can make a fitness app unique! Some good examples include users learning from well-explained yoga poses or regular workouts.
8. Settings
You can choose to add a lot of settings and make the app's menu comprehensive. Remember to make an app customizable, convenient — and the menu as user-friendly as possible.
9. In-App Purchase and Safe Payment Options
Picture this — users may want to buy vitamin supplements or healthy drinks. What if users could buy these through your app? Now, that'd be convenient!
You can incorporate an in-app feature where users can purchase fitness equipment, proteins, vitamin supplements, and more. With the in-app online store with a safe payment gateway integration, users benefit a lot.
How?
They don't need to go to an online store or log on to another app or website. All users' fitness needs can be curated just a click away. It also saves time and is a convenient option for a variety of fitness goods needs.
10. Barcode Scanner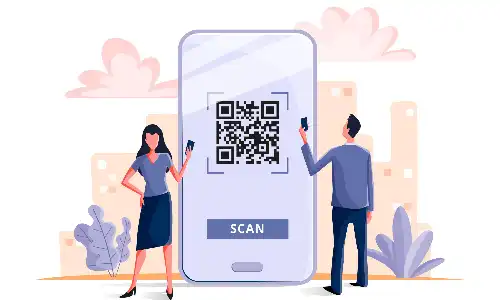 A barcode scanner is another helpful feature that can enable instant processing of logging in food items on a fitness app.
Users can scan the barcode with their smartphones and access all the related data like calories and ingredients. For example, the MyFitnesPal app has over four million barcodes recognized.
11. Water Tracking
With a hectic schedule, users may not be able to maintain water intake. Therefore, water tracking is an important feature that can help users with meeting the daily quota of 2-3 liters of water in a day.
The app can send reminders through push notifications to drink water and stay hydrated at different times of the day.
12. Food Logging and Tracking
For users who plan to track weight increase or reduce diet plan, this feature can be helpful. Users can track food intake easily — all they need to do is log and track. You can plan to simplify logging diet information by including a barcode. It will make your app more efficient.
What's more? It can help you organize and buy groceries and even suggest healthy food recipes.
13. Nutrition and Recipe Database
Picture this — users enjoying a healthy diet with recipes from your app.
When people get access to easy-to-cook meals from a comprehensive nutrition and recipe database feature, they feel relaxed and happy. The recipes can be sorted to help users create diet plans that meet their diet goals.
14. Activity Log
Logging activities for a fitness app is critical to its success.
The log feature can help users plan a productive workout regime. Users can use a calendar with a workout log or progress analytics to enhance their training.
15. Online Consultations
Imagine the repercussions of a wrong posture or inappropriately using gym equipment. Without a professional trainer, it's always possible to come across such situations.
You can add a feature for online consultation through video or text to avoid such scenarios. Users can also share their fitness tips, experiences, and activity progress through the feature.
How can you make a successful fitness app? The answer —research your potential customers.
The key to the success of any fitness app development is optimizing users' engagement and motivation. It's also great to keep looking at newer technology trends and change in users' habits to capture them into features for your fitness apps.
Trendy Features that Make Your Fitness App Stand Out
It's fun to add cool features to your fitness app. Not only does it add to the USP, but it also makes your app more valuable.
Here are some latest trends that you can think of incorporating.
1. Gamification and Motivation
One of the topmost concerns for fitness apps is user retention. People often abandon training, and it influences your app. It's a no-brainer that a workout regime needs effort.
So, it is a challenge and an opportunity for you. If you can make your app appealing and entertaining, it can help keep your users engaged and looking out for more.
What can you do?
Try to include facets in your fitness app that feels like a game. You can throw in rewards, scores, or points, which users can exchange it for something real and attractive. Here are some great examples.
Charity Miles is an app where users can help save lives by walking, running, or cycling. A user can choose one of 40 charities and donate the miles. That's a brilliant motivation. So far, the campaign has earned $2.5 million.
Leaderboards are yet another powerful feature that you can add. It helps to see your name at the top of the rankings. Fitness apps like Map My Run and Nike Run Club optimize users' competitive streak with leaderboards.
Zombies run is an excellent running app. Users are engaged in the stories of zombies and survivors. A user gets involved in listening and forgets about fatigue.
2. Virtual Reality
Are you wondering how to make it more fun for users to use fitness apps? Imagine if they could be a part of a video game.
Now, that's fun! How does it work? With VR, you can place users in another world that's more peaceful and exciting.
What can you do? Try to develop a fitness app with VR functionality. It can add new dimensions to your project, and users can enjoy the novel experience.
3. Data Visualizations
Visuals have a long way to go in fitness apps!
They help to communicate powerful messages. You can incorporate dashboards with graphs, charts, icons, and colors to help users process information 60,000 times faster than text.
What can you do?
You can work on powerful data visualizations that can motivate users to reach their fitness goals. When visualizations are attractive, they can prompt users to share their progress publicly.
4. Connections and Social Media
Connecting with like-minded people can serve as the inspiration and encouragement that users need to reach their goals. It works as a positive reinforcement.
What can you do? You can work on integrating with social media so users can share fitness-related activities online.
For example, the Runkeeper app offers a platform to engage with other members of the Runkeeper community. Such connections help to work together towards fitness goals.
How to Launch a Successful Fitness App in the Market?
Learning how to launch your fitness app is just as essential as making a bucket list of must-have features.
You can choose to partner with an expert app developer such as Imaginovation, who has a proven record of keeping users motivated and delivering results.
Here's a peek at some of Imaginovation's successful fitness app launches.
1. Strength Coach Pro
Strength Coach Pro is inspired by Excel and built for the web. The designed application is user-friendly and intuitive, helping store exercises, sets & reps, and more.
2. Strive
Strive is a fitness app that is the brainchild of Megan Ewoldsen. The app aimed at women between the ages of 25 and 40 was built by Imaginovation. It incorporates exciting features that take care of meal planning, complete workout routines based on users' goals.
There's nothing sweeter than client feedback. Here's what the client April Shine, a food blogger and nutritionist who hired Imaginovation, had to say, "They had to translate everything I wanted. I liked their design." She added, "They made it come to life, and it is pretty awesome.">
With such exciting apps, you, too, can work on curating your fitness app. Are you wondering where to begin? We've put together a comprehensive checklist that can help you with the step-by-step development of your fitness app.
Step-by-step development of a fitness app
Step 1. Research your users
Step 2. Choose a type of fitness app that best suits your users
Step 3. Study and analyze the fitness app market
Step 4. Work on SWOT analysis and competitive analysis
Step 5. Define and pick the features for MVP to build a fitness app
Step 6. Incorporate features into your app that help it to stand out
Step 7. Find a reliable technology partner/developer for your project
Step 8. Get a ballpark figure and a detailed estimate of your fitness app
Step 9. Set a budget
Step 10. Pick the monetization model (paid apps, in-app purchases, and free apps)
Step 11. Supervise the planning stage of your fitness app development
Step 12. Review the app's readiness by testing its demo at the end of every sprint
Step 13. Let your developers publish the app to the app store(s)
Step 14. Arrange to accept the source code of your application
Step 15. Track the metrics and create a promotion strategy
Step 16. Modernize your app periodically, adding new features
The final word — fitness app development can be challenging. However, when you work on curating the best features for your fitness app, you can bring more value to users for the long-term.
The result — you can outshine the competition, stand out, and succeed!
Develop A Brilliant Fitness App with Imaginovation
It can be a muscle-cramping task to develop a mind-blowing fitness app. To make your dream fitness app a digital reality, get in touch with us
We are an award-winning web and mobile app development company in Raleigh, with an incredible experience in curating remarkable digital success stories. Let's talk
Book A Consultation
Book a meeting with one of our team members and we will help you plan out your next steps. You can also use our calculator tool to receive a rough estimate on your project.