Virtual reality (VR) applications for real estate are creating a massive buzz and have transformed the real estate world.
Picture this – you want to buy a house for your family, so you start checking out different properties online. You feel you've found one that just looks like your dream home, and you and your wife both get excited to see the property. But, the problem is it's not feasible for both of you to visit the property in person anytime soon.
VR home tours have made this plot an authentic possibility. Yes, some progressive real-estate business owners are leveraging the power of VR to provide a 360-degree, real-time home tour to their customers.
[According to the PwC report, a new era of real estate investment begins in 2020 and beyond.] The report highlights that the global stock of institutional investment-grade real estate will expand to US$45.3 trillion in 2020, and may then grow further to US$69.0 trillion in 2030.
One area that shines in the real estate industry is Virtual Reality. VR, along with augmented reality (AR), offers incredible opportunities and value to clients. Real estate apps not only help business owners alleviate customer pain points but also help improve the overall customer experience.
If you're a real-estate business owner, then it's high time that you should modernize your business. How? in this guide, we will take a look at applications of VR in real estate business and the benefits of incorporating different VR elements in your real estate app.
Let's first look at some research findings on the use of technology in the real estate business.
The Need for VR in Real Estate—Research Findings
The need for cutting-edge technology, including VR, is aptly highlighted by David Marine, Senior Vice President of Marketing of Coldwell Banker Real Estate LLC.
"It's crucial that the real estate industry stays on the cutting edge of technology. From virtual reality to smart home tech, consumers are now interacting with these technologies in different capacities and expect the same when working with a real estate professional," says Mr. Marine.
Let's now look at some research findings.
According to a study by the National Association of Realtors – 44% of clients search for properties on the internet first. (Source)
A survey by Coldwell Banker Real Estate LLC, suggests VR is the next big thing in real estate. 77% of buyers are choosing to have VR tour instead of a physical visit, 68% are interested in employing VR to explore the look of the furniture, 84% prefer to watch video footage, and 62% would like to proceed with the real estate agent that works on VR technology. (Source)
According to the survey, 62% of Americans would be more likely to choose a real estate sales associate who offered VR house tour capabilities as a service for their clients. When it came to additional applications of VR, over two-thirds (68%) Americans stated that they would love the ability to utilize VR to see how their current furniture would fit in a prospective home. (Source)
The need for AR and VR in real estate is inevitable. Finally, it is up to the business decision-makers to connect technology to the business model to ensure that the VR offering is creating value for its customers. You must play early and take the lead in this technology.
Let's now look at some of the practical uses cases of VR in the real estate.
Practical Use Cases of Real Estate VR
VR is helping businesses in creating 360 virtual tours, which is significantly increasing the user engagement rate.
User experience is highly important when it comes to mobile apps. Ryan Urban, Co-founder and CEO of BounceX says – "If the [online] experience is better, people will convert."
The VR experience leveraged with technology can offer clients a personalized experience that wasn't even imaginable before.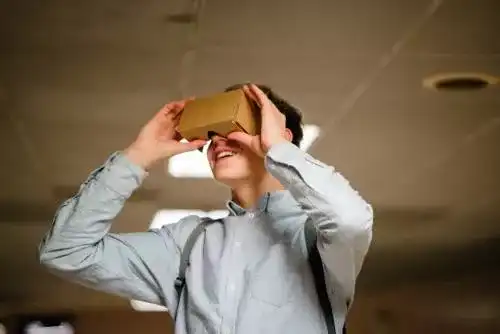 1. Virtual Tours
Virtually touring a property is a game-changer, especially when the customer is geographically distant.
Checking out a long-distance property would be comfortable even if you stay in Boston, and the property is in Charlotte with virtual tours in 360-video format. So, how does a virtual tour work? When it comes to 3D virtual tours, they are typically classified under two types—guided visits and interactive visits.
Guided visits resonate with traditional promotional videos. They are usually entirely virtual or 360-degree videos.
The videos are simple to make, as they are typically for existing properties. You'd need a panoramic camera to capture the property in a video format with no programming required. Clients can use a simple device such as Google Cardboard to optimize the immersive experience.
Interactive visits, on the other hand, allow customers to choose to navigate the property by clicking on exclusively curated hotspots. Though interactive virtual tours are more complicated, they are more efficient in showcasing properties.
2. Virtual Staging
Let's take a quick detour to draw an analogy from a retail study, which highlighted that the presence of mannequins enhanced purchase intentions. The results were based on experiments whose dependent measures included surveys and eye-tracking data.
Similarly, in real estate, the presence of furniture or chic décor could increase the chances of selling apartments.
To enhance properties, real estate agencies collaborate with interior designers—the process is called staging. Such staged houses take 80% less time to sell, and when it comes to costs, virtual staging isn't too dear.
3. Engineering Visualization
Many customers may be good at envisioning a potential neighborhood or a concerned property—even when it isn't built.
However, users prefer an immersive experience when it comes to envisioning engineering. Specialists build three-dimensional models to demonstrate the property, and such full-scale models of the yet-to-be-constructed properties help users look both outside and inside the property.
4. Virtual Instructions for Tenants
When you resolve a customer issue quickly, it is logical it leads to higher satisfaction, which endorses the brand image.
It is the same grounds with tenants' queries—landlords and real estate agents need to communicate with their tenants frequently. VR technology can help landlords communicate efficiently with their tenants.
So, tenants can easily understand how utility services work through virtual instructions, leading to quicker resolutions and a pleasant stay.
5. Virtual Commerce
Commerce is at the core of VR. With 3D home tours and staging, clients are already optimizing the benefits.
Consider, when navigating a property, a client wants to change the interiors; it would be easy to make the changes according to their preferences during the 3D tours. During the virtual tour, clients can plan on buying curtains, other decors, and furniture by visiting a virtual store.
Let's now look at some of the benefits of VR in real estate.
Benefits of VR in Real Estate
Here's a quick snapshot of the benefits you can optimize with VR in real estate.
Table 1. Snapshot of Benefits of VR in Real Estate
\*\*Benefits for Buyers\*\*
\*\*Benefits for Sellers\*\*
\*\*Benefit\*\*
\*\*Understanding the Benefit\*\*
\*\*Benefit\*\*
\*\*Understanding the Benefit\*\*
\*\*Saves Time\*\*
With virtual tours, customers can view long-distance properties, saving time.
\*\*Increases Sales Efficiency and Reduces Sales Cycle Time\*\*
With immersive VR experience, the prospective property converts are quicker than traditional deals.
\*\*Builds Emotional Connections\*\*
Virtual tours facilitate an emotional connection, as it is more engaging than conventional 2D images.
\*\*Wider Geographic Reach\*\*
With AR and VR sellers and agents can pitch properties higher than physical walkthroughs, closing more significant deals over more comprehensive geography.
\*\*Offers Global Reach\*\*
Realtors can work more productively with VR, as it implies reaching out to more clients, including long-distance buyers and processing more inquiries.
\*\*Immersive Marketing Channel\*\*
With immersive experience, potential customers feel right at home, giving them a feel of every minute detail.
\*\*Saves Money\*\*
With VR, long-distance customers can navigate a property in 360-degree videos, saving money.
\*\*Increase Customer Confidence\*\*
With VR, customers get that extra boost of confidence they need to continue down the sales cycle.
\*\*Instant Sense of Ownership\*\*
Virtual tours help establish a sense of personal connection and ownership.
\*\*Boost Your Profile\*\*
With 360 and virtual tours, the chances are that it will boost your profile and also serve as a vital market tool.
With myriad benefits, the real estate industry still has its challenges, let's look at a few.
Industry Challenges
It is prudent to look at some of the challenges in the real estate industry, which will facilitate working on their resolutions to optimize the benefits.
Security and Privacy: Real estate companies deal with data that is sensitive. The data is inclusive of the confidential employee, tenant, and vendor information. It is imperative to protect the information while preventing access to interconnected tenant and vendor systems.
Resistance to technology: The resistance to technology adoption is a critical challenge, and it is essential to work around the strength to gain maximum benefit from enterprise solutions.
Cost: To be more technologically adept, real estate businesses need to invest in technology. Real estate companies would need to work around costs to adopt cutting edge technology.
Amid existing industry challenges, innovations are sky-rocketing in the real estate industry. New platforms are seeking to integrate the new VR technologies, allowing more immersive experiences. Let's take a look at modern VR platforms that are leveraged through the latest technologies such as blockchain, making virtual property ownership, and trade more secure.
Modern Technologies and Virtual Real Estate
What is Virtual Real Estate (VRE)?
A plot of land, maybe a couple of thousand square feet that you can set foot on—a physical real estate can earn you passive income. Now, you can also generate revenue from a virtual real estate (VRE).
VRE is a plot of virtual land where you can't even visit it. Now, VRE can function like real-world properties because of the various possible applications of VR, and such properties can be sold, leased, and used for virtual activities. Blockchain could facilitate in formalizing the market for such virtual properties. Let's take an example: Genesis City is a plot of virtual land that is nearly the size of Washington, D.C., where investors can buy slices of the property for obscene amounts of money.
VRE and Emerging Technologies
How is virtual land sale possible? With today's modern VR platforms that leverage emerging technologies such as blockchain, make virtual property ownership and trade more secure. Virtual reality platform Decentraland behind Genesis City, for example, uses blockchain to identify and designate ownership of land in its virtual world.
Virtual worlds seek to capitalize on these developments. Virtual reality platform Decentraland, recently raised $24M ICO in less than 35 seconds, allowing decentralized apps to be built on top of its technology.
A central authority does not control Decentraland. Developers and users can enjoy a more open platform to experience VR. The decentralized platform enables users to monetize virtual property beyond what is typically allowed by the terms of services of most virtual worlds.
Is this the road ahead for VR? Given the current speed of progress in VR, fascinating possibilities await as the technology and market continue to evolve. Let's now look at the best real estate apps that make life easy while looking for a property.
The Best Real Estate Apps
Real estate apps make life easy when it comes to scouring through volumes of house listings. So whether you're looking for a house or an investment property, your first go-to would be a real estate app. Let's take a look at the best real estate apps trending in the market today.
1. Zillow
Zillow is one of the best real estate apps—it is the most comprehensive and customizable app. You can bookmark the Zillow website or download the app to your smartphone. The app's Zestimate tool offers features to look up the rent of any property in the United States.
The search tools facilitate search options, including property type, geographic location, foreclosure states, features such as the number of beds, and baths. The app also makes it easy to track down a local lender who can pre-approve a mortgage for you.
2. RedFin
If you're looking for a home, then one of the go-to apps on your list should be RedFin. The features such as foreclosure notifier, short sales alerts, and for-sale-by-owner listing updates, are not only exciting but also holistic.
The app gives an insight to what homes are like in a particular area, and what you will get for your money. When it comes to fees, RedFin charges lower than traditional agents.
3. LoopNet
LoopNet is another popular go-to app, which has intensive traffic, listings, and geographic coverage. The app has tons of search filters, and extensive photos, financial details, street views, and more.
You can also opt for its watch list feature, which enables you to mark properties that you like and get notified when anything about that property changes.
4. Realtor.com
Realtor.com is the official portal for the National Association of Realtors. The site is simple to connect with local agents, and realtors have a connection with multiple listing systems (MLS) that provide data feed used by most sites on the list.
5. HomeSnap
The HomeSnap app has features that are useful for home buyers and real estate agents. The app has a typical MLS-search facility, but what is exciting is its messaging and sharing features, which allows spouses and partners to navigate a property together.
With a multitude of real estate apps, it is best to choose the one that suits your business needs. Research the features, and then try the app that gives you the most in terms of efficiency and listings.
Modernize Your Real Estate Business with Imaginovation
It's time you take the lead and start modernizing your real estate business by incorporating emerging technologies such as Virtual Reality, Augmented Reality, and Artificial Intelligence.
We are an award-winning web and mobile app development company with a vast experience of building successful applications for real estate businesses. We know what makes an incredible real estate app. If you want to take your real estate business to the next level, get in touch with us.