Blockchain, crypto, bitcoins, and ether are some of the buzzwords we keep hearing about nowadays. Interestingly, the hype around crypto coin price fluctuations and newly minted millionaires are real.
From an alternative investment option, cryptocurrencies have become a viable option in people's investment portfolios.
As more people invest in these in-demand cryptocurrencies to get high returns, many innovative crypto apps are coming up.
Do you want to enter the market with a customized crypto app? Yes?
Remember that many new cryptocurrency projects fail to see the light of day, with the majority not even crossing their first year. According to a study, a mere 8% of the 86,000 crypto projects listed on GitHub have managed to succeed.
That's why hiring the right development company to implement blockchain technology and create a crypto app should be done carefully.
Here are the top ten factors you must consider while choosing the right crypto development company.
Cryptocurrency Market Overview
You must first understand what you are getting into before investing in crypto. Here are some must-know cryptocurrency market stats and facts for you.
A steady rise in the crypto market size at a CAGR of 12.8 percent from 2021 to 2030.
In 2020, the value of the global cryptocurrency market size was 1.49 billion USD. This figure is expected to reach 4.94 billion USD by 2030.
Two major factors contributed to driving the crypto market's steady growth. They are
Rise of distributed ledger technology
Thriving digital investments
By the 4th quarter of 2021, the value of crypto-assets in circulation nearly touched 3 trillion USD.
2021 was incredibly successful in the crypto world. The year saw phenomenal growth closing at nearly 3 trillion USD.
10 percent of the global GDP will soon be stored on blockchain technology.
As per a World Economic Forum report, by 2027, 10 percent of the global GDP will be blockchain-based.
From just a small number of cryptocurrencies in 2013, this year (2022) is seeing a steep rise in the number of cryptocurrencies.
As of 2022, there are approximately 10,000 plus different cryptocurrencies across the world.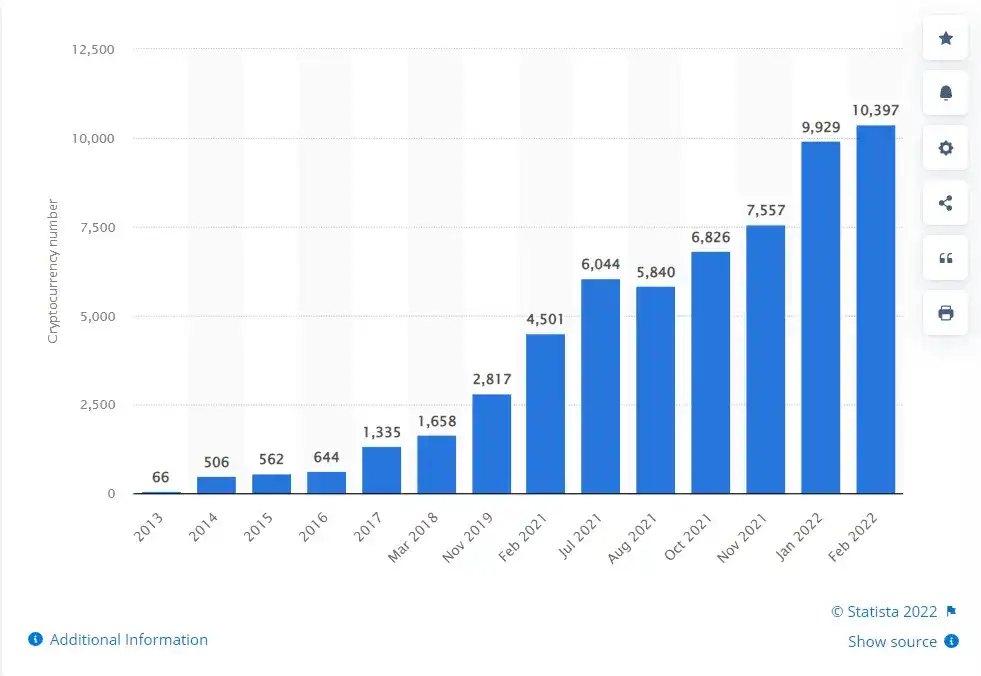 Some restraining factors of crypto growth are worth knowing.
There are increasing cases of misuse of cryptocurrencies for illegal activities such as money laundering or tax evasion. Moreover, security concerns and cyber-attacks are other factors restraining the growth of this sector.
Crypto market segmentation
The cryptocurrency market is segmented based on end-user, offering, type, process, and region.
Based on end use, it is bifurcated into trading, e-commerce/retail, payment, and remittance. Trading so far captures the biggest market share. Here's what this segment looks like in terms of data analysis by 2020.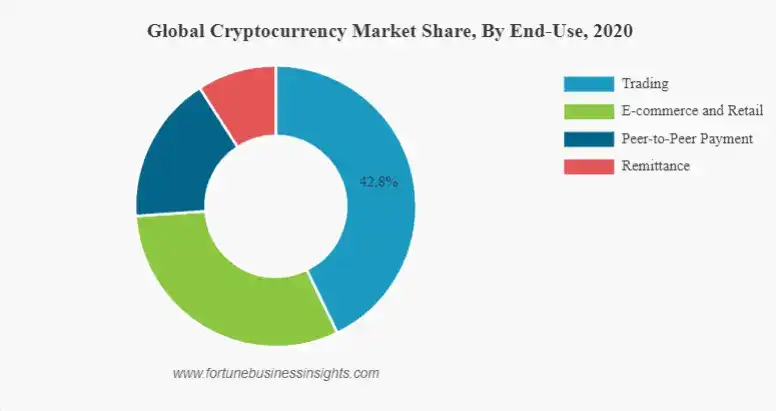 Based on the type, the crypto market is divided into Bitcoin, Ether, Ripple, and others. The process is all about mining or transactions.
Extreme volatility
Crypto markets are highly volatile. Simply put, they are 'high-risk' and 'high-reward' markets because of the constant fluctuations.
Take the example of Bitcoin - its value dropped almost 30 percent in a single day in May 2021. On the other hand, last year, Matic provided a whopping 4,300 percent returns to its investors. Besides, the value of a few other cryptocurrencies jumped to as much as 50,000 percent in just a year.
The cryptocurrency market is expected to grow because of better data transparency and security. However, there is enormous competition, and you must watch out for innovative strategic initiatives to build your market position.
10 Factors to Consider When Choosing a Crypto Development Company
Introducing a crypto app to your business presents strong incentives but risks and challenges such as chances of illegal transactions, monetary loss, etc. That's why before you start engaging with any crypto development company, make sure you have -
A clear understanding of the reasons why you are building your crypto app.
A list of factors you should consider in selecting the right crypto app development company.
So it is all the more critical for you to verify and ensure the crypto developers are aptly experienced & skilled, and adept with coding and testing.
It would be best if you considered the factors mentioned below to choose the right crypto app development company.
1. Expertise in Crypto Application Development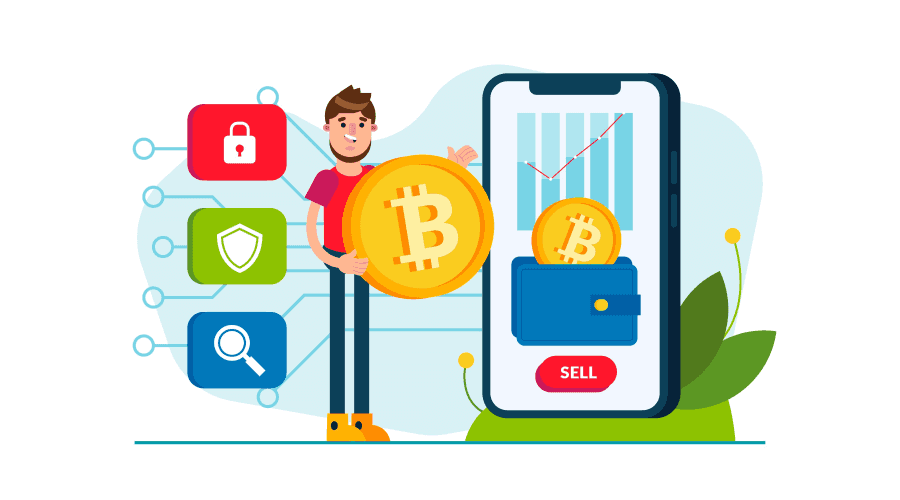 The crypto development company you choose should be experienced, trustworthy, and dependable.
For that, one of the essential factors is the skill sets of the app development company you want to engage with. Ensure that the company is proficient in all the necessary technologies like Blockchain, Cryptography, Data structures, At least one high-level programming language, Artificial Intelligence, Machine Learning, web development, and data mining.
Moreover, since the finance sector is evolving rapidly, the crypto development company should be adept with the current financial situation, especially about crypto coins and how they work.
This company should be able to understand the business outcome, explore data flows and build direct connections between various trading partners and customers across the ecosystem.
Also Read: A Complete Guide to Crypto Exchange App Development in 2022
2. Proven Track Record in The Field of Crypto
When selecting a crypto app development company, look for someone with a proven track record.
In these times, you must ensure that you're working with someone that has been in the business for at least a few years and has taken up impressive crypto projects.
Check for how long the company's developers are in the business of creating financial apps, especially blockchain-based ones. Simply put, someone with ten years of experience will likely be more knowledgeable about such apps than someone who has only been in this business for a few years.
Find out how many crypto projects this company has successfully managed. The company should be able to provide you with references from their clients. Watch out for the reviews and feedback from their clients.
Reviews and testimonials give you some insight into how this company communicates with its clients. Find out if the company answers questions promptly and troubleshoot bugs and other issues when needed.
Ask them where they intend to store app data and who will have custody of the private key. Please find out more about their data management practices.
You can learn about them just by going through their clients' online comments/reviews and understanding whether you can rely on them to keep your project deadlines.
3. Dedicated Team For Your Project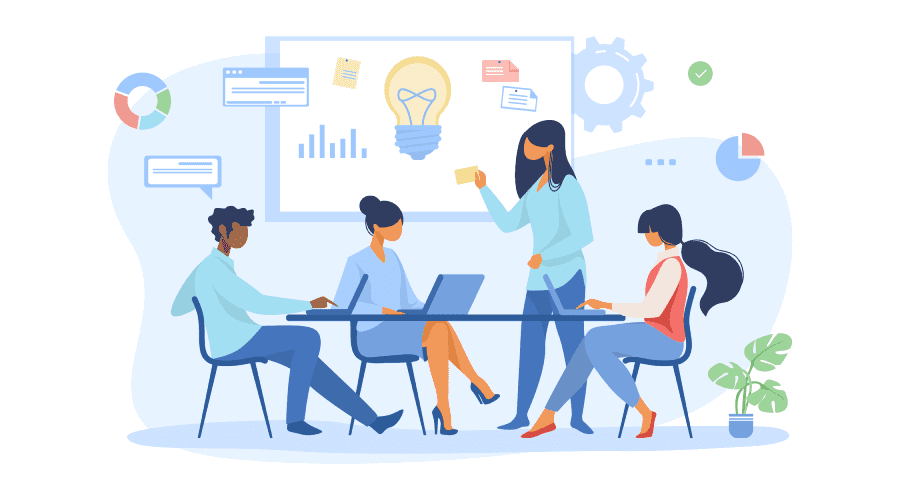 Would you like to work with a team of developers handling multiple projects along with your crypto project?
It'll be frustrating to remind them about your deadlines and goals every now and then. Moreover, it will lead to delays in delivery and an application full of bugs and other issues. To avoid this kind of situation, go for someone who provides you with a dedicated team.
Ensure this company has a full-stack dedicated team with blockchain developers, testers, UI/UX designers, finance experts, and experienced quality analysts.
At some stage, you might also need expert advice and outlook to better shape your project.
However, not all companies providing blockchain services have the team to offer consultation to clients. Make sure to opt for a company that provides consultation services.
4. Backup Mechanism
This is one of the essential factors that'll help you choose the right crypto developer. Find out if there is a robust process in place to rescue your digital assets if there is any failure.
Such a backup system can efficiently keep the crypto assets safe in your custody. Mnemonic phrases could be introduced into your application to do this.
I know you want to know more about these mnemonic phrases. So these mnemonic phrases are some 12, 18, or 24-word phrases that are linked with the private keys. Since it's not easy to memorize the private key, mnemonic phrases come in handy as they are easy to remember.
5. Thorough Understanding of the Industry and Its Dynamics
Analyze if the development company has an in-depth knowledge of the crypto industry and its specifics.
Moreover, they must keep themselves updated and aware of the sector's various trends. This will help them identify potential areas of improvement in the app.
In addition, the company should be experienced enough to build future-ready software that can be tweaked based on the changing scenarios, also keeping your unique business goals in consideration. Finally, evaluate how actively this company follows the latest crypto trends.
Assess if they understand the specifics of your app's functions, such as Crypto coin development, mining, wallet creation, etc.
6. Security Features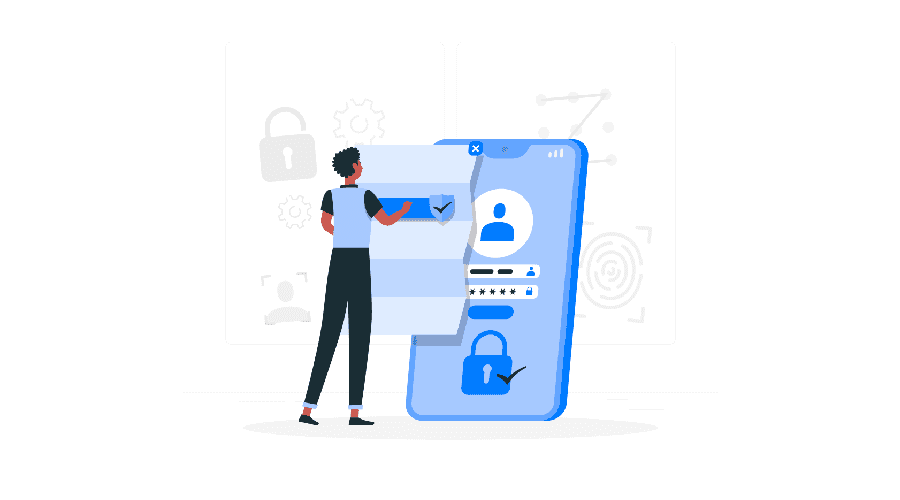 Thefts, hacks, and other digital attacks can make crypto investors and traders dubious about the security of your app. Moreover, users prefer crypto apps with the least security concerns. That's why security is a prominent feature in crypto solutions.
Learn about the various security features that the company will integrate into your application, such as - Biometric verification, Two-factor authentication, Password-protected access, Registry lock, and many others.
These features must be able to safeguard against all potential risks.
Moreover, firewalls and other intrusion detection systems are some of the basic requirements for fintech solution companies. On top of that, check if they offer you a disaster recovery plan to cover financial data breaches.
Keep an eye on what your competitors are doing as far as new security features are concerned.
7. Developing Apps with Multi-platform Compatibility
The crypto solution that you will be building must be compatible with various devices.
Your developer should have the expertise to build iOS, Android, Windows, and Linux compatibility solutions.
The idea is to build an app that supports the maximum user base. Learn if the app being built will be compatible with other platforms and devices.
8. Follows an Agile Development Model
There was a time when most software projects were developed on a fixed model basis. At that time, the clients used to have specific requirements that could be executed with a prototyping process.
However, today, you may need a partner following agile development.
Agile blockchain software development services allow your app to evolve throughout a time-bound process. As a result, this kind of software will not be delivered all at once. Instead, it will be built step-by-step, reviewed, and tested thoroughly at every step.
9. Compliance With Necessary Regulations & Standards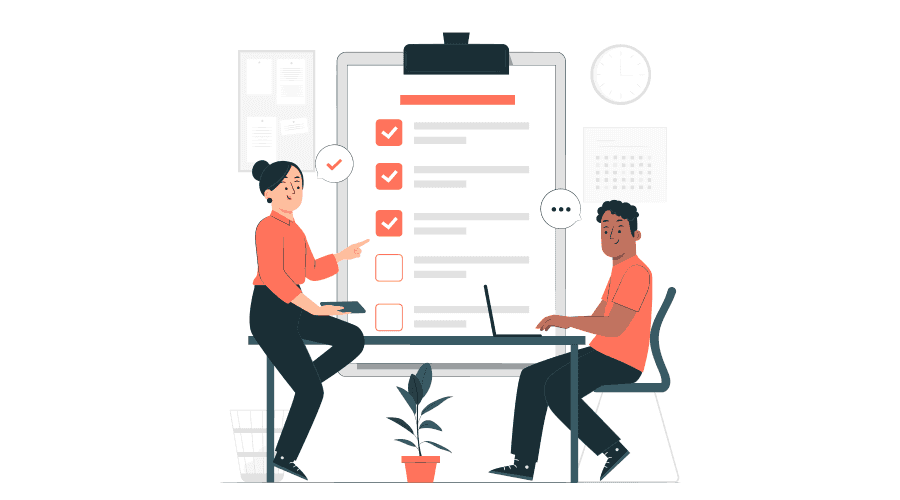 As money laundering and other financial fraud cases are on the rise, regulators have upped the bar of regulatory compliance standards.
Therefore, you must verify that the crypto development company you are considering is adept with the latest compliance and regulatory standards.
It is advisable to look for someone with a track record of building compliant financial solutions in the past.
In addition, this software company should have expert know-how in financial security methods, like encryption and authentication processes, to protect financial transactions and other private and critical data.
10. Post-sales Service and Maintenance
Since the software development company is expected to follow a futuristic approach, it becomes necessary that they provide post-sales maintenance service with attention to detail.
All software needs proper maintenance and patches to keep it.
After-sales support in maintaining the developed software is the key to moving forward.
Build a Powerful Crypto App with Imaginovation
The Imaginovation team has expertise in building cryptocurrency apps.
If you need to build a user-friendly and innovative crypto solution for your business, contact us at Imaginovation.
We will make things easy for you and build a powerful crypto solution for you.
Imaginovation is an award-winning web and mobile app development company with vast experience crafting remarkable digital success stories for diverse companies.
Let's talk.