The enterprise digital transformation revolution is sweeping the business world, but enterprises still consider it tricky.
Despite bigger budgets and more resources, many traditional companies need help to adapt successfully to digital transformation.
But the results of digital transformation are worth the effort.
So, what does it take to succeed in enterprise digital transformation?
A lot, especially if you are a C-suite leader and are leading the transformation for your organization.
You need to understand the step-by-step process for you and your team to succeed.
In this blog, we'll lay out the basics of enterprise digital transformation.
Let's begin by first talking about what exactly enterprise digital transformation means.
What is Enterprise Digital Transformation?
Enterprise digital transformation is the integration of a company's digital tools, technologies, and solutions so that they work together seamlessly and improve business results.
These technologies help companies of all types and sizes improve and optimize how they manage their day-to-day business operations.
But is digital transformation only about using technology to deliver operational optimization?
No. It also enhances customers' and employees' experience.
In today's world of high customer expectations and evolving working styles, an enterprise digital transformation is no longer an option; it has become a necessity.
Simply speaking, enterprise digital transformation is the step that officially takes a company into the digital age.
Let's take a look at the key stats related to the adoption of digital transformation.
By 2022, the amount of money companies worldwide will spend on digital transformation is projected to reach about 1.6 trillion USD. By 2026, global digital transformation spending is expected to hit 3.4 trillion USD. (Source)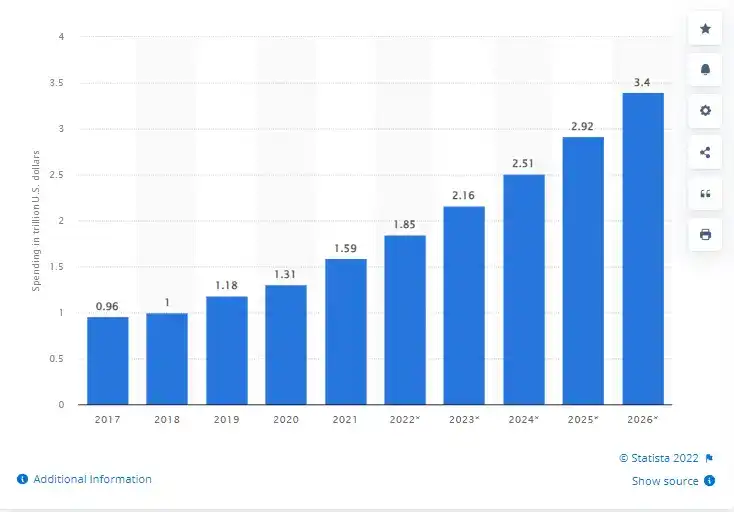 By 2023, IDC predicts that 53 percent of all information and communication technology investments will be in digital transformation. (Source)
A mid-year survey by McKinsey found that companies that make significant investments in improving technological capabilities, talent, leadership, as well as resources reap the maximum benefits of digital transformation. (Source)
During a survey, 51 percent of executives identified growth opportunities in new markets as a critical driver of digital transformation within their organizations. (Source)
Key Benefits of Enterprise Digital Transformation
Digital transformation alters and enhances the way a company does business. The systems, processes, workflow, and company culture are part of this transformation journey.
Without a doubt, an effective digital transformation brings about immense benefits to an organization.
Here's a list of the potential benefits that tell you why you should care about digital transformation.
1. Enhanced business process efficiency
With a digital business process, your enterprise can have increased efficiency. You can access new technologies, such as ML, AI, 5G, MR, Cloud, etc., that can quickly process data and provide better insights.
This, in turn, can ensure you deliver efficient customer service.
2. Empower your team
To support enterprise digital transformation, train your employees and enhance their skills. This will help them feel motivated to improve their performance.
By offering your team digital experiences, you can provide them ample opportunities to expand their capabilities. Moreover, when your team is well-equipped digitally, it will positively impact client satisfaction levels.
Digital transformation, thus, allows teams to collaborate beyond the confines of their office spaces and geographical locations.
3. Unlocking data-driven customer insights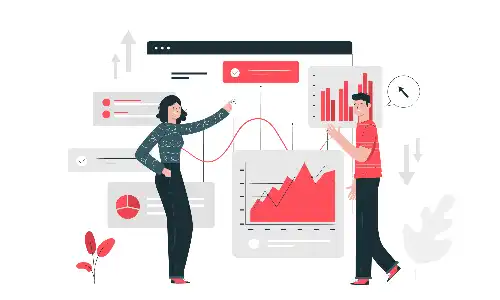 No matter what business you are in, data plays a vital role in making better business decisions. You need both structured data, such as customer contact information, and unstructured data, such as social media metrics, to drive business growth and market relevance.
Digital transformation helps you harness the right data at the right time and unlock customer insights, requirements, and desires. This, in turn, enables you to formulate a well-crafted business strategy.
Once you have the information you need, you'll be able to deliver enhanced customer-centric services that increase customer loyalty and retention.
4. Heightened productivity
Digital transformation helps you gather the right tech tools to work together, streamline workflow and improve productivity.
You can reduce operational costs and manual work and also improve service delivery by automating business processes.
Automation also leads to fewer mistakes, making your business services more efficient.
5. Effective resource management
Digital transformation is not specific to any department; it encompasses all business functions.
Digital transformation consolidates your data and resources into a business-wide suite of tools. This reduces vendor overlap and streamlines your business processes.
By 2020, it was noted that the average number of applications used by enterprises was close to 900.
In such a scenario, digital transformation integrates your software, databases, and applications into a central repository for business intelligence. It also equips teams across departments with easy-to-use tech tools to get jobs done efficiently.
6. Increased revenue
When you improve the efficiency of your business processes with digital transformation, it ultimately leads to greater profitability.
According to a Gartner report, more than 50 percent of CEOs claimed digital improvements in their companies had increased their revenue.
7. Enhanced customer experience
With infinite choices, low prices, and the fastest delivery possible, the modern customer expects a lot from businesses.
Digital transformation helps you meet your customers' expectations.
It brings a new level of efficiency to your team, facilitating them to provide intuitive customer experiences.
8. Better scalability
Digital transformation help businesses grow more quickly.
By adopting this strategy, you can increase your speed-to-market while continuously improving your products and services.
Step-by-Step Process to Lead Successful Enterprise Digital Transformation
The digital transformation process is never-ending. As new technologies emerge, customer expectations evolve, and competitors change their strategies, you must continue to innovate and adapt in order to stay ahead of the curve.
Then, how should you plan your digital transformation right?
Follow these steps to turn your enterprise into a digital powerhouse successfully.
1. Identify and align transformation objectives with business goals
Don't just transform for the sake of transformation. Make sure your change has a purpose.
Simply speaking, digital transformation isn't about the tech but the business.
Aligning digital transformation objectives with your business goals is essential. Technology leaders don't just need to know the enterprise's problem; they must also align their transformation goals with the business's outcome.
Unlike other types of organizational change, digital transformation needs leaders who clearly understand the business purpose.
Unless you do that, you'll find teams and departments working in their own siloed "bubble," completely unaware of the business objectives.
2. Ensure executive buy-in
Getting the executive buy-in from the beginning is crucial.
Don't worry about competing with other projects for resources and budget; make sure your project has an executive sponsor - the CEO, CTO, or CIO, who can advocate for you.
When CEOs and other C-suite executives are directly involved in articulating and strategizing the digital transformation implementation, the company succeeds in realizing the full potential of the technology and does not make any costly mistakes.
With executive buy-in, the digital transformation team will be able to achieve its goals. And soon, the other employees will lose interest because it appears senior management is neither interested nor committed.
3. Bringing IT and business teams together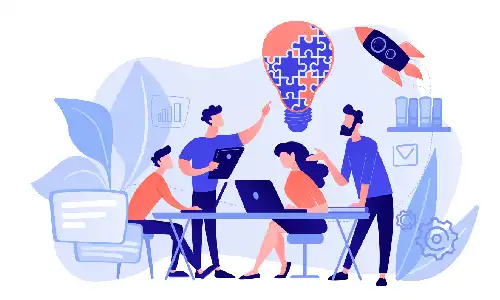 Till some time back, IT teams were considered fix-it shops. They'd get called in when the network went down or the printer wasn't working.
But for a digital transformation project to succeed, companies ensure their IT and business execs are on the same page from day one.
Moreover, with a team with roles and skills diversity, you will successfully produce more innovative solutions and achieve tremendous success.
4. Process definition
Digital transformation can only succeed if it integrates with your daily workflows. Therefore, you need to define your processes so that employee productivity increases.
Find the answer to the following questions:
Can you train your sales team to be more effective by implementing a CRM?
How can you make accounting invoices easier to prioritize?
And how about automating repetitive processes so employees can focus on value-adding tasks?
The trick is to begin with one process, deploy the technology, and measure the results. Then, if this works, move on to the next process and repeat the same procedure.
5. Select the appropriate technologies
Now you need to think of the tools to make your goals happen.
Be sure to select cutting-edge technology that will support your business transformation. On the other hand, don't get distracted by shiny new tools and solutions that may not be a good fit for your endeavor.
For example, some companies say that data analytics is their number one transformation technology. Few other organizations believe that the Internet of Things (IoT) and artificial intelligence/machine learning (AI/ML) are their top priority for driving change. Cloud migration is equally essential.
If you have any doubts or challenges with this step, seek out third-party specialists who can help you find the best tools for achieving your enterprise's goals.
6. Identify and establish a strategic partnership
It's hard to imagine that any company can execute a transformation agenda all alone. It's even harder to imagine that they'd get it right if they did!
The only way is to partner with other businesses and organizations.
Forming strategic partnerships is critical to successful digital transformation.
Whether you're building new skills or acquiring new resources (or both), you need to know what works for other enterprises. Besides, you can't make everything yourself, and you don't have to. That's why you need to build strategic relationships.
Go with partners with a proven track record of success and who bring value.
7. Make a phased deployment plan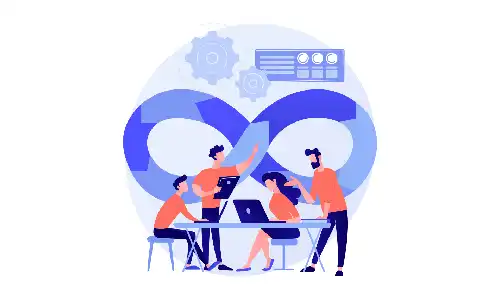 A phased deployment approach is an excellent way to go when you want to transform your business but cause less disruption.
This approach builds temporary interfaces between the old and new systems and then tests individual parts of the project as they go live.
It might take longer, but it gives your digital transformation project more flexibility in the long run.
8. Build a change management strategy
A change management plan aims to provide a systematic approach for introducing digital transformation into your organization. It helps you make changes with the least disruption and maximum benefits.
By creating a change management plan and providing your employees with training, you can ensure they are involved in digital transformation.
While planning a change initiative such as digital transformation, think about what changes you want to make, how to get your workforce on board with those changes, and how to overcome any resistance from your employees.
9. Build a staff training plan
If your employees do not adapt to the change, all of your transformation efforts will be in vain.
Poorly trained workers inevitably underperform in their roles, thus affecting the organization as a whole. The spillover effect, in this case, can be devastating.
Therefore, a well-structured employee training program will ensure that the enterprise embraces the new technologies and becomes more efficient.
Create a hybrid training plan that suits everyone. Do it by helping your users master the new technology quickly while giving stakeholders detailed data to measure digital adoption.
Associate With Imaginovation For Successful Digital Transformation
Transforming your business is like building a bridge that requires dedication, strategy, and research.
The same applies to enterprise digital transformation, which is more like a marathon than a sprint. It takes a big shift in thinking to run digital transformation effectively.
Moreover, since no two organizations are the same, there can't be a one-size-fits-all solution for a successful digital transformation. Instead, successful transformations must be customized to fit your organization's needs and culture.
We at Imaginovation do precisely that! We help you achieve the business transformation outcome you desire
Drop us a line for consultation and get in touch with us. We can help you digitize better.
Imaginovation is an award-winning web and mobile app development agency with vast experience crafting remarkable digital success stories for diverse companies. Let's talk.
Book A Consultation
Book a meeting with one of our team members and we will help you plan out your next steps. You can also use our calculator tool to receive a rough estimate on your project.