How do you incentivize your prospects and users to continue using and coming back to your SaaS product?
That's a difficult question indeed.
But what if you could incorporate game design elements into your SaaS product and make the user experience fun and rewarding?
This is where gamification comes in.
This post will help you understand Gamification in SaaS, but more importantly, it'll explain how to incorporate gamification into your product design and turn it into a highly engaging product.
This post will also talk about why gamification is getting so much attention. What's behind the hype? And it will take up some examples to illustrate the possibilities of adding game elements to your product design.
Let's go!
Gamification in SaaS: An Overview
Gamification turns mundane tasks into exciting and reward-driven games. It is a term that refers to adding game-like elements to a non-game situation to boost user engagement and retention.
Typically, this involves using rewards, points, and leaderboards to encourage user competition and motivation.
So, gamification in SaaS is all about adding such game design elements to make your product more fun and thus encourage people to do what you want them to do.
Thus, at its core, SaaS gamification is a way to keep users engaged by drawing their attention to gamified app elements and helping them have a fun experience.
Besides, the allure of competition, winning, and leveling up ensures that everyone participates.
What gamification does is - It turns the most boring tasks into a game to increase users' engagement level and sense of accomplishment, enabling companies to take a step closer to their business goals.
Why is It Important to Gamify SaaS?
Gamification has become an effective strategy for a SaaS business.
And why not?
All the research proves that gamifying your Saas product keeps your users engaged and coming back.
Because when you add a game-like structure to your product, you encourage your users to perform valuable tasks and create a sense of purpose so that they stay engaged.
It also motivates them to complete actions and brings them back to your product.
After all, user retention is an essential metric for SaaS products.
Here's why it is essential to gamify SaaS.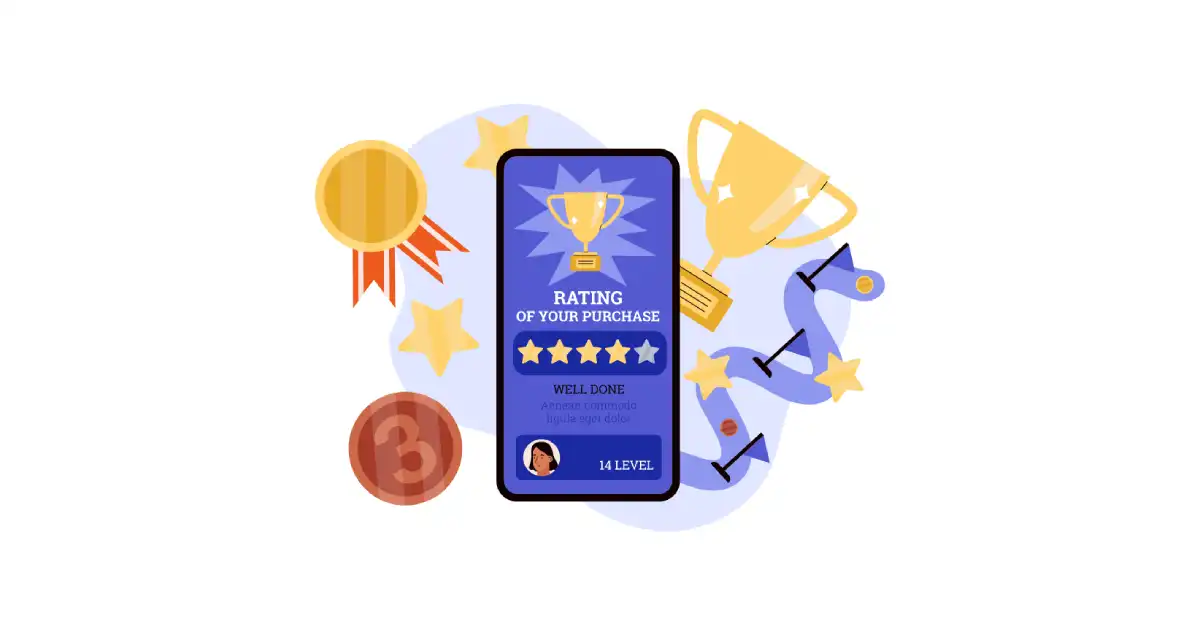 1. Increases user engagement
A little gamification goes a long way toward making your SaaS product more engaging.
Applying game mechanics helps products have a story and context that encourage users to engage more with it.
You can add badges, trophies, leaderboards, stories, or some other element of fun and positive reinforcement to your product. These gaming elements generate curiosity and competitiveness and offer exciting and fun incentives to keep using the product.
2. Boosts user motivation
Gamification motivates users.
How?
By offering them incentives and rewards, keeping score tables, and sending messages that add an element of surprise and triumph. For example, a message that says 'Congrats! or 'You're doing a great job!'
These elements motivate users to try harder and keep going.
By instilling a combined sense of curiosity, progress, and purpose in users, gamification creates an environment of positive reinforcement and boosts motivation.
3. Improves customer retention
Acquiring a new customer is about six to seven times more expensive than retaining an existing one. Because of this, SaaS businesses need to stay focused on keeping their customers happy.
By gamifying your SaaS product, you can turn your customers into loyal users.
For example, giving customers points every time they use your product lets them redeem their points for discounts or other benefits.
4. Creates competition
You probably already know that people become more productive when competing with others.
The reason behind this is increased creativity and attention, which comes up when a person is competing to win an interactive game.
5. Induces operant conditioning
Gamification relies on operant conditioning - a concept that states that people are more likely to repeat a behavior if it's followed by positive reinforcement.
In other words, we're more likely to repeat something if there's a reward waiting for us at the end.
Gamification takes advantage of this by using trophies and rewards to motivate people to complete specific tasks.
Also Read: A Step-by-Step Guide to Health App Gamification
How Do You Gamify SaaS Products?
The best part about SaaS gamification is that it can be undertaken in many different ways.
You could, for example, gamify the entire application or customer journey --or you could add a small feature that's fun to use.
It all comes down to your product's capacity to be gamified, and your willingness to incorporate
user engagement loops at various steps.
Then, how do you make your product fun to use?
Here are the ways you can gamify your SaaS products.
Progress Bars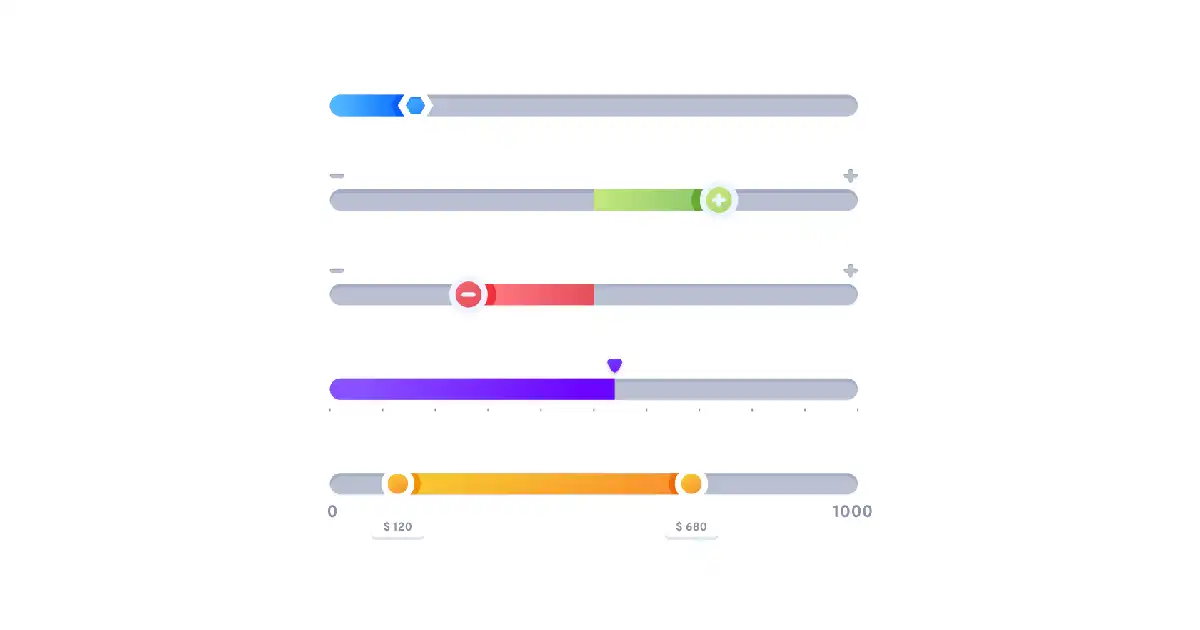 Progress bars are a great way to show users how far they are from completing a task or accomplishing something.
It not only gives users a sense of how much time they have spent on your product but also reinforces a sense of achievement and pushes people to continue using the app.
Gamification aims to make a product a daily task; the progress bar does that effectively.
It is one of the simplest and most straightforward gamification techniques. This technique could be applied to many situations--for instance, if a customer has filled in four out of five mandatory pieces of information on your app, the progress bar would say "80% completed!"
People have a hard time leaving things unfinished, which is why progress bars act as an additional motivator.
Use a progress bar to ensure the user completes a series of tasks in one go and doesn't drop off halfway through.
Badges and Rewards
Digital badges and rewards are a great way to show your users that they are doing a good job. And users feel proud when they earn them.
Earning badges or rewards from spinning a wheel can also encourage users to try out new features or spend more time on your gamified solution.
Badges are thus a great way to reward users for their time and energy. They make app users feel positive reinforcement, which everyone needs from time to time.
The sense of accomplishment in earning badges motivates the users to finish tasks or reach milestones.
Imagine you're a SaaS company that sells project management solutions. In that case, you can consider giving users badges for the following:
Creating their first project.
Accomplishing their first task
Completing their first five projects.
Leaderboards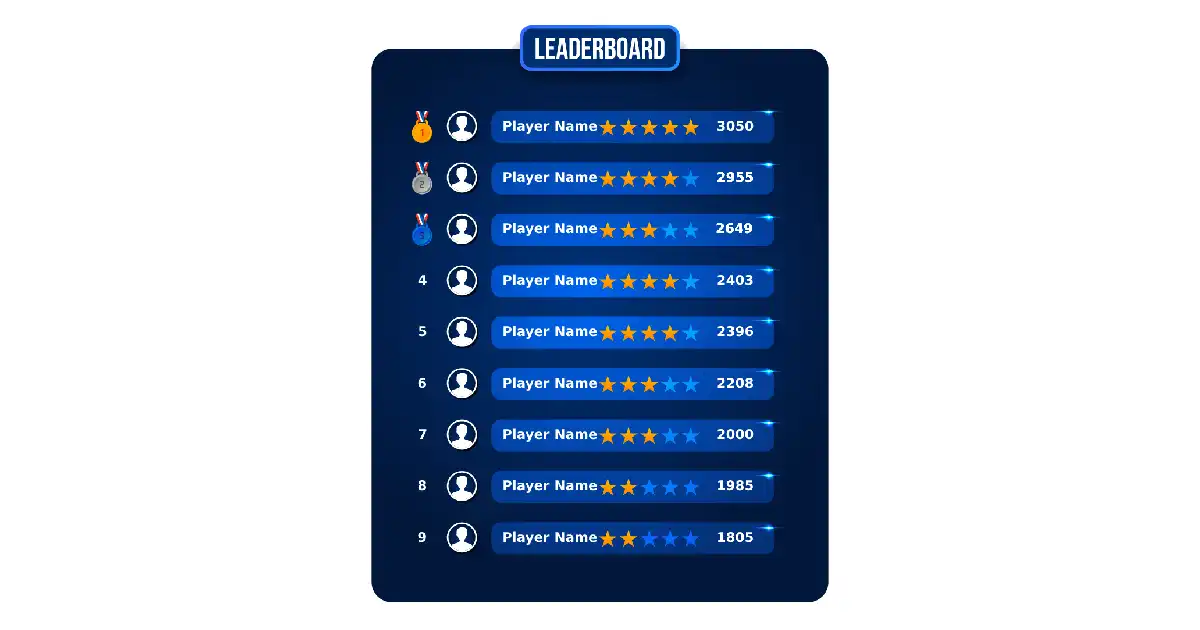 People love to compete and see where they stand in comparison to others. A leaderboard makes use of this aspiration and makes it easy to see for a user to see how they are stacked up against other users.
A leaderboard can also help keep people engaged with your product by encouraging them to use it more often.
For example, if you run a SaaS business that sells CRM solutions, you can build a leaderboard of top salespeople based on the number of deals closed or the value of those deals.
Theme based gamification
Gamification isn't just about points and badges. It can be used to create a storyline that makes your brand more relatable, engaging, and fun.
Salesforce Trailhead is a gamified learning platform that uses the metaphor of hiking trails to teach users about Salesforce products.
As users complete tasks, they get a chance to unlock new trails and become Rangers by earning badges.
Milestone celebration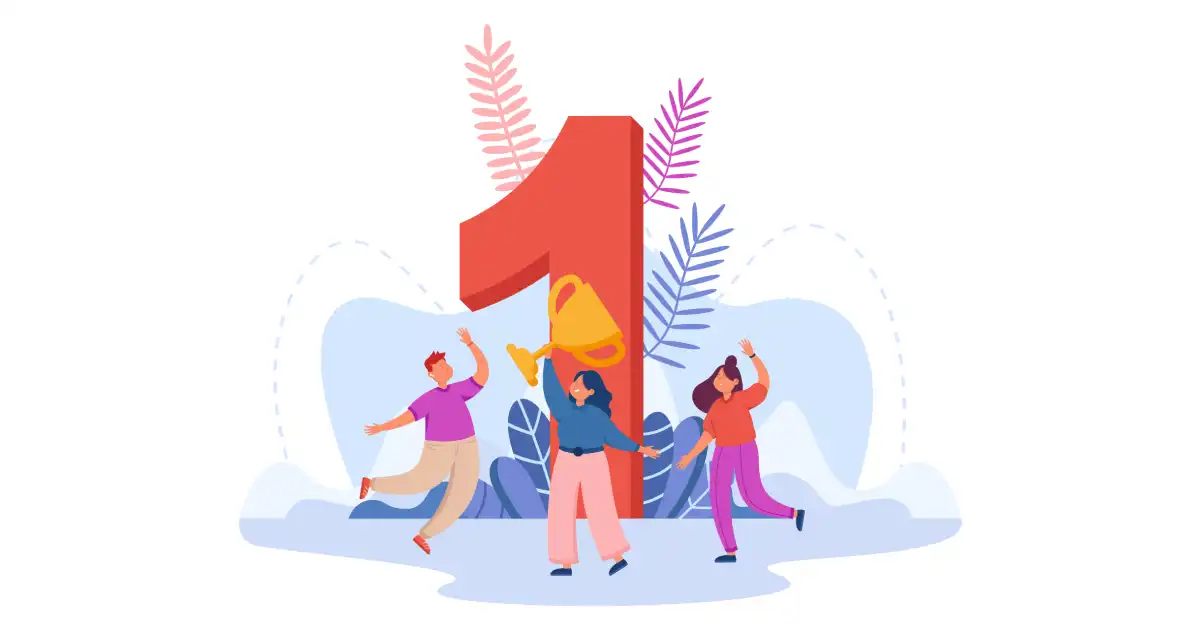 Milestones are the significant events in your users' journeys. For example, completing the user profile is a milestone.
You can give customers extra points for completing tasks during signup.
For example, they might receive points for answering a series of questions about themselves. Then, you can give them more points for putting up a profile picture.
Likewise, you could award them additional points for watching a video, filling out a profile, or taking a product tour. You can even offer them prizes or discounts as an incentive to redeem their points!
Milestones make your users smile, feel good about using your product, and increase their loyalty and commitment.
Milestone celebrations are a great way to have fun with your users, too!
Personalization
Personalization is the process of delivering relevant content based on the user's interests and motivations.
It can range from a highly targeted call to action to a revolving landing page based on geographic or industry-specific segments.
Have you ever been tempted by a "You might also like…" popup on an e-commerce website or drawn by bonus points added to your account?
These are all common examples of businesses using gamification and personalization to influence your purchase or participation decisions.
Also Read: 8 Essential Gamification App Features The Education Sector Needs
4 Best Examples of SaaS Gamification
Make your gamification relevant to the target audience and your product. This way, you can ensure your customer retention and loyalty are boosted.
Here are some real-life examples of how you can use gamification to improve your SaaS.
1. ProdPad
ProdPad is a product management platform that helps you create product strategies and develop business growth by keeping track of your ideas and turning them into a clear visual roadmap.
ProdPad wanted to make the app easier to use, so they shortened the time to conversion. They also wanted the app to be customizable to the user's needs.
ProdPad's initial offer of a 30-day free trial was not working as well as they had hoped. Instead, users tended to sign up but not convert into paying customers.
So they changed their policy to seven days but ensured users could earn more free time by completing specific tasks--a win-win situation for both ProdPad and its customers.
ProdPad uses gamification to make the user journey more fun.
2. MagicTask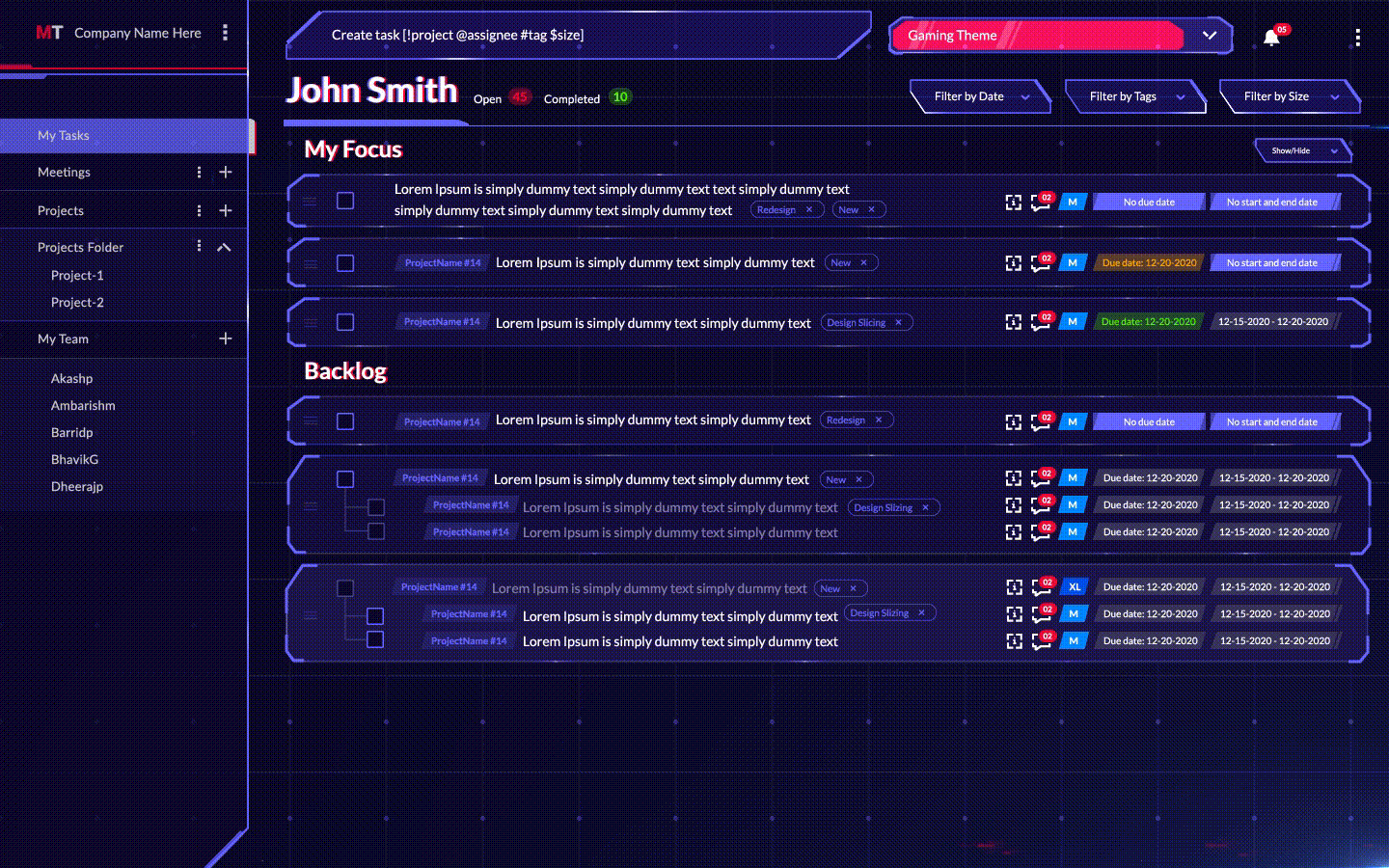 MagicTask is a next-generation gamified project and task management platform. It is designed and developed by Imaginovation team.
It gamifies your work and makes you more engaged while tapping into your desire to win.
How?
By using a gamified approach, users earn points for completing tasks. This increases their engagement with MagicTask and makes them want to compete with other team members in order to win more points.
In addition to that, many other things make MagicTask special.
It comes with many unique features that are exclusive and in limited edition. So, as you create, assign, or complete tasks, the points accumulate in your points pool.
Users can also buy themselves a theme card.
Users can also level up their themes using MagicTask, gaining exclusive facets such as beautiful animations and sound effects.
3. Hubspot
HubSpot is an all-in-one marketing platform that can help you to reach your audience through inbound marketing.
The platform has everything you need to grow your business, including 24x7 live chat, lead tracking, meeting, automated schedulers for emails, and other analytics and reports.
In addition, Hubspot includes game-like elements to encourage user engagement.
HubSpot motivates its users of HubSpot Academy to complete training programs and earn badges and certifications that represent the effort, time, and energy they had put into learning something new.
The whole process is designed to drive user engagement through rewards. As a result, users feel motivated to complete their training and pass quizzes and earn badges and certifications that they can showcase on their LinkedIn profile.
4. Kontentino
Celebrating users' achievements is a great way to keep them engaged with your product. Kontentino, which is a social media management solution, did precisely that.
Kontentino makes it easy to manage all your social media accounts in one place - allowing you to keep up with friends, family, and followers in one place.
After completing the first step of the onboarding process, users are greeted with a dancing gif of Hanna (one of their employees).
After completing each task during the onboarding process, Kontentino shows celebratory screens.
This solution makes activated users feel like they are getting immediate value from using the Kontentino app.
Gamify Your SaaS App With Imaginovation
Have you been struggling to gain new customers for your SaaS app?
Use gamification to capture leads and guarantee long-term loyalty.
Gamification makes onboarding processes more fun, but it's not all fun and games.
Gamification encourages users to try out new features of your product, leading them to become regular users.
If you're thinking, "How should I gamify my SaaS app?" we would be happy to help you.
At Imaginovation, we know how to turn any SaaS app into an engaging and addictive tool.
Imaginovation is an award-winning web and mobile app development company with vast experience crafting remarkable digital success stories for diverse companies. Let's talk.