The days of real estate companies confining themselves to just building brick-and-mortar structures for customers are long gone.
In their place are a new breed of real estate companies that use technologies to create a connected world, offering a safe and healthy environment for people to live and work.
The Internet of Things (IoT) is a technology these modern companies use.
IoT is changing the face of real estate, helping companies to focus on cost reduction and beat their competitors.
With IoT-enabled connected physical devices, realtors are able to improve the home-hunting experience, find buyers for vacant properties, and even achieve financial goals.
Do you want to know what the Internet of Things means for the real estate industry? What makes the smart technology of IoT so crucial for the evolution of real estate?
Read on.
We'll discuss eight exciting IoT use cases that have changed the real estate game.
IoT in Real Estate: An Overview
Before we get started on the topic of the Internet of Things (IoT) and real estate, let's establish what IoT is.
The IoT is a network of smart devices that can communicate with each other by sending and receiving data, thanks to their ability to connect with the Internet.
You can find them embedded in everyday objects, from your TV, dishwasher, curtains, and car. These devices can be controlled remotely and programmed to perform certain functions, such as switching on the coffeemaker before you wake up or adjusting your thermostat while you're at work.
Today more than 15 billion of these devices are in use, and the numbers are growing fast. Statista states that this number is expected to rise further and reach 29 billion by 2030.
According to Fortune Business Insights, the global IoT market will grow by 26 percent annually, reaching almost 2.5 trillion USD in 2029.
The Internet of Things is creating an insightful impact on the real estate industry by making many regular real estate functions easier and more efficient.
By the end of 2023, consumers' spending on IoT-based smart home systems will reach 157 billion USD. The increased efficiency, cost reduction, and lack of human error will likely make this number grow.
According to Gartner, IoT can help bring down the cost of energy, spatial management, and building maintenance by up to 30 percent.
Deloitte Research findings show that 52 percent of commercial real estate firms believe that the use of IoT sensors and artificial intelligence are among the topmost factors affecting tenant preferences.
How does the Internet of Things (IoT) apply to real estate?
The Internet of Things has the potential to streamline many tasks related to buying, selling, renting, and managing properties. As a result, all aspects of real estate--from house hunts to contract signings--are becoming easier with IoT.
So IoT is making our homes and workplaces smarter and more connected. The technology uses sensors and smart devices to capture data, which lets you automate your building's (home or office) energy use, security measures, entertainment systems, and lighting solutions.
Sensors and analytics provide IoT with the potential to change how people live. Moreover, commercial real estate agencies offer smart solutions that let customers control various systems at home, in the office, or wherever they happen to be.
8 IoT Use Cases in Real Estate With Examples
If you're looking for IoT real estate examples, look no further.
Let's look at eight prominent use cases for IoT and connected devices in the world of real estate and understand the different types of benefits they offer.
1. Improved efficiency with IoT-based HVAC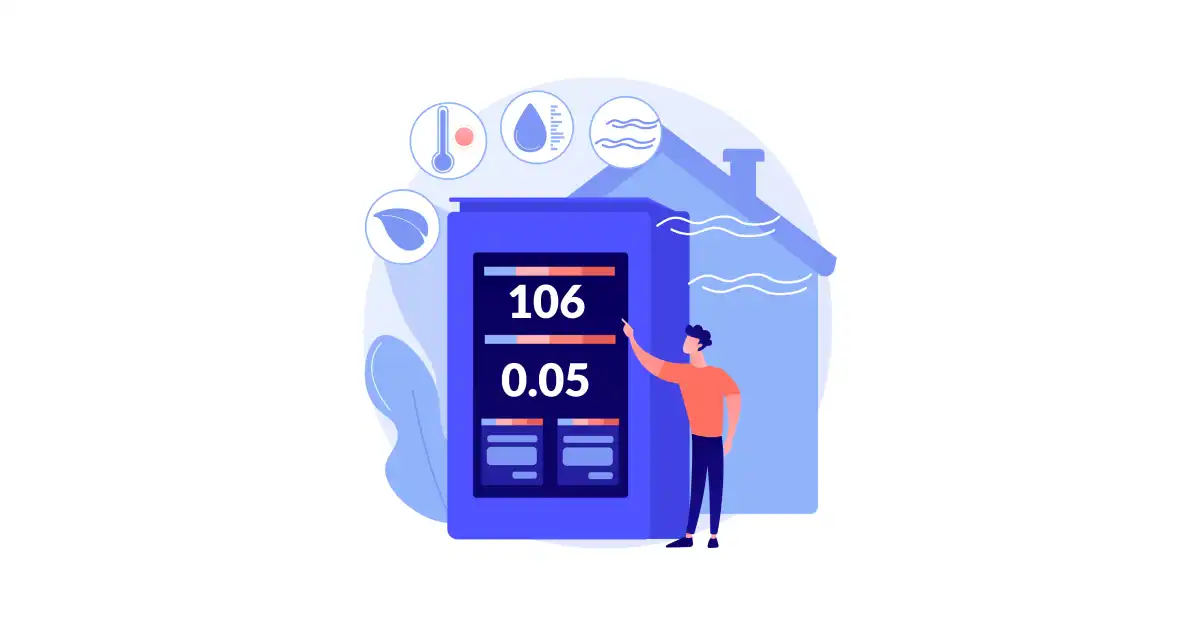 The Internet of Things (IoT) is making your heating, ventilation, and air conditioning (HVAC) system smarter and obviously more efficient.
How?
With sensors that measure and collect info on indoor air temperature and outdoor radiant temperature, as well as humidity, air speed, and circulation pattern, your home can become a smart house.
The smart sensors send this information to a central database, which allows the HVAC system to be connected to the Internet and interact with apps, dashboards, and weather forecasts.
Example:
You stay in a building but forget to turn off the HVAC while stepping out. Sensors will detect that no one's around or a window is left open accidentally, so the system shuts down. Moreover, you will also get an alert on your mobile phone application so that you can take appropriate action.
Or fitting sensor-enabled lighting in your house, which will switch off automatically when there's enough daylight or switch on when you enter the room.
Or install IoT-based smart water heaters that will let you schedule hot showers, set the water temperature, and track energy consumption levels remotely.
Pretty smart, right?
So, smart home HVAC systems can adjust the heat, ventilation, and air conditioning based on your preferences. This helps you consume less energy and thus prevent wastage and save money.
2. IoT-enabled predictive analytics & preventive maintenance
When you use IoT data to manage your building maintenance program, you'll see a significant increase in efficiency and effectiveness—and a subsequent rise in the value of your property.
Let me tell you why IoT technology and real estate analytics are a match made in heaven for preventive maintenance. This pairing offers an impressive set of benefits such as -
Monitoring critical equipment and assets in a building
Extending equipment life
Tracking failures like malfunctions of elevators or HVAC installations
Minimizing building equipment failure
UtiIizing maintenance team in the most efficient way
Enhanced operators safety
Sending notifications to commercial real estate professionals if major equipment is about to break down.
Ensuring manual work is automated will further help in cutting down avoidable high repair costs.
Example:
A popular application for utilizing real estate data is strategically placing sensors and setting a simple logic for when the system should send an alert. For example, when the sensor detects a leak in the basement or kitchen, it will send an alert to your phone.
Or, if you can be alerted to the problems caused by your building's aging roof, termites, or electrical wiring before they occur, then you can take preventive measures and save money. IoT and predictive analytics can make this possible. Sensors and cameras in the house will keep a check; any irregularity or flaw will be automatically notified to you.
As a result, you can take remedial actions quickly --which will potentially reduce repair costs.
3. Better house-hunting experience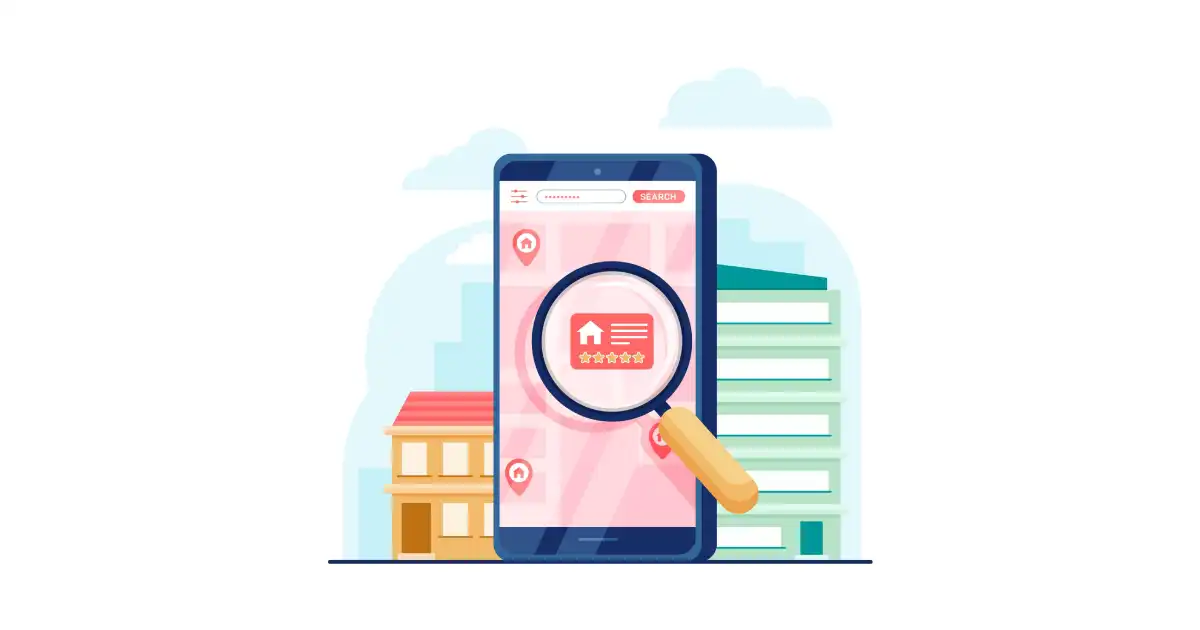 When you're buying a house, the process can be time-consuming, expensive, and stressful. But with IoT, you can make it less painful.
Thanks to Beacon technology combined with IoT (Internet of Things), house hunters can experience a new level of convenience and ease when searching for their dream homes.
Beacons are known to transmit information ranging from photos, square footage, and 360-degree virtual tours, informing prospective buyers to view the property.
People who stop by to look at the property will not only find themselves engaged in promotional offers but also enjoy the overall home-hunting experience.
Example:
Beacons can be located at some key locations. When customers walk into the range of beacons, their mobile phones select the signal, and the beacon provides them with a link to start looking at the property.
Beacons will send out messages to these prospective clients, like "Welcome to Beacon Hill!" and "Looking for a new home? Stop by today!"
Real-estate agents can further use beacon technology to conduct customized selling experiences, displaying their prospects only the details they need to see.
4. Smart decision-making with IoT-enabled apps
IoT devices offer helpful property analytics and insights to real estate agents.
The property agents can use these insights to perk up sales.
In a world of constant innovation in the real estate industry, many companies are building IoT-based software platforms for property valuation.
These solutions allow lenders and investors to easily access in-depth home analyses, which help them make smart decisions about any property.
And, with all the relevant information at their fingertips and insights for every stakeholder involved, they can make quick and smart decisions about any home or property.
Example:
Property agents can use app data to determine what potential buyers are looking for in a property and whether or not they're interested.
Additionally, an in-depth predictive analysis of a property by IoT devices can be used as a comprehensive report to evaluate the property. Finally, agents can deliver this info to potential buyers to advance their confidence in making the big purchase.
Instead of inspecting the property multiple times to check its condition, buyers can make faster and better decisions through IoT-collected data.
5. Optimized space utilization of property
One of the largest costs associated with commercial real estate is the rent paid on space.
Thanks to IoT-based sensors and existing systems in buildings, data analytics can count the number of people in any given space and help you plan how that space can be used more efficiently.
Therefore, data science and big data are used to collect and collate these data points for optimizing space utilization.
Whether you're working in an office or running a business from home, space optimization is essential.
IoT sensors and machine learning can help you save on space by accurately estimating how many people can fit into a building. During a pandemic-like situation, they can also help you stay compliant with regulations such as the maximum number of people allowed in a building at any given time.
With IoT-enabled smart systems, you'll be able to figure out where your employees spend most of their time during the day, identify rooms or offices that provide no use and save money by doing so.
You can apply the following ways to measure space utilization:
Desk sensors
Ceiling sensors
Locker sensors
People counting sensors
Swipe entry cards
Example:
The number of people entering and exiting a space can be tracked with "people counting" sensors. Your IoT-based app can quickly get a notification if the number of people exceeds the limit set according to the area.
Your mobile app can receive data from sensors and help users navigate their way around your building, and other underutilized areas could be repurposed to even out space usage.
6. Improved well-being of building users
By monitoring and adjusting parameters like room temperature, lighting, availability of conference rooms, and adding toilet hygiene measures to minimize equipment failure--all with the help of IoT-based sensors and automatic data transfers, there's a lot you can do to improve the well-being of property users.
You can free building users (residents, tenants, or employees) from having to report defects or incorrect humidity/light conditions in their building space.
This way, rather than focusing on these matters, they can now attend to more pressing issues.
Example:
Hygiene, especially in shared spaces in buildings like toilets, has become a top priority. With this, sanitization and disinfection activities have also taken a front seat.
IoT-enabled occupancy sensors are used to help facility managers optimize cleaning schedules systematically with increased frequency.
Sensor data collected via IoT devices can reveal insights into when shared areas are in the highest demand and need sanitation and cleaning--without invading anyone's privacy.
7. Elimination of bottlenecks
The Internet of things can reduce excessive traffic on properties, making them operate more efficiently.
IoT-enabled tech solutions and apps can also contribute to the smooth operation of real estate projects.
IoT in real estate can help identify bottlenecks in even building planning.
Example:
A shopping mall that attracts thousands of visitors daily can benefit from simplified IoT-enabled navigation and obstacle removal, eliminating unnecessary congestion.
8. IoT-based smart home technologies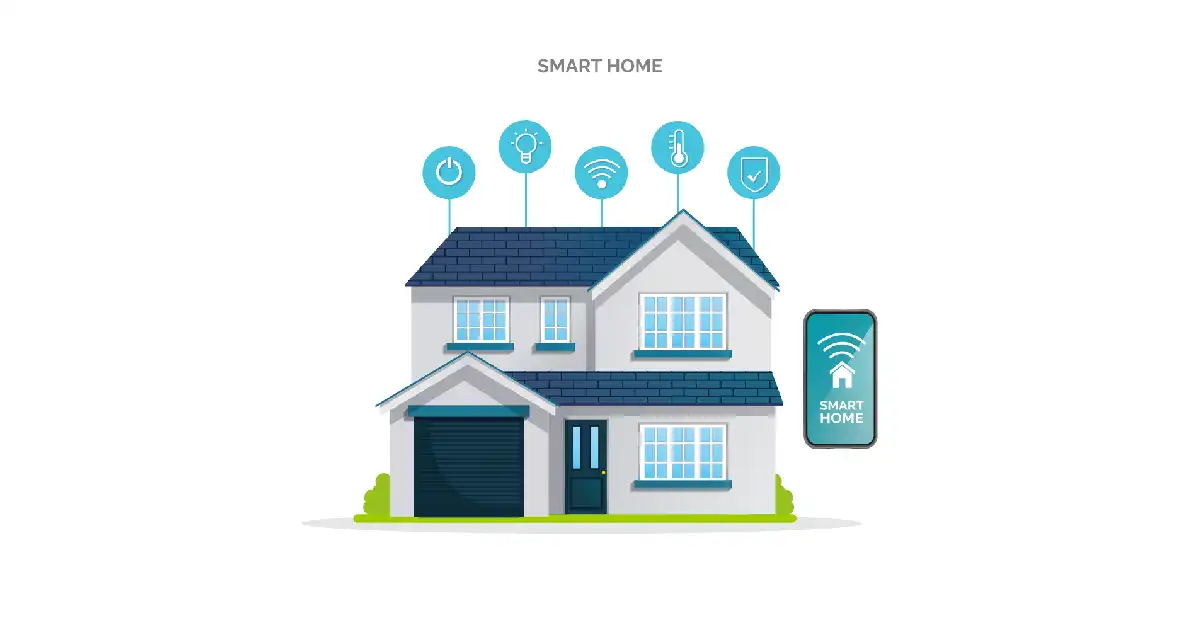 Another exciting area where IoT can be applied is in real estate app development.
For example, smart home technology can be used to enhance the app's security solutions, so agents and clients can control their home security devices when visiting properties.
The app with a built-in smart lock can also control your closed-circuit cameras and sensors.
It can manage alarms, motion detectors, and voice or face recognition software in more advanced systems. All of these are potentially useful for your agents and tenants alike.
Example:
IoT-enabled home entertainment solutions have never been smarter. With an intelligent home app, you can turn on your TV or manage the music remotely. You can also automate your utilities with such IoT solutions.
Create Powerful IoT-Enabled Solutions with Imaginovation
The Internet of Things is undeniably shaping the real estate sector in various ways, making it smarter, and it will continue to do so in the future.
IoT has the potential to make people's lives easier. But, whether it's a convenience or a more efficient way of doing something, people will ultimately benefit if they use smart devices and applications daily.
This technology, which predicts future outcomes using collected data, raises homeowners' awareness of household functions - like how much electricity their fridge uses or how long it takes them to fill a bathtub.
Imaginovation has the tools to create customized IoT-enabled solutions for you.
If you are curious about how IoT can benefit your organization, feel free to contact us.
We will create a powerful IoT-enabled solution for you.
Imaginovation is an award-winning web and mobile app development company with vast experience crafting remarkable digital success stories for diverse companies. Let's talk.
Book A Consultation
Book a meeting with one of our team members and we will help you plan out your next steps. You can also use our calculator tool to receive a rough estimate on your project.