The mental health crisis is rising due to uncertainty brought about by the COVID-19 pandemic and its aftermath. But so is the popularity and profitability of mental health apps designed to help people manage their mental health
According to Statista, the global mobile mental wellness apps market was expected to grow by 82.5 percent between 2020 and 2022, generating 491 million U.S. dollars in consumer spending.
Building a mental health app can help you create a platform that brings peace and happiness to the life of many people.
This blog covers what mental health apps are, their potential benefits, and how to build one. In addition, it guides you through the entire process.
Let's begin!
Understanding Mental Health Apps
Mental disorders are widespread. According to UN data, nearly one billion people worldwide suffer from mental health concerns.
In low-income countries, only 1 out of 4 people with mental disorders can afford treatment. Besides, millions of people die due to alcohol abuse and suicide every year.
The COVID-19 pandemic was devastating to many people and created new barriers for those already suffering from mental health disorders.
In this scenario, mental health care is shifting toward digital platforms to meet the growing demand for services and to better reach interested audiences. Mental health apps are thus becoming popular.
But what are mental health apps?
Mental health apps are applications that help you monitor your mental health.
There has been rapid progress in the development of mental health apps. By 2030, the global mental health apps market will be worth 17.5 billion U.S. dollars.
The mental wellness industry is quite diverse--from apps that target people with specific issues and disorders to those that provide broad-spectrum support.
Types of Popular Mental Health Apps
Here are the different types of mental health apps available today:
1. Anxiety, depression & mood control apps
Mental health issues such as regular mood swings, anxiety, and depression are common in people of today's society.
Various anxiety, depression, and mood control apps are out there to help patients cope with these illnesses.
These apps are designed to help people cope with stress, anxiety, frustration, and other issues. In addition to offering anxiety coping tools, such apps help increase awareness of how the brain works and how stress affects it.
The best thing about these apps is that they offer the following:
Assessment tests - Although clinical diagnosis is required to determine whether or not an individual has symptoms of such conditions, it is possible to make a preliminary assessment with the help of assessment tests.
Short video calls - Patients can contact specialists for a face-to-face call.
Self-assessment features - Journaling or Questionnaires.
Suicide prevention tools - There are distracting tools in the form of audio/video recordings to drag one's attention from self-destructive thoughts.
Emergency consultancy & ambulance.
Progress tracker.
2. Mental disorder control apps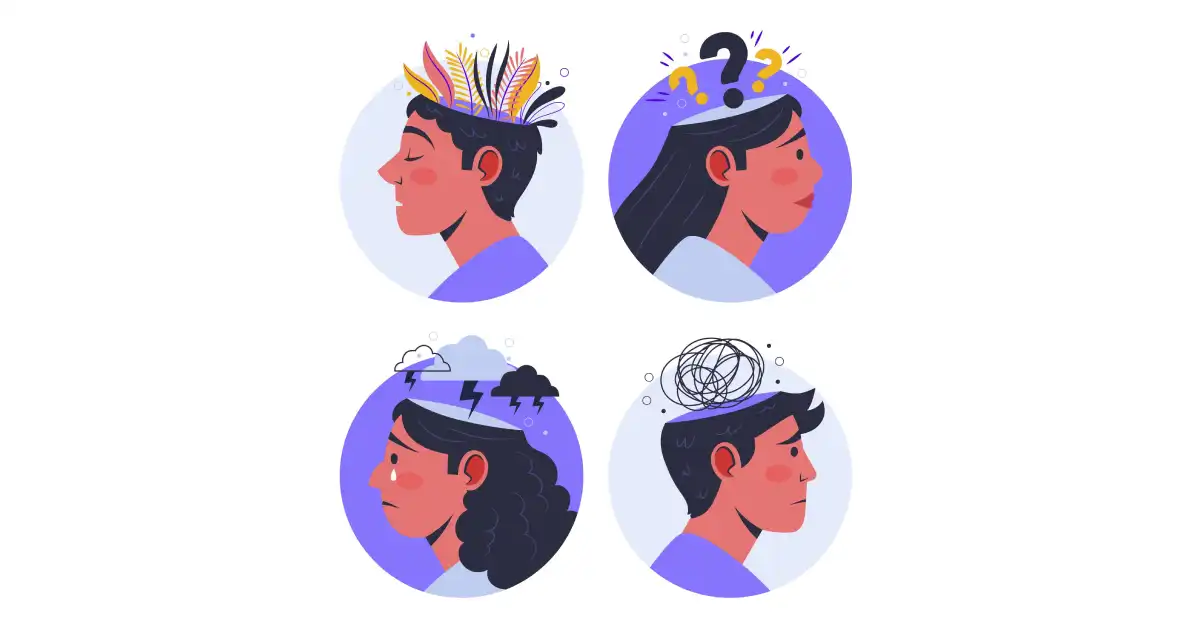 These apps are designed to help people with mental disorders like OCD or bipolar etc . In addition, such apps work as a tool for symptom mitigation, self-care, early detection, etc.
These apps use proven therapy methods, such as cognitive behavior therapy (CBT), acceptance commitment therapy (ACT), positive psychology techniques, and other approaches.
They offer a means of tracking patients' mental well-being in as much detail as possible, detecting worsening stages, keeping a journal, and practicing mindfulness.
Patients with anger management problems have been shown to benefit from breathing exercises. In addition, these apps offer users immediate access to their contacts, which can help them manage their anger. The apps ACT Coach and PTSD Coach are examples of specialized apps that can be used to help people with these issues.
3. Addiction recovery apps
These apps can be a great tool in treating many behavioral addictions.
You can add-
Progress trackers - Addiction is a difficult habit to break, both physically and mentally, so it's essential to visualize your progress. Such apps offer users or their therapists to set goals, for example, "Not to drink alcohol for 30 days." The app then tracks the patient's progress and indicates how close they have gotten to achieving that goal.
Motivational notifications - Notifications like "You're doing great!", "We really appreciate your effort!", "You have such a strong will, don't give up!" can be sent to support users on their journey.
Relapse prevention features - peer support groups, 24x7 live support, awareness… All these are mandatory features to help prevent relapse.
4. Self-development apps
Self-development apps like Happify and Coach.me are available in the market for user support.
The self-improvement app market is vast and varied, with apps for increasing memory, patience, and concentration, building self-confidence, staying organized, and overcoming fears.
They offer coaching sessions with professionals and therapists through pre-recorded audio/video, live chats, live video calls, learning material, goal-setting techniques, etc.
They also offer features like habit trackers and exercise plans/workouts.
5. Meditation and mindfulness apps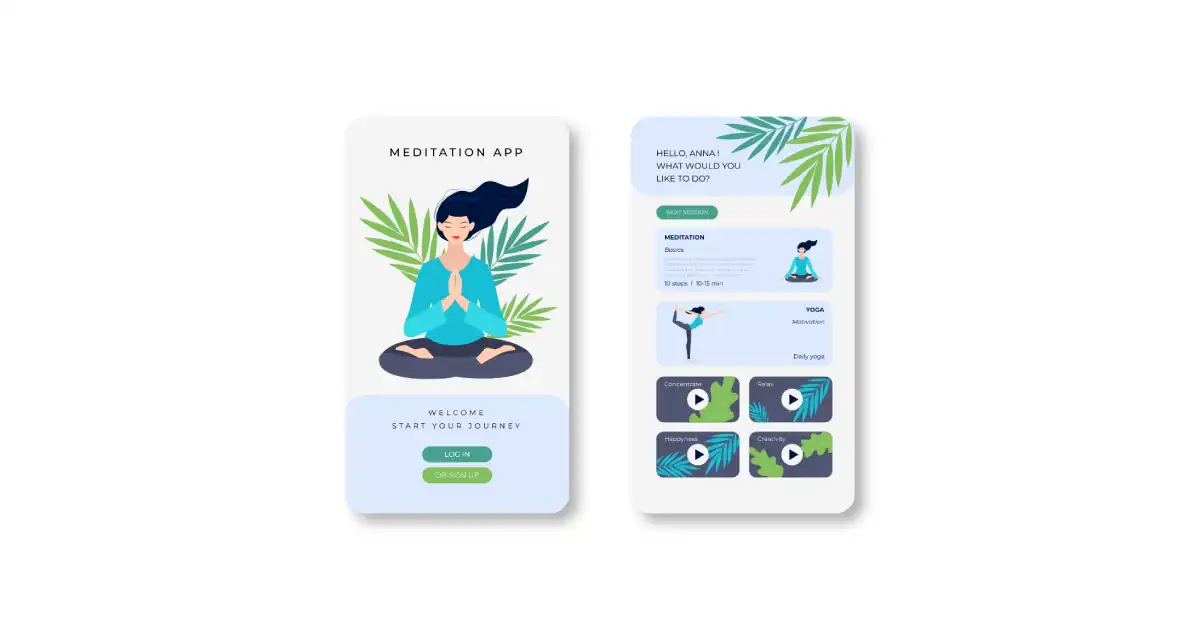 More and more people are turning to meditation to reduce stress, get grounded, understand their feelings better, and just spend some time in silence.
Therefore apps like calm and headspace offer a wide range of educational content, from meditation techniques to breathing exercises, relaxation techniques, music, sleep stories, and more have become popular.
Such apps are sought by many in today's busy modern lifestyles.
6. Multipurpose apps
Other multipurpose apps offer telemedicine platforms where patients can find a suitable mental health specialist online.
They can also order individual or couple, or family therapy, or psychiatry consultation and get online professional help through messaging and audio or video consultations.
For example, an app called BetterHelp provides direct access to a specialist 24/7 via messaging and chat. Yet another app called 7 Cups enables users to receive anonymous emotional support and counseling from trained professionals.
Also Read: Developing a Healthcare App in 2024: What Do Patients Really Want?
Why is there a Need for Mental Health Apps?
Mental health apps are essential to keep mental health on track.
These apps give helpful access to enriched mental wellness advice and aid with users' symptoms.
In the current scenario, progressive mental health apps are a great option for users who are short on time and aids or require additional assets for their mental health issues.
Here's why there is a need for mental health apps.
Instant access
The proliferation of smartphones has led to mental health apps that can be accessed anywhere, anytime.
Through these apps, mental health specialists can provide instant assistance and support to mental healthcare software users without needing a hospital visit.
This instant access to mental healthcare is one of the most significant benefits.
Convenient
Mental health apps offer convenience, making them ideal for those who are either quarantined or when visits are inconvenient.
The use of apps limits the number of participants in the therapy process by excluding everybody except the patient from the procedure and its details.
These apps allow users to seek help anonymously or without any face-to-face interaction. It helps people overcome the stigma of mental health issues and encourage them to seek treatment.
This is especially helpful for people who are uncomfortable openly discussing their mental health issues. They can benefit from the privacy of an online therapist. They can also choose to have a virtual consultation without even leaving their homes.
Efficient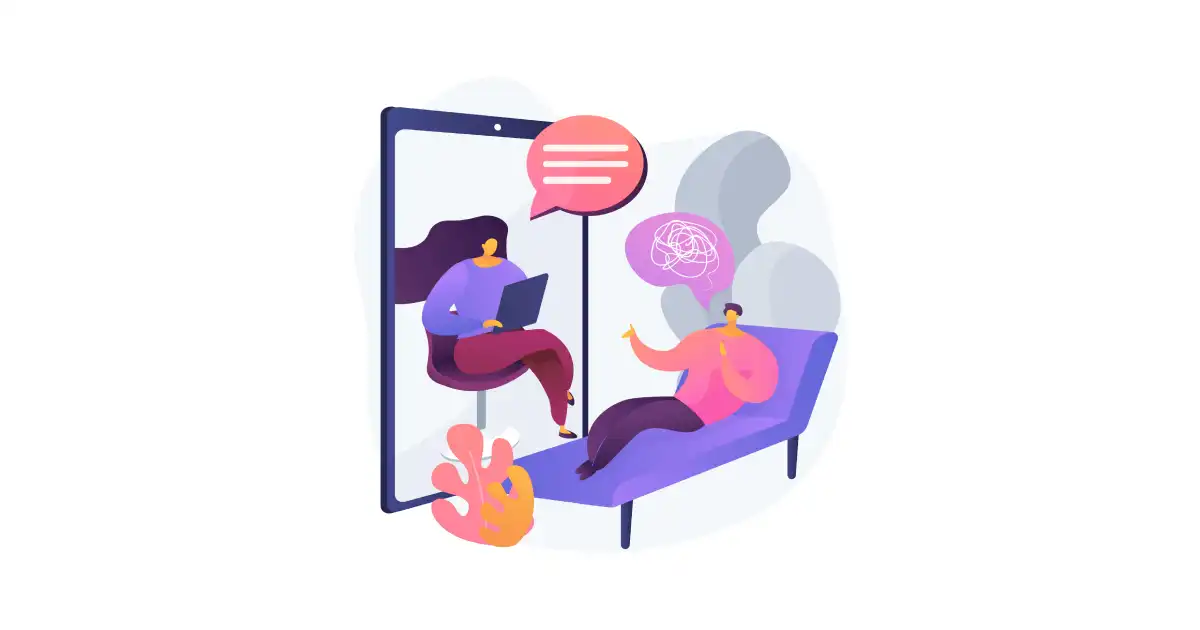 Digital psychological help providers offer effective alternatives to traditional therapy sessions and other clinical treatments.
Apps facilitate access to patient data, increase engagement in treatment plans, and make treatment more manageable and effective.
Besides, live patient-therapist communication and symptom monitoring via the app makes treatment more manageable and effective.
Moreover, receiving assistance for stress and anxiety at home is liberating for patients.
Less expensive as compared to traditional sessions
The minor mental health problems that people face daily, such as heartbreak or anxiety, can be dealt with by applying online therapies or AI consulting found in self-improvement apps.
Many of these apps offer free educational resources for minor problems. Again, this addresses the cost factor of treatment.
Besides, app sessions are often a more affordable option than seeing a therapist in person, where the patient needs to travel to see the therapist.
Safe
Mental health apps became crucial to staying safe during physical interactions when the pandemic hit.
But the benefits of these apps extend beyond the dangers of the pandemic and into everyday life.
For example, virtual interactions between mental health professionals and patients reduce the risks for both parties involved--patients with violent behavior can be treated without putting their therapists at risk.
Wider patient base
The widespread use of smartphones allows mental health treatment to be delivered to more locations and, thus, to a broader patient base.
The statistics tell us that from mid-March to May 1, 2020, Talkspace experienced a 5-times increase in its app from traditional therapists compared to the same period in 2019.
Automate work processes
Mental health apps can also automate some of the work done by therapists and psychiatrists, thus reducing the burden on such professionals and allowing patients greater control over their health data.
Self-monitoring by patients
Customers can keep track of their mental health history, as well as how consistent they've been in taking their medicines.
This is especially helpful when trying to break habits or recover from addictions.
How to create a Mental Health App?
Developing a mental health app requires more than just coding - It needs careful planning.
This section walks you through the step-by-step process of mental health app development. It explains how to build a user-friendly mental health app. Here are the steps:
Identify the target audience based on your research
When building a mental health app, you must know whom you're designing it for. The choice of platform will depend on whom you're targeting - seniors, children, adults, or teenagers.
After all, everything depends on what problems your product will solve and whom it will benefit.
Moreover, certain demographics are more at risk for specific mental health concerns. For example, a teenager who has just experienced heartbreak will likely seek comfort online; an adult may deal with daily stress or anxiety.
App users' age, financial standing, and cultural peculiarities will likely impact your choice of platforms, monetization methods, content, app design, etc.
Figure out how to best serve your audience, and figure out how to make them want to use your app again and again.
This is what you must do in this step:
First, identify the customer age group your app intends to target.
Next, research the market, and analyze your competitors' strategies in your niche.
Finally, detail a typical patient profile.
You can have a few enthusiastic customers from your target audience help you refine the UX/UI of the solution in further steps.
Get the right team on board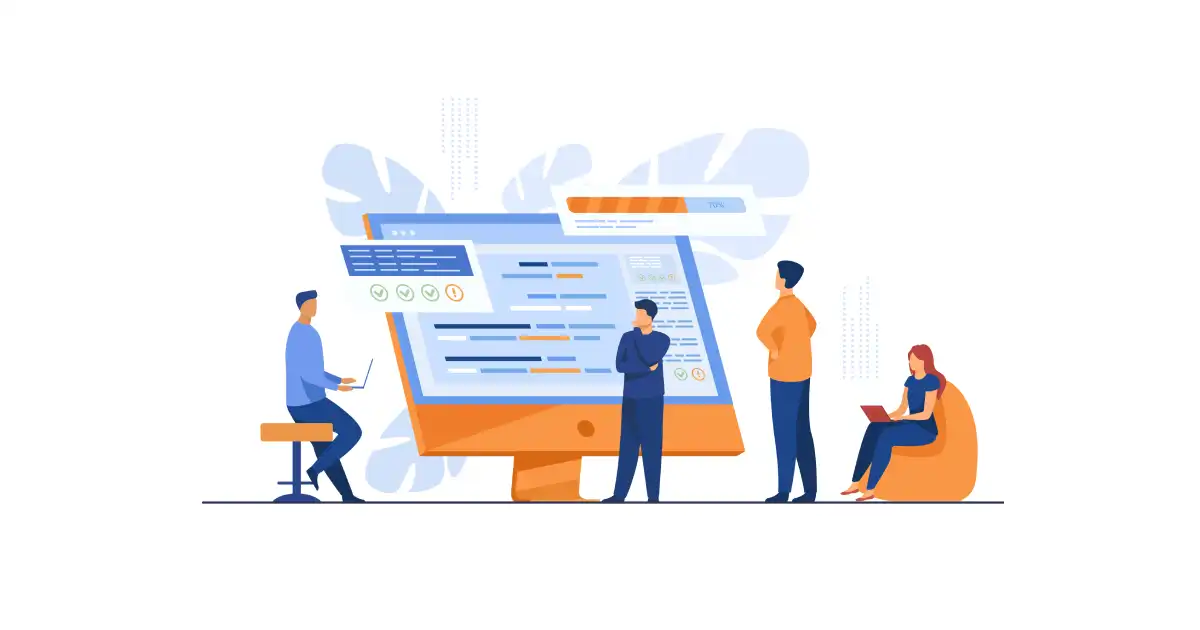 When building a mental health app from scratch, you'll need the right team of developers, project managers, designers, and QA specialists.
If you don't have an in-house team of developers who can create a mental health app that complies with regulatory acts like GDPR or HIPAA, consider outsourcing it from a company that has experience working on health-related projects.
Such a team would recommend launching a minimum viable product first to cut costs, speed up time to market, and test your application to acquire users.
Draw out possible features and run prototyping.
Having a list of features for an MVP (minimum viable product) and testing them with a prototype becomes crucial at this stage.
A prototype allows you to verify your app design idea and ensure the product will work as intended.
A clickable prototype can simulate your application's functioning without coding, so it's possible to see how the app looks and feels without writing any code.
Therefore, you get to validate your business idea without writing a line of code (which is the most expensive part of mental health application development).
Simultaneously, you can build your app's color scheme, style, and other brand elements in this stage.
That's why app designers must be mindful of how the app looks and feels. A mental health app won't win people over if it isn't attractive. If it's not trustworthy, patients won't use it.
A mental health app should be simple, clean, and intuitive. A minimalist design with intuitive navigation helps users navigate the app with minimal scrolling and clicks.
Consider using voice or animated "assistants" to help smooth out the user onboarding process and make navigation throughout your app easier.
Additionally, consider including push notifications for motivational cheer-ups or reminders.
App Development
Your app should be coded to meet all applicable safety and user-friendliness requirements.
This step takes the most significant chunk of your development time.
Follow Agile principles and go through interim tests with each iteration.
Moreover, follow these tips to build a robust mental health app:
Comply with HIPPA (Health Insurance Portability and Accountability Act) regulations to protect patient information.
Use third-party medical audio/video calling SDKs to build a telemedicine therapy app.
Use interesting off-the-shelf components. For example, use a chat with audio messages to expedite things.
Set up DevOps and free developers from spending time on non-essential tasks.
Lower additional technology barriers by investing in ready-to-use libraries for authentication, scheduling, and chatting features.
App Testing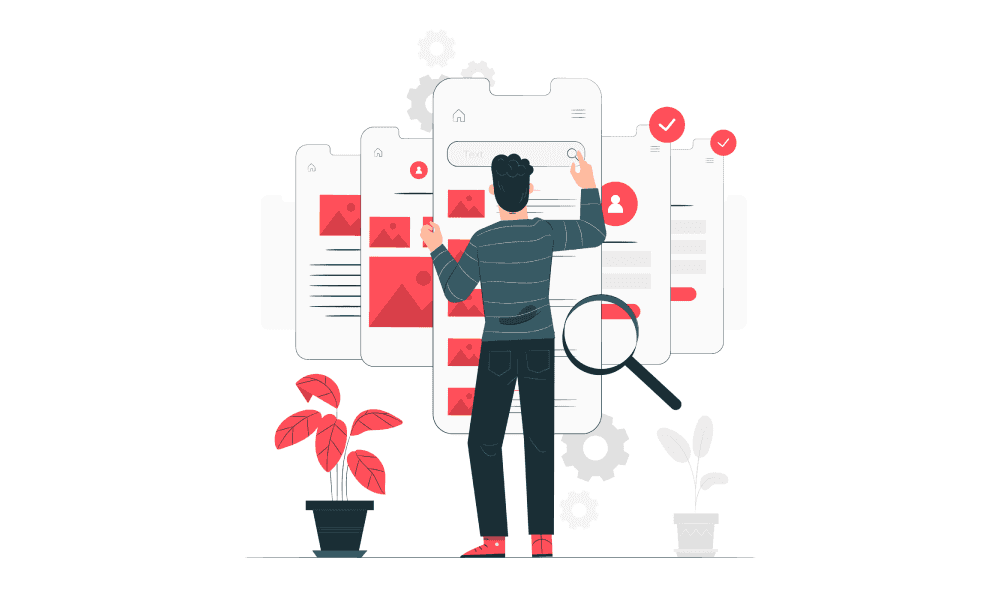 Testing the app when still in development is a great idea and can prevent a wrong product from reaching the market.
This step describes a significant testing effort before releasing the solution. For example, you'd need to conduct the following tests:
Functional testing: This testing validates your app against the approved functional requirements.
Compatibility testing: This testing checks whether your app can run on different hardware and OSs, in various network environments, and on various mobile devices.
Usability testing: This kind of testing involves including internal and external participants from the target audience. It is done to ensure your app is effective and it adapts to customer needs. These tests must be done in a detailed and precise manner.
Interface testing: This testing verifies if all the module interactions are working properly and errors are handled correctly.
Performance testing: It is a type of non-functional testing that is used to test an app's stability and scalability. Without it, your app might not work correctly, and users will have poor usability.
Security testing: It is the process of hacking your app to find any potential flaws. It involves checking the network's security measures and verifying the SSL certification.
Launch and keep updating.
Once you have developed and tested your application, it is time to launch it.
A mobile marketing campaign can help promote the new app and drive downloads.
Now that the app has been launched, it needs to be fed.
You can use the analytics tools you implemented during development to see what's working (and what isn't) and make changes accordingly.
Remember to set up a DevOps strategy to keep the maintenance costs down.
Once your app is out there in the world, it will start generating user engagement data that will help you identify new growth areas by allowing you to see where users engage most with your app.
Key Features to Include in Your Mental Health App
An app designed to help people manage their mental health and wellness must offer critical features that ensure smooth performance and high user engagement.
These include:
Signing up
Getting crucial information such as the user's name, contact number, and email in wellness apps is essential. However, when developing a mental health app, balance security and ease of use.
Creating user profile
After successful registration, it becomes essential for the user to build a detailed profile.
To start, users should provide health information such as core issues, allergies, and chronic illnesses. Next, they should personalize their profile with a picture, age, etc.
Finally, you may ask other questions depending on your product type. For example, you might need a file-uploading option to attach blood tests or other reports from specialists.
Self-monitoring
Self-monitoring is an essential feature of these apps. Self-monitoring helps customers to hold on to their inner state and prevents psychological troubles from progressing.
It can help track sleep cycles, trigger levels, stress levels, mood patterns, symptoms, and physical activity of patients.
You can also add calendar and checklist features for self-monitoring to make it more user-friendly and convenient.
Diary
Any app aiming to improve mental health must have a diary feature that allows users to express their emotions and thoughts in writing.
It should also allow for drawings, which are often more effective at conveying feelings than words.
Video and Audio content
Video and audio content can be added to your mental health app, where there's no need for a therapy session or urgent help.
It can have relaxation aspects, mood-lifting content, soothing music, cheering up affirmations for educational purposes, relaxing, stress release, sleep management, etc.
Also, you can allow the therapist to attach video and audio files from the patient's sessions if patients need to watch them again.
Sharing
With its ability to share your thoughts and progress with friends, family members, specialists, and social media followers, this app allows you to easily overcome mental health crises.
It's also useful for exporting your data in other formats and sending it via email.
Support communities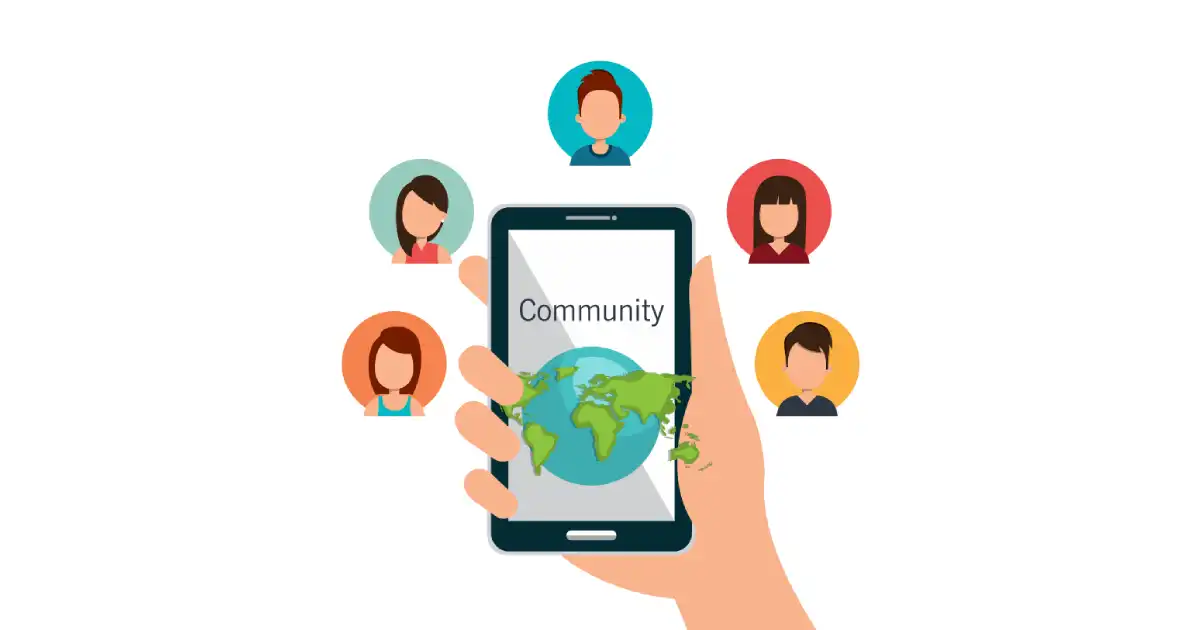 Support groups can be an effective way to help people facing similar struggles.
People with psychological disorders often feel depressed or alone because they don't know whom to share their experiences with.
Support groups provide a place where people can share their experiences and receive advice from others going through the same thing.
Notifications and reminders
Adding this feature to your mental health app may remind your users to check in with their mental state throughout the day.
It sends them reminders to engage in exercises, practice relaxation, take their medication, and notify them about a meeting with the therapist.
However, do take care not to overdo the use of notifications or reminders--psychologists have found that too many of them can add stress to an already stressful routine.
Video calls and chats
Knowing how to create a mental health app that facilitates secure communication is crucial, as patient-doctor interaction is performed mainly through the app itself.
The program's features must ensure various possibilities for therapists and patients to connect through text, audio messages, video, or live so users can choose the most suitable form of communication.
Build A Mental Health App with Imaginovation
As we live our lives through our phones, mental health apps can be used in almost any setting at any time.
It's incredibly powerful to have easy access to mental health support when people need it most — and most importantly, these apps aren't isolating. They don't make the user feel embarrassed or uncomfortable; they offer a place where they can talk about what they're going through so that it feels easier to deal with when things are too big to handle alone.
Are you looking to take mental health services to a more diverse population by building your mental health app?
Imaginovation offers you a simple and engaging way to build such an app. We will transform your business idea into a wonderful solution. We will also tell you how you can monetize this idea.
Imaginovation is an award-winning web and mobile app development company with vast experience crafting remarkable digital success stories for diverse companies. Let's talk.