The future of healthcare looks promising with emerging SaaS trends and technologies.
With growing cases of chronic illness, the healthcare sector needs technological advancements more than ever. The right technology can revolutionize the medical industry in many ways. It can help save more lives, enhance the quality of care, and improve overall health status.
But how?
The solution is to embrace emerging technologies such as SaaS or Software-as-a-Service.
Now, in the healthcare sector, one of the major concerns with implementing new technologies is the cost.
That's where the SaaS model in healthcare can fit in. Developing SaaS applications can be less expensive than developing standalone software.
SaaS platforms can deliver healthcare services faster, better, and cheaper. It's time for healthcare providers should focus on SaaS development and enhance productivity, and boost ROI.
In this blog, we will look at healthcare SaaS trends and their benefits.
What is Healthcare SaaS?
Let's take a moment and reflect on the cloud scenario a few years back. Clouds used to be an intimidating thing back then.
Healthcare Software-as-a-Service (SaaS) applications initially faced a lot of backlash due to security reasons. Today, with more safeguards in place, healthcare businesses are starting to see the benefits.
Many healthcare organizations are turning to SaaS as a more affordable way of deploying cloud-based EHRs (electronic health records). They have begun deploying SaaS applications throughout their hospitals.
These apps include EMR (electronic medical records), EHR, PACS, telehealth, etc. Some nonclinical information systems include RCM, billing, supply chain, and more.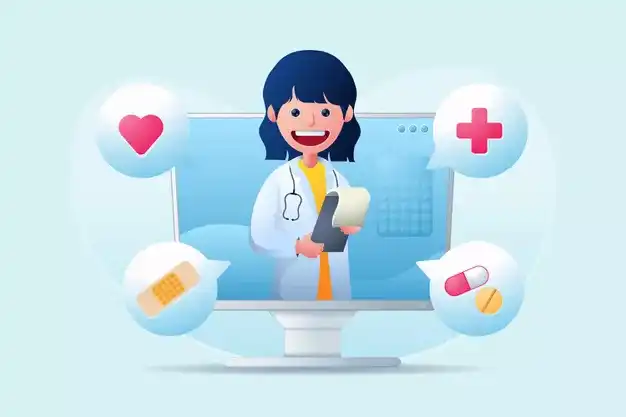 The Healthcare SaaS Market Outlook
Healthcare SaaS will become more prevalent in the future due to cost, security, and scalability benefits.
Researchers have recently valued the global healthcare cloud computing market at approximately $18 billion. They expect the market to generate around USD 61 billion by 2025, at a CAGR of around 18.7% between 2019 and 2025.
We've reached a stage where the cloud is ready to dominate the health-tech industry. You can expect to see some of the following top healthcare SaaS trends.  
10 Revolutionary Trends in Healthcare SaaS
Let's now look at some of the top healthcare SaaS trends and how they're turning out to be game-changers.
1. Smart Artificial Intelligence (AI) Solutions
Artificial Intelligence (AI) is poised to dominate the market with its smart business applications. AI integration allows SaaS platforms to become self-learning and autonomous. AI-based solutions are popular among healthcare organizations.
Many successful technology companies are automating business processes via AI, thereby increasing productivity and efficiency. Experts highlight that around 81% of companies are already working on AI technologies.
The impact of AI through natural language processing (NLP) and machine learning (ML) is transforming care delivery.
ML uses algorithms to parse data and detect patterns. It can process large amounts of data, learn from it, and make predictions. It allows systems to act according to the situation without being explicitly programmed to do a specific set of actions.
(Check out this blog to know more about how predictive analytics can help improve patient care.)
On the other hand, the pattern recognition feature allows companies to set their machines to a pre-set goal. The system can notify the admins when something happens.
Now, that's powerful!
So, how can AI improve SaaS in the healthcare industry?
Healthcare SaaS businesses can benefit from AI automation in multiple ways. At first, it resolves the concerns around security breaches. The ability to recognize patterns makes detecting potential threats easier. The best part—there's a self-recovery aspect that can help to recover critical data.
Next, the NLP facet can help to detect voice control and human speech patterns. Such software can help to address client needs and improve customization. Personalized pathways in healthcare are an exciting trend.
Another facet is ML, which companies often utilize in the customer service applications field. You can find the use of chatbots useful. Finally, the overall responsiveness levels and ability to have accurate predictions at immense speeds are possible with AI-enabled SaaS.
2. Use of Multiple Clouds
Experts suggest the number of businesses using cloud-based apps to increase by 19.6%.
Healthcare companies can meet some of their most challenging issues with new SaaS trends. Many companies using Platform as a Service (PaaS) can enjoy distinct advantages.
With multiple cloud providers, companies can increase their ability to store, process, analyze, and secure essential healthcare data. You may find tons of cloud providers being used for disaster recovery.
An exciting move was observed with APIs such as Google Health. It allowed companies to unlock healthcare data's real value by leveraging big data differently.
You can expect to use Google's multilayered security approach, leveraging cutting-edge security capabilities, including data-loss prevention, identity management, encryption, and more.
3. Focused Attention to Security
Data security is a major concern for healthcare providers across the world. With patient health records being digitized and placed on the cloud, there are concerns about cloud-based data breaches. It is critical to ensure a security model is in place that can track the traffic and data to and from the cloud.
Using a multi-cloud approach has its benefits. However, there are also chances of new security complexities.
You may find such complications getting more common as companies change from understanding Infrastructure as a Service (laaS) on a single cloud to understanding how PaaS and SaaS can work together.
The concerns around data security are genuine. Hence, companies will find an increasing need for cloud security.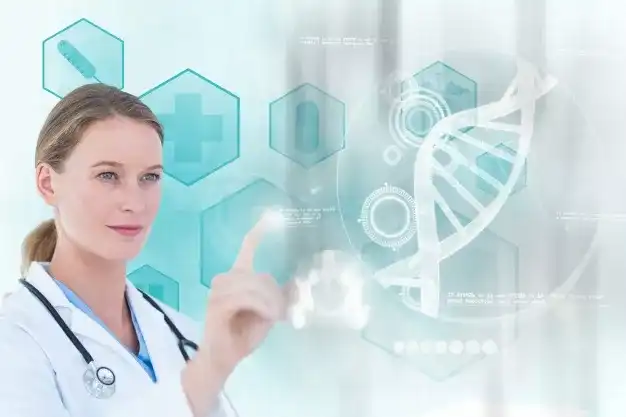 4. Vertical SaaS
Vertical SaaS is yet another exciting trend that will catch up.
When it comes to horizontal SaaS, companies can adopt it in any industry or sector. Hence, it is broader in use than its counterpart.
Vertical SaaS focuses on one specific industry, such as healthcare. The focus on one vertical can help to build lighthouse customers or supply chains.
It gets easier to focus on particular concerns and offers customizable resolutions that fit companies' needs, blended with expert knowledge.
Vertical SaaS will be a growing focus in the B2B world with its custom solutions.
Healthcare BI software, modern logistics analytics, and retail analytics software are a few examples of vertical SaaS. The benefits of specialization are more cost-effective, primarily due to their customization abilities.
Here's a successful vertical SaaS example.
Veeva an American cloud-computing company that focuses on pharmaceutical and life sciences industry applications. The company provides solutions across the whole life sciences industry. The company addresses clinical, medical, regulatory, quality, and commercial use cases.
Fields such as healthcare, biotech, and pharmaceutical industries are complex and have demanding needs. Compliance support and secure data storage for researchers are examples of how vertical SaaS has become an expert service for life science companies. The switch to this trend and its benefits are evident.
5. Amplified Need for API Connections
The next significant healthcare SaaS wave is API (Application Programming Interface). With the growing use of healthcare SaaS, there is a greater need to integrate them into existing business systems.
API-first products are more extensible, more comfortable to incorporate into, and foster a greater community around potential use cases. So, APIs can no longer be a thing for the future—they need to be a critical part of your strategy.
While some organizations prefer to migrate their data to another cloud platform altogether, some prefer to harmonize their data with existing infrastructure. However, there is no sure way to integrate data fully.
For this reason, many healthcare organizations rely on SaaS vendors to provide them with enhanced integration capabilities.
It makes perfect sense—why would you dedicate prized resources to recreate something in-house when someone can do it better? It can be fruitful, especially since companies won't need to send their patients to third parties.
You may want to invest in a cloud vendor's help, and that's great! Here is a quick set of questions that you can keep handy for more seamless integration.
Can I integrate my legacy system seamlessly?
What about data protection during the integration process?
Can the cloud provider help me incorporate the SaaS within my existing business system?
It's always prudent to better understand whether you want to invest in a third party. Having your answers before investment can help you make quick-and-reliable decisions.
6. Migrating to the PaaS Landscape
You can expect to see SaaS move towards the PaaS (platform-as-a-service) landscape. Why?
Many developers specialize in healthcare software and focus on patient retention and patient acquisition, which makes PaaS more enticing.
PaaS allows companies and organizations to create custom apps and include a software development kit (SDK). Mid-sized medical practices with a decent-sized IT department can benefit from custom health apps. Such organizations should consider PaaS as a healthcare cloud solution.
The cloud solution can offer a security-enhanced environment for web-based services and the deployment of cloud applications.
7. Micro-benefits from Unbundling SaaS
Have you heard of micro-SaaS? Well, micro-SaaS companies are usually run by small teams with as few as two employees.
The products typically offered by such companies include complimentary add-ons to current developments and existing platforms. However, the add-ons are quite appealing, as they help improve missing features and enhance the current SaaS products.
You can look out for such miniature SaaS offerings. According to a Spok survey, around 63% of polled hospitals utilized six or more SaaS applications.
Now, that's quite encouraging. As a healthcare business owner, you may want to consider using micro-SaaS and enjoy the benefits.
8. Transforming Healthcare With Edge Computing
Edge computing applications will immensely benefit the medical industry. Edge computing places data centers closer to the points of actual use. It requires fog computing for its implementation, which is a standard that governs its workings.
The equation is quite analogous to SaaS, so fog helps edge computing just as the cloud helps SaaS. A decentralized form of IT architecture can facilitate the running of networks, computing functions, and storage between the end devices and cloud data centers.
Edge computing is poised to become a must-have data generation machine for healthcare Big Data. According to Forrester, nearly 27% of global telecom decision-makers have stated their intent to expand or use edge computing in their operations.
Dr. David C. Klonoff, medical director of the Diabetes Research Institute at Mills-Peninsula Medical Center, reiterated edge computing and fog computing offer advantages, such as:
Superior data transmission speed
Less dependence on limited bandwidth
Reduced costs
Klonoff cited an example of intensive care unit (ICU) sensors that require immediate analysis of data and execution of commands, such as closed-loop systems that maintain physiologic homeostasis.
As sensors become more sophisticated, such devices will be a need to track insulin levels, neurological activity, GI functions, etc.
Forward-thinking healthcare organizations will consider adopting edge computing and experiencing its transformative power.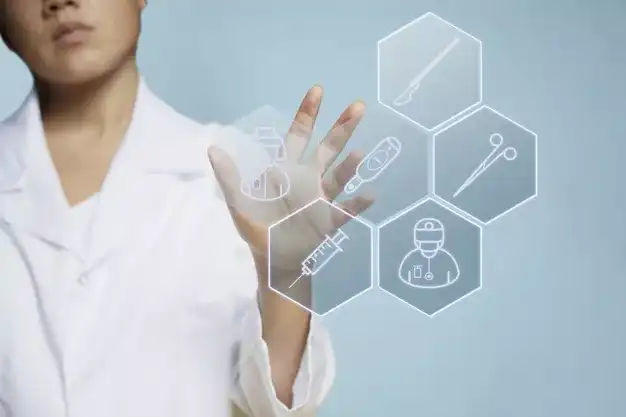 9. Pay-Per-Use
SaaS vendors typically operate on subscription models. They charge users a specified amount per month or year to use their services. The model makes it useful for both customers and vendors.
But recently, many vendors have switched to a pay-per-use (PPU) model. The payment model is especially better for healthcare companies that offer temporary services.
If you are a healthcare start-up experiencing cash-flow issues, then such price models are ideal for you.
10. DaaS Revenues
With the increasing use of AI, around 30% of enterprises will start generating Data as a Service (DaaS) revenues.
The study also highlights that about 75% of commercial business solutions will integrate with AIs, and more than 50% of users will encounter it at some point.
The trends are encouraging for healthcare organizations and will cause a significant paradigm shift. It's time to experience the transformative power and adopt trends that are best suited to your healthcare businesses.
How Does The SaaS Model Benefit the Healthcare Sector?
Healthcare SaaS comes with significant benefits. You can enhance your business processes, boost efficiency, and establish a secure intranet.
You will find many SaaS providers offering services to the healthcare industry. They are making it easier to collaborate, improving patient care outcomes, and more. However, the benefits are just the tip of the iceberg.
Let's look at why you should consider employing SaaS in the healthcare industry.
1. Improved Data Security
We've already talked about data security concerns. It's critical to keep patients' and staff's data secure. The data is sensitive, and you need to ensure that there are no data leaks or breaches.
What can you do? You could have an experienced IT team. Your tech partner can keep all systems up and running while reducing vulnerabilities and security loopholes. However, is it possible to have an in-house IT department?
Most often, it's impossible to have such an experienced team for a medical institution on a budget. Here's where SaaS can be a huge benefit.
With a reliable SaaS platform, healthcare businesses can access the latest technological solutions to improve data security without affecting their budget. Now, that's brilliant!
2. Achieving Transparency of Medical Information
Focusing on transparency is a critical factor in ensuring better healthcare quality. How can a patient get the best treatment?
At first, doctors and medical professionals need to access the patient's full medical history to provide better treatments.
Imagine a patient who is just not able to answer critical medical questions by themselves. In such scenarios, access to patient medical records can help. Fortunately, with SaaS and EMRs, there is a definite improvement in the transparency of medical information.
Over 64% of physicians have EHRs that they can access for more information on their patients. The trend is encouraging—and you can expect more healthcare businesses that offer e-records to their patients.
3. Health-on-Demand with Telemedicine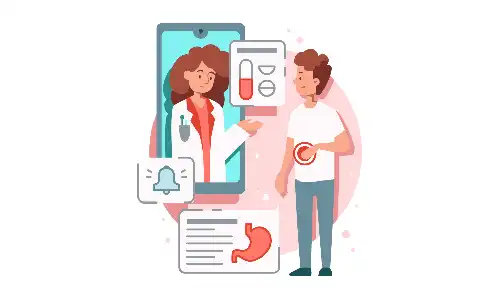 The telemedicine market is growing exponentially. According to experts, the U.S. telemedicine market will be worth over $64 billion by 2025.
What does this mean for your business? With the rise of telemedicine, patients worldwide can receive regular care and treatment. Patients living in remote areas can now be connected with their doctors.
Chronically ill or bedridden patients don't have to leave the comfort of their homes to receive treatment. With telemedicine, medical professionals can offer their services wherever they are.
Needless to say, healthcare SaaS solutions augment telemedicine. The technology behind SaaS facilitates healthcare organizations and patients to leverage advanced telemedicine software and hardware.
4. Quicker Collaboration Between Medical Professionals
Collaboration between medical professionals is critical. Healthcare businesses increasingly feel the need to enhance cooperation between different departments and streamline processes.
Imagine—if medical staff had to go from department to department to collect lab results or tests and ask for a second opinion during their regular work. It would be tough!
All doctors and medical professionals who work within an institution must get in touch with each other quickly. Collaboration with experts from all over the work is also critical. Quick collaboration can improve patient care and even save lives.
Collaboration with global medical professionals is crucial in countries such as Nigeria, where there are fewer than four medical doctors per 10,000 people. That's where healthcare SaaS solutions can help, making cooperation more straightforward and quicker.
Using SaaS isn't an option anymore for the healthcare industry.
If you are responsible for improving patient care outcomes, reducing costs, and enhancing business processes—healthcare SaaS solutions are a must-have. It's time you experience the transformative benefits of healthcare SaaS trends.
Develop A Successful Healthcare SaaS Platform with Imaginovation
It's time you experience the power of healthcare SaaS solutions. If you feel overwhelmed with the trends, you can get in touch with us.
At Imaginovation, we have developed successful SaaS applications for healthcare startups to enterprise organizations.